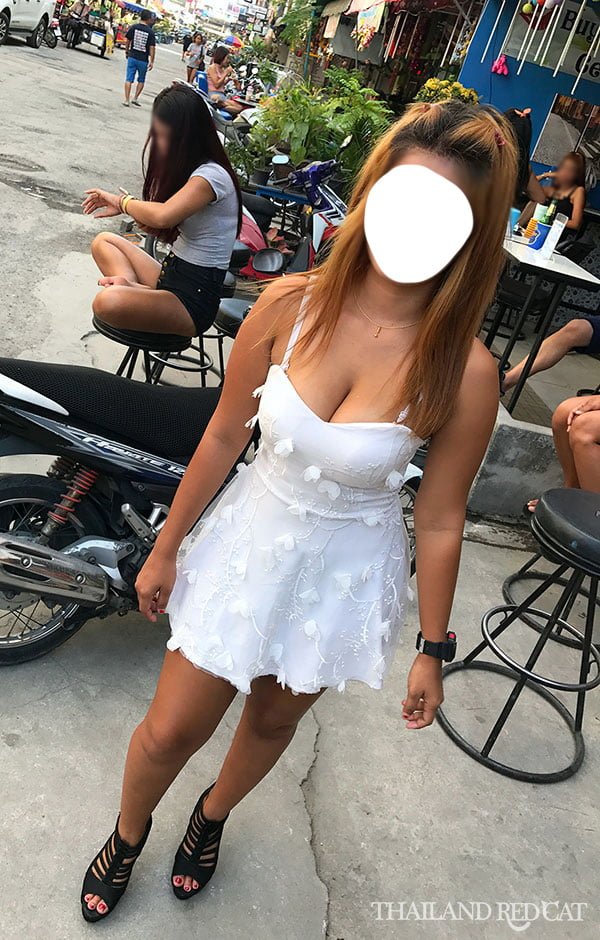 So you just arrived in Pattaya with the bus from Bangkok. You have checked into your hotel, taken a quick shower, and since you are full of anticipation and excitement you decide to go on a walk right away and see what's going on.
It's in the middle of the afternoon and really hot, so after a short while you will think: Where can I go to relax and enjoy? It might be tempting to walk into the cool Central Festival shopping mall or have a coffee at Starbucks, but you didn't come to Pattaya for shopping and coffee – you can do that in your home country, too.
While you walk around in the heat and try to make up your mind on where to sit down and relax, you will constantly pass two types of places: The massage salons and the girly bars. Sure, it's always a good idea to go for a nice happy ending massage where a lovely 19-year old girl rubs your dick up and down with lots of oil, but then one hour later you will be in the same situation: Where should I go next?
The girly bars (or "beer bars" how they are called by the older expats) are by far the most popular place in Pattaya to hang out, drink, watch people, watch live sports, meet other foreigners and enjoy yourself with sexy bar girls.
And while the girly bars are really all over the place, there are certain areas that are much more fun than others (more girls, better looking girls and more customers). I will come back to that point in just a moment, but before that let me go through some general info.
Pattaya Girly Bars Explained
If this is your first time in Pattaya (or Thailand) then the first thing you probably want to know is what to expect when walking into a girly bar here. Even if you have been to the hostess bars in Cambodia or sports bars in the Philippines, it's similar but not quite the same.
So you walk into a bar and take a seat somewhere you like. Unlike in Cambodia, you won't be surrounded by five or six "hostesses" right away who expect you to pick one of them. In the girly bars in Pattaya it's usually just one girl that comes to you to take your order. Sometimes it's a normal waitress, sometimes it's one of the bar girls. Just tell her what you would like to drink.
Then just relax, take a look around and see what happens. Surely some of the ladies will try to get your attention sooner or later and smile at you, others will come over to say hi. If you like one, you can talk with her and then buy her a "lady drink". These are more expensive than your own drinks (see below for the infos on the prices), but like that she will make sure you enjoy your time, and the unspoken rule is that you can also touch her if you buy her a drink. But don't worry, you don't need to buy anyone a drink except yourself if you just want to sit and watch.
As I already explained, the beer bars are popular to relax, watch the people on the street or in the bar, talk to other foreigners and play pool billiard. Most bars also have some board games, and the girls will invite you to play with them for a drink. Needless to say that they are experienced enough to win most of the time.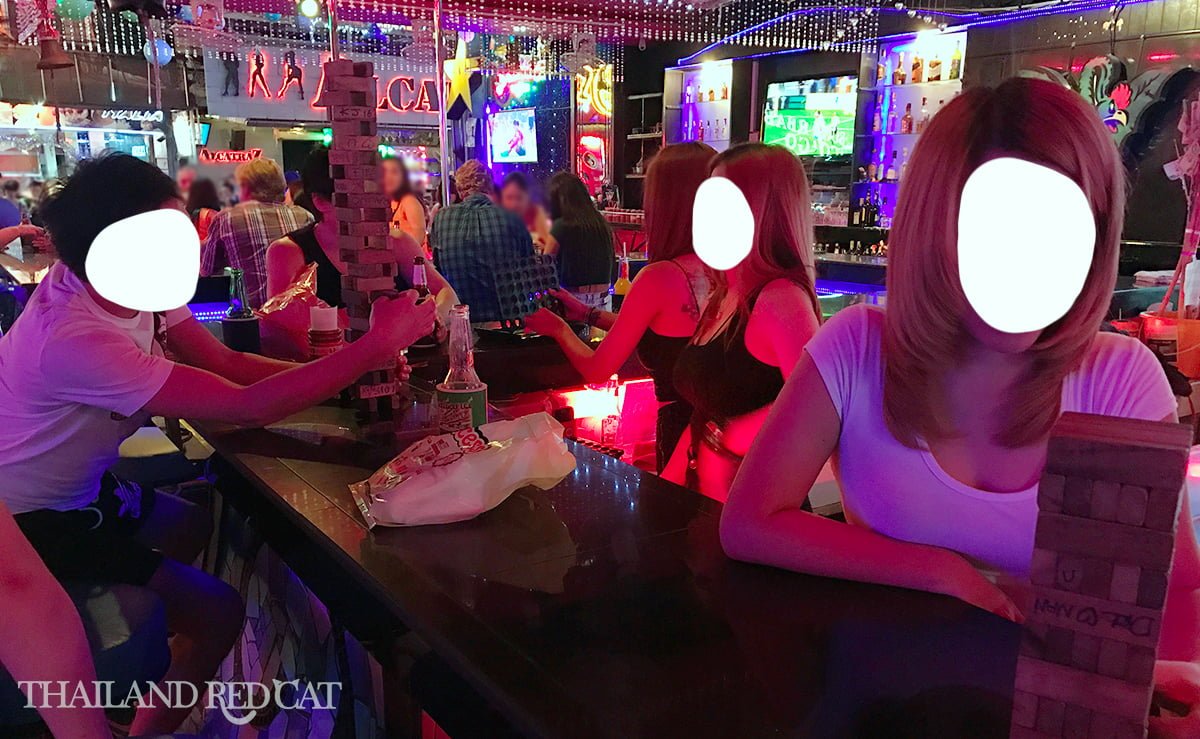 If you get along well with one of the bar girls, and after you have bought her a drink or two, then you can ask her if she wants to "go with you". That means either short time (one time sex, for about 2 hours) or long time (several times sex, until the next day). Then you will have to arrange a price with her (see the info further down) and also pay her bar fine.
Some bars, especially the ones on Soi 6, also have short time rooms upstairs, but then you will still have to pay the room rental of about 300 Baht. But of course you don't have to take her for sex, you can as well just enjoy yourself with her for a while and then visit another beer bar, go go bar, karaoke bar, blow job bar or whatever you like.
I could write so much more general info about the girly bars and how it works, but I'm already 750 words into this guide. Now I think we should really come to the main part: Where to find the best girly bars in Pattaya?
5 Best Girly Bar Areas in Pattaya
Like I already mentioned, you can find the bars all over Pattaya, but there are a few areas that are better (more girls and more attractive girls) than others:
Walking Street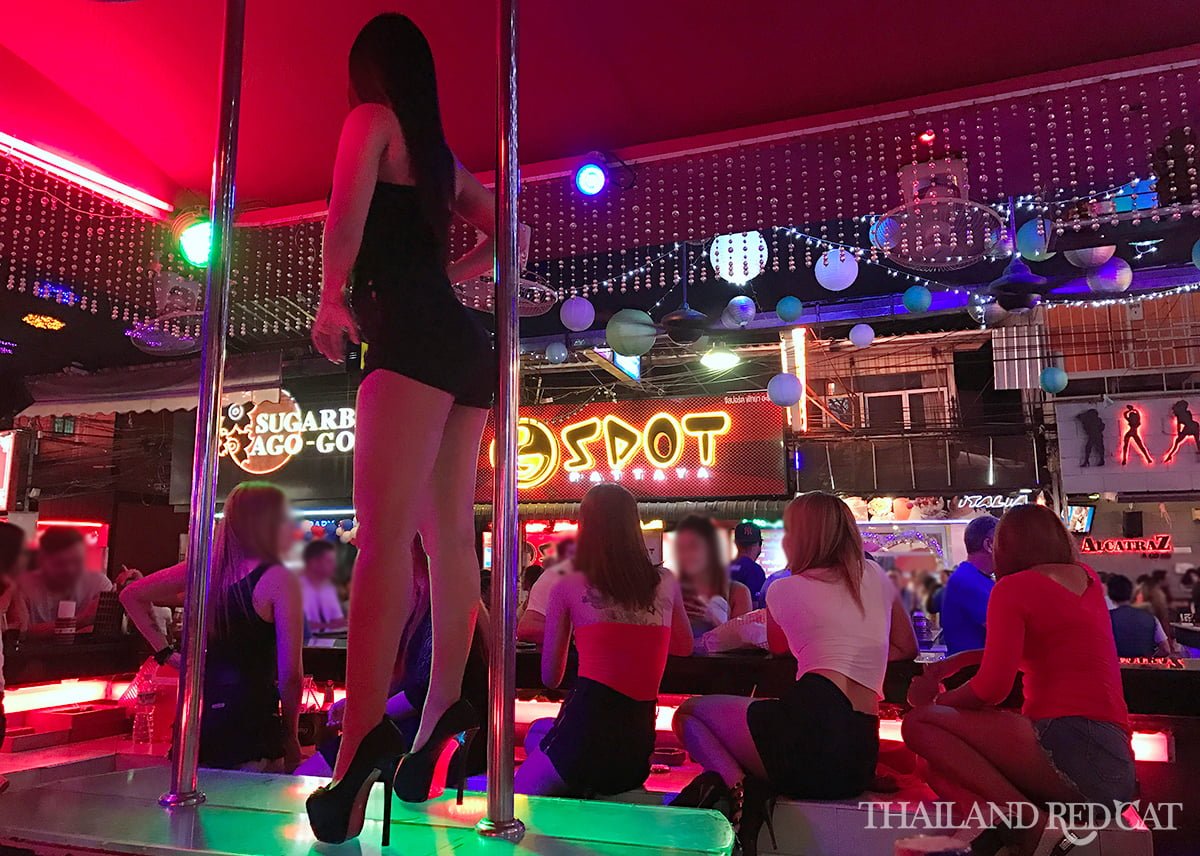 That might be a little bit surprising to you, as Walking Street is mainly famous for its go go bars, however, you can also find plenty of girly bars here. And while the girls in most of these bars are below average (because the beer bars get less attention than the go go bars), there are two great bar complexes with surprisingly hot girls: Simon Walking Street & Pattaya Beer Garden. Each of these complexes has approximately 20 bars, and each of them 10+ young and sexy Thai girls ready to "entertain" you. And they also have pole dancers which is fun, too, even if they don't take off their shirts.
Soi 7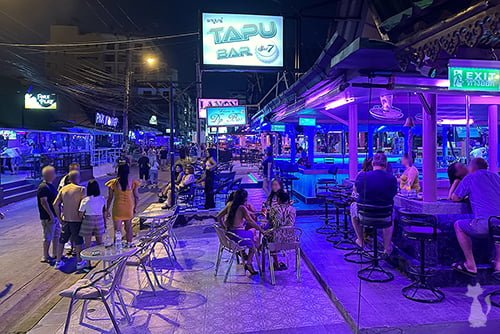 Soi 7 is the street with the highest concentration of girly bars and bar girls in all of Pattaya. It's the favorite place to sit, drink beer and meet girls for a lot of foreigners, and it's easy to explain why: If you go there in the late afternoon, the atmosphere is really relaxed. It feels like a huge beer garden and it's fun to just relax on one of the stone benches, have a nice lady sit with you and watch the street life and girls in the other bars (like you can see in my photo). And then after sunset Soi 7 gets packed with hundreds of girls who start their shifts at around 6-7pm (like you can see in my video at the end of the guide). Neighboring Soi 8 has also plenty of girly bars, so make sure to give it a try as well.
Soi 6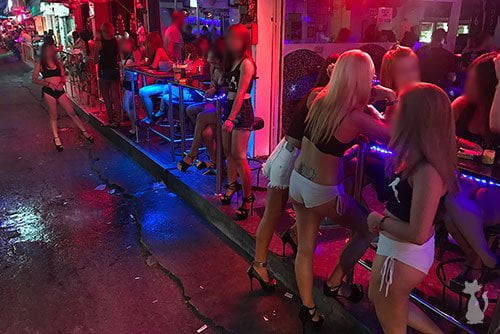 Probably the most famous street in Pattaya after Walking Street, Soi 6 is well known for its "short time bars". They have a similar setup like the other girly bars, but with one big difference: Each bar has rooms upstairs that can be rented by the hour (300-400 Baht) to have sex with one of the bar ladies. If you are looking for a fun place to drink a cool Leo or two at 3pm in the afternoon, then Soi 6 is really the best place to go: Unlike all other girly bar areas the bars in Soi 6 are full of girls from about noon.
Buakhao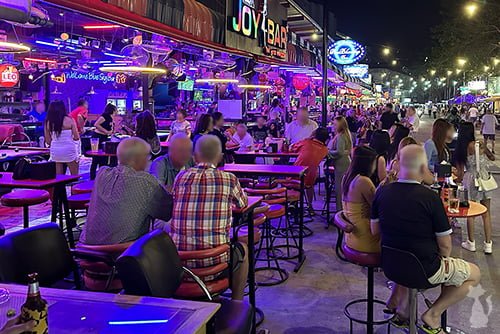 Buakhao is my favorite area in Pattaya. It has in my opinion the hotels with the best value for money, the youngest and hottest massage girls in Soi Chaloem Phrakiat 25 and three of the best blow job bars in town (Lolitas, Excite Club & Bar de la Poste). And of course there are also many beer bars – the biggest and most popular hotspot is called "Tree Town Walking Street" (picture, see the map below for the location). The great thing about Buakhao is that it's a little bit off the main tourist area of Beach Road and Second Road, so you will find less tourists here and the girls are nicer and less pushing than elsewhere.
Naklua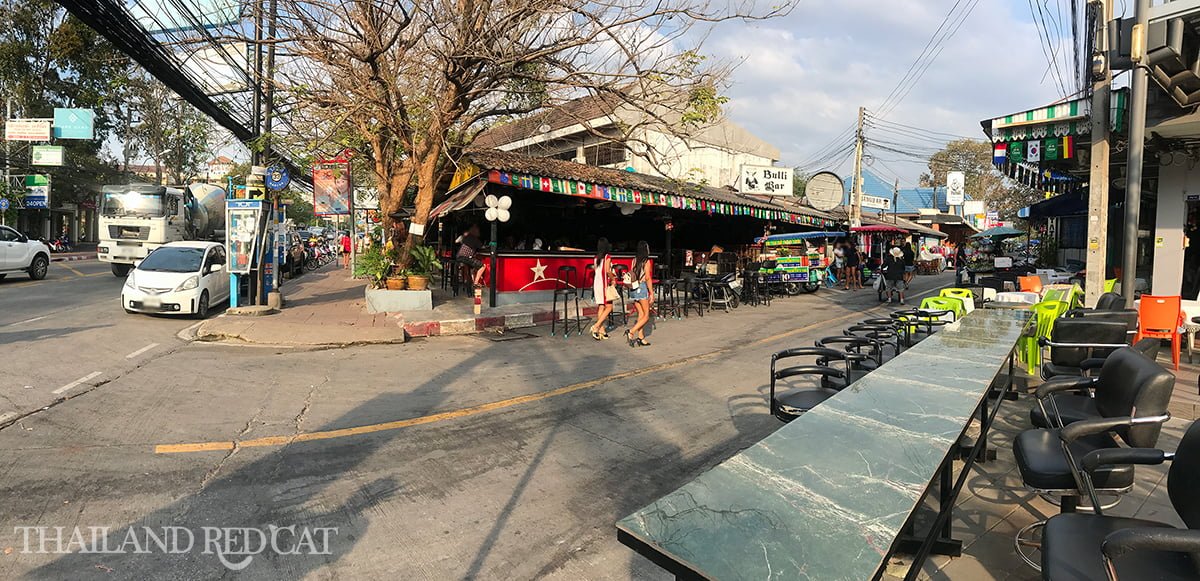 Naklua is a big district in North Pattaya, which is very popular among Germans and Scandinavians, many of whom have opened restaurants and bars here. It's much more quiet in Naklua compared to all other areas mentioned on this list, but if you prefer to have a relaxed drink in one of the scenic open air bars (like the one in my photo), then it's just perfect to do that. And of course you will also get to see some sexy Thai ladies in short skirts walking past every once in a while.
Overview Map of Girly Bars in Pattaya
Prices for Drinks, Girls & Sex in Pattaya's Girly Bars
If you go into a girly bar with the goal to drink, have fun with the girls and eventually bring one back to your hotel for sex, then there are three types of prices you will need to pay: the drink prices, the bar fine and the price for sex. Let's go through them one by one.
First of all, there are the drink prices. You can expect to pay about 90-120 Baht for a beer (330ml bottle) during regular hours, and about 60-80 Baht during happy hour (usually until 6-8pm). A lady drink will cost you 150 Baht on average, and that's usually a glass of coke or whiskey/coke. If you are smart and want to save some money, ask her if you can buy her a beer instead. That might cost you 20-30 Baht more, but it will take her much longer to finish it compared to that tiny glass with lots of ice.
Here is the full drink menu of one of the girly bars in the Simon Beer Bar Complex on Walking Street: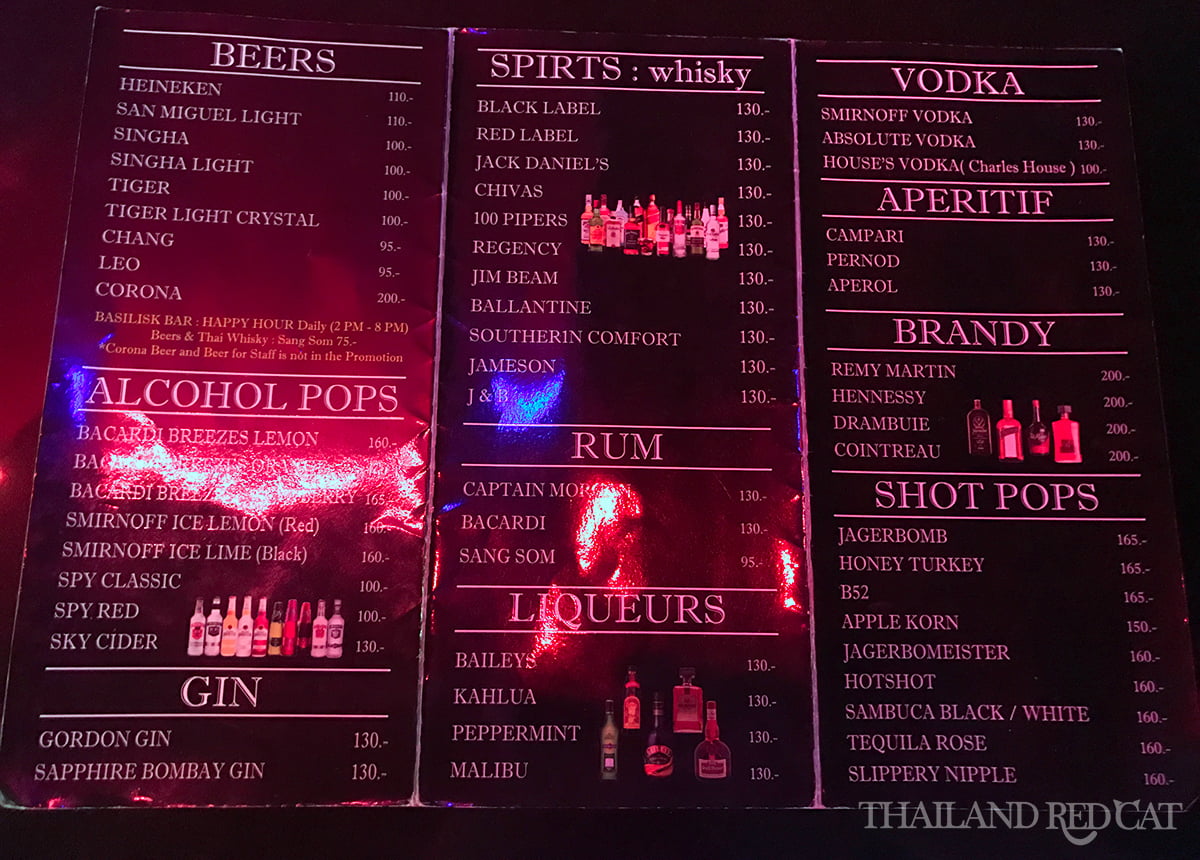 Next is the bar fine. If you want to take out a girl (no matter if you just want to go to the club with her or straight to your hotel for sex), then you will need to pay her bar fine of around 500 Baht, which compensates the owner for a loss of business that comes with the girl leaving with you. If that sounds confusing, check out my guide to the bar fines in Thailand.
And then the final type of cost in the girly bars is the price for sex. You will need to negotiate that one with her. If you ask the girls, they will usually quote you 2,000 Baht for short time (2 hours), which may be fair for a hot go go girl, but that's not what you should pay for a beer bar girl. 1,000 Baht is the standard for short time, or maximum 1,500 Baht if she is really young and attractive. Add another 1,000 Baht for long time (= she will stay with you until the following day).
Final Tips & Advice
I have already talked about the most important things: Where to find the best girly bars in Pattaya, what to expect when visiting one and how much to pay for drinks and girls. Apart from that, I would strongly recommend you to always use condoms when having sex with bar girls. Even most of the decent looking girls "boom boom" with two, or even three customers a day, so you can do the math if you know that she has been working in the bar for two years (often much longer than that if you include her work in the karaoke bar back in her little home town in Isaan, and Thai guys are much more reluctant to use condoms than Farangs are).
Also, never pay for sex in advance. I have recently got some comments from readers (mostly in the go go bar guides) who said that they were asked to pay the bar fine and the price for sex in the bar. Don't do that. Like that your girl will have no incentive to provide a good service, and sometimes she will even come up with a lie, for example that she suddenly doesn't feel well, needs to sleep or some other kind of "problem".
And finally, if you plan to bring a girl back to your hotel room, then you should make sure that it is guest friendly and they don't charge a joiner fee of 1,000 Baht. You might be surprised, but most 3 and 4 star hotels in Pattaya don't allow bar girls and any sorts of prostitutes in their rooms. I have written an overview to 5 girl friendly hotels in Pattaya that you can find here.
Video of Girly Bars in Pattaya