The massage parlors are without doubt the easiest and safest place to have (paid) sex in Pattaya.
Sure, if you know what you are doing, it's not that difficult to have some fun with the ladies here elsewhere, and you can also get it cheaper – like if you go to the bars in Pattaya Soi 6, it will only cost you 1,300 Baht to take one of the girls upstairs for short time, if you go to a beer bar you are looking at a similar price (bar fine, plus sex price, plus drinks), or if you pick up a freelance hooker from Beach Road, the sex will cost you only about 1,000 Baht.
But there are more reasons why the soapy massage parlors in Pattaya are so popular.
You can find some of the hottest, white skinned and youngest girls working in these places – it's often that type of ladies who regard themselves as too pretty to work in a "dirty" beer bar or to dance all night in the go go bars like the coyote girls, and also having to drink alcohol whenever customers pay for it.
And the massage parlors are also open to everyone, that's why you see a lot of Indians here, who often don't feel welcome in the go go bars on Walking Street, or even get rejected by the working girls elsewhere. But they are also hugely popular among the Asian sex tourists, especially Japanese and Chinese men, who prefer the discrete and safe service. But of course there are lots of Farangs frequenting these places too. Everyone is welcome.
I assume you already know "how it works" in a Thai sex massage parlor – but in case you don't, I will answer some of the most common questions towards the end of this guide.
But first, I'll show you the currently 5 best soapy massage parlors in Pattaya:
Sabai Dee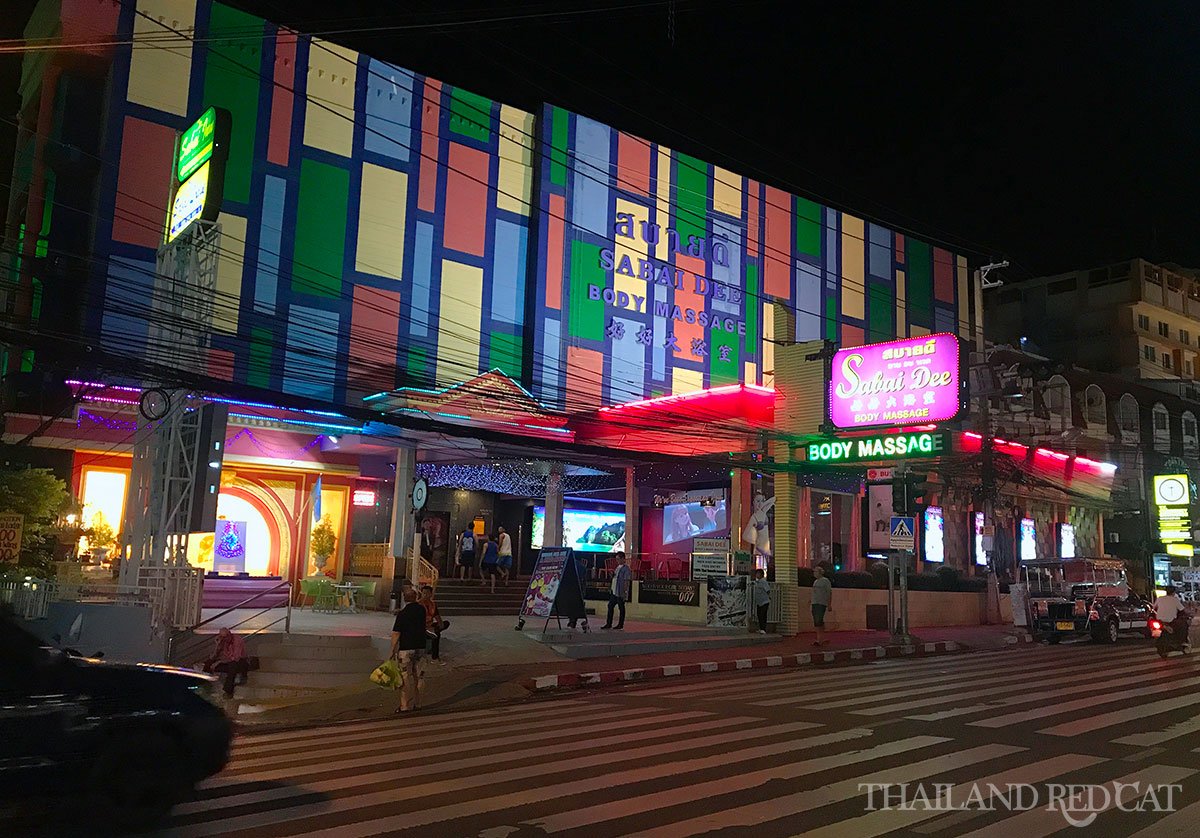 The most popular and longest established soapy massage in Pattaya. Sabai Dee is located on Second Road, and everyone walking past it looks at it because of its impressive, big and colorful building.
If you walk through the entrance, you will first pass a nice aquarium and wall pictures of naked girls, before getting to the spacious lobby with the big fishbowl. And by "big" I mean really the biggest in all of Pattaya: There are more than 100 girls and women sitting in that illuminated area (divided into sideliners and models), and once you take your seat on one of the comfortable couches, they will try to get your attention, smiling and nodding at you.
Sabai Dee is also great to hang out and relax in the lobby for some time, enjoy cool beers, and slowly make up your choice which lady you want to be your little sex doll for the next 1.5 hours. Oh, and they have air mattresses in the rooms – I'm sure you know what that means.
Prices: 2,000 / 2,400 Baht
Girls Quantity: 10/10
Girls Quality: 8/10
Honey 2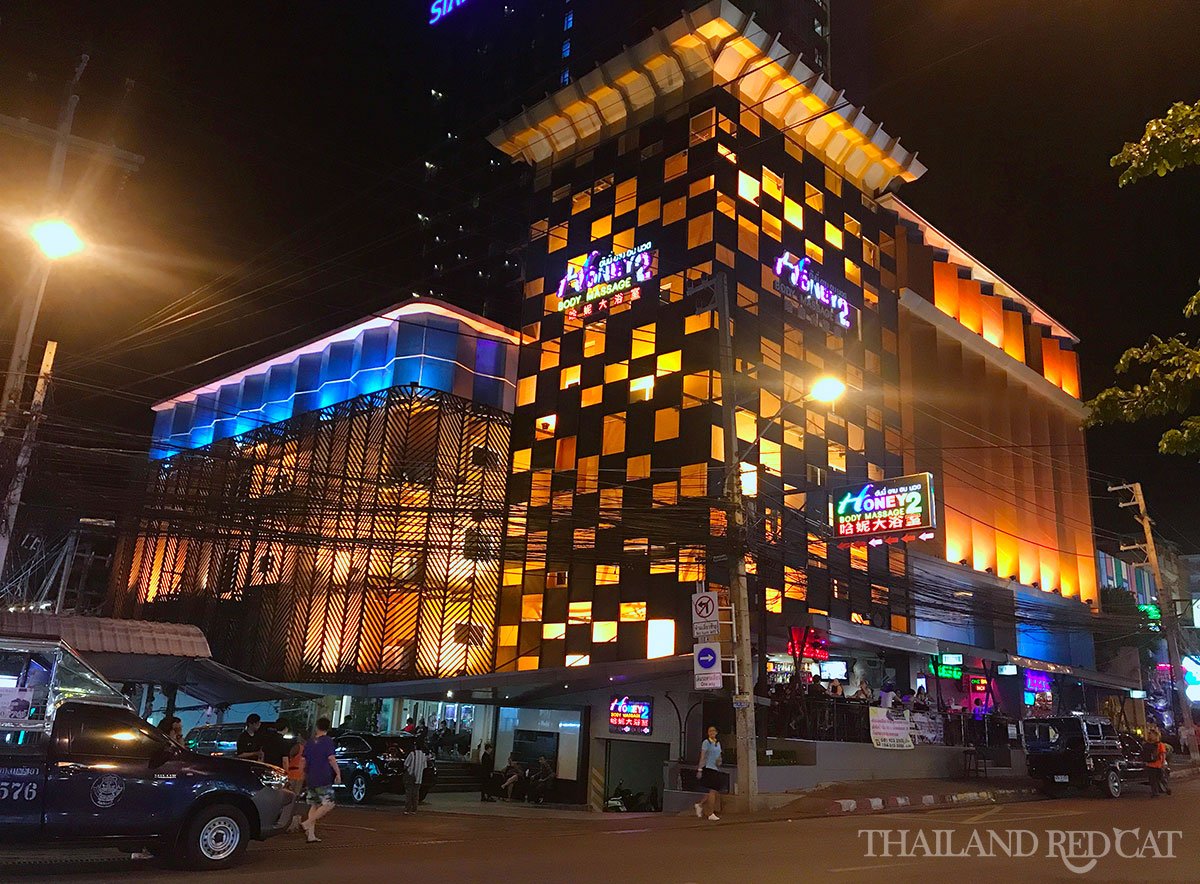 Honey 2 Body Massage is located right next to Sabai Dee (see above), and it's obvious that they tried to copy the concept of their popular neighbor: Build a huge and stylish house and illuminate it with bright and colorful neon lights.
This place is especially popular among Asian men, because most of the girls there are very light skinned and young – but it's also a few hundred Baht more expensive than Sabai Dee (see the prices below).
The rooms in Honey 2 are super new and modern, equipped with a TV (which isn't that great for the romance though), as well as an air mattress where your masseuse will perform the infamous body to body massage on you. Honey 2 is also one of the few places where you'll receive an actual massage after the sex part.
Prices: 2,000 / 2,500 / 3,000 / 3,800 Baht
Girls Quantity: 8/10
Girls Quality: 9/10
Rasputin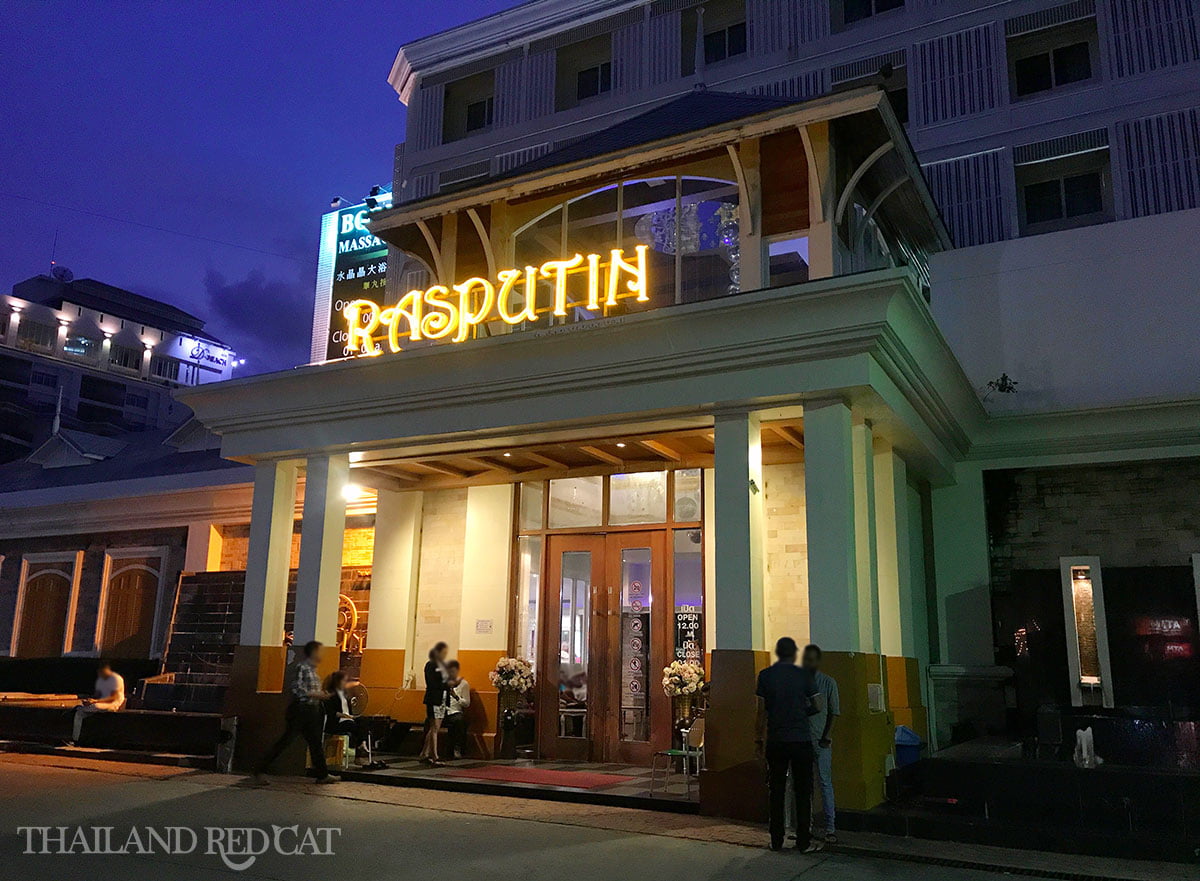 Rasputin doesn't only sound Russian – they also have some Russian girls working in there. However, you will not see them when you walk inside and left to the main lobby with the huge fishbowl of about 80 girls – they are all Thai.
I have asked one of the papasans if they have some Russian women, and he asked me where I'm from. Interesting, so I assume they don't want to take customers from India or the Middle East. So he led me out of the main lobby and to the area on the other side of the building (through the right door after the entrance), through a few rooms (I felt like brought to a secret treasure) and eventually we reached a small seating area.
There were 6 Russian women sitting on the sofas, and they were really attractive – most of them had blonde hair, really nice breasts and were about 25-30 years old.
Prices: 2,000 / 2,500 / 5,000 Baht (Thai girls, for 1.5 hours like usual) and 6,500 Baht (Russian girls, for 1 hour).
Girls Quantity: 9/10
Girls Quality: 8/10
Sabai Room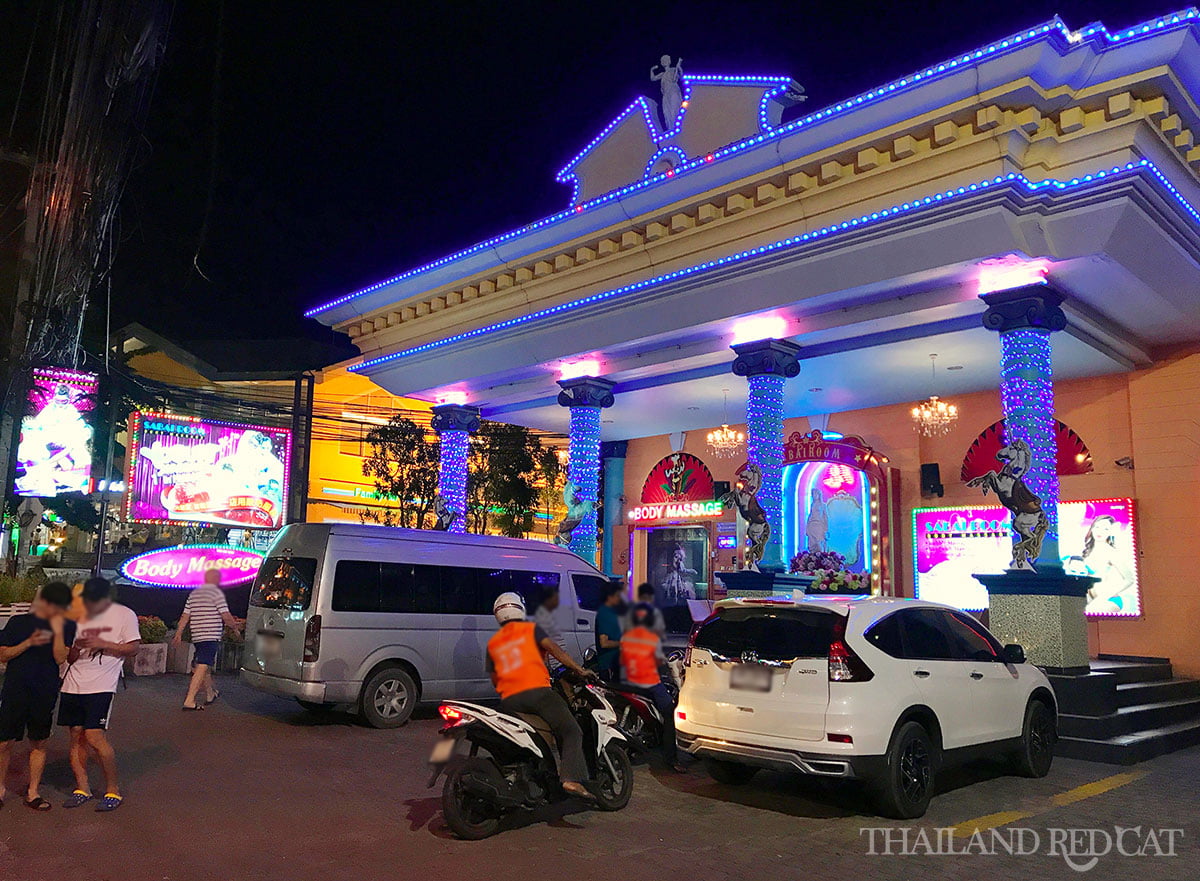 Sabai Room is Pattaya's newest sex massage parlor, located across opposite from Honey 2 (see above).
It almost looks like a gentlemen club, and maybe that's a big mistake – because it kind of turns off most of the Farangs who think that the prices are quite high, so they go to Honey 2 or Sabai Dee instead. That means there are mostly Asian customers in Sabai Room (maybe they also like the special services they have here, like "Yoghourt Massage").
But of course, it doesn't cost anything to just walk inside and take a look at the selection of ladies (about 40-50) and if you don't feel like you want to have sex with anyone here, then you can just say "mai bpenrai, thank you" and leave again.
Prices: 2,000 / 2,400 Baht
Girls Quantity: 7/10
Girls Quality: 7/10
P.P. Body Massage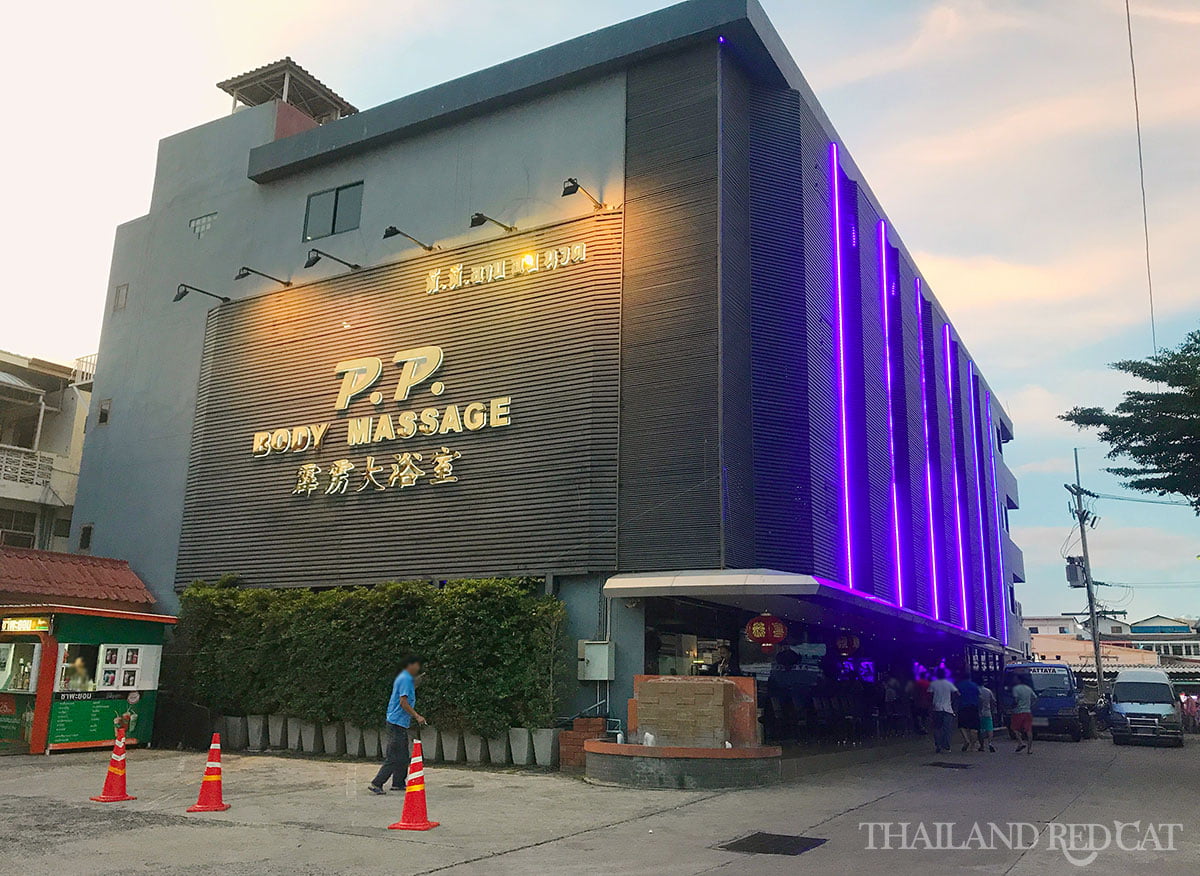 Located in the Buakhao area of Pattaya, P.P. Body Massage has a more relaxed atmosphere than the sex parlors on Second Road. But of course, that doesn't really matter as soon as you are in the room with your girl.
The fishbowl in P.P. is the only one in Pattaya with glass – that's the traditional style, but most of the newer establishments don't do that anymore, so you can see the women sitting there better.
But nevertheless, the housekeeping lady does a good job in regularly cleaning the glass, so you have clear views of the 30-40 girls who have red and blue labels, and sitting randomly around, not separated by category like elsewhere.
Prices: 2,000 / 2,500 Baht
Girls Quantity: 6/10
Girls Quality: 7/10
The Procedure in Pattaya's Sex Massage Parlors
In case this will be your first visit to a soapy massage parlor in Thailand, this is the typical procedure in these places:
You walk into the parlor and take a seat somewhere in the lobby with the fishbowl (there are usually comfortable sofas). You take a look at the girls, usually there will be lots of ladies competing to get your attention, smiling and waving their hands at you and giving you the feeling to be really handsome and special.
You can also have a drink there and take more time to think, but you don't have to. Sooner or later, one of the papasans (the male Thai managers) will come over to you and tell you the different categories and prices of the girls (from cheapest to most expensive: fishbowl girls / sideline girls / models).
Once you have made up your choice, you tell the manager, and he will call the girl. You follow him to the counter and pay the amount upfront. Your "masseuse" arrives, greets you with a polite "Sawatdee ka" and maybe also a wai, and you follow her to the elevator and up to the room. Sometimes there is another guy asking you if you would like to drink something (but you don't need to buy anything if you don't like).
Once you are in the room, your girl will undress you, undress herself, you will take a bath together, followed by the erotic body to body sliding up and down on the air mattress. And then move on the bed, where she will start sucking your nipples, put on the condom, suck on your penis a little and then have sex – they usually start riding on you first, and then you can take the control for the first time.
Afterwards, you take a shower again, sometimes they give you a massage, before you put on your clothes again and leave. If she did a really good job, you can tip her 100-200 Baht, but it's not compulsory.
And that's it – the easiest and cleanest sex in Pattaya.
Drink Prices in Pattaya's Sex Massage Parlors
Sometimes it can be a lot of fun to have a few drinks in the lobby while enjoying the view of the girls – or in the room between the bath and the sex part.
Here is the drink menu of Sabai Dee: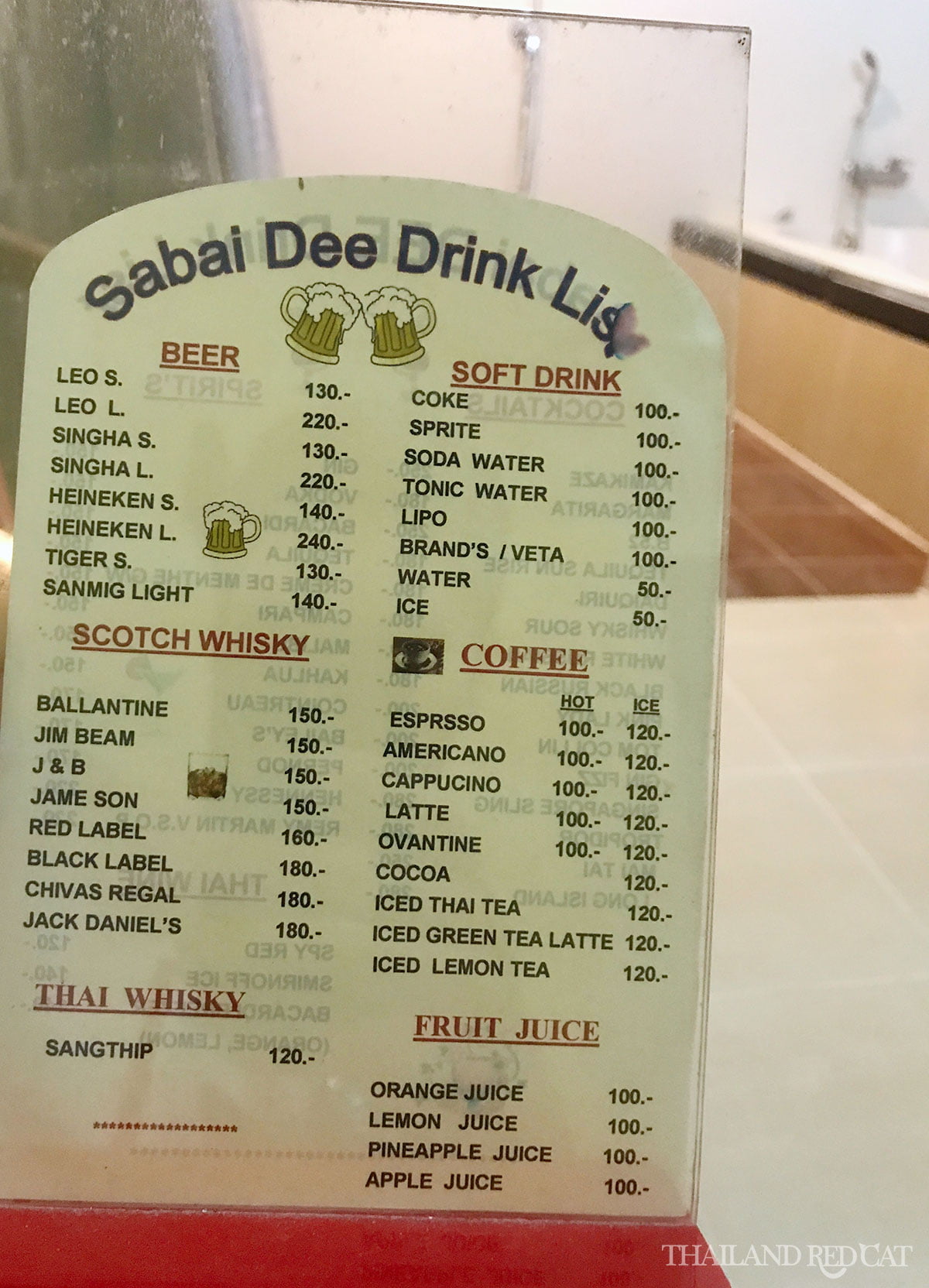 Pattaya Soapy Massages vs Go Go Bars
These two establishments are widely considered as the places with the most attractive girls for sex in Pattaya. But what I think really sucks about the go go bars is that you don't get to take the girl with you in the same outfit she wears in the bar. So if you got a boner because you saw her in that hot bikini and tight panties or whatever she is wearing – she will get changed after you agree to pay her bar fine! Sure, she will still look nice and attractive, but it's just not the same half naked girl like before.
Different in the soapy massages where the lady accompanies you to the room in exactly the same sexy, short and low cut dress that emphasizes her boobs that she also wears when sitting in the fishbowl.
The soapy massages and go go bars are certainly both "brothels you can trust", but the soapies clearly have some advantages (not for drinking and entertainment, but for actually having sex), because the whole atmosphere is more erotic and authentic. And the prices are usually also cheaper – a go go girl would cost you around 4,000-5,000 Baht if you add up all your drinks, her drinks, the bar fine, and the sex price.
Video of Soapy Massage Parlors in Pattaya