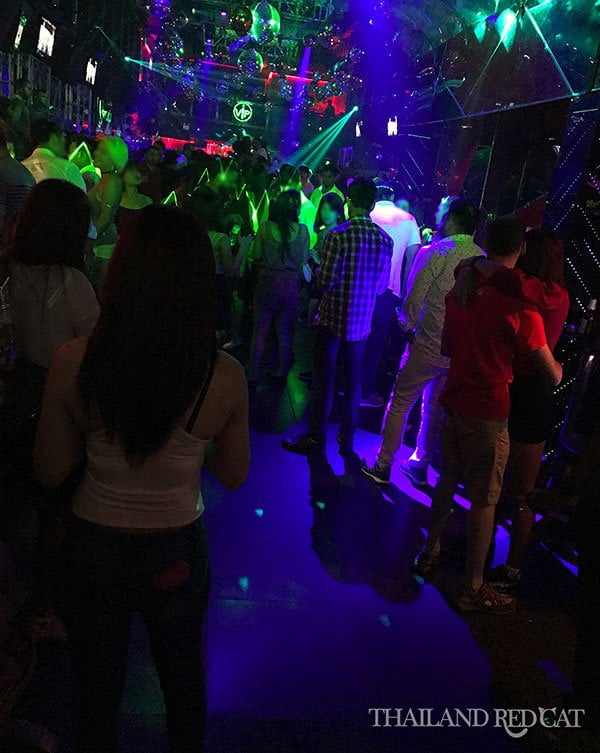 Pattaya isn't only famous for all its Go Go Bars, Beer Bars and Street Hookers all along Beach Road. There are also more foreigner-oriented nightclubs than in any other city in Thailand. Needless to say that the majority of them are clustered all along the heart of Pattaya's nightlife action: Walking Street.
Since Pattaya is a major tourist hotspot the great thing about these clubs is they are always packed any night of the week both with foreigners and especially Thai girls looking to hook up with them. A fair share of them are obviously freelancers but you also have girls from the nearby Go Go Bars that go there when they close at around 2am. But you'll also find "normal" Thai girls that go clubbing and aren't out for money but just some fun.
There are easily more than a dozen of night clubs on Walking Street so it's not always easy to make up your choice –  especially if it's your first time in Pattaya and you are unsure on where to find a larger or lower share of working girls, as well as which ones are among the cheaper or more upscale ones. There's something for everyone and below is the list of the Top 5 Best Night Clubs on Walking Street as well as their exact location on the map at the end of the article:
Club Insomnia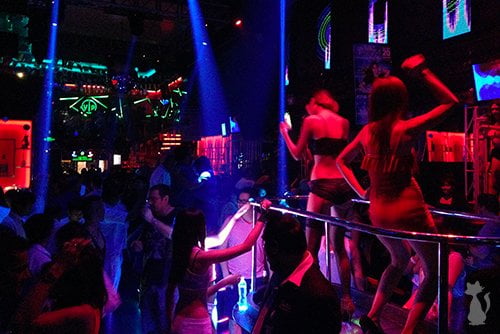 Without doubt the most popular nightclub in Pattaya, Insomnia is divided into two separate venues: Bar Insomnia (iBar) on the ground floor with three pool tables and a scenic seaside terrace and Club Insomnia (iClub) upstairs which gets busy at around midnight and they have sexy coyote dancers, seven of them dancing on stage at a time, the ones that are free you can buy them lady drinks (200 Baht). A cheaper option are the many, many freelance hookers, a lot of them have ordinary day jobs like hotel, shopping mall or even 7-Eleven and come here to look for some additional income. Bar Insomnia has a crazy drink special with beer for 39 Baht from 8pm-10pm. That's like 2 Baht more than at 7-Eleven. There's a sister branch called Club Insomnia Bangkok that is also very popular, but the girls in Pattaya are much better – at least in my opinion.
Working Girls: 60-70%
Price Range: $$$$$
Walking Street Club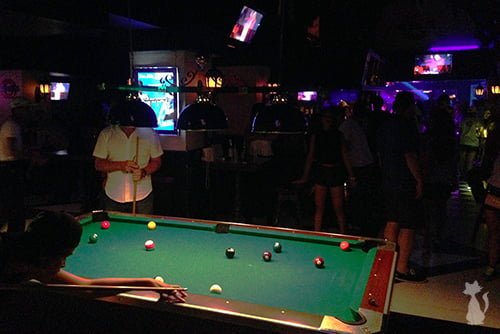 If you aren't sure if you want to go dancing, have a drink among lots of single and non-working Thai girls or play pool – then Walking Street Club has to be your choice, it has it all. It's owned by the same people that run Gulliver's Bangkok and Pattaya Beach Road locations, but this place is easily the most popular one (well, along with the Bangkok branch). Walking Street Club is very easy to find, coming from Beach Road it's located just 20 meters down Walking Street on the left side. You basically can't miss it as there are always a few tourists around having their pics taken at the entrance which has a big red car on top.
Working Girls: 50%
Price Range: $$$$$
MYST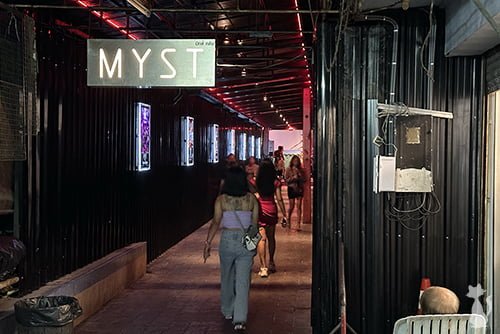 Located across opposite from Club Insomnia and having the same owner, the newly opened MYST has already gained a lot of popularity. It may not be the club that fills up first (that would definitely be Club Insomnia on any day of the week), but from around 1am it does have a big crowd and especially after 2am when the go go bars close and the ladies are more or less desperately looking for a customer. The setting of MYST is pretty similar to the Thai nightclubs means round tables with bar stools all around, but as soon as it's crowded that doesn't really matter as you can stand anywhere without it feeling awkward.
Working Girls: 60%
Price Range: $$$$$
Marine Disco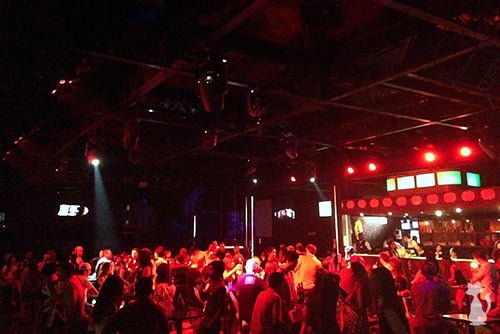 Marine Disco is the biggest night club on Walking Street. Well it's almost too big and maybe that's the reason why they put in 7 pool tables (30 Baht per game, at Insomnia and Walking Street Club it's 20 Baht per game) that cover almost one third of the whole space. There is also a big stage for the live band however they aren't playing every day, just like once or twice a week mainly on Friday and Saturday nights when Marine Disco gets packed with the typical foreigner-hooks-up-with-local-chick crowd as well as plenty of ladyboys.
Working Girls: 50-60%
Price Range: $$$$$
Mixx Nightclub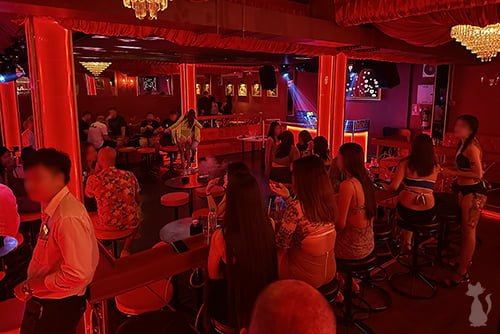 This club regularly gets voted the "best night club in Pattaya" and the main reason for this might be because of its super fancy and modern design. Mixx Discotheque is actually divided into two separate clubs located right next to each other: Rouge Club and Crystal Palace. It proudly calls itself the "first upmarket nightclub in Pattaya". Mixx is probably the most popular nightclub among Russians, but it does have its fare share of Thai girls partying here – of which the vast majority aren't working girls. Drinks are pricier than in all other clubs listed here, but there's a buy-one-get-two promotion for all drinks until 1 am. However, this is just about the time when most people start coming in.
Working Girls: 30%
Price Range: $$$$$
Map of the Best Nightclubs on Walking Street
Drink Prices in Pattaya's Night Clubs
There is usually no entrance fee at the night clubs in Pattaya (only during events).
Below is the drink menu of Club Insomnia: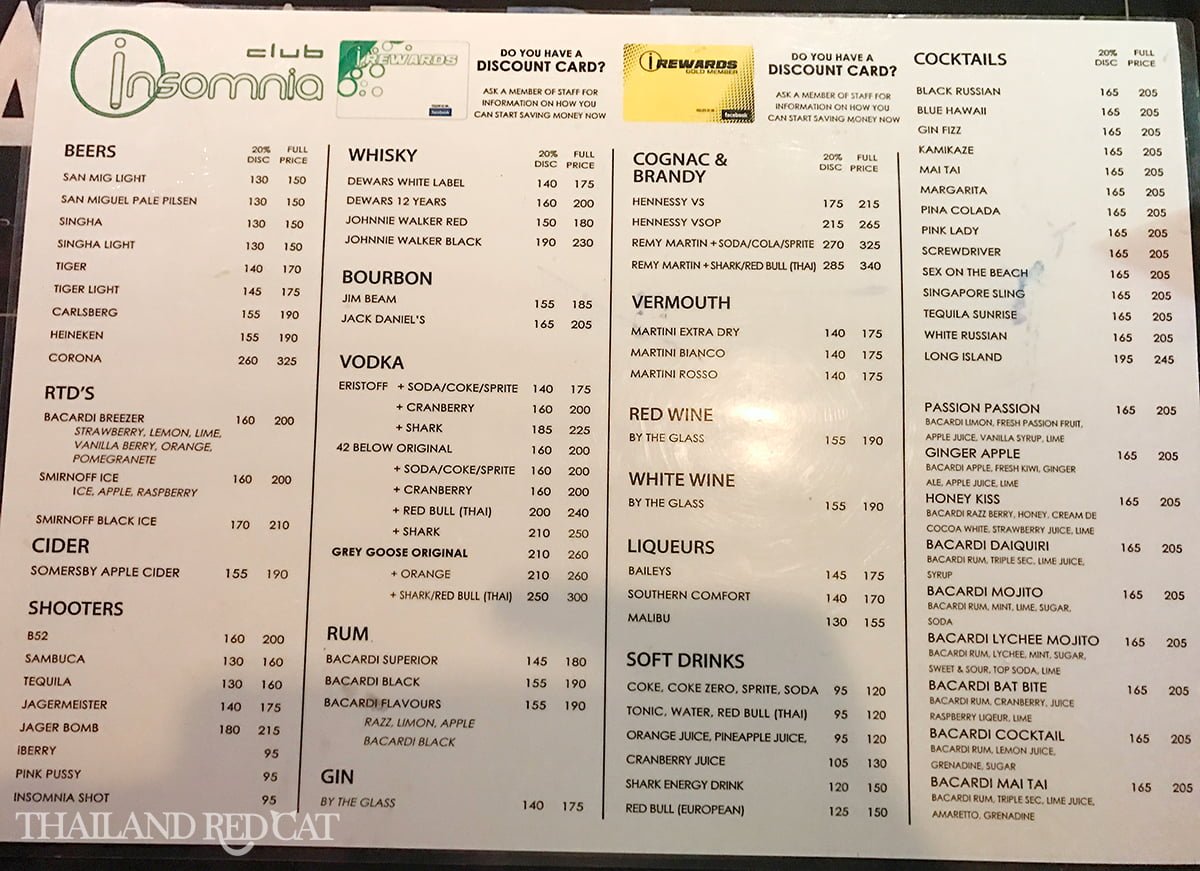 Videos of Nightclubs on Walking Street