There are all sorts of different ways to find quick and easy paid love in Thailand and among the most discrete ones are the countless of massage parlors. Just to clarify things from the beginning – there are two types of massage in Thailand:
Traditional Thai Massage (nûat pɛɛn-boo-raan, นวดแผนโบราณ):
These are the small massage salons which offer Thai Massage (nûat thai, นวดไทย), Oil Massage (nûat náam man, นวดน้ำมัน) and Foot Massage (nûat táo, นวดเท้า). Some places do offer happy endings and it's usually not difficult to tell if you just look how the girls are dressed and how they interact with you to get you in. You pay for the massage (like 300 Baht for Thai Massage or 400 Baht for Oil Massage) and then arrange extras and costs with the girl separately in the room.
Soapy Massage (àap-òp-nûat, อาบอบนวด, literally bath, steam, massage):
These are the bigger massage parlors where girls are presented in the "fishbowl" and you get the full program (including sex) for a fixed price, depending on the girl starting from 1,500 and up to 5,000 Baht. The body-to-body massage is one part of the program here, but not at all places – more on that later.
Most foreigners try the small salons and go for an oil massage with a happy ending, but many are reluctant to visit a soapy massage parlor. That's usually because of shyness as this is the most direct way of prostitution – you basically look at the girls and tell the pimp which one you want to bang. There's no prior talking involved with the girl and that's what a lot of foreigners actually want – which explains the huge popularity of the beer bars in Thailand.
It's different for Thai men or Asian men in general who usually don't like to be seen with hookers in public and that's why the massage parlors are the number 1 entertainment venues for the locals here (along with partly illegal operated brothels).
But it's not just that many foreigners are too shy to give the massage parlors a try, a lot of guys simply don't know what's going on in there and what they'll get for their money. So here we go – this is what a typical visit to the soapy is like:
You walk through the entrance door of the parlor. There are no girls attracting customers from outside like at the go go bars, beer bars or small Farang-oriented massage salons. Like already mentioned, the atmosphere is a lot more discrete and once inside in the lobby, it's similar: You don't get approached by anyone, but what you do is you just walk to the seating area in front of the fishbowl.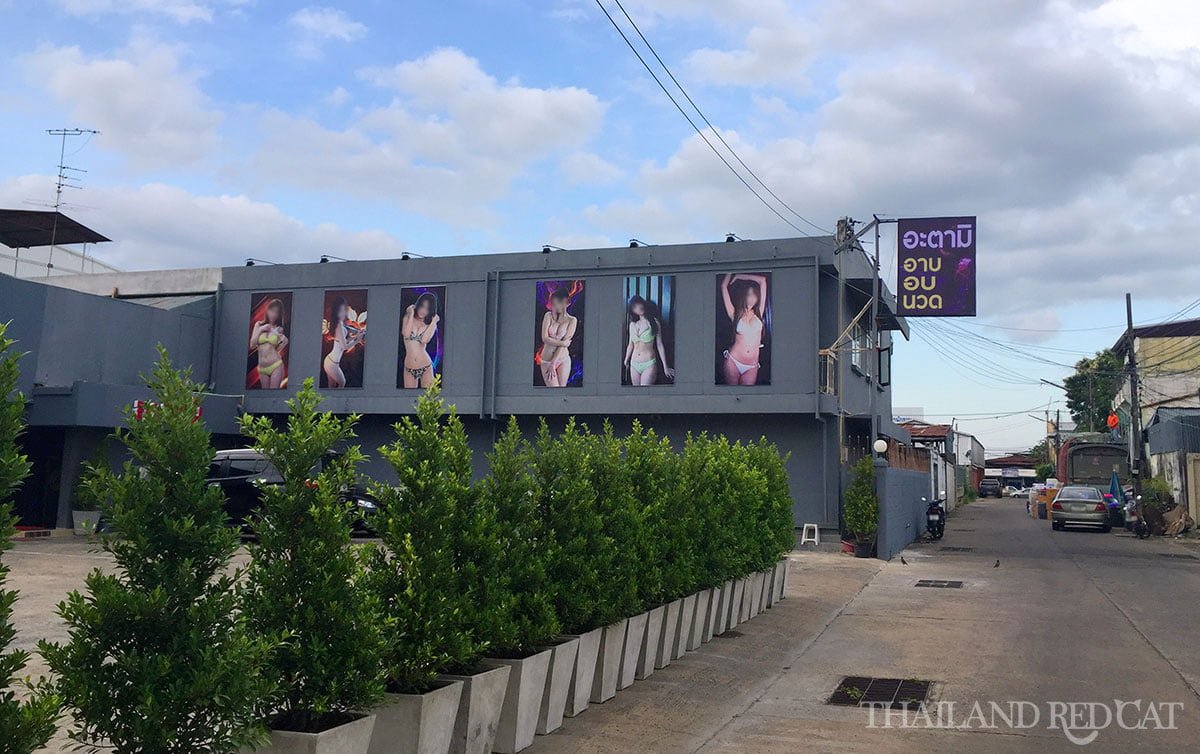 You can have a relaxed drink while looking at the selection of girls (you don't have to if you don't want, but the drink prices are usually very fair like 100 Baht for a big bottle of beer). It's quite popular among Thai men to hang out and drink for a couple of hours while slowly making up their choice. What you also might want to do is go right in front of the glass and see which girl you'd like to have sex with. A few meters closer to the "fish" can make a huge difference as compared to if you sit at the table and you might make a wrong assumption about a girl's age and if she's got a child yet.
To ease your decision, there's always a mamasan or rather a papasan around who will answer just these questions and make recommendations which girls provide good service. There's no need to be shy and you can really trust these guys, they might recommend you a girl that you thought was looking so-so, but it's those who are really diligent in ensuring you enjoy the next couple of hours.
All of the girls in the fishbowl have numbers attached on their clothes and they're usually divided into two, three or four groups. Means "older girls" like the ones over 30, who have children or just average looking are in the cheaper price category while the thin, white skinned and most attractive ones have the highest price tag. I have included a more detailed description about the different types of girls in the soapies below.
You tell the papasan which girl you would like or really just the number of the girl. He will then go to the microphone, call the girl through the speakers inside and she will stand up and leave the fishbowl. You go to the counter and pay the price (like 2,000 Baht for the full program, prices are always fixed) and right after your girl will appear in front of you and greet you with a polite wai.
You follow her up (or down) the stairs or into the elevator at some newer places and walk to the private massage room. She will get a set of towels, soap and condom(s) before you enter the room and she starts filling the bathtub with warm water and soap for the bath while you get undressed. Of course you can also ask her to help you with that.
While the water is pouring into the bathtub it's usually time for some small talk. Once ready, you both get in and she starts washing you from top to bottom, and it's usually the area in between your legs that gets special treatment and that she makes sure it's super clean before hopping onto the air mattress for the body to body massage. For that, she will get on her knees between your legs, raise the shower gel tube and cover your whole body. She will add just a little water and then lie onto you and start rubbing her body all up and down your body. It's usually this moment when you feel like in heaven and know your money was well spent.
So after the bath (àap, อาบ) and body to body treatment (òp, อบ) it's now time for the third part: the massage (nûat, นวด). For that, she will first dry you off with the towel and then take you to the spacious bed (usually queen size) and start massaging your back. Now, this massage part might be shorter than you think and she might just massage five or ten minutes or skip that part totally and start sucking your nipples left and right straightaway to make you feel horny (as if any help is needed at all).
She will work her way more and more down while using her tongue as much as she can. She then applies the condom and starts with the dirty part by riding on you – and at that point it's you to take over control of the sex and change your passive role to the active one.
Once you are done, you hop into the bathtub once again for a shower together. And this is usually it, some massage salons give you 2 shots means you can have sex with her one more time (the "Chiang Mai Massage Parlour" is such a place) but usually it's strictly 1 shot so just ask before or as you pay to make sure there are no misunderstandings.
Your girl will dry you off once again and after you got dressed you follow your girl back to the lobby, if you want to tip her a couple of hundred Baht you can do so, but it's not compulsory.
The 3 Types and Prices of Girls in the Sex Massage Parlors
Fishbowl Girls: As the name already says, these are the girls sitting in the fishbowl and most of the girls are classified as those. They're employed by the parlor and receive a base salary of around 10,000 Baht, but of course it's their sessions that pay a lot more over the month, so if the massage is 2,000 Baht they'd get no less than 1,000 so if they do 2 guys every day that's at least 70,000 Baht income a month – more than most Farangs make! Fishbowl girls have fixed working hours and may not leave the parlor until it closes which is midnight to 1am.
Price Range: $$$$$ (1,500-2,800 Baht)
Expression in Thai: tam-má-daa – ธรรมดา – Standard
Sideline Girls: These girls could also be called freelancers because that's what they essentially are – they're not employed by the massage parlour and come and go whenever they want. Some say they are more attractive than the fishbowl girls because they got a higher price tag, but that's mainly because they are quite young, usually between 18 and 22. The age usually determines the price rather than attractiveness in Thailand's entertainment industry.
Price Range: $$$$$ (2,500-5,000 Baht)
Expression in Thai: sai-lai – ไซด์ไลน์ – Sideline
Models: The term "model" is quite popular not just in the massage parlours but also at the escort agencies. When they say a particular girl is a model, that usually doesn't indicate that she's a photo model for magazines but simply that she's among the tallest, thinnest, youngest, white skinned and most attractive women working in that place. However, there are a couple of massage parlours in Bangkok that do have active and former Thai Penthouse Models (e.g. Poseidon & Utopia).
Price Range: $$$$$ (3,500-12,000 Baht)
Expression in Thai: naang-bɛ̀ɛp – นางแบบ – Model
Both sideline girls and models used to sit outside the fishbowl, but nowadays they're usually inside so the customers can get a full overview of the selection. You can see the difference by the different colors of their number labels (blue, red, yellow) and the more expensive girls especially the models would always sit on red or pink couches, usually at the very top of the fishbowl.
This is the typical categorization of girls in the massage parlors in Thailand, but it really depends on the place how they go about it. Sometimes you will find all girls have the same price and / or sitting on couches without any glass at all.
Where to find Sex Massage Parlors in Thailand?
It's kind of a tradition in Thailand for a good hotel to have its own massage salon. And while in most cases that would be a "Traditional Thai Massage" Spa (see beginning of the article), many hotels have a second one and that one would be the soapy parlor with fishbowl. Since the massage business has become such a huge industry over the centuries, there are now whole buildings with guest rooms which have only one purpose and that's serving as the place for the body to body business. Perfect examples would be Poseidon and Emmanuelle in Huai Khwang, Bangkok.
You can find the detailed names, descriptions and locations of the Sex Massage Parlors throughout Thailand in my nightlife guides.
Soapy Massage Girl vs Go Go Girl
A lot of foreigners think 2,500 Baht, 3,000 Baht or even more sounds a bit pricey and prefer taking girls from the go go bars. Let's do a simple calculation for a typical night out in the go gos: 2 drinks for you 300 Baht (at least), 2 lady drinks 400 Baht, bar fine 700 Baht (average), short time 2,000 Baht (if she's one of the more attractive girls then you'll be lucky to not getting quoted 3,000 Baht). That makes at least 3,400 Baht for the whole experience. Well and maybe you want to rent a short time room instead of dragging her back to your hotel (supposing it is guest friendly at all) and that's another 350-400 Baht.
For all that money you can get an even more stunning hot and white skinned girl in the massage parlors without problems. Sure, a visit to the go go bar is also fun itself and looking at the girls dancing (hopefully naked) on stage might be more entertaining than looking into a fishbowl where half of the girls watch TV, play on their phones or simply ignore you while hoping that makes you want to choose them. In the end it's also a matter of preferences.