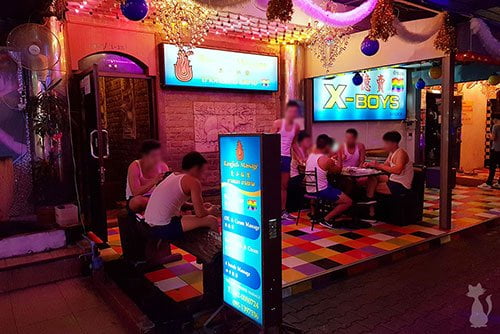 Bangkok is the ultimate Asian gay capital and a well accepted part of the Thai culture so it makes a safe happy country for both gay and bi visitors. There are many places to visit running along similar lines to finding girls.
The main areas are Silom Soi 2, Soi 4 and Soi Twilight at the top of Surawong Road, the latter one being a pure red light strip, similar to Soi Cowboy, but exclusively for the gays. In this article you will get the best possible overview of the different types of homosexual nightlife in Bangkok, where to find Thai Gay Boys and how to hook up with them.
Gay Go Go Bars in Bangkok
The place to go is Soi Twilight that has many go go bars with shows such as BBB – Bangkok Best Boys or Future Boys. These shows are explicit and starting late at around 10:30 to 11:00pm, held every odd hour until 2:00am. Normally there is no entrance fee but a mark up for the drinks charge starting at 300-400 Baht. The handsome Thai Gay Go Go Boys on the stage have a number on their speedos or boxers and you can ask the waiter to call the one you like for company, but you will need to add and pay for his drink too, normally watered down but payable in full.
It's easier to pay as you go along so no errors in the bill. If you want to take a boy out, it's possible but you need to pay the bar fine (500-700 Baht), plus the boys fee for fun – generally about 1,000 to 1,500 Baht, advisably paid after the fun and directly to him. A short time hotel room around the corner costs about 400 Baht and needs to be paid for before entering the room. Of course all these cute boys know where to take you for one of these. A private party of two or more boys can be arranged also, but ask the host for a discount.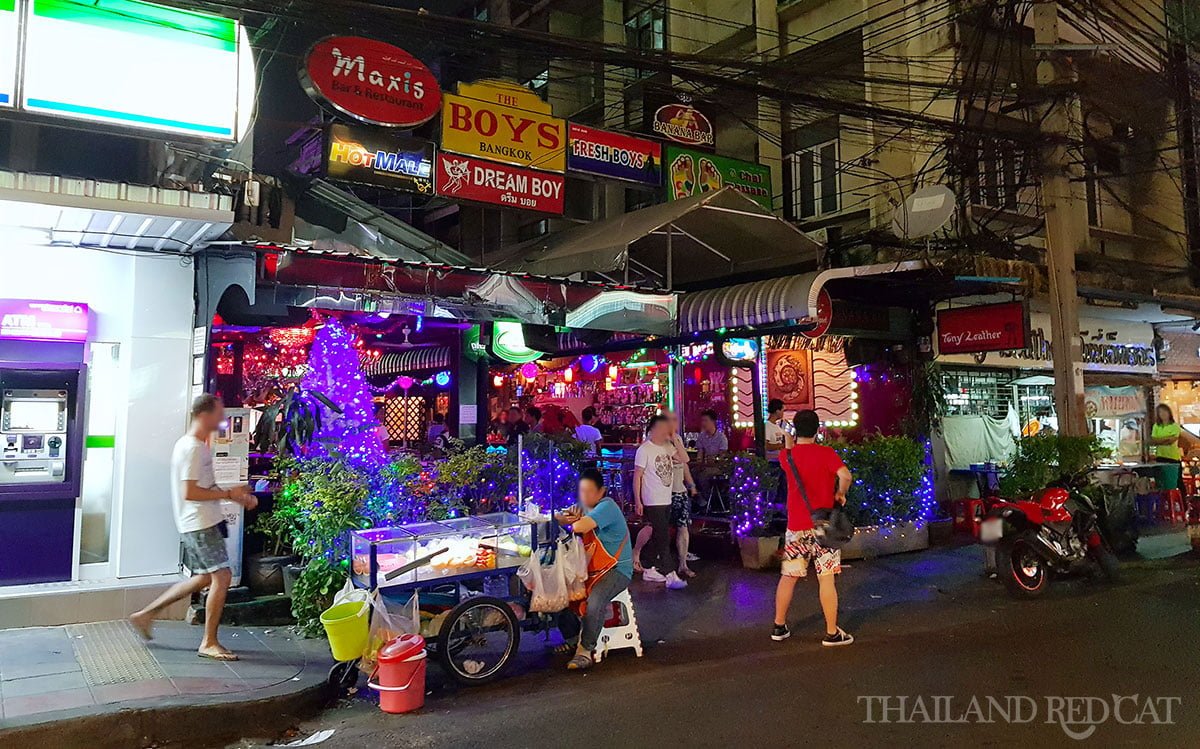 Gay Sex Shows in Bangkok
The shows at the clubs in Soi Twilight are welcoming to ladies or couples or even hen parties, but the majority of the audience are gay or bi sexual men. There are a lot of touts outside each club, feel free to walk in and look and leave if you don't like what you see, but before you sit and order a drink.
The final act is normally featuring a king guy and a Ladyboy, they may well come into the audience in full action and it's customary then to tip as they give you some close up viewing, usually 100 Baht into the Ladyboy thong or whatever they are wearing. For something different, there is a long famous great muscle boy show at the Tawan Bar.
Gay Bars in Bangkok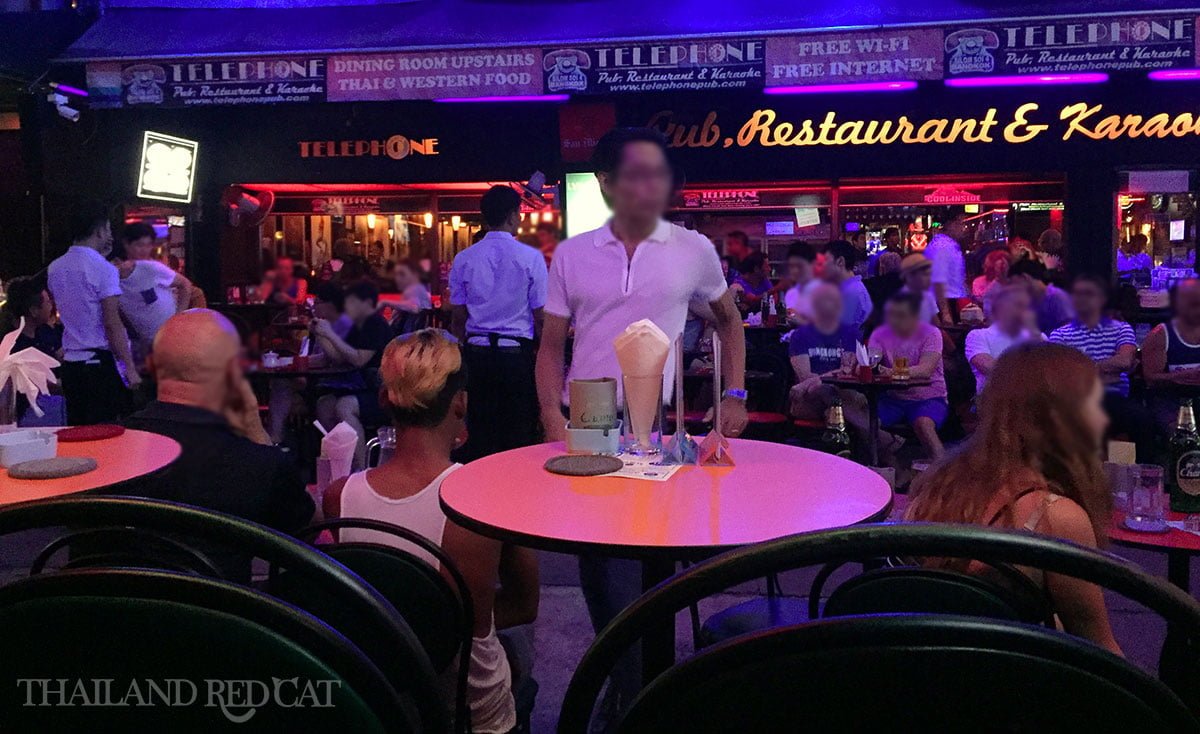 Silom Soi 4 is not only home to the most popular gay bars in Bangkok with atmospheric outdoor seating all along the small strip, but also known for a couple of dedicated karaoke bars. The most famous one is without any doubt Telephone Pub halfway down the Soi that's packed every night with both Thai and Farang gay men. Right next to it are another two popular bars & karaokes called The Balcony and Forfun. The latter one rather looks like a night club, but you may use their karaoke rooms for free if you come in a group and buy a bottle of Black Label.
Gay Night Clubs in Bangkok
You will also find the best and most famous gay night club in Bangkok called DJ Station in Silom Soi 2 where you can meet quite a lot of good looking guys, but some of them are there not just for dancing but also looking for money (they usually ask for 1,000 to 2,000 Baht for short time). They will dance right up and onto you or you can do the chasing too.
Gay Saunas in Bangkok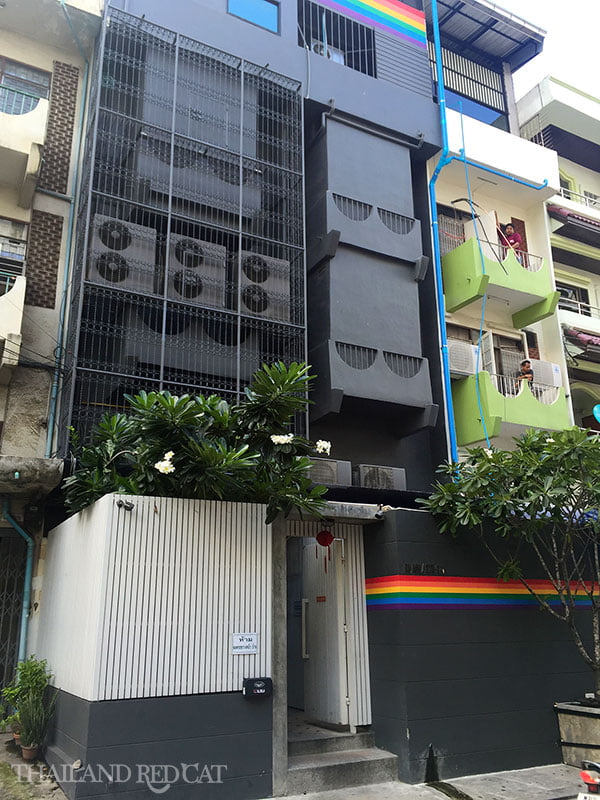 Bangkok also has a large selection of gay saunas with the most famous one being Babylon located in Sathorn Soi 1. Just ask a taxi to take you, they all know where it is. The sauna is big, modern and clean, one of the most famous in Asia and a lot of fun. Thais like dark rooms, so nobody sees each other or what is going on and everyone enjoys touching and feeling their way around.
It's a nice mix of Asians and Westerners, also they have a small hotel located as part of the sauna complex which some gay travelers stay at. You may be asked or ask if you prefer the guy being a king means a top, or not being a bottom, depending on your preference.
Another very popular gay sauna in Bangkok is R3 Sauna located in Ratchada Soi 3 (see the picture). You will see only few Farangs there because it's quite off the tourist radar. To get there, just take the MRT to Phra Ram 9 Station and Soi 3 is right behind the Fortune Town shopping mall. You can find the exact location on the map at the end of the guide. And just 50 meters from R3 Sauna in the same street is Dr. Bear Massage – see below.
Gay Massage in Bangkok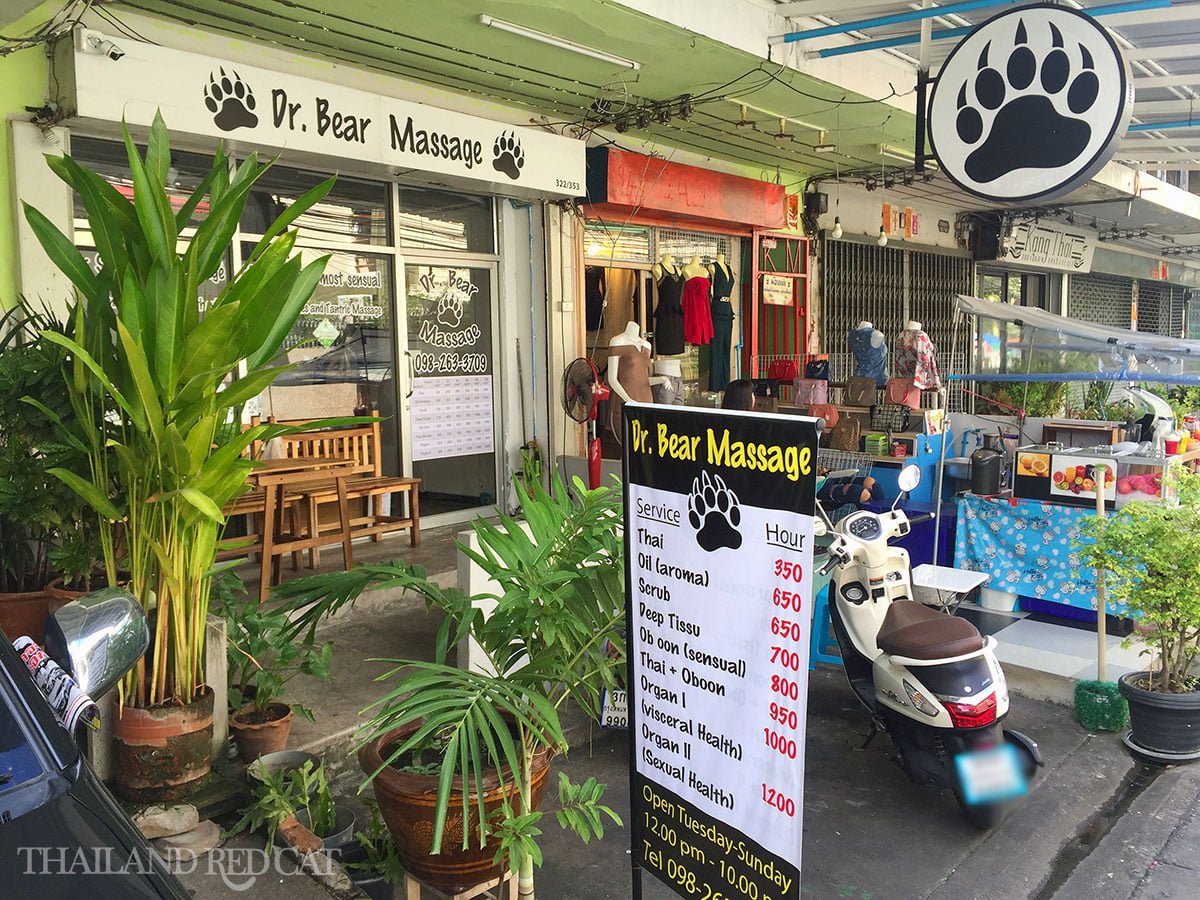 Naughty Gay Happy Ending Massage Salons are spread all around the Patpong area. A nude massage with oil or cream costs about 500 Baht for the room and one hour massage, but expect to give a tip of 500 to 1,500 Baht plus depending on the special service. Adam Massage located in Silom Soi 4, Dr. Bear Massage located in Ratchada Soi 3, Albury Men's Club located in Sukhumvit Soi 26 or Hero located at the bottom of Sukhumvit Soi 11 are also worth visiting.
When entering these places there will be a choice of local guys to choose from, but normally the host (mamasan) will ask what you like, i.e. if you want one with a big cock- king or good massage, or you want a guy with small bubble butt, bottom guy, he will guide you to the guys best suited for your needs. A lot of guys will show their interest and smile eagerly but relax and take your time. You can ask questions to your host, such as which ones have had no customers today.
Depending on the guy you choose it can be a good or so so experience. Some speak a little English, others don't. These places offer showering and toilet facilities and what's nice the guy wants to join you in the shower to get things moving, both at the start and end of the service. You can choose between 1 or 2 hours.
Gay Online Dating Sites
There are numerous popular websites like Thai Friendly to meet and hook up with Thai Gay Boys individually and for free. However it's advisable to lock away the valuables during your first date just in case for quite a few of them can be light fingered.
An overview of the most popular Gay Thai Dating Sites can be found here.
Safe Sex
The guys are usually well versed in safe sex and most have supplies, but take some yourself. If you are well endowed 8 inches plus, it's hard to get larger sized condoms in Thailand so bring your own supply.
Gay Friendly Hotels in Bangkok
The Tarntawan Place Hotel, located in Surawong Road is a very gay friendly 3/4 star hotel with an Agoda 8 points review score. The great thing about it it's close to the gay area in Patpong, has decent rooms for reasonable prices and includes an overnight guest if you wish to invite one. Another option in the Patpong area is the Rose Hotel which is very gay friendly as well or Hotel Malaysia near the Babylon Sauna in Sathorn.
Gay Festival during Songkran
During the three days of Thai New Year Songkran in April, there is a well known "Gay Circuit" of parties and street events and pool parties. It is well organized and a lot of foreigners and other Asians come to Bangkok during this time of the year to meet Thai guys. This is supposedly the largest gay festival in Asia and you can buy tickets online.
Map of Gay Hot Spots in Bangkok
Gay Scene in Pattaya & Chiang Mai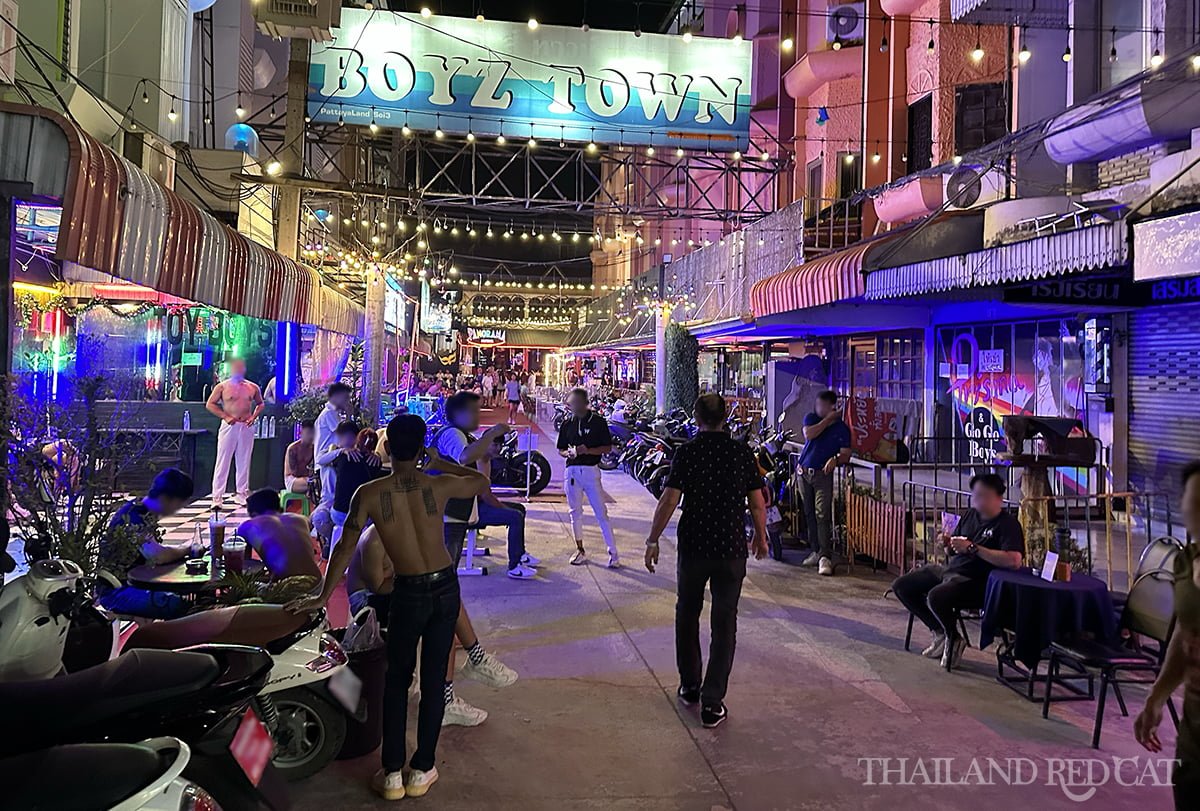 Even though your biggest playground is without any doubt Bangkok, there are also thriving gay scenes in other parts of Thailand. Of course they deserve their own articles, but to give you a quick overview: Pattaya has a dedicated gay red light district called Boyz Town which is located right next to Pattaya Soi 13/4 near the Royal Garden Shopping Mall. Chiang Mai also has many gay massage salons and saunas spread all around town and staffed with Thais and also Burmese offering their naughty services in them.
I'd like to thank my friend from England that I've been teaching Thai for the past 8 months for helping me to put together this informative article. Even though I'm clearly not the expert on this topic, I still have something for you guys to add here:
Some Useful Vocabulary
The Thai word for homosexual / gay has been adopted from English. Just make sure to pronounce it the right way: Mid tone, long vowel and the "y" tends to be unvoiced.
gee               เกย์               gay
Since the Thai word for man is pûu-chaai, you would say accordingly:
pûu-chaai gee               ผู้ชายเกย์               gay man
Just note you literally don't say "Gay Man" but "Man Gay". So, if you go one step further you can ask:
kun chɔ̂ɔp pûu-chaai gee mǎi kráp?     คุณชอบผู้ชายเกย์ไหมครับ     Do you like gay men?
chɔ̂ɔp               ชอบ               Yes, I like.
Videos of Gay Nightlife in Bangkok