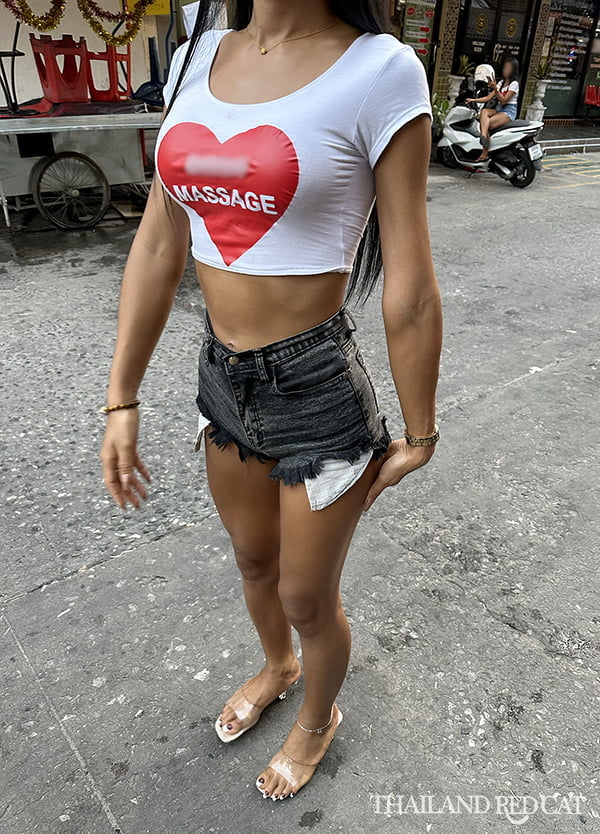 For those who are into ladyboys or just curious to try one – Bangkok is the best place to do it. It has obviously not just the highest number of ladyboys, but also the most diverse options on how to get laid with them. Most common and well known are the escorts on ladyboysbangkok.com as well as the online dating site to easily get hooked up.
But there are also a few naughty ladyboy massage salons spread around downtown Bangkok that you might not easily come across due to the overwhelmingly huge number of massage shops that have girls only working. It's like 200 girl massage salons per 1 ladyboy massage salon.
Needless to say that the massage experience as such can be even better than with a Thai girl. Especially if you like a firm and strong massage, ladyboys can make you feel great while most of the massage girls are quite lazy, often haven't learned how to massage properly and you even have them telling you "nûat mâi bpen" (I cannot do massage) and go on to ask you for their specials too quickly in a lot of cases.
The prices for these "additional services" in these ladyboy massage places are similar to the girl massage places:
Hand Job: 500 Baht
Blow Job: 800 – 1,000 Baht
Boom Boom: 1,000 – 2,000 Baht
Of course prices are negotiable, but these are the common rates you'll find all over Bangkok (and in all other major cities in Thailand). Below are the various ladyboy massage salons in Bangkok, what makes them unique as well as their exact location:
The 4 Best Areas for Ladyboy Massages in Bangkok
Sukhumvit Road (between Soi 5 & Soi 7)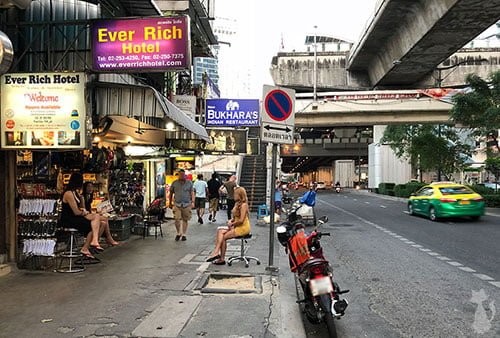 Probably the most famous ladyboy massage salon in town, Montra @ Spa & Massage is located on the busy market of Sukhumvit Road between Soi 5 and Soi 7. Almost all of their staff are ladyboys which are stunning hot and some also post-op. Most of them are sitting right outside the entrance of the shop, trying to convince the hundreds or rather thousands of daily pedestrians to come in for a massage in one of their fairly small but clean private rooms upstairs. Quite funny: They have a note on the wall of each room saying "Price includes massage only. Please don't ask for extras." Of course there is no need to ask anyway since your ladyboy will ask you towards the end of the massage.
Thai Massage: 400 Baht
Oil Massage: 500 Baht
Ladyboy's Attractiveness: 8/10
Sukhumvit Soi 7/1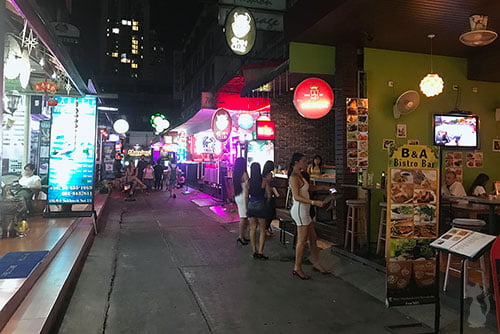 Very close to Montra Massage (see description above), there is another ladyboy massage salon located in Sukhumvit Soi 7/1. Same here, the "ladies" are all sitting outside, except the ones that are doing foot massage inside or more naughty massages upstairs (called a "Thai Massage" or "Oil Massage"). The setup of this place is almost identical to Montra, small but fine rooms and you may take a shower after the massage is finished. The ladyboys are pretty hot but this is the priciest place in this category, if you go for an Oil Massage it's 700 Baht, means if you want some extra you will not leave the place spending less than a thousand. Seriously with that money in hand I would rather continue walking down that same Soi and give Dr. BJ's a visit.
Thai Massage: 600 Baht
Oil Massage: 700 Baht
Ladyboy's Attractiveness: 6.5/10
Sukhumvit Soi 4 & Soi 5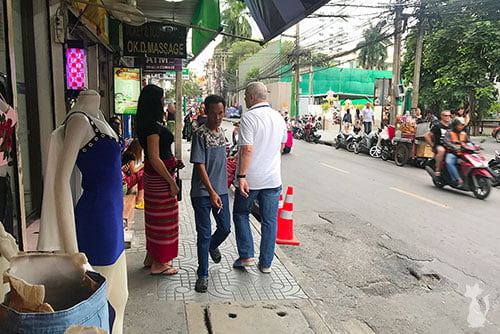 99% of all the girl massage salons in Bangkok strictly don't employ ladyboys just to be on the safe side and avoid foreigners making a "wrong pick" by accident. However, you do have a couple of massage shops that have a handful of ladyboys working while the majority are girls. There is one particular shop on the tiny alley off Sukhumvit Soi 5 just opposite Foodland (at the very end on the right) that has a couple of sexy ladyboys. The other area with these kind of mixed massage salons is Sukhumvit Soi 4 where you can find two places right opposite Hillary Bar 1 and one more just around the corner on the small side Soi on the left hand side.
Thai Massage: 300 Baht
Oil Massage: 400 Baht
Ladyboy's Attractiveness: 7/10
Ratchaprarop Soi 8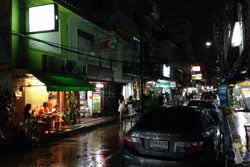 There are a couple of more mixed girl-ladyboy massage salons in the Pratunam area, or more specifically on Ratchaprarop Soi 8, a three minute walk from the Ratchaprarop Airport Link Station. The area has not much of tourist interest, but there are quite a few foreigner-oriented restaurants and massage shops on this street that mostly tourists frequent who stay in one of the many popular hotels nearby such as The Escotel Bangkok. Coming from the Airport Link Station and Thanon Ratchaprarop (main road) walk into Soi 8 and especially the third and fourth massage salons on the right side have a decent selection of more than decent looking ladyboys.
Thai Massage: 350 Baht
Oil Massage: 450 Baht
Ladyboy's Attractiveness: 6.5/10
Map of Ladyboy Massage Salons in Bangkok