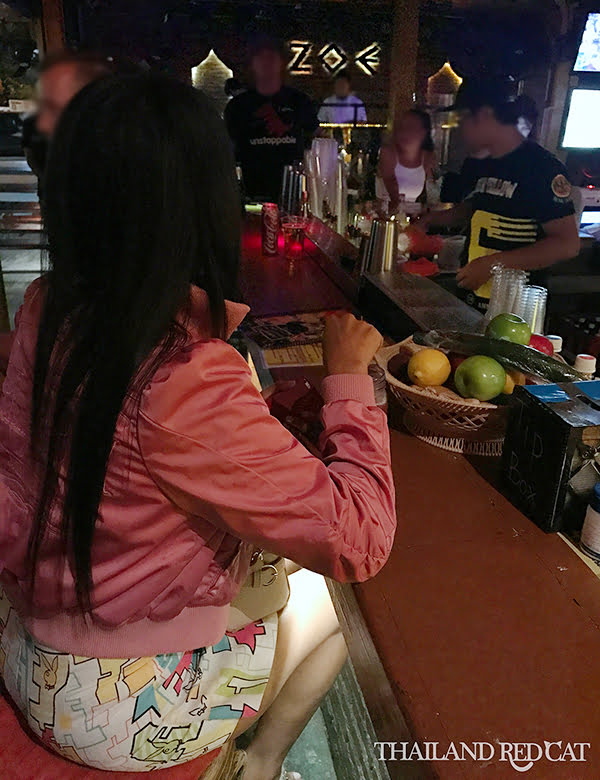 Sooner or later during your stay in Chiang Mai you will feel like you have enough of exploring all the temples and other attractions around town, and just sit down somewhere and enjoy a cool Singha. Or Leo, or Chang.
There is certainly no shortage of nice places to drink beer in Chiang Mai, and there are generally two types of places: The regular bars and the girly bars (or beer bars, whatever you call them). The regular bars can be a lot of fun if you go with a friend, especially The Moat House and a few other small and neat bars around the Tha Phae Gate are great to sit, chat and watch the street life in the late afternoon sun. Another good area with nice bars is around Tawan Daeng in Nimman (Maldives is one of the popular semi-outdoor bars there and they also have live music every evening).
Or the hugely popular Zoe in Yellow (photo, great spot to pick up freelancers), the atmospheric Oasis Rooftop Garden Bar, The North Gate Jazz Co-Op and the hip sky bar called Myst on top of the nicest shopping Mall in Chiang Mai: Maya. Don't worry about having to google all these map locations – I have marked them for you on the overview map at the end of the guide.
The only problem with these bars is that you will find it difficult to meet local Chiang Mai girls (Zoe in Yellow is the famous exception here that is one of the best pick-up bars in all of Thailand). In most of these bars the Thai girls will even completely ignore you – especially in the Thai style places like Myst and Maldives. That doesn't mean that it's impossible to hook up with someone in these bars, but it's just that you shouldn't expect the ladies to make the first step. And you should really speak some Thai if you want to talk to the locals there since they are often too shy to really start a conversation with you because they are scared that their English is too bad.
While most expats in Chiang Mai love to hang out in these regular bars and try to mostly avoid the girly bars (after a week you know all the bars and everyone will know you), if you are visiting here then they are without doubt the best place to have a few beers, pool games and to enjoy yourself with young and attractive bargirls.
There are a few areas in Chiang Mai with clusters of girly bars, and I will tell you about the best ones so you don't waste your time looking and driving around (if you've ever driven around Chiang Mai by motorbike you will know that this town is full of one way streets and a seemingly short trip on the map can turn out three times as long as you expect because you will no doubt get lost at one point or face several one way roads you can't enter. Trust me, you will think of me when you are in that situation).
So it's better to be prepared and know where you want to go right away instead of randomly driving around.
The 4 Best Girly Bar Areas in Chiang Mai
While you can find girly bars spread all over town, here are the main areas where you will find at least a dozen of bars full of girls ready to entertain you:
Girly Bars on Loi Kroh Road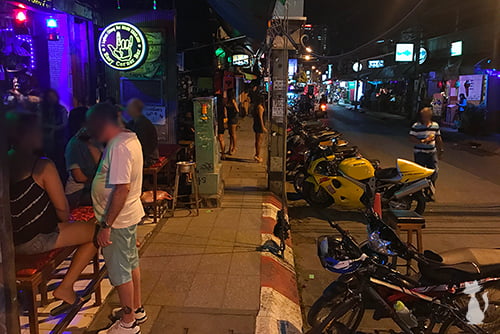 This street is the most popular nightlife area among tourists in Chiang Mai. You can find plenty of hotels, restaurants, happy ending massage salons and also the highest concentration of girly bars in all of Chiang Mai – especially near the ring road intersection. To be honest I don't really like these bars though, every time I give them a try I find that 80% of the girls are well over 30 and don't look very attractive either. That's not to say that you might not find one hot and skinny Thai girl in her early 20s in one of the bars, but it's just not comparable to other areas, especially the next one on this list.
Girl's Quantity: 8/10
Girl's Quality: 6/10
Chiang Mai Entertainment Complex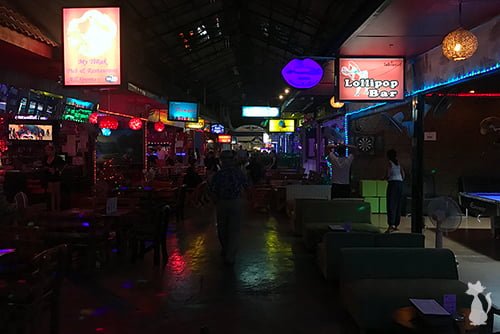 Whenever I decide to have a night out at the girly bars in Chiang Mai or meet up a friend for a few pool games, I go to the Chiang Mai Entertainment Complex. It's actually located on Loi Kroh Road (see above), but it's really an area of its own – a rectangular square with about 25 girly bars and well over 150 girls including a Muay Thai ring in the center (fights take place about every 2nd day, the entrance fee is 400 Baht for standard tickets and 600 Baht for VIP tickets). The bar girls in the Chiang Mai Entertainment Complex are the hottest in this category in town – even though they cannot compete against the hot chicks from the karaoke bars on Chang Klang Rd in the southern part of town. Check out the video I took in one of the bars at the end of the guide.
Girl's Quantity: 8/10
Girl's Quality: 7/10
Girly Bars in Chiang Mai Old Town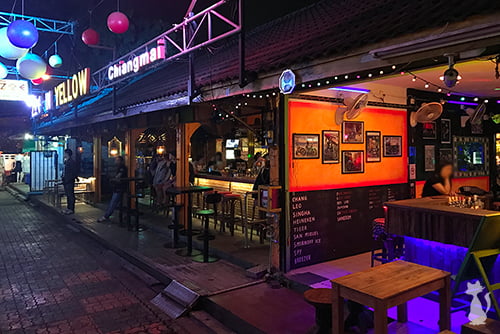 One bar you simply should not miss during your stay in Chiang Mai is Zoe in Yellow right in the center of Old Town. It's a mix of bar and night club (half open air, and they also got an indoor night club, or "pub" to use the Thai expression). Zoe's has the highest number of freelancing girls in all of Chiang Mai, and apart from that, their drink prices are also really cheap. It's packed every night and if you want to pick up a freelancer that's the place to go before midnight (and Spicy after midnight). While Zoe's is technically no girly bar (because the girls are not employed by the bar) I think it's still worth including it on this list. And there are also a few other, smaller bars right opposite including a few "real" girly bars like Full Moon Bar and Babylon Bar. They aren't that great though compared to Zoe's or the Chiang Mai Entertainment Complex (see above).
Girl's Quantity: 7/10
Girl's Quality: 8/10
Girly Bars in Chiang Mai Night Bazaar
The fourth area with girly bars is in the Chiang Mai Night Bazaar just north of Loi Kroh Road. It's the most quiet type of bars and you will only find 2-3 girls in each of these places. When I first came to Chiang Mai 8 years ago I thought it would be only a matter of time until all of these bars shut down – but they are still there! If you like these kind of places where you are the only customer (or another regular quietly drinking his beer), then you will probably like it here. Girl's quality? Well, not really good. But check it out for yourself – it's worth visiting the Night Bazaar anyway, they've got a nice fish spa (100 Baht for 20 minutes) and also traditional Lanna shows. And if you walk around the area you can find even more beer bars, especially along Soi Chareonprathet 6.
Girl's Quantity: 3/10
Girl's Quality: 5/10
Overview Map of Girly Bars in Chiang Mai
I have marked the girly bars with the "beer pin" and the regular bars with the "wine pin".
Some Tips and Advice
One thing you will quickly notice is that the girly bars in Chiang Mai are fairly quiet during the afternoon. It's not like in Bangkok where you can go to Soi 4 or Soi 22 at 3pm and find almost as many girls on the day shift as girls on the night shift. Pattaya and Phuket are much better in terms of number of beer bars and bar girls, too.
So I'd recommend you to just don't bother with the beer bars until sunset and if you really want to have a beer in the afternoon then better stick with the regular bars like The Moat House or other bars near the Tha Phae Gate. That also gives you a good opportunity to chat with the staff in these bars as they are not as busy as during the night.
The best time to hit the girly bars in Chiang Mai is at around 9-10pm when everyone has had their dinner and wants some action with pool, ladies and music.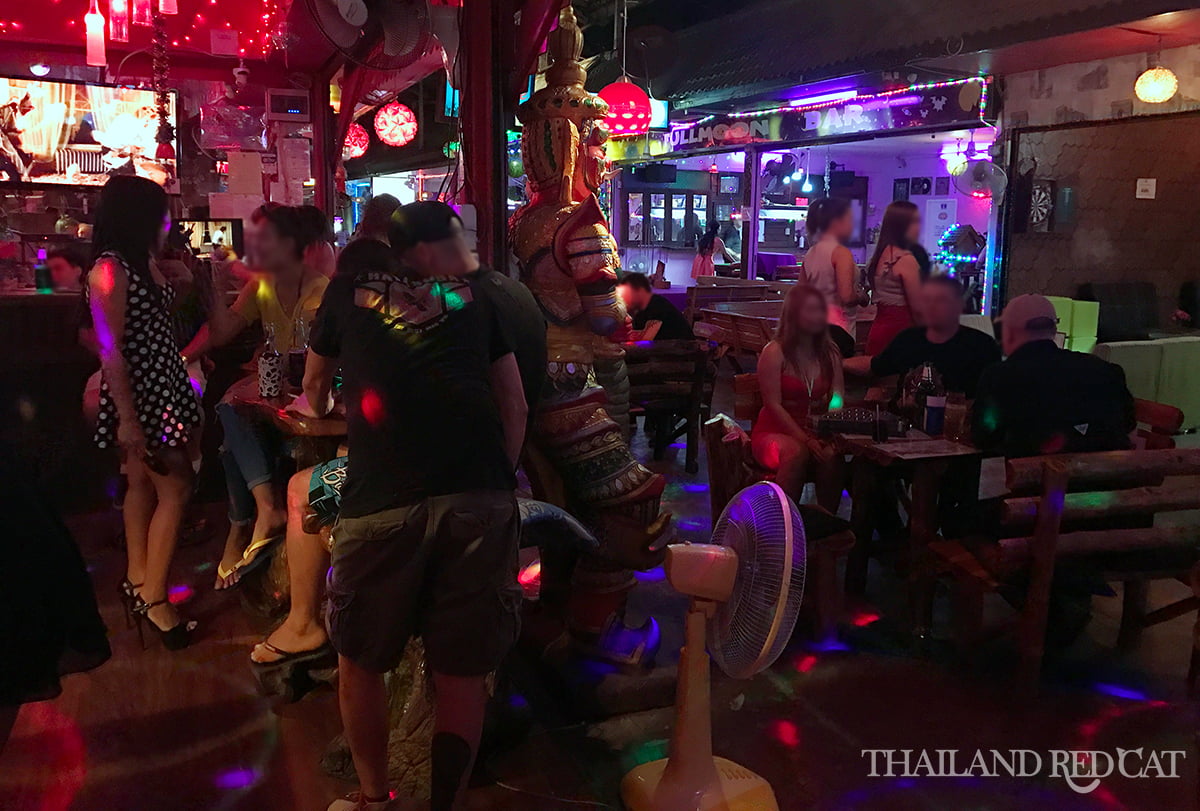 And that's how it usually works in these bars: You walk in (or you will be dragged in by one of the excited girls who makes the impression that you made her day) and order a drink. See the next section for information on the drink prices. If she knows that you are visiting Chiang Mai (they usually have a good sense telling that, but often they will just ask the standard questions – "you come holiday in Chiang Mai, how long you been here, where you come from?") then she will probably try to sit with you and ask for a lady drink sooner or later.
If she knows you are living in Thailand then she might just leave you alone or ask you if you want to play pool right away. You can buy her a drink after your first game (but it's up to you of course).
And if you get on with a girl well, then of course you can pay her bar fine and take her to your hotel for sex. The bar fine is 500 Baht in almost every beer bar in Chiang Mai and the standard rate for short time is 1,000 Baht and for long time 2,000-2,500 Baht. Don't pay too much – it's quite likely that she will tell you it's 2,000 Baht for short time, but it's not. Maybe for a top-notch karaoke girl or soapy massage girl, but not for 90% of all bar girls in Chiang Mai.
Drink Prices in Chiang Mai's Girly Bars
One of the things I love about the girly bars in Chiang Mai (and any type of bar really) is that they have not only small bottles like it's the case in Bangkok, Pattaya and Phuket, but also big bottles. And even better: The prices couldn't be more reasonable: It's like 135 Baht for a big bottle of Leo – compare that to every single bar in Nana, Bangkok, where you'd pay around 140 Baht for a small bottle during regular times.
The prices for lady drinks are Thailand-standard though and cost between 160-180 Baht on average.
See below the full drink menu of My TiRak Pub in the Chiang Mai Entertainment Complex (which is, by the way, my favorite beer bar in Chiang Mai):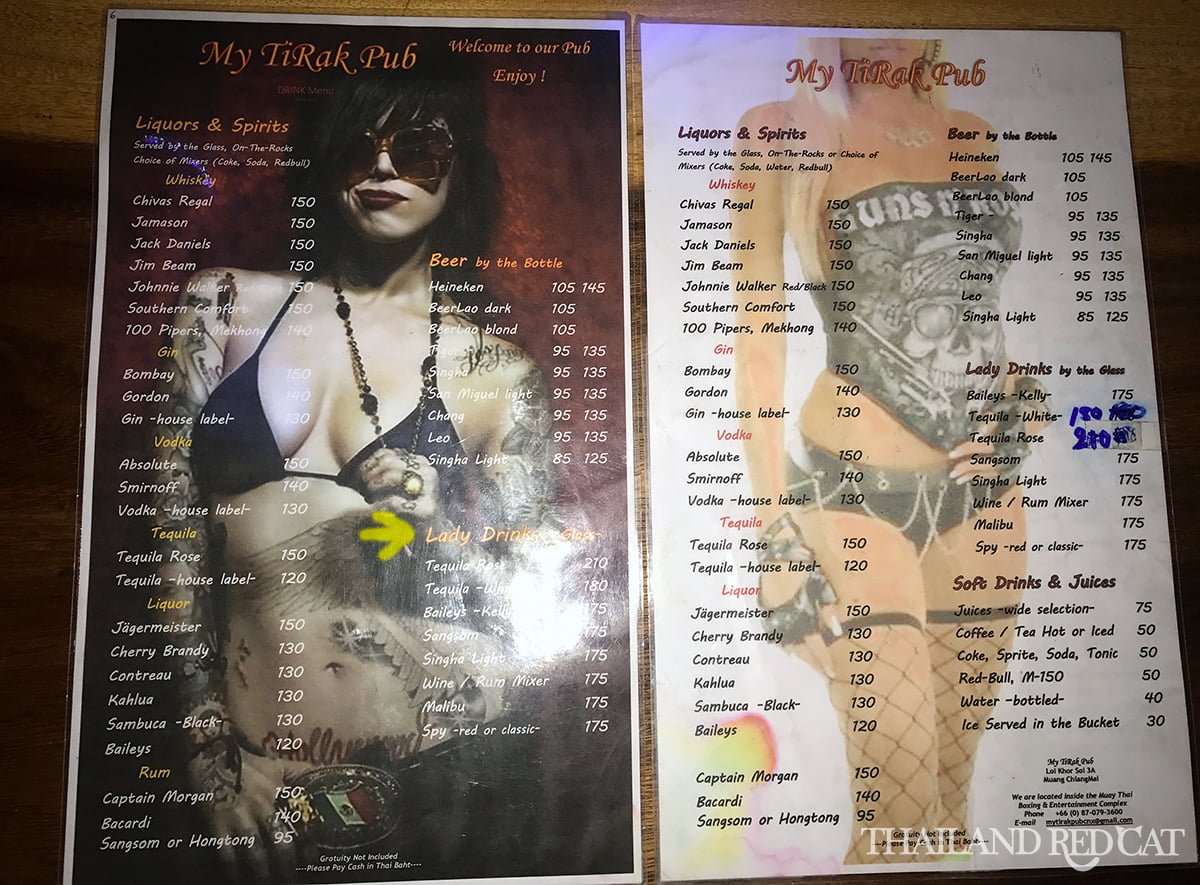 Video of Girly Bars in Chiang Mai