I think the biggest temptation for most guys going to Chiang Mai are the many soapy massage parlors and happy ending massage salons that are spread all around town. I have already covered all these bigger soapy massage parlors with fishbowls in my Chiang Mai nightlife guide, so today I will go into more detail to the smaller massage salons.
You might ask yourself: Why do I write a guide on massages when you can basically just randomly walk around town and will surely find more than enough of these little massage salons? Well, that's because only certain areas are known for providing hand jobs or blow jobs to their customers, while others offer strictly only massage.
Look at this room in one of the massage salons near the Tha Phae Gate – do you think they give happy endings there?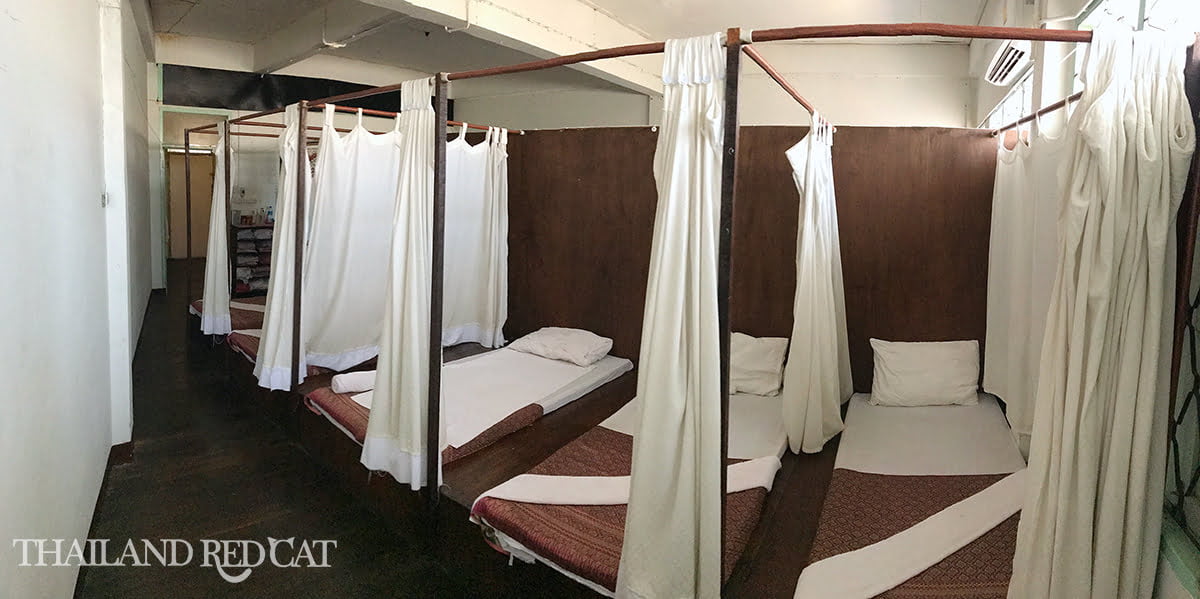 Well, as it turns out there is only one massage lady in this place that gives you a hand job at the end of your massage while all other girls (or rather women) won't do that. Therefore you should better know which area to go to right away where you have a bigger selection of girls to choose from.
The best area for happy ending massages in Chiang Mai is on Loi Kroh Road.
Where to find Happy Ending Massage Salons in Chiang Mai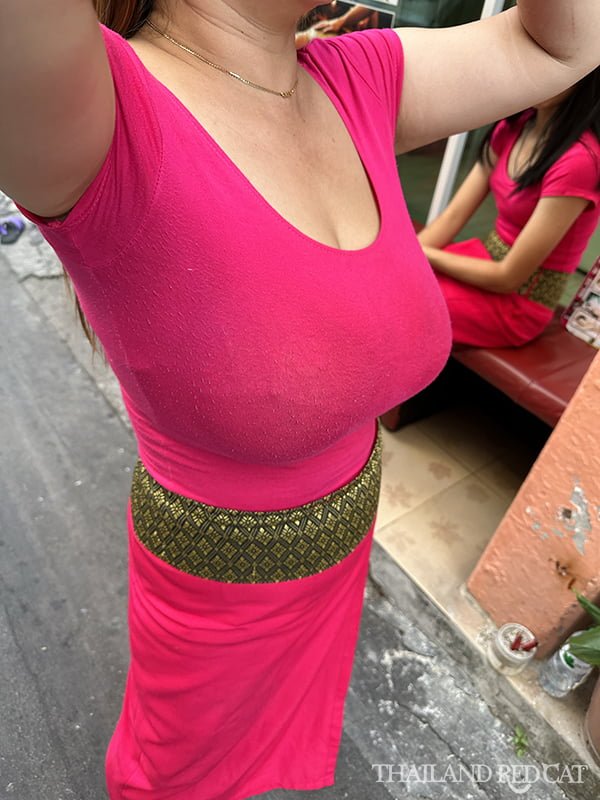 Usually the easiest way to tell if the masseuses in one particular massage salon offer "specials" is to look at how they are dressed: If they wear standard and boring massage clothes, then you should probably keep walking. But if they wear tight skirts and sexy shirts, then that's usually the sign that you are at the right place.
Also, as you approach the place and one or more of the girls become extremely excited and yell at you things like "hello, lovely man! Where you going? Welcome massage!" and even put their hands out to grab you like usually only the ladyboys do it, then that's also almost a guarantee that she could hold your dick in her one hand and an oil bottle in her other hand in 30 minutes from now.
And if that's still not easy enough for you, look out for this one: Regular masseuses usually sit in front of their stores (if at all, often they would just wait for customers inside). But if you see girls standing in front of the salons and waving at you with their service menu, then that's another sign that you can expect some extras here.
Alright, enough with all the general info, here are the 3 main areas with massage salons in Chiang Mai:
Loi Kroh Road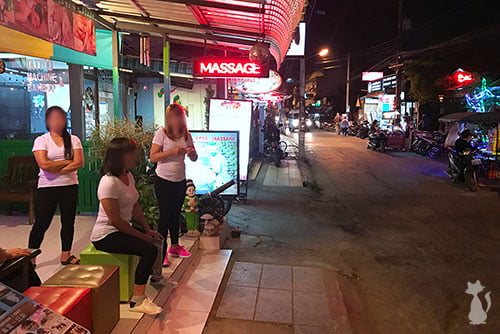 Loi Kroh Road is not only the most popular nightlife area among tourists in Chiang Mai with a lot of hotels, western restaurants and girly bars, but this is also where you will find the highest concentration of happy ending massage salons in town. The masseuses are also the youngest and most attractive ones in this category (you can verify that by checking out my video at the end of the guide), and if you want to try something new, then you can even find some hot ladyboys working in these massage salons. I personally don't like these places though, because most of the girls have a bit of an ego and many of them ask for 1,000 Baht for a hand job which is ridiculous. That's what you should pay for a blow job – at most. But well, if you are into having a young Thai girl sucking your dick, then you will definitely have the best chances here on Loi Kroh Road – it's very unusual that they do blow jobs in the other areas.
If you don't like any massage girl in this area, a good place to sit down and have a beer is the Chiang Mai Entertainment Complex.
Sridonchai Road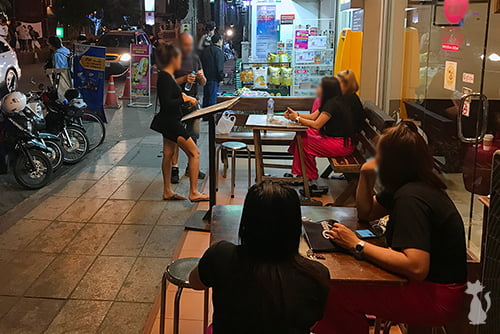 Sridonchai Road runs parallel to Loi Kroh Road. It often gets completely overlooked by guys looking for a happy ending massage, but in fact you can find almost as many massage salons here than on Loi Kroh Road. Also, the girls are not nearly as pushing and over-diligent than up in the tourist area. Just give this street a try, the only downside is that there is not really anything else of interest apart from the massage salons.
If you don't like any massage girl in this area, a good place to sit down and have a beer is… there are not really great bars on Sridonchai Road. Better to go back to Tha Phae Gate (in the afternoon) or Loi Kroh Road (in the evening) for a refreshing Singha.
Tha Phae Gate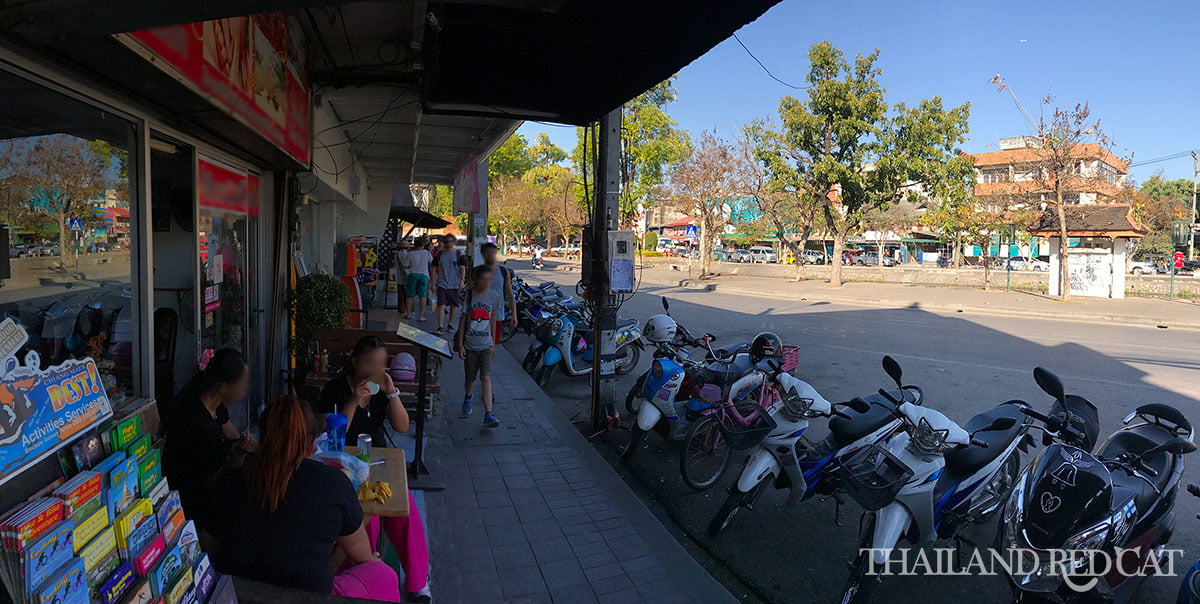 The Tha Phae Gate is one of the areas with the nicest atmospheres in Chiang Mai. Lots of cosy bars and restaurants here, and there's also no shortage of massage salons. You will find the ladies sitting outside, as usual, but it's quite difficult to say who will provide a happy ending here.
But that's what it makes it also quite exciting – while on Loi Kroh Road some girls will ask you after just five or ten minutes "what you want?", it's well possible that around the Tha Phae Gate you pick an innocent looking massage lady in her 30ies that will just give you an oily hand job at the end of the hour without even discussing a price – you would then just give her whatever tip you think is appropriate (see below for the information on the typical prices).
If you don't like any massage girl in this area, a good place to sit down and have a beer is The Moat House.
Erotic Massages in Chiang Mai (Body to Body)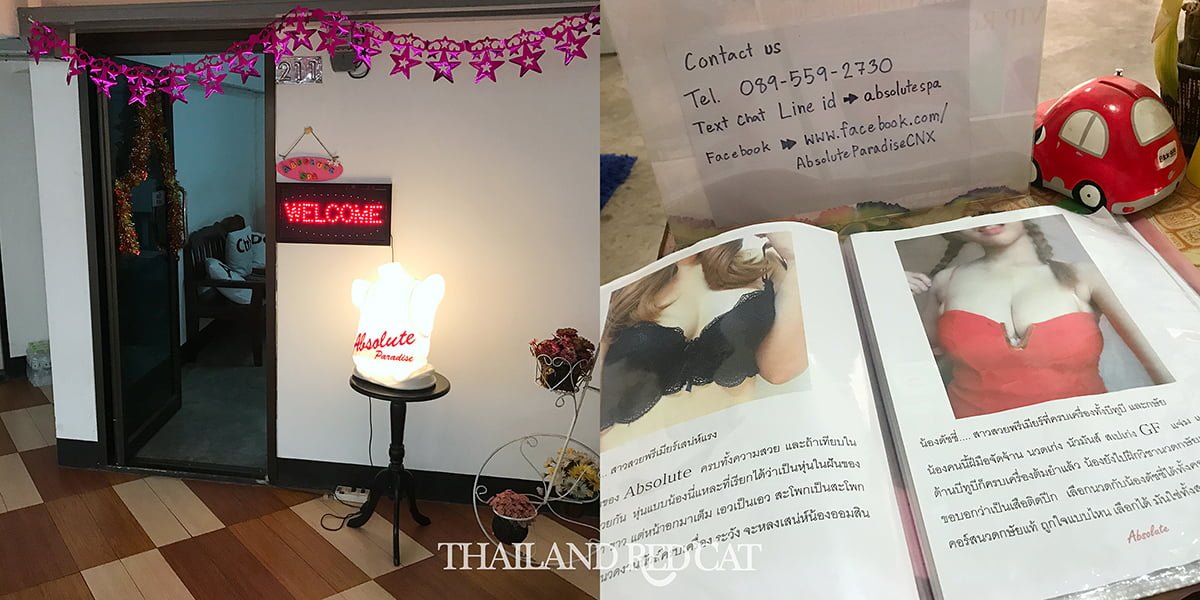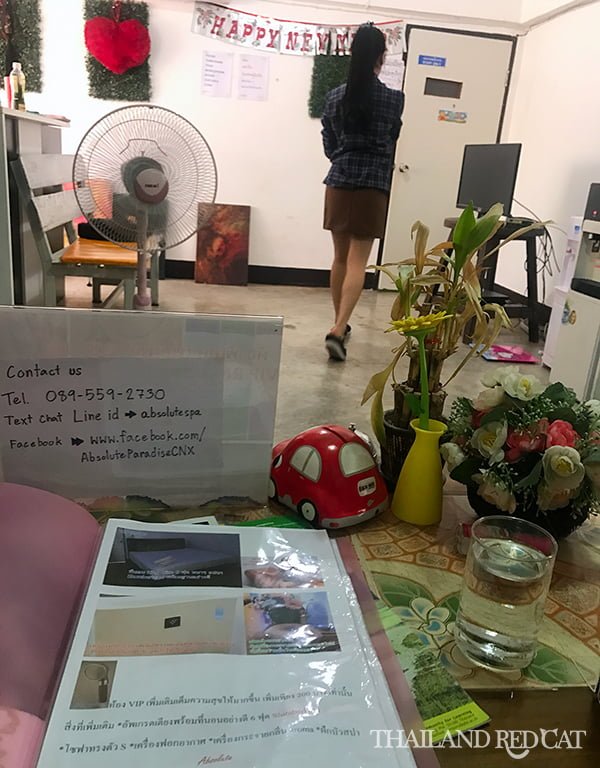 Completely unknown to most tourists are the erotic massage spas in Chiang Mai. No, I'm not talking about the soapy massages with fishbowls here. This is a completely different category and if you ask me, the best type of place to go for the best massage experience. The girls are really hot – much more attractive than the average girl on Loi Kroh Road or even in the soapies.
The two most popular places in this category are Absolute Paradise Spa (photo) and All About Touch Massage. Most of them are located well off the tourist areas in the northwestern part of town – I have marked their exact locations on the map at the end of the guide.
The way it works in these places is that you pay a fixed price (around 1,200-1,500 Baht) for a body to body massage including hand job. Yes, you read it right: It is a body to body with lots of oil that you may know from some Japanese adult movies on the internet. These places are more and more difficult to find throughout Thailand (as the soapies usually don't offer it any longer), but fortunately here in Chiang Mai there are quite a few of these "spas".
And then you can talk with the girl if you want any "upgrades" such as a blow job or sex. Of course these places also have 4 hands massages, tantric massages, prostate massages etc. available – it kind of reminds you of the infamous special massages in Sukhumvit Soi 22, Soi 24/1 and Soi 33 in Bangkok (check out my guide on happy ending massages in Bangkok for more info).
I would recommend you Absolute Paradise and All About Touch Massage to start with, and if you get addicted and want to check out more (quite possible) then you can also give the Senz~ Diva, Dream Massage and Daisuki by Lolita a try.
Prices for Massages & Happy Endings in Chiang Mai
What you will notice is that the standard rates for massages in Chiang Mai are around 100 Baht cheaper than in Bangkok. Means here you would usually pay 200 Baht for an 1 hour Thai Massage (in Bangkok it's usually 300 Baht) and 300 Baht for an 1 hour Oil Massage (at most, in Bangkok it's usually 400 Baht).
Needless to say that if you want a happy ending, you should take the Oil Massage. Thai Massage would work, too, if you don't like it that "slippery", but don't take a foot massage as you don't get a private massage area for that (means no extras).
And the typical prices for the happy endings in Chiang Mai are as follows:
Hand Job: 400-500 Baht
Blow Job: 700-800 Baht
Sex: Mai Dai!
Important: If you want a blow job then your best chances are on Loi Kroh Road (even though not every lady there would do it, you may want to inquire beforehand), and if you want to go 100% sure then just go to one of the erotic massage salons (see above) – that may turn out a little bit more expensive (about 2,000 Baht including the body to body massage) but the girls there are much more attractive and the whole experience is much better and less pushing than on Loi Kroh Road.
Map of Happy Ending Massage Salons in Chiang Mai
I have marked the "regular" happy ending massage locations with the yellow pin and the special erotic massage salons with the purple pin.
Video of Massage Girls in Chiang Mai