When I first came to Bangkok in 2009 I didn't even think about a different place to stay than Khaosan Road.
It seemed like all travelers coming to Thailand's capital were heading there first and my guidebook's euphoric description of it as "one of the world's most legendary streets" made me believe this was where I could best experience the typical BKK life.
I was totally wrong but more on that later. Let's start by asking:
Why is Khaosan so popular among foreigners?
Most backpackers are heading straight from Suvarnabhumi or Don Mueang Airport to Khaosan usually because they have pre-booked their cheap room on the internet – and the Khaosan area has without any doubt the highest concentration of budget hotels in Bangkok.
And if they haven't pre-booked their room and it's their first time in Thailand they are going to Khaosan mostly because that's the only area they have heard of. I have talked to many people in Khaosan if they have been to Siam or Sukhumvit and more than half of them have never heard of these districts (which actually make up Bangkok's city center).
So apart from cheap accommodation, what makes Khaosan such a unique and world famous place? I think it says a lot when you can hang out at Khaosan for a whole day (and spend money on all different things) while not getting bored. Example:
A typical day in Khaosan
Start your day with a western style breakfast at one of the tourist restaurants, buy a fake Bangkok guide on the street market, go for more shopping (anything from beautiful paintings to 7-Eleven t-shirts).
At some point you will make new friends, if you're a single traveling guy this will highly probably be a single (traveling) Thai girl and you have some lunch together – and lot's of beers – so that after a few hours you almost forget the oil massage you wanted to have before dinner. No problem the night hasn't even started and even though not sure if you see her (or him) again you go for the massage.
By the time you get out of the massage salon, it has become quite crowded on the street, same for the restaurants so you just have some quick 30-Baht Pad Thai somewhere on the way. Maybe you want to try a bunch of cockroaches for dessert or go for some good old pineapple instead.
After sunset, the question is not what you are doing but rather where you are going as the whole Khaosan area starts partying. Every single night.
If you are no tourist but live in Bangkok, you would probably just skip everything before sunset.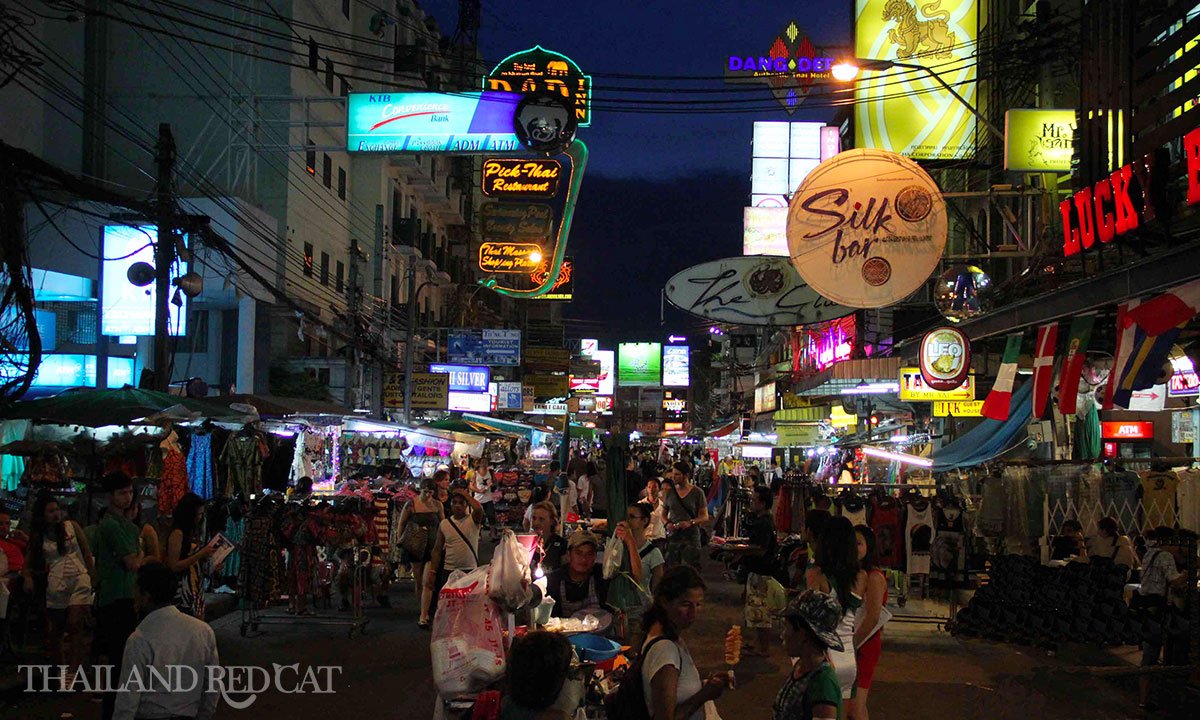 Yes, it's definitely the nightlife that makes Khaosan this sort of legendary place.
You can basically come here on any day of the year, buy a big Chang at the 7-Eleven and party with hundreds of people on the street, hang out with shisha and live music at a rooftop bar, dance the night away in one of the nightclubs, make some new friends or of course hook up with a nice Thai girl if you're a single western guy.
What makes Khaosan so special after all is that you find it packed with Thais and foreigners alike even during weekdays.
Khaosan is the place to disappear.

What happens in Khaosan stays in Khaosan.

A short road that has the longest dream in the world.
It basically all comes out to getting as drunk and crazy as you want without anyone (especially people back home) ever knowing or caring about it.
Every time I have been traveling in Thailand I stayed in Khaosan because of all these reasons. And like most other travelers I never really knew how much else Bangkok has to offer other than Khaosan, Wat Arun and the Grand Palace. However during the past year that I have been living in Bangkok I found myself going there less and less. While I had a night out there at least once a week during my first months by now I'd say just once or twice a month.
Maybe it's because by now I know so many other cool (and less touristic) places in Bangkok, maybe it's because it's not accessible with the metro (well, the new Sanam Chai MRT Station is closest, it's 2km away), maybe because I mostly prefer white skinned Thai girls now (which are rare in Khaosan). Probably it's a combination of everything. Anyway it's still fun going out to Khaosan for a night, but at least for me by now I know tons of other places in Bangkok where I can have fun too.
By the way, my favorite bar in Khaosan is Villa Cha Cha Bar (picture below), it's located on the corner of Soi Rambuttri, the street that runs parallel to Khaosan Road. It's great to sit, drink and eat there (ideally with your date), listen to the great live music and watch the people and ongoings out on the street.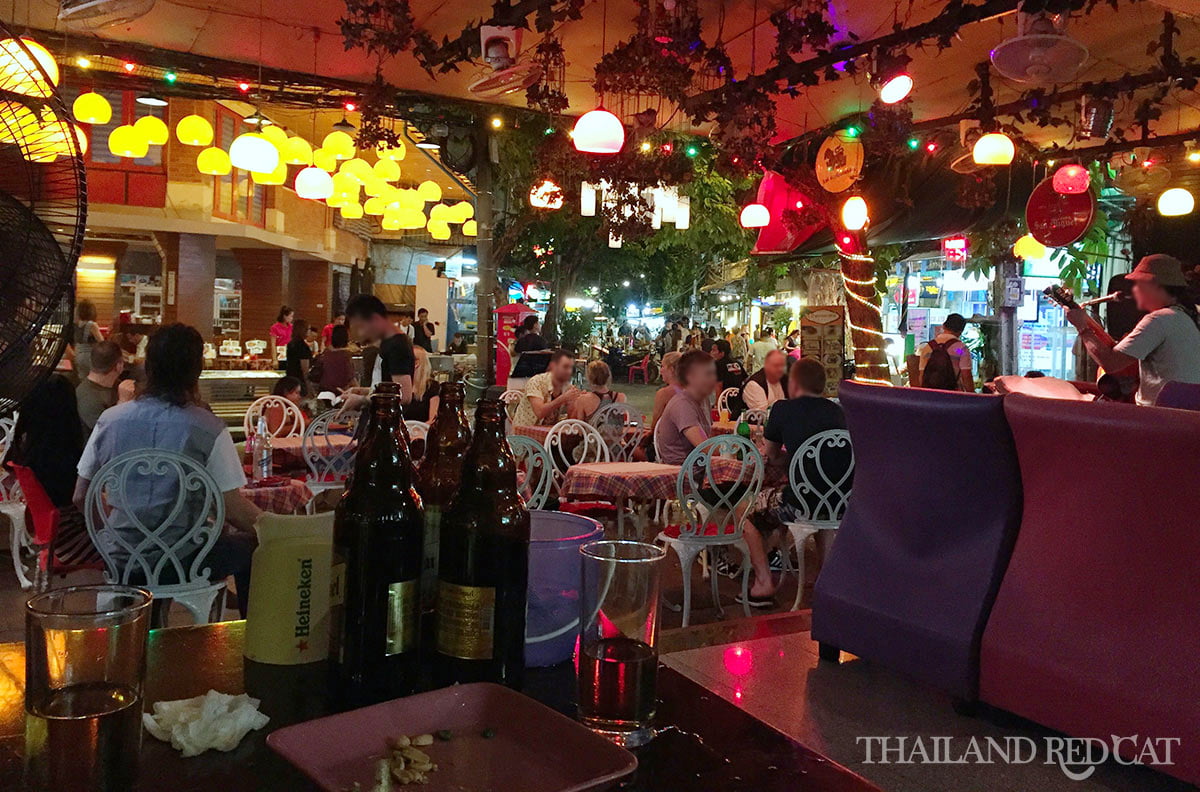 Did you know that Khaosan (in Thai ข้าวสาร) literally means milled rice? That's because the area used to be a huge rice market, due to the proximity to the Chao Praya river where it was shipped from the farms of the countryside.