The only problem with Pattaya is that the range of different types of sex workers is so huge that it can get quite overwhelming.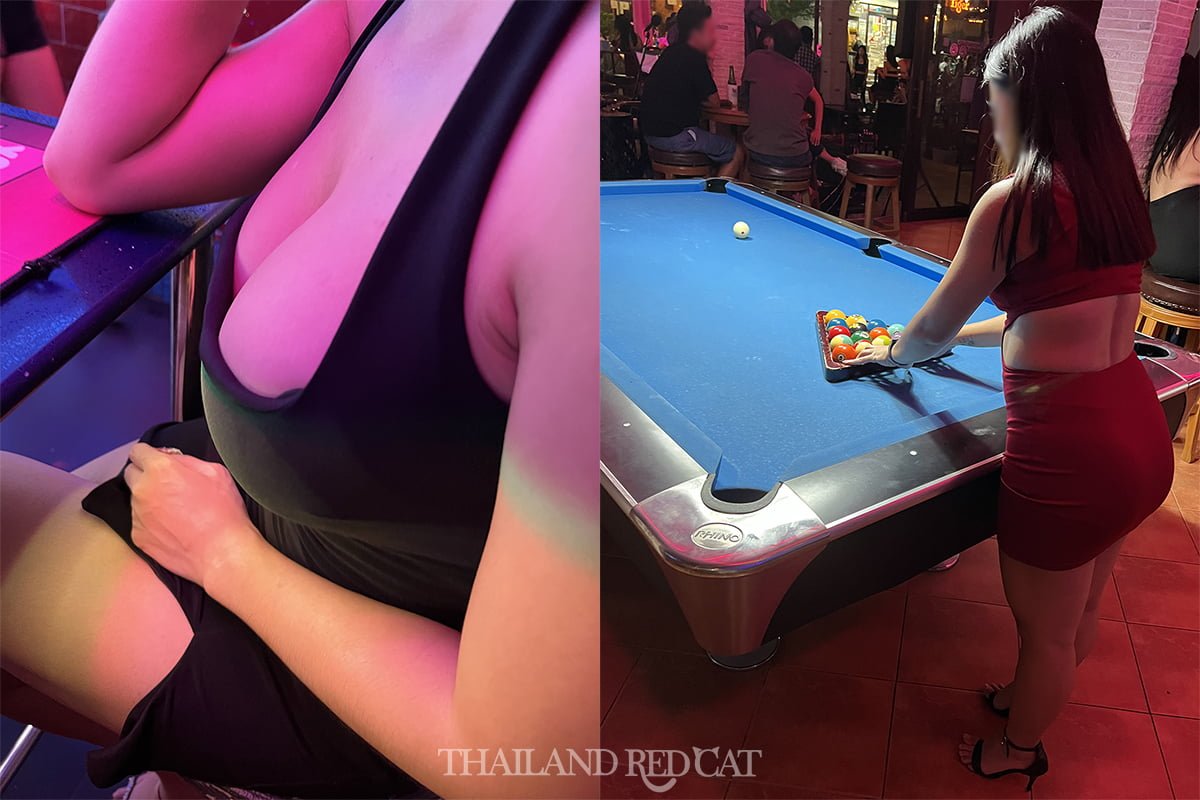 Today's post isn't for you if you have already been to Pattaya several times, but if it's your first (or second) time in Thailand's most popular sex holiday destination, and you look for a guide on the best places to meet girls for sex that are both fun and offer a good value for money.
As you probably know, I live in Bangkok myself, but I regularly take the bus down to Pattaya for extended weekend trips – not only to get a break from the city vibe of the capital, but also to write (and update) my guides on the nightlife in Pattaya.
And so I always see guys who walk randomly around the beach town with no real idea on what they want to do with their time, nor any orientation on which areas to find for example the best beer bars, massage parlors, night clubs, or street hookers. Don't worry, in this guide I'll show you exactly that.
Because while it can be fun to just explore Pattaya with no idea on "how it works", it will save you quite some time and money if you follow my advice and find the beer bars with bar fines of only 500 Baht instead of 1,000 Baht on Walking Street. Or to pay only 200 Baht for a massage instead of 400 Baht can be sweet too, then you should go to Soi Buakhao. Or if you take some time to chat with some girls on the dating site (see below) you will even be able to have sex without paying anything.
So here are my personal 5 favorite places to find girls for sex in this city:
1. Online Dating Site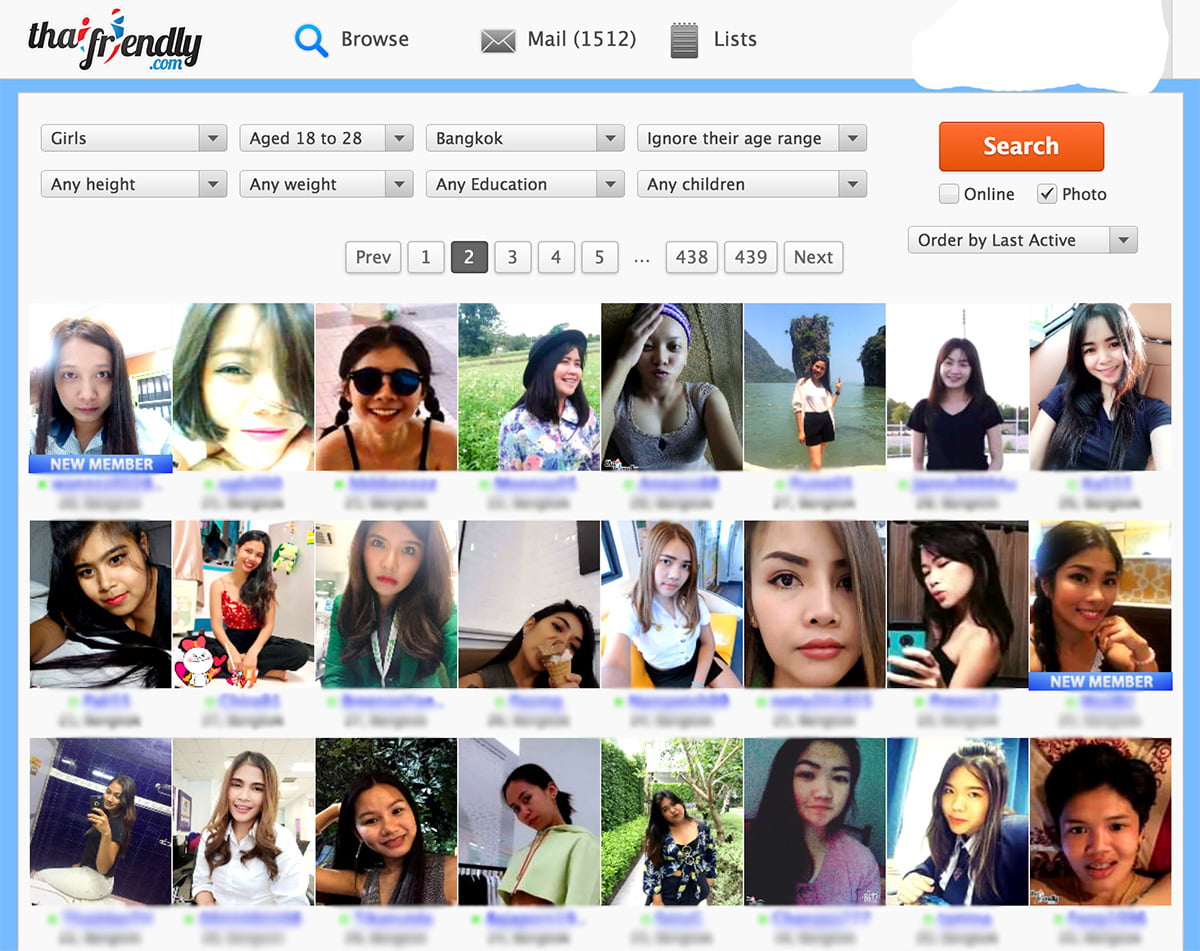 Most people think that if you want to have sex in Pattaya, you will always have to pay for it. But that's simply not true. There are loads of girls with regular day jobs like waitresses, employees at the malls, 7-Eleven girls, students etc. who are looking for a foreign boyfriend.
Thai Friendly is the most popular free dating site in Thailand with more than 2 million members. And you are probably not surprised when I tell you that Pattaya is one of the cities that has the most active users, right after Bangkok.
It's easy to arrange dates with the girls, like meet them for a coffee or dinner, and then afterwards invite them to "hang out" in your room or to "watch a movie". Sure, I'm not saying that there aren't any hookers on Thai Friendly, too (just look at the picture), but they are usually easy to spot. And that's still not a bad deal when one of these ladies working in the beer bar at night is willing to drop by your hotel for some quick short time sex for a thousand Baht.
2. Massages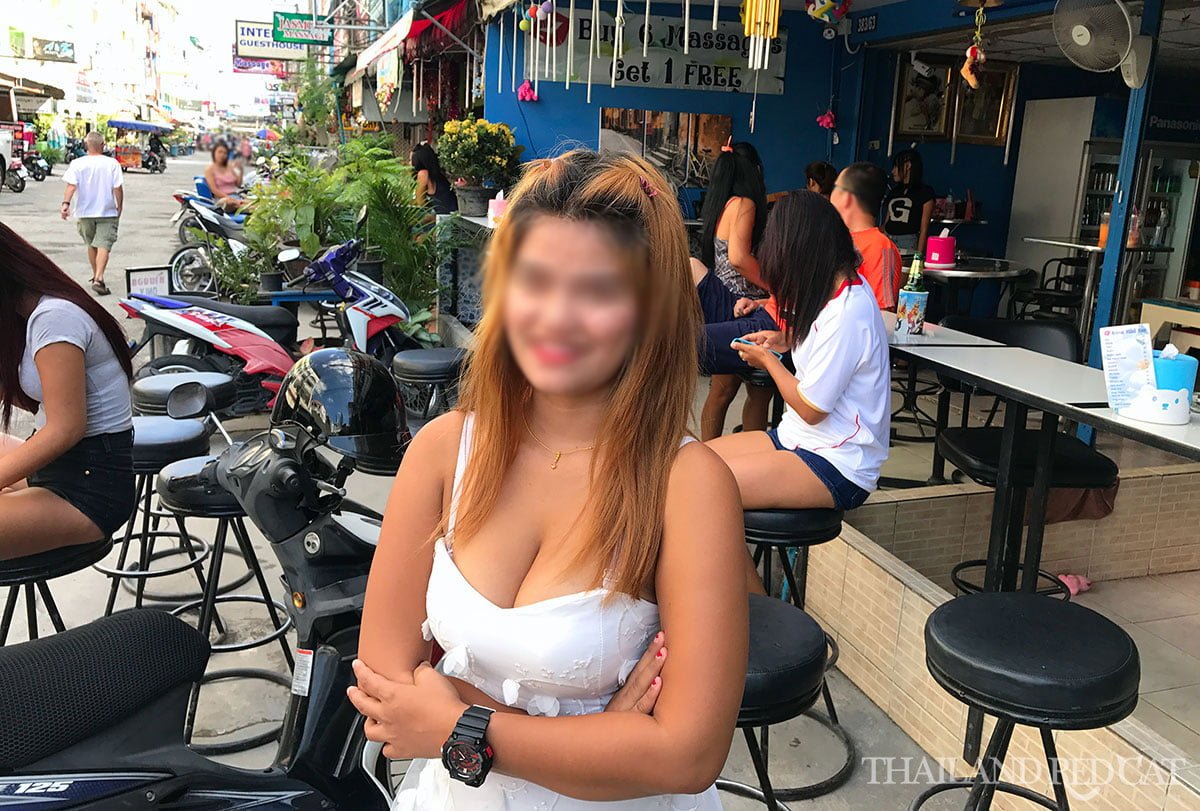 It's always nice to start your day in Pattaya with a relaxing massage. And even better if you know that you can find countless of cute and busty 19-22 year old girls in the Buakhao area (photo).
Yes, the massage salons are really spread all around town, but my favorite area is Buakhao because it not only has some of the nicest and youngest girls, but also cheaper prices than elsewhere – it's only 200-300 Baht for an oil massage there.
On top of that comes the tip, depending on which type of "happy ending" you would like: For an easy hand job you shouldn't pay more than 500 Baht, for a blow job like 700-800 Baht (depends on the girl if she likes it though, otherwise just go to one of the many BJ bars), and for sex about 1,000 or 1,500 Baht.
3. Beer Bars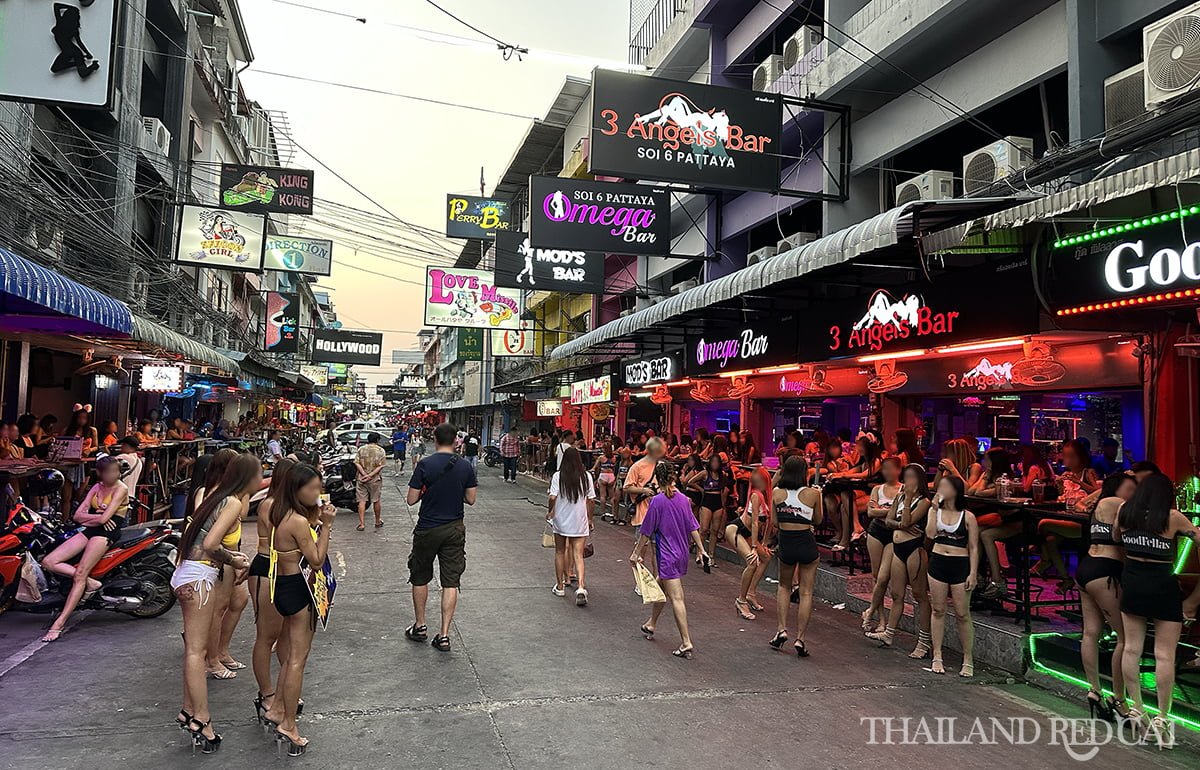 Sooner or later during your stay in Pattaya you probably want to sit down somewhere and have a relaxed beer. Even better if you have plenty of young and hot Thai girls around you.
You probably wonder where I took the photo above – this is Soi 6, known as the most sinful street in Pattaya. Why? Well, because each of these hundreds of girls on that street would go upstairs with you for 1,300 Baht and have sex in one of their short time rooms. So yes, no need to pay a bar fine here, hell you don't even need to buy the ladies a drink if you don't want to.
The second best area with beer bars in Pattaya in my opinion are Soi 7 and Soi 8 right next to it. They have a more relaxed atmosphere and also TVs with live sports and pool tables, but if you want to have sex with one of the girls there you will have to pay the bar fine (500-700 Baht), and probably also a lady drink or two (140-160 Baht each).
The typical price for sex with Pattaya bar girls is 1,000 Baht for short time, and 2,000 Baht for long time.
By the way: I would recommend you to stay away from the beer bars on Walking Street (like the "Simon Bar Complex" or "Pattaya Beer Garden") as they have prices similar like in the go go bars – lady drinks for 180 Baht, bar fines of 1,000 Baht and short time prices for 2,000 Baht. Not worth it.
4. Nightclubs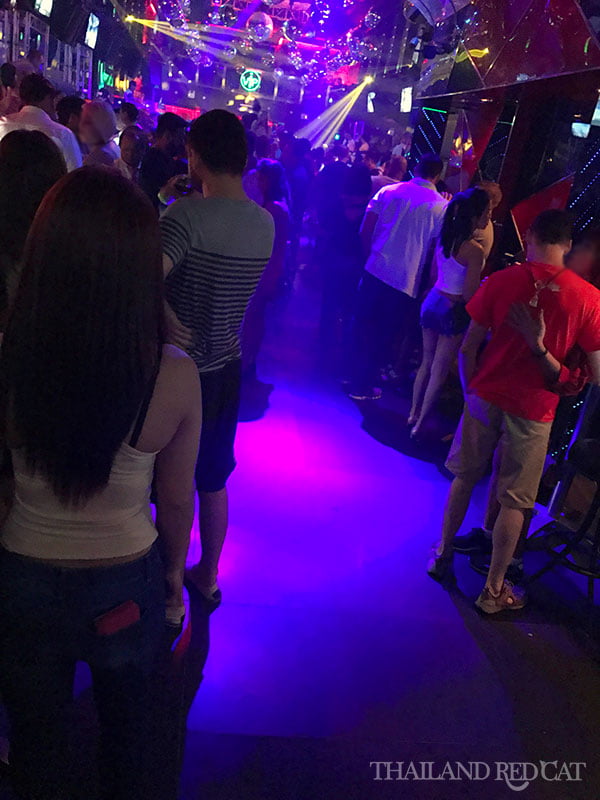 Another popular place to meet sexy girls in Pattaya are the nightclubs – and the best ones are located on Walking Street.
Club Insomnia (photo) has easily the highest number of Thai girls every night, partly because of their perfect location right in the center of Walking Street, partly because of their new and modern design, partly because of their fancy laser lights, partly because of their sexy coyote dancers, and partly because of their cool bar on the ground floor with pool tables (great meeting opportunities) and splendid views over the ocean.
The second best nightclub is Walking Street Club, followed by MYST.
About 90% of all the ladies in these clubs are freelance hookers, means they will go home with you for sex if you agree to pay them 1,000-2,000 Baht.
5. Beach Road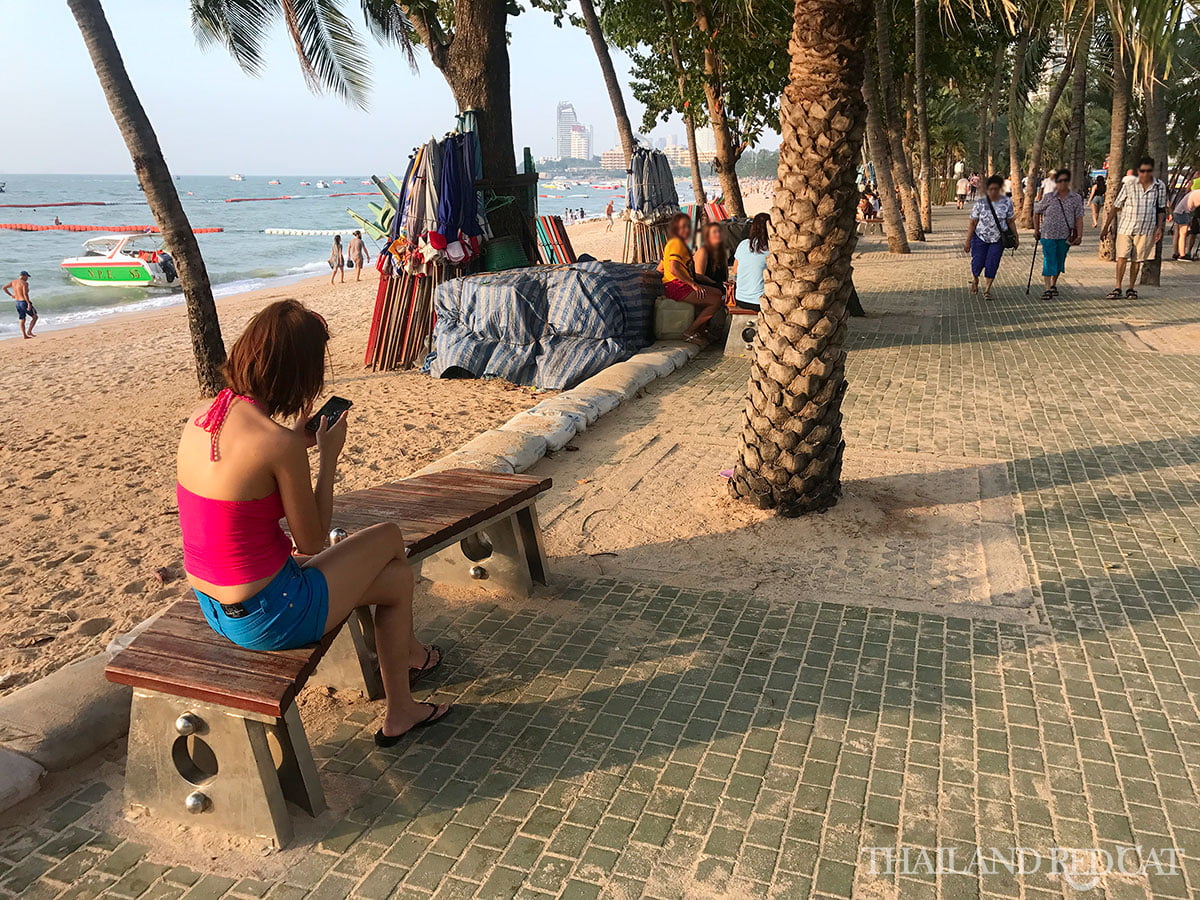 Probably the easiest (paid) option to have sex here are the Thai ladies sitting or standing on the Beach Road Promenade.
If you haven't been to Pattaya before, you might think you would never pick up a street hooker – but this is not Europe or America. Many of these girls are actually really attractive. It's fun to just stroll along the long, long promenade, maybe buy a beer at the 7-Eleven at one point if you see someone you like, sit down somewhere, watch and try to make eye contact.
Or you walk right up to her like the Indians do (and lots of Farangs, too) and ask her how much for sex. 1,000 Baht is the price you can expect to pay for short time.
Map of Places to Meet Girls in Pattaya
I have marked the massage hot spots with the yellow pin, the beer bar hot spots with the beer pin, the best nightclubs with the drinks pin, and the beach road hookers hot spot with the red pin.
If you are wondering why I haven't included the go go bars here, well here's why:
I do like to sit and enjoy watching the girls in the go go's on Walking Street and have a happy hour draft beer for like 80 Baht. That's a great deal, awesome really. But I just see no point paying the exorbitant prices for the lady drinks (180-200 Baht for a tiny tequila shot), bar fines (1,000-1,500 Baht, if she's a "coyote" probably even more than that) and sex prices (3,000 Baht for short time is common in most of the venues these days).
That's why I think that in terms of actually having sex in Pattaya, the above paid places offer a much better value for money, and if you take some time to chat with the girls, then you can also meet and bang plenty of chicks for free by using the online dating site.
Video of Girls in Pattaya