If you are looking for some fun with the girls in Pattaya, you don't always need to go to the beer bars, go go bars or massage parlors, and pay expensive prices for all sorts of things from drinks, lady drinks, bar fines and the actual sex price.
There are so many freelance hookers offering their love-services in Pattaya, and if you know what you are doing, they aren't only completely safe to use but also save you a lot of money if you are here for several days or even weeks.
Most of these prostitutes don't work on their own because they are too lazy to show up on time at the bar every day (well, some of them are), but mainly because they don't want to share their income with the owner of the establishment they are working in. So for example, if you pay a girl a lady drink in the bar for 160 Baht, she will usually only receive 70 Baht of it – the rest goes to the bar. Or if you pay her bar fine, then that amount will 100% go straight into the pockets of the owner (sometimes the mamasan receives her share, but the girl doesn't get anything from the customer other than her sex price).
That's why a lot of girls prefer to do freelancing, because if they charge their customers like 1,000 Baht, they can keep all of it, whereas if they want that same amount when working in the bar, they will have to make their customers pay another 500-1,000 Baht for the bar fine, plus drinks (like 500 Baht or so). So that's at least 2,000 Baht – and it takes much more energy and work to convince someone to pay this than for example just hooking up with someone in the club for 1,000 Baht.
There are 3 different types of freelance prostitutes in Pattaya: nightclub hookers, beach road hookers, and dating site hookers.
I will go through them one by one, explain how to deal with them, how much they ask for, and where exactly to find them:
Nightclub Hookers in Pattaya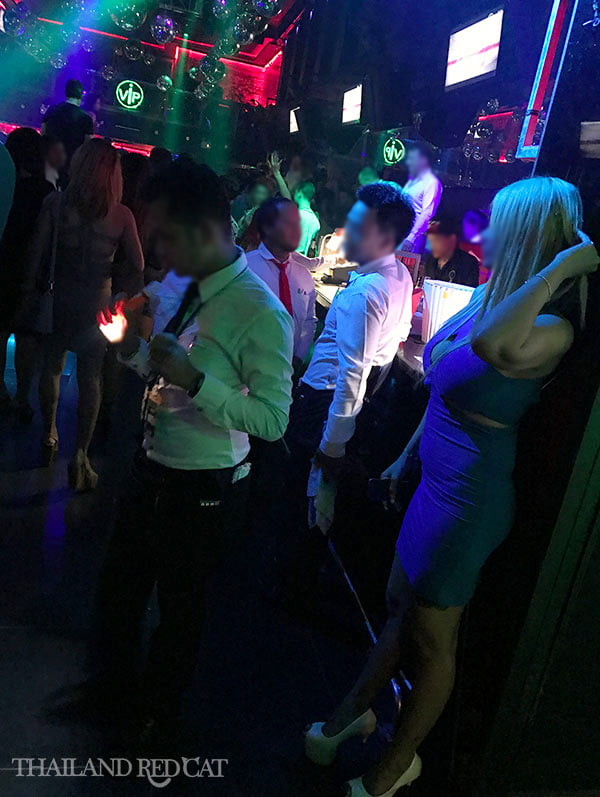 Most of the nightclubs on Walking Street are total hooker-discos, means at least 80-90% of all the girls in there are actually prostitutes who would join you to your hotel for sex if you agree to give them some cash afterwards.
By far the most popular club on the strip is Club Insomnia (photo). They have a bar on the ground floor with pool tables (great for getting "in touch" with the ladies) and an open-air terrace with beautiful views of the ocean.
Upstairs is the infamous club where people start moving to at around midnight. There are sexy coyote dancers on different stages, you can buy them shots for 200 Baht, but seriously I wouldn't bother with them, too expensive, and they are also employed by the club (ridiculous bar fine of 2,000-3,000 Baht). Just smile and talk to one of the many, many nice freelancing ladies here – nowhere else it's easier to hook up with someone in a nightclub in Pattaya.
Two popular alternatives are The Pier and Walking Street Club.
Prices: No entrance fees at most of the clubs, drinks are in the 120-180 Baht range, and most hookers here will go with you for 1,000 Baht (and yes, that's usually for "long time"). However, don't be surprised if some of the youngest and hottest freelancers here ask for 2,000 Baht or so – but that's negotiable of course. You will probably get it down a little if you party with her first, and buy her a couple of drinks.
Beach Road Hookers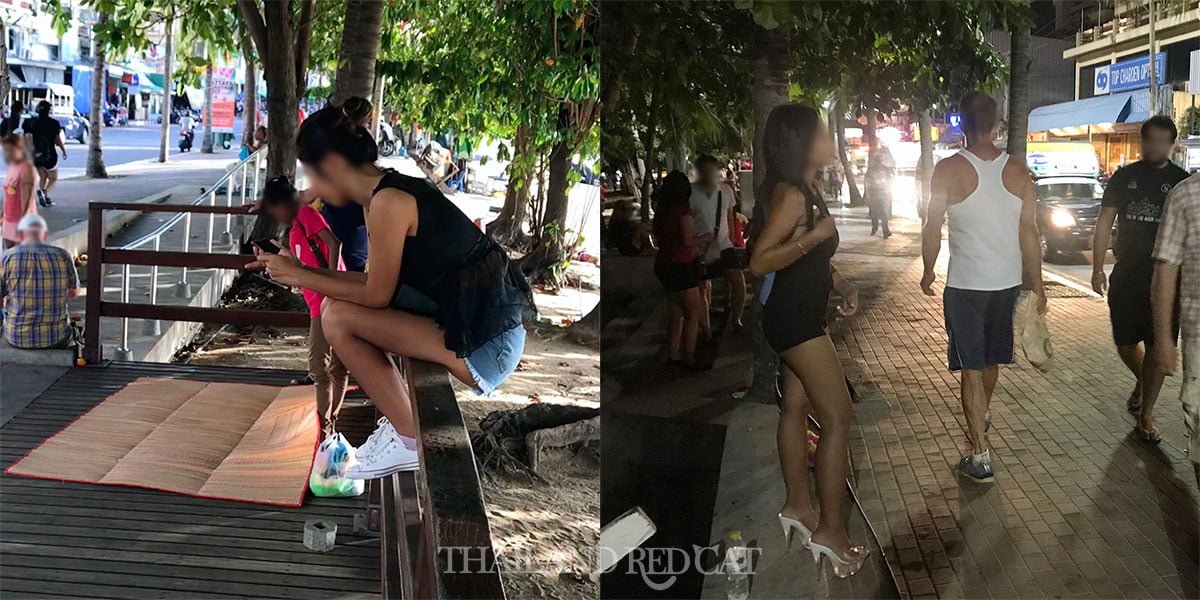 Probably the most famous type of prostitute in Pattaya – most people have heard about them, and everyone sees them when walking down the beach promenade (some guys even started calling it "bitch promenade").
It doesn't really matter at what time you go there – you will find hookers on the Beach Road 24/7, but the time with the biggest selection (and also the hottest girls) is from about 5pm until about 10pm. You can just walk up to them, say "hi, how are you" and do some small talk with them. Usually it won't take long until they get to the point, and offer you "short time" or "boom boom" (that's the same).
You can either take them to your hotel (but then make sure it's guest friendly), or you just go to a short time hotel nearby (usually 300 Baht, they will know where). Maybe you are lucky and the girl agrees to go to her place, but that's rather unusual (most of them stay with their friends to save costs on the rent).
The hot spots with beach road hookers are all the way from like Soi 6 to Walking Street, and at night also on Walking Street itself, but usually the area in front of the Central Festival and Mike Shopping Mall have a dense concentration of these ladies (because there are plenty of sitting opportunities).
Prices: 1,000 Baht is the standard for a short time.
Pattaya Hookers on Dating Site
If you don't really like night clubs and don't want to talk to the prostitutes on Beach Road in public, then the best place to meet girls in Pattaya is actually the Thai Friendly Dating Site.
Now, while most of the ladies on that dating site are "normal" women with regular day jobs who don't ask for any money, of course you can also find plenty of freelancers there (or bar girls who feel bored before work). It's usually quite obvious who is and who isn't if you look at their pictures or profile descriptions (like "I want good man who take care me").
Prices: The website itself is free to use, and if you talk to a hooker there, she will usually ask for 1,000 Baht. That's quite a good deal actually, since you don't even need to leave your room as she will come straight to your hotel.
Map of Freelancer Hotspots in Pattaya
Actually there is even a fourth type of freelance hooker in Pattaya – the girls with regular day jobs who do some "sideline" activities outside of work.
Like you could walk into Robinson in Central Festival, and you will probably notice that a lot of the staff ladies there look at you. They have a salary of like 9,000 Baht a month which gets them nowhere really, so a lot (but not all of course) of these women don't mind giving you their Line or Facebook contact, so you can text them later, and if you agree to pay them (again like 1,000 Baht is a fair price), then they will happily come to meet you in your hotel after work.
The same goes for 7-Eleven girls, restaurant staff, hotel staff, and basically all sorts of shop workers with low salaries.
Video of Freelancers in Pattaya