If you come to Bangkok, I guess this is what the end of a perfect day should look like for you: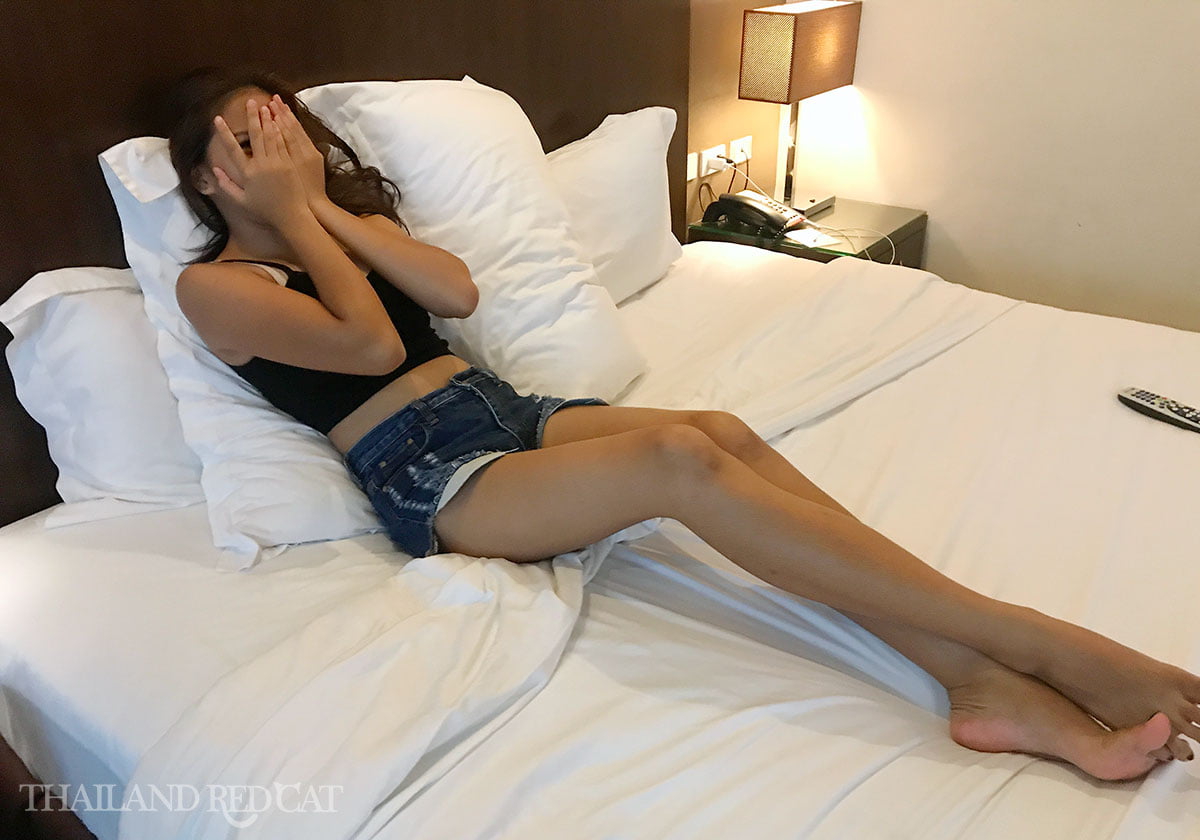 You probably know that I live in Bangkok myself, and I have never regretted it during all these years: Thailand's capital hasn't only the biggest selection of apartments (or hotels in your case), but also the most diverse food (both Thai cuisine and western restaurants), a shopping paradise with countless of fun malls, lots of tourist attractions to keep you busy for at least a week, and the perfect base for traveling around the region.
But of course, these are not the main reasons why we all love Bangkok so much. You can find all of the above mentioned benefits in other cites, too, like Kuala Lumpur. Or Sydney. Or Berlin.
The best thing about Bangkok is that it's the perfect place to meet attractive girls for sex. I don't know any other city where you have a bigger choice of both hookers and "normal" girls in the everyday life.
If you have been reading some other articles on this site, then I assume that the one about the types of hookers was one of them – and all of these 15 (!) types you can find here in Bangkok, and countless of them – from cheap street hookers on the corner of Soi 5 for 1,000 Baht, the massage ladies in Soi 23 for 2,000 Baht, to actual Thai models in the gentlemen clubs in Wang Thonglang where you'd have to pay an annual membership fee of 20,000 Baht or more to only be allowed to enter.
And on the other side you have literally millions of regular Thai girls in Bangkok, be it students, baristas at the cafes, cashiers at the supermarkets, waitresses at the restaurants, office ladies and so on that you can have fun with. Sure, most of them are shy to start a conversation with you in public because they are afraid that their English is too bad, but if you know some of my effective Thai Pickup Lines then you have some perfect ice-breakers. Or you just use the dating site (see below) where you don't have that language and shyness barrier.
It's not an easy choice, but here are the 5 best places or ways to meet Thai girls for sex in the capital:
1. Online Dating Site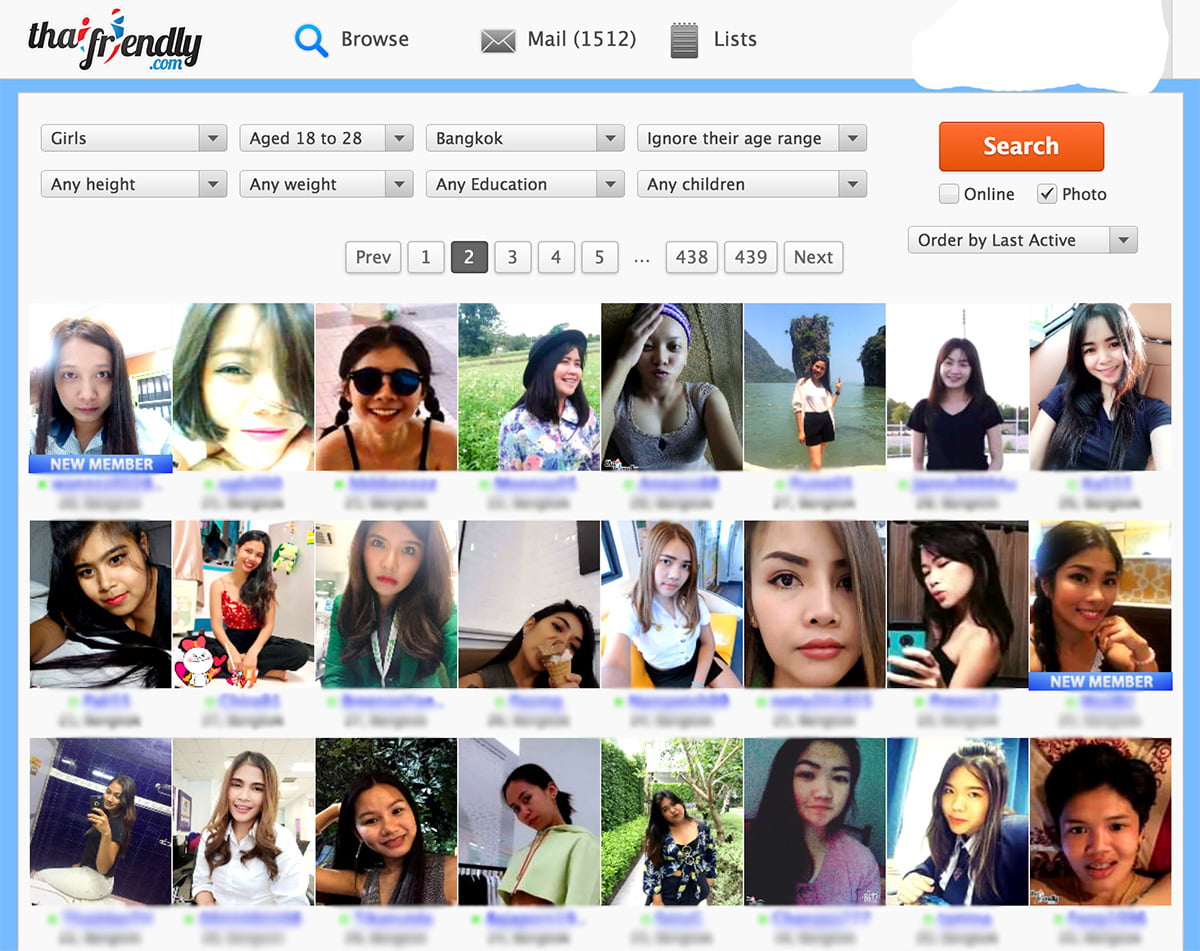 If you want to meet girls in Bangkok who are not mainly interested in your money, then you can do like most of the expats (me included) and also more and more tourists do, and use Thai Friendly.
It's the biggest and most popular dating site in Thailand with more than 2 million members – means you can go online any time of the day and will always find a couple of thousand girls ready to chat with you. And needless to say that most of the members are from Bangkok.
The great thing about Thai Friendly is that you can find all different sorts of girls on there – young and cute student girls who want their first Farang boyfriend, naughty Robinson chicks who are looking for a gik, sophisticated office ladies who are looking for serious relationships, and of course also some freelancers who would come to your room right away for "short time" if you agree to give them a thousand Baht afterwards.
2. Beer Bars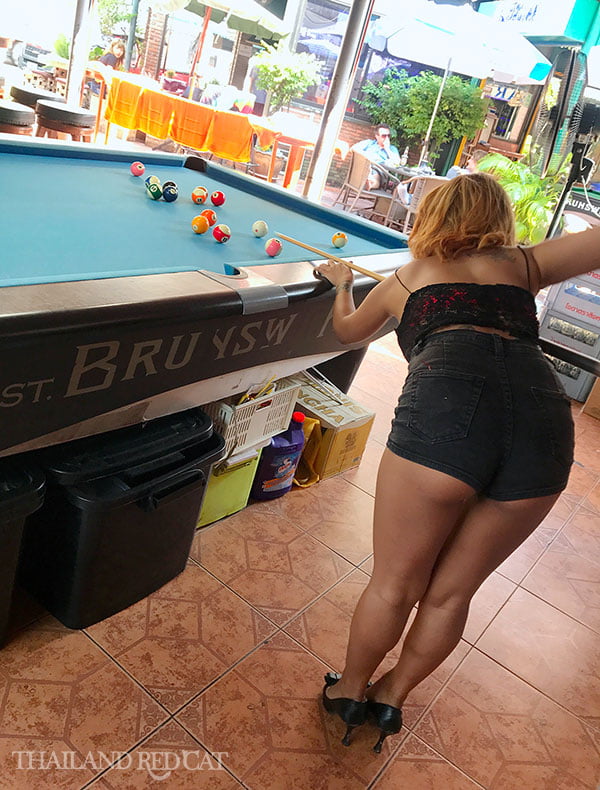 The beer bars are the most popular hangout place for foreigners in Bangkok. And it's easy to understand why:
It's just fun to enjoy a few cool beers, maybe watch live sports on the TV, maybe chat with some foreigners, maybe play pool billiard, or maybe just check your mails on the phone – and always being surrounded by plenty of sexy and half naked Thai ladies.
And the great thing about the beer bars is that you don't need to commit to anything: If you go to a massage salon, you will need to buy a massage to enjoy. If you look for street hookers, you will need to pay them to enjoy.
In the beer bars you can just sit and enjoy, and get some food for your eyes for free how the Thais like to say (ahǎan dtaa / อาหารตา – food eye).
And if you like one of the girls, you can buy her a lady drink (about 150 Baht) and chat with her – again without committing to anything. And then, if you feel like you want to have sex with her, then you can pay her bar fine (500-800 Baht) and take her to your hotel for short time (1,000-1,500 Baht) or long time (1,500-2,500 Baht).
The 3 best areas with the highest concentration of beer bars in Bangkok are Sukhumvit Soi 4, Soi 7, and Soi 22.
3. Go Go Bars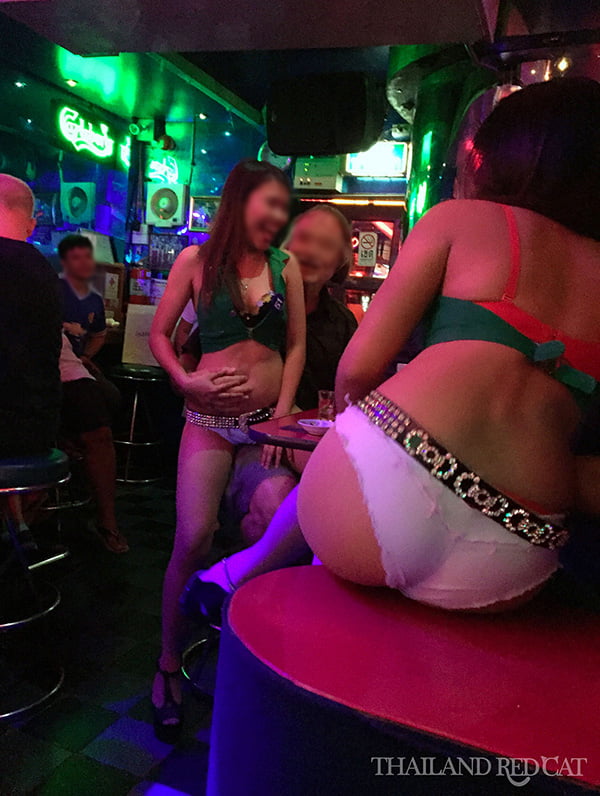 The next place to meet girls for sex in Bangkok are the go go bars of Soi Cowboy, Nana Plaza and Patpong.
In my opinion they are a little bit overhyped though, at least for the most part. Yes, it's true, you can find some of the hottest and most beautiful girls on the dance poles of the city, but unfortunately the prices in many venues have reached inappropriate heights these days.
I personally just don't see a point to pay for several small beers for 180 Baht each, lady drinks for 200 Baht (which are not even proper glasses, but either tequila shots or tiny glasses with coke and lots of ice that they finish in less than 2 minutes), bar fines of 1,000 Baht or more and sex prices of 3,000 Baht for short time.
If you add that all up, you would pay close to 5,000 Baht. For that money I would rather go to Poseidon soapy massage in Huai Khwang and get a super hot and white skinned model type of girl (some of them actually are!), or get five freelancers from Thai Friendly coming to my hotel room for some quick sex.
4. Massages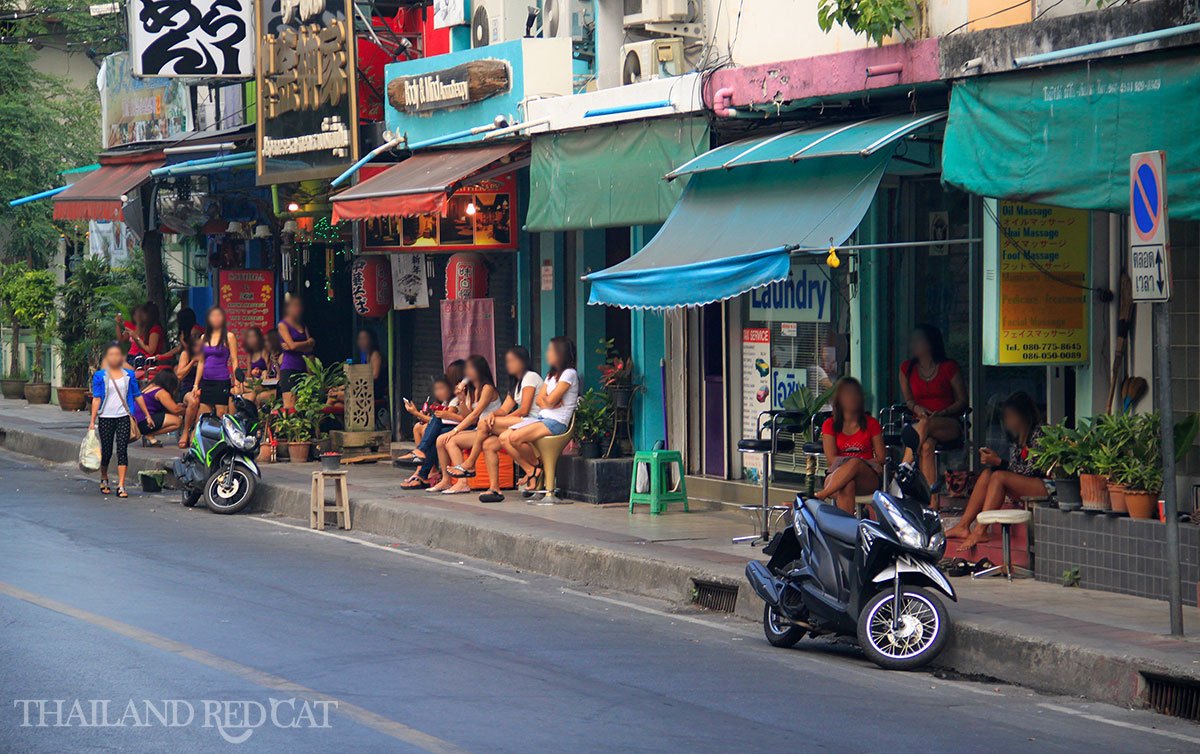 If you don't mind paying for sex, but it's your first time in Bangkok and you haven't made any experiences in the red light scene yet, then the massage salons would be a great place to get started.
Why? Well, it's just easy to say "yes" to a Oil Massage for 400 Baht with a young and busty girl who smiles at you in front of her salon in Sukhumvit Soi 23 (picture) and see "what happens".
Usually your girl will ask you about 45 minutes into the massage (after you have turned on your back and she is massaging your thighs) if you want to have some sort of happy ending – that would be either a hand job (about 500 Baht), blow job (about 800 Baht) or sex (about 1,000-2,000 Baht). Of course there are no fixed prices for this, it's all negotiable and if you feel your girl is too unfriendly or overly business oriented – you don't need to do any of that (and not even tip her). That's why the massages in BKK are so popular.
Of course there are literally hundreds of such "special" massage salons spread all around Bangkok, and you can find the areas with the highest concentration of these places on the map at the end of the guide or on this page:
5. Street Hookers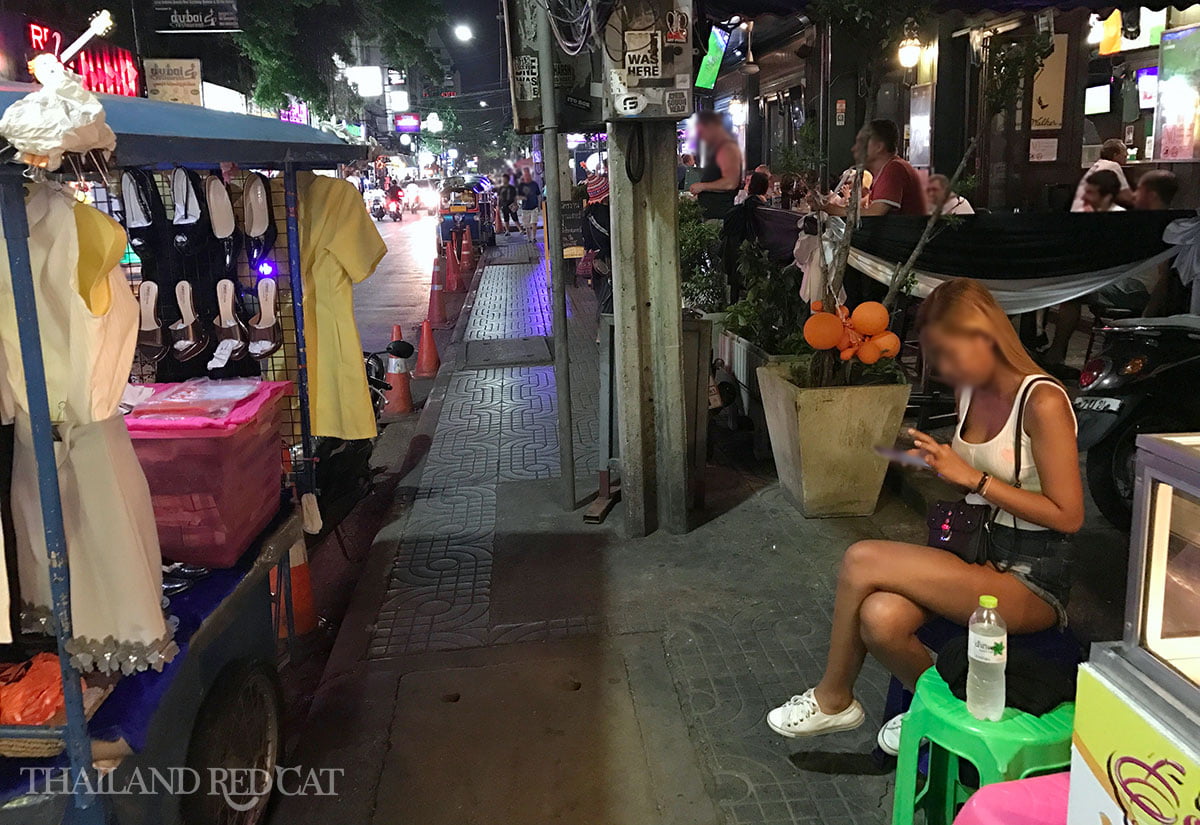 You would probably not even think about picking up one of these scary looking women off the streets in cities like Hamburg or Amsterdam, but here in Bangkok it's a little bit different:
It seems that the competition in all the bars, clubs, massages and escort agencies is so high that a lot of ladies just choose to sell their sexual services by themselves, right on the streets – even though many of them are hotter than the average beer bar girl.
The main hot spots where you can find most of the street hookers in Bangkok are Sukhumvit Soi 4 (right in front of the Nana Hotel) and Sukhumvit Road (just get off Nana BTS Station and walk towards Asoke BTS Station on the left side of the road, you'll pass dozens of working girls, some of them freelancers on their way to the clubs, others just standing around and waiting for their next customer, especially in the area around the Sofitel, or in front of the McDonald's on the corner of Soi 5).
The common price for sex with a street prostitute in Bangkok is 1,000-1,500 Baht (negotiable).
Map of Places to Meet Girls in Bangkok
I have marked the beer bar areas with the "beer pin", the go go bar areas with the "drinks pin", the massage hot spots with the "yellow and purple pins", and the street prostitutes hot spots with the "red pin".
Like I already said, with so many options to have sex in Bangkok it's not easy to come up with such a list, but I think these five places offer the best value for money and/or entertainment, and that's more than enough to keep you busy throughout your stay here.
Anyway, if you have more than one week to spend in Bangkok or it's your second or third time in the city and want to try out something new, then you should have lots of fun in the blow job bars, nightclubs or escort agencies. But if you don't really like the idea of paying for sex, then you'd probably be most happy with the dating site – no matter if you are here just for 3 nights or 2 weeks.
Video of Girls in Bangkok