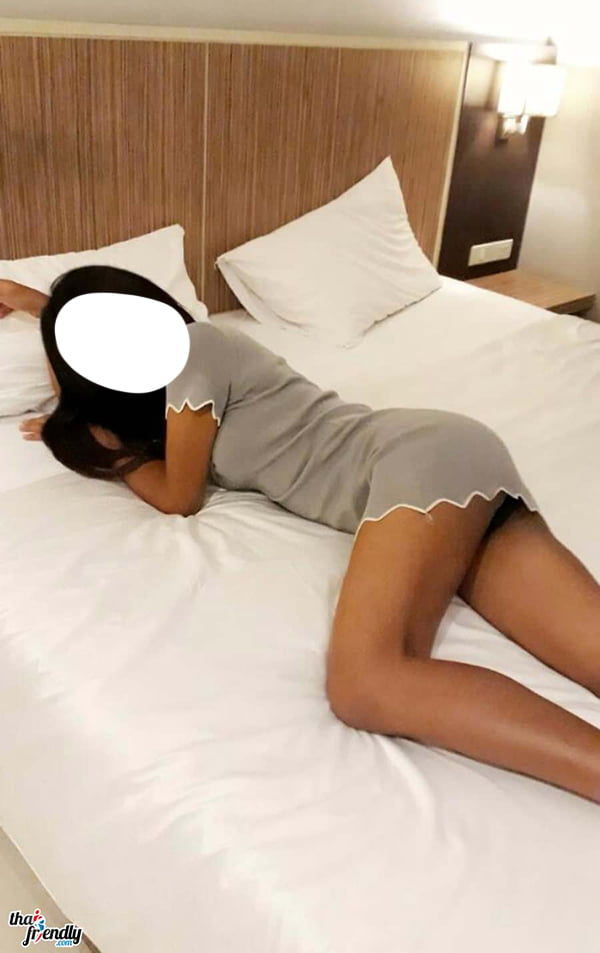 Last week I wrote about the different places to meet ladyboys in Chiang Mai, so I thought it might also be a good idea to discuss a topic that causes problems for a lot of guys: How to choose a hotel that fits your requirements.
It's obviously not very difficult to go on Agoda and find a hotel in Chiang Mai that offers a good value for money (the competition is huge, means fair prices year-round) in a good location close to all the nightlife areas. But that's not really the point why I write this article. The point is, you cannot see on Agoda if a particular hotel is "guest friendly" or not. Or in other words: If it's "ladyboy friendly" or not.
Ladyboy friendly means that the hotel allows you to bring in a Thai shemale that you met somewhere in town – maybe in Zoe in Yellow, maybe in the Warm Up Cafe, or maybe on Thai Friendly.
Because believe it or not: Most of the hotels in Chiang Mai (I would guess at least 70-80%) have a strict no guest policy. It's not like in Pattaya where everything is perfectly set up for sex tourists and you usually don't have to worry about such things (well, but even there a lot of the 3 or 4 star hotels don't allow guests either, or often charge a joiner fee of 1,000 Baht).
Anyway, like I mentioned you cannot see on Agoda what kind of guest policy a hotel has. That's why I have decided to put together this list of 5 hotels with ladyboys in Chiang Mai – I have already stayed in 2 of them myself and can tell you from my own experience that you can bring in whoever you like, and the remaining three I have contacted and confirmed that they allow Thai guests (again, no matter if that's prostitutes or "normal" girls and ladyboys from a dating site like Thai Friendly).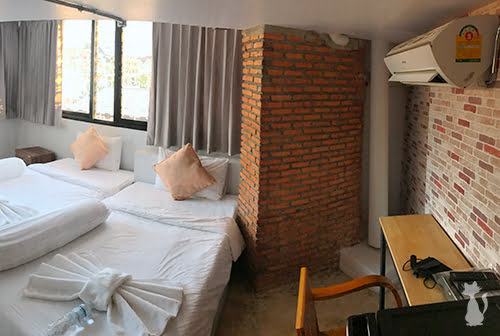 This is currently my favorite place to stay in Chiang Mai. Like you can see in my photo, the rooms are bright, clean and in retro-style. They didn't have a double bed during my stay there last month (make sure you book early enough), but that wasn't really a problem – I just put the two beds together and still had my fun at night, I'm sure you know what I mean. The location of the TCH Hotel couldn't be better, it's situated in the heart of Old Town, less than 150m from the famous Wat Chedi Luang away. That makes it perfect to explore all the attractions during the day, and then at night go out to look for girls or ladyboys. Great value at the TCH Hotel with room rates starting at about 1,000 Baht.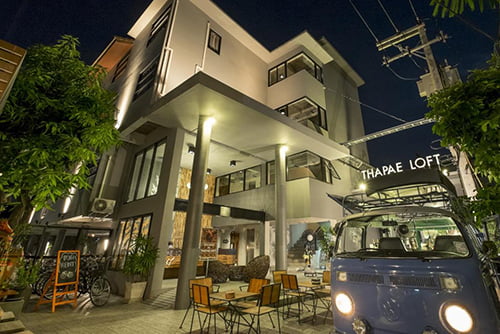 One of the most popular hotels in the Thapae Gate area. The Thapae Loft Hotel has a strategically great location in Old Town and is within short walking distance (less than 10 minutes) to several daytime and nightlife hot spots: Wat Chedi Luang, Thapae Gate, Zoe in Yellow (the most popular bar in Chiang Mai) and Loi Kroh Road (the famous nightlife street with all the girly bars). The rooms are decorated industrial-style. And the hotel has won a certificate of excellence on Agoda last year. That means it's not the cheapest place on this list – room rates start at about 2,200 Baht per night, but this is one of the best hotels in all of Chiang Mai.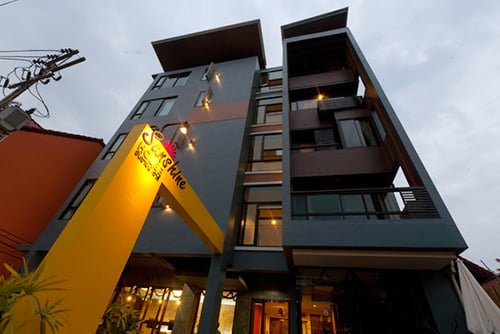 The Sunshine House is another hotel in Chiang Mai I have personally stayed at, and I have already talked about it in my guide to the hotels for girls. Their room rates are incredibly cheap, starting from about 600 Baht per night for their standard double bed rooms. You might be surprised as the rooms and facilities have a similar standard as the TCH Guesthouse (see above) – the reason why they offer such cheap prices is because the location isn't that central: It's situated on Santitham Rd in the northern part of town. But I don't really see that as a problem – they have motorbike rentals for 300 Baht a day, and it's really a must to have your own vehicle here if you really want to explore everything Chiang Mai has to offer. And like all other hotels on this list, the Sunshine House is ladyboy-friendly.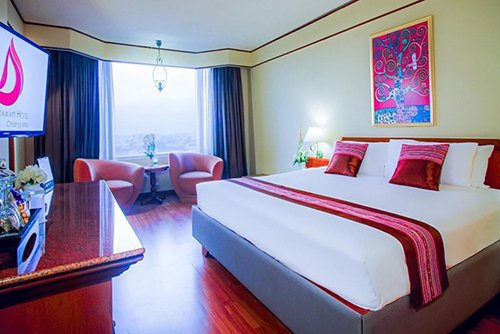 If you are looking for a ladyboy-friendly hotel right in the center of the main red light area in Chiang Mai, then the Duangtawan Hotel would be a good choice. It's located on Loi Kroh Road where you can find dozens of girly bars, happy ending massages, foreign restaurants, shops and also the Chiang Mai Night Bazaar. The hotel has a huge swimming pool and so it won't be difficult to convince your ladyboy to stay "long time" with you. Just be aware that as soon as you walk in with her, the staff at the reception will ask for her Thai ID Card. They will keep it there and give it back once she leaves the hotel.
The BB Mantra Hotel is another popular accommodation in the Old Town of Chiang Mai. Room rates start at about 1,200 Baht per night for their superior rooms (including breakfast), and that makes it one of the hotels with the best value-for-money in town. They even have a swimming pool here, which is relaxing and very well maintained. No room service in the BB Mantra Hotel, but you may ask your ladyboy to clean it up for you. There isn't really much more to say about the BB Mantra – it's a decent hotel for a great price. But in my opinion, for this money I would rather stay at the TCH Guesthouse (see above), because the location is slightly better and the rooms are nicer.