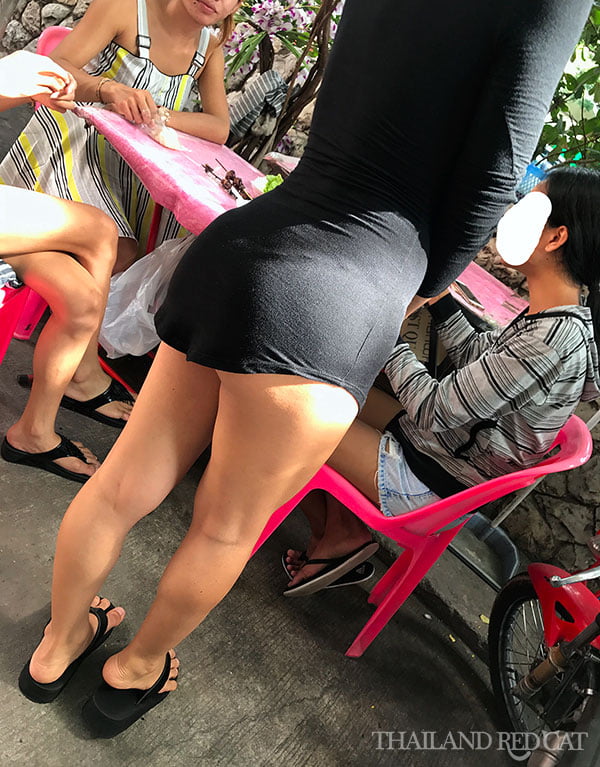 The biggest trend these days in Thailand's red light industry is that you see more and more ladyboys working in the different "entertainment venues" – beer bars, go go bars, massage salons, escorts, dating sites or freelancers in the clubs and on the streets.
The reason why there are more ladyboy sex workers in Thailand than ever before is not only because it's still difficult for them to find a regular and decent paying job (about 60-70% of all employees in Thailand are shop workers like in supermarkets, restaurants or retail stores with salaries of no more than 12,000 Baht a month, leaving alone the prejudices many employers still have about ladyboys), but also because there is an increasingly number of foreigners who feel attracted to the shemales and want to try one out at some point.
And more often than not, that will not be just a one time experience – I regularly receive comments from readers on my ladyboy articles saying that the hand jobs they get from the ladyboys in the massages are better than from any girl ("they know what a guy likes"), that they look more feminin than many girls, or that they are more passionate when having sex.
Anyway, since there are so many different types of places to meet Thai ladyboys for sex, it can be quite overwhelming if you just got here, so in this guide I will give you the complete overview of the different venues, how it usually works there, and how much you can expect to pay.
Thai Bar Ladyboys
The bar ladyboys are working in the "beer bars" – these types of bars where you can just relax for some time, drink your beer, play pool, watch TV, and if you like, buy one of the girls or ladyboys a drink for some closer company. While most of the beer bars in Thailand employ strictly girls only to avoid misunderstandings among their customers, some bars also have 1-2 ladyboys working. The best place in this category are the ladyboy bars in Pattaya like Linda Bar or Fantasy Lounge, check out the link for more info and map locations.
Prices: Lady drinks cost around 120-160 Baht, the bar fine is 300-500 Baht (if you don't know what a bar fine is, check out this article), and the sex price is always negotiated – generally no more than 1,000 Baht for short time, and no more than 2,000 Baht for long time in the beer bars.
Thai Go Go Ladyboys
Unlike the beer bars (see above), Bangkok has actually a much bigger and better selection of ladyboy go go bars (check out Obsession in Nana Plaza or Cockatoo in Soi Cowboy). They operate exactly the same as the girls go go bars: You walk in, sit down, order a drink and watch the dancers on the stage (or elsewhere in the room). If you like someone, you can smile at her, wave at her and call her over to buy her a drink, chat and play with her. Of course often they will also come to you by themselves, putting their arm around you, or just randomly start playing with your dick before you even bought them a drink. They usually work and compete much harder than the girls, and that can be a lot of fun.
Prices: The price system is similar like in the beer bars, but everything is slightly more expensive, because these ladyboys are (supposed to be) the most beautiful type of "entertainer": lady drinks 160-200 Baht, bar fine 700-1,000 Baht, sex price 1,000-2,000 Baht for short time and 2,000-4,000 Baht for long time.
Thai Massage Ladyboys
The easiest and safest type of place to "try out" a ladyboy in Thailand. Why? Well, it's just easy to take an oil massage with a charming and busty shemale, and just see what happens. Usually they will ask you if you want a hand job towards the end of the session, when they massage your thighs and smile when seeing your boner. Full sex is usually not offered, but there are some exceptions like Soi Lengkee in Buakhao, Pattaya, the salons opposite of Foodland on Soi 5 in Bangkok, or the salons on Sukhumvit Road between Soi 5 and Soi 7 in Bangkok – these places also do full sex service, because you get a private room there.
Prices: If you want a regular happy ending massage (means hand job) then you should obviously choose an oil massage – that's usually 400 Baht in Bangkok and 300 Baht pretty much elsewhere. The tip for the hand job should be about 500 Baht – just be warned that the ladyboys are much tougher in negotiating than the girls – they will often quote you 1,000 Baht and not go down even 100 Baht, until you get frustrated and reach for your clothes to leave, before they finally say okay and start jerking you off. Only pay 1,000 Baht for sex in the massage salons.
Thai Club Freelancing Ladyboys
Not every night club in Thailand allows ladyboys, but if they do, then you can be sure that there will be also a lot of freelancing ladyboys around. These are not employed by anyone, and just look for a new customer every night. The advantage with them is that you save money for the bar fine, but the disadvantage is that it's more risky, because you don't know where to find her in case she steals from you (unlikely, but possible).
Prices: 1,000 Baht is the going rate for club freelancers, but some of the hottest and most attractive transgenders are asking for 1,500-2,000 Baht. Party with them first and buy them a couple of drinks, and you should be able to bargain that down. And by the way, they will usually be willing to spend the whole night with you, not just short time (it's up to you though, or how they say in Thai: lɛ́ɛo dtɛ̀ɛ – แล้วแต่).
Thai Street Freelancing Ladyboys
Similar type like the club freelancers, well usually not quite as attractive because they don't even want to spend (or have) money for buying drinks and having fun in the clubs – the street prostitutes are probably the reason why still so many guys are afraid of Thai ladyboys – you walk along Sukhumvit Road in Bangkok (between Asok and Nana BTS Station), or Beach Road in Pattaya, or Bangla Road in Phuket, and many of them are so overconfident that they even firmly grab your arm to express their interest in having sex with you.
Prices: Not more than 1,000 Baht.
Thai Ladyboys on Dating Site
If you are looking for a way to have sex with ladyboys in Thailand without paying any money, then using Thai Friendly Ladyboy Dating is your best option. It's the biggest, most popular and only free dating site in Thailand, where you can find tens of thousands of young and hot ladyboys from all over the country – and obviously the biggest selection is in Bangkok, Pattaya and Phuket.
Prices: There are tons of hookers on Thai Friendly who would happily come to your room for 1,000 Baht (many of them work in the bar and even invite you to come to their room while they get ready for work), as well as "normal" transgenders who don't ask for money and instead look for standard dating or their first foreign boyfriend.
Thai Ladyboy Escorts
I would only recommend you this option if you don't have much time and don't worry about money too much, because the ladyboy escorts are the most expensive type of hooker in Thailand. Sure, it's quite convenient to just go on Google and search for "ladyboy escorts in (city)", browse through the images, book one you like and one hour later she will be in front of your door. Not bad at all and certainly a memorable and safe experience, but just really expensive – for this price you could get at least 3 freelancers from Thai Friendly (see above) coming to your room with no questions asked.
Prices: The minimum time frame for ladyboy escorts is usually 2 hours, and that costs 4,000-5,000 Baht. Longer sessions are also available for an additional fee, like 4 hours for around 7,000 Baht, or overnight for 10,000 Baht.
Final Thoughts
No matter what type of Thai ladyboy hooker you go for – always be respectful and polite, and discuss the price in advance (but pay afterwards), and you should have no problems at all. I even know plenty of guys who just tried out a massage with one of them, and they liked it so much that they now regularly hook up with them by using the dating site.
It's also a good idea to always specify if you want them to stay with you for short time or long time, and of course, always use condoms. This is basically everything you need to know on this topic – I'm sure you have a good overview now of the different types of ladyboy prostitutes, and if you want to know the exact places to find them in each city, just scroll up to the top menu and look under "Nightlife" – there you can find the ladyboy guides to every major destination in Thailand.