At home everyone tells you to be careful with Thai girls especially those that are "too beautiful" to be true. Be careful with what? Well of course the main reason why I'm coming to Thailand (and most other guys I know) are not the beaches which are more beautiful in other countries like Australia or Brazil or the spicy food on the side of the road that I tried to avoid after my first week here. The main reason for any of my trips to Thailand is sex and plenty of it.
Until recently I was not even thinking about having sex with a Thai ladyboy, when out in the bars looking for a hook up I was always trying to figure out ways to spot the difference between Thai girl and ladyboy. Until recently? Well yes, I did it. And not even by accident. After thinking about it for quite a while I thought I write it all down and share it with you guys here. I'm sure a lot of people at least think about trying it out just like me but they don't really know how to go about it and what to expect. Sure, the easiest way is to simply book an escort on ladyboysbangkok.com, but in my case I went for the nightlife option first.
So here we go.
Already at home I booked my hotel in Bangkok online: I decided to stay at the infamous Nana Hotel for a couple of nights before heading down to Pattaya. I have never seen a place like this. I'm not talking about the rooms which are pretty standard and actually a great deal. No what I mean is it almost makes you feel like in a short time hotel, you can basically sit in the lobby and watch foreigners walking in and out with the ladies every two or three minutes. The hotel is located on Sukhumvit Soi 4. Some call it "the city's beer bar capital" but it's most famous for being home of Nana Plaza, a three floor building packed with Go Go Bars – and literally right opposite the Nana Hotel.
So on my first evening back in town I went to Nana Plaza at around 8:30pm – just about the perfect time since most guys are sticking to the beer bars and the 80 Baht a beer happy hour. In the Go Go's in Nana Plaza most of the staff is already there while the bars are just about to get filled up with the male customers means you have like the full range of girls to choose from.
I was walking around the complex and it wasn't so easy to make up my choice as there are just so many bars and the girls were stunning hot and tempting simply everywhere. After ten minutes or so I just thought ok let's try that one, went in and ordered a beer. However soon I knew that I wasn't going to take anyone out from there, the girls were more average looking on a closer sight, not really enjoying dancing on stage and the one girl I liked and paid two tequila lady drinks went back dancing before sitting down next to a Japanese guy. I left that place after paying my bill of 500 Baht including some minor tip.
Somewhat disappointed but still in mood for getting laid I started looking at other Go Go Bars. In front of some place on the second floor a fairly slim and tall (around 1.75m) stunning blonde and busty chick started to hug me and whispering "Why are you so handsome" in my ears while uninhibitedly grabbing in between my legs. I was like oh my god and told her "Why are you so sexy" before putting my hands down on her… dick. Dick! She was a ladyboy! I ran into a ladyboy and would have never noticed it by just looking at her. Somewhat embarrassed I said ohh, thank you it's ok see you naa.. and went off the scene.
While continuing my walk around Nana Plaza, a new thought started popping up on my mind again and again: Why not just trying out sex with a ladyboy? Might be a freaking awesome experience – she was super hot and I might regret it later if I didn't do it. I think it was more or less spontaneous and intuitive that I was suddenly turning around and walking back to the spot I left five minutes ago.
My ladyboy was still standing in front of the bar together with some of her friends and my reappearance put a charming and sexy smile on her face. I asked her for her short time price expectation and after some negotiation we agreed on 1,000 Baht plus 700 Baht for the bar fine and 350 Baht for the rental of a short time room on the top floor of Nana Plaza. Altogether 2,050 Baht – not too bad I thought for this hot Go Go Ladyboy and I didn't have to spend any more on lady drinks.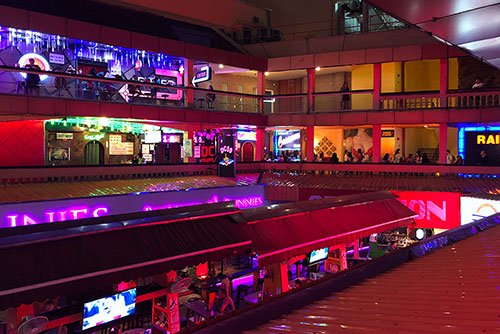 So I handed her the bar fine which she brought inside and after getting her handbag and putting on some more make up we walked hand in hand up the stairs to the top floor where the short time places are found. The atmosphere here was completely different to the bustling scene of the bars on the floors below, very quiet and there were absolutely no people around. I was really excited by then. We entered the place and found a woman sitting somewhat bored on her desk that I paid the 350 Baht for the room.
We moved on and into the room that wasn't very spacious, but it was clean and had a nice Queen Size Bed with a couple of towels as well as a pack of two condoms on it. I closed the door and without wasting any more time I put my hands on her beautiful big and firm boobs while kissing her cheek. She started giggling while massaging my dick. We undressed each another and went to the small enclosed bathroom where we took a shower, rubbing on one another with lots of soap. This was also when I first saw her penis which was pretty small like the one of a 13 year old. Her balls hairy and more like that of an adult though.
After finishing our shower and drying each other off we went over to the bed. We started touching each other. Once again I had to start with her amazing boobs but soon I felt doing something completely new, weird and exciting at the same time: I went down with my hand and started masturbating her penis. It didn't take long for it to stand up and become tight and my ladyboy started moaning, firmly grabbing my shoulder. I got horny by that and got a boner as well.
After a while I was just about to go on to the next part when she put her hand on mine saying "Don't stop baby I'm coming". I sped up my movements and so she moaned even louder and shortly after she shot out her load. She hopped out of the bed and went to the bathroom to clean herself again.
Now it was my turn. I lay down on my back and my ladyboy started sucking my dick. It felt amazing. She did it without using her hands. It felt so good I had to ask her for small breaks to avoid coming too quickly. After a while I felt like now it was time for nice sex and I told her that I wanted to bang her.
She put on the condom on my dick, applied some baby oil that she had in her handbag and started to passionately riding on me while I put both of my hands on her big and firm ass. Her small cock was clapping on my belly. She didn't stop and since her anus was quite tight it didn't take long until I couldn't hold it back anymore. Now it was me moaning loudly while cumming inside her.
I stayed in her for a short while and looked at her beautiful body, before we both went to the bathroom again for another shower. We dried each other off, got dressed and I handed my ladyboy her love reward of 1,000 Baht. We walked back to the go go bar where I gave her another kiss on her cheek before I left. I was so glad I had the guts to try sex with a Thai ladyboy – and I immediately knew it shouldn't be a once in a lifetime experience.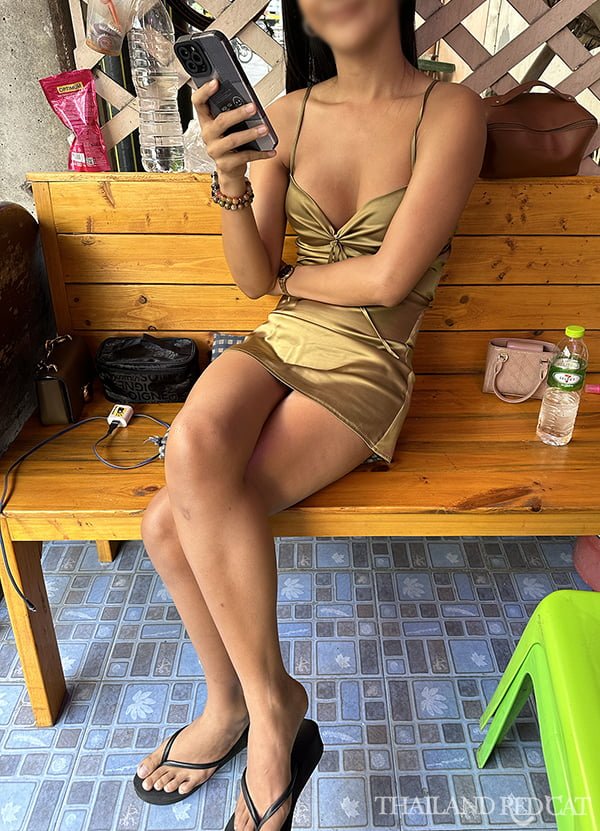 After arriving in Pattaya a couple of days later I felt like doing it again. But instead of spending another 2,000 Baht for buying a ladyboy in a bar I tried a different way that many of my friends recommended me.
I signed up for that Online Dating Site and wrote a message to some random attractive ladyboy in town. Since she was online at the same time it didn't take two minutes until I received her reply and after some standard small talk I asked her if she wants to meet for some dinner. She said she was too lazy now to go outside and if I wanted to watch a movie at her place instead. Two hours later I had sex with my second ladyboy in Thailand.
It's really that easy and I did it not just in Pattaya but also when I returned to Bangkok, the site has ladyboys looking to have some fun with foreigners simply everywhere. Are they asking for money? Yes some do, but it's never more than 1,000 Baht. Some just say "up to you" and I give them 500. Others I spent the afternoon with, have some coffee and stuff and just pay for everything we do together.
Don't get me wrong, I still like Thai girls for girlfriends, but once in a while it's just super exciting and fun to have sex with a Thai ladyboy, especially what I found most Thai girls have sex primarily to please the guys whereas the ladyboys seem to really enjoy it.
Guest Post by Martin Gilchner