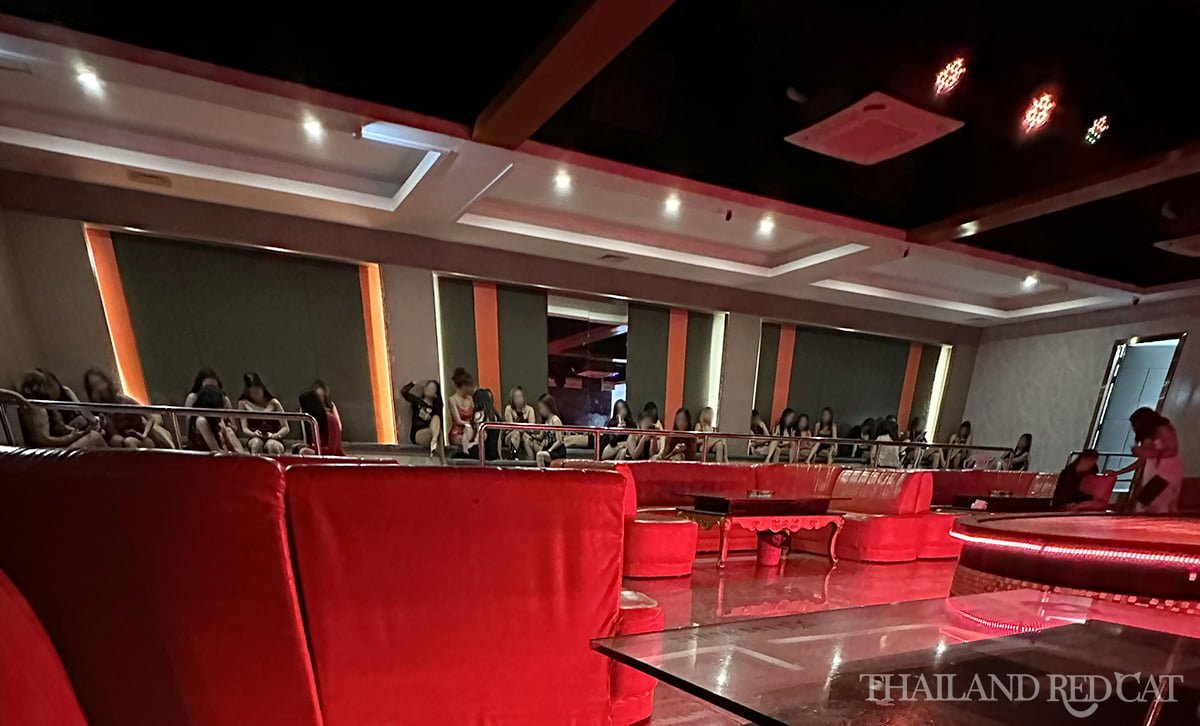 There are more than 100 so called soapy massage parlors in Bangkok, which are mostly big buildings that look like shady hotels. Well, in some sense they are hotels, in a way that they all have several dozen private rooms equipped with a king sized bed, TV, table, ensuite bathroom with shower, and bathtub, which is mostly located not in the bathroom but in the bedroom.
So yeah, once you see these rooms you would instantly know that you're not in an ordinary hotel, but rather in a typical Thai sex massage parlor. And besides that, you'll get an idea of what's going on there right after you walk into the lobby of these buildings where you'll find a so called fishbowl, means a "showroom" full of sexy ladies that are all ready to spoil you with 1.5 hours in heaven. But more on that in the detailed description on how it works in a Bangkok massage parlor after the top 5 list.
With so many different parlors to choose from in Thailand's capital, it can be very difficult to make a decision which one to visit. Sure, one thing you could do is to take the MRT to one of the 2 main areas where you'll find a cluster of 10-15 parlors each – Huai Khwang MRT and Phetchaburi MRT – walk into several places and take a look at the girls yourself.
But of course Thailand Redcat will make life easier for you and help you avoid bad surprises like bad service for foreigners, additional charges for foreigners, old and outdated rooms, no bathtub in the rooms etc (things you wouldn't know by just looking at the selection of the ladies in the lobby).
Here are the currently 5 best soapies in Bangkok:
1. Poseidon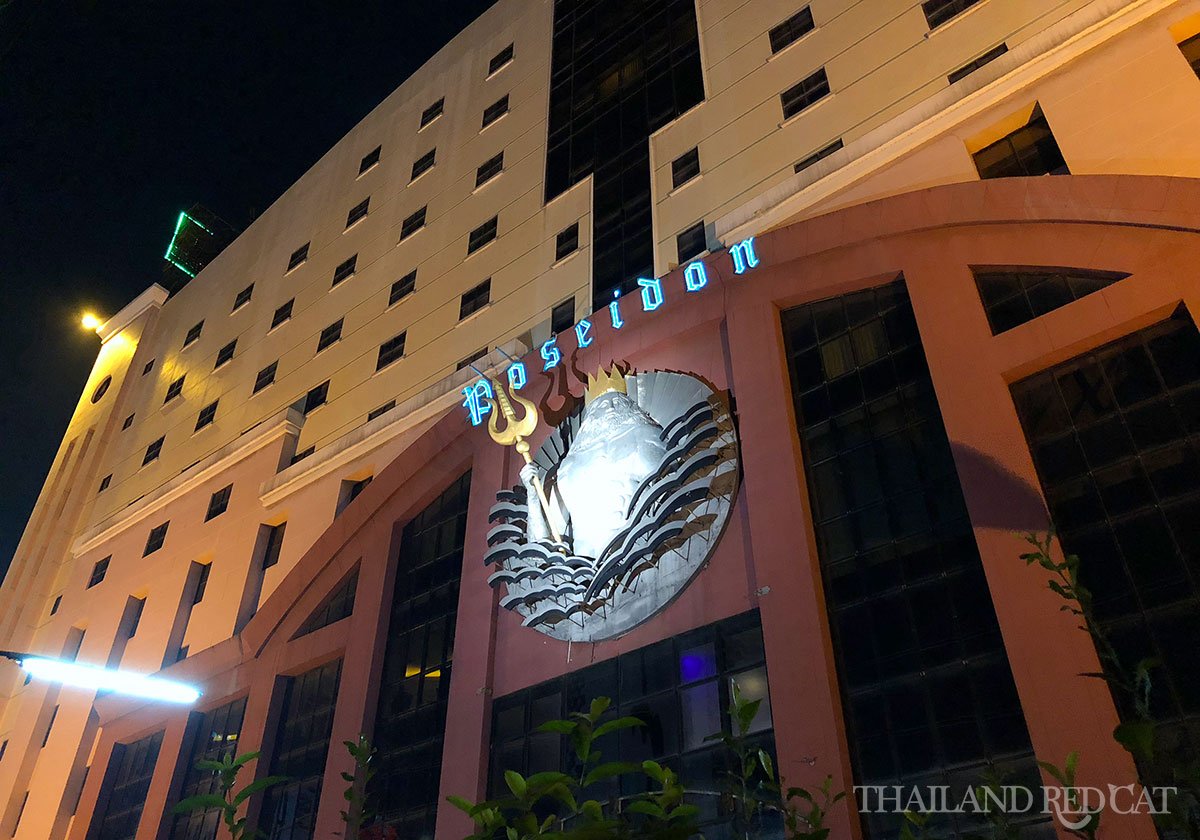 You cannot miss this huge place on Ratchadaphisek Road with the giant Greek god statue hanging over the entrance! This is probably the most famous and popular sex massage parlor in Bangkok. It has two girl categories, the normal fishbowl and also the model level.
On the model level (3rd floor) you will find beautiful tall white skin girls, some are even former penthouse/magazine models. Be warned though, sometimes you go up and all the models will be engaged, so it is best to arrive at 6pm, but also if you visit their website you can book in advance and this is probably advised because it seems most people come here for the models.
If you do happen to go there looking for a model and there are non available then I wouldn't be too concerned, go down to the 2nd floor where you will find the standard fishbowl. There are also beautiful girls, the ones sitting on the left are 2,700 Baht and the ones on the right are 3,000 Baht. The rooms are nice and they treat you well.
Prices: 2,700-3,000 Baht (sideline girls) / 4,000-12,000 Baht (models)
Girls Quantity: 8/10
Girls Quality: 10/10
2. Emmanuelle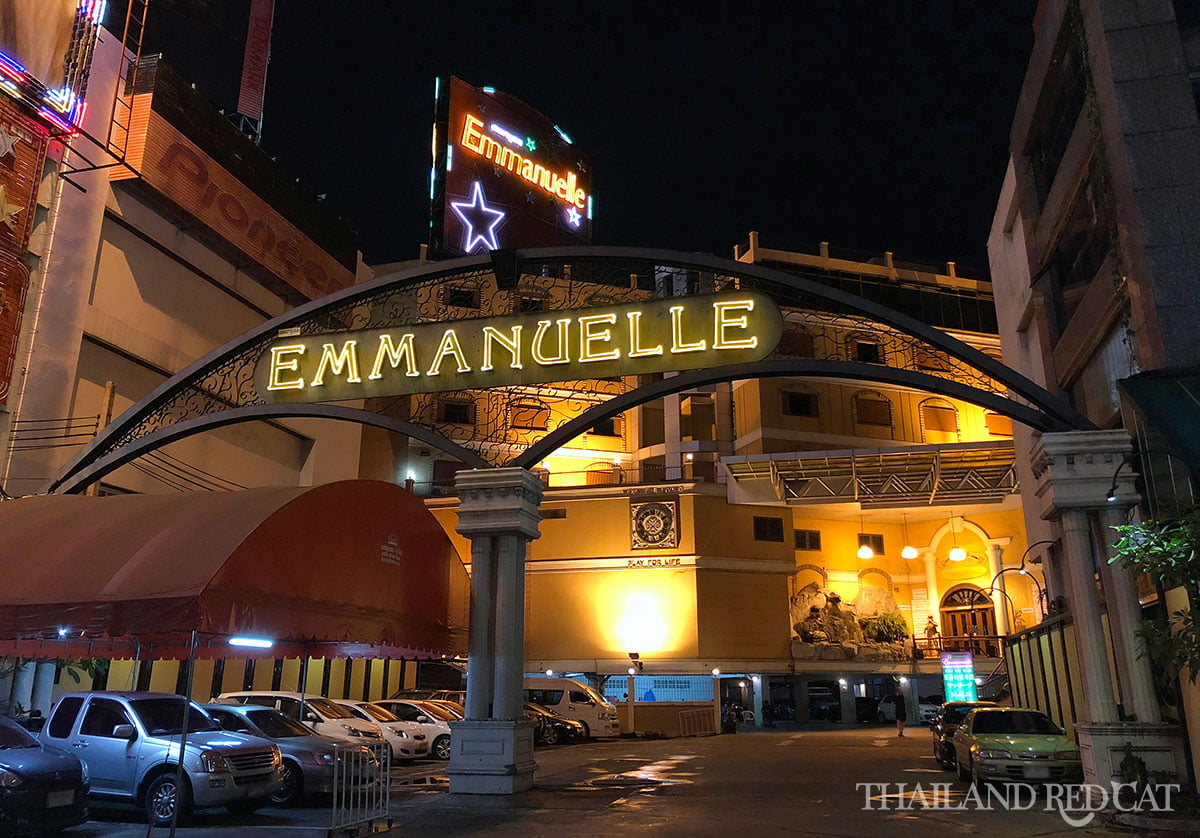 This might be a controversial choice because they add an additional 1,000 Baht Farang surcharge on top of the price, however I wouldn't let that put you off.  This is a classy establishment in a very convenient location right next to the Huai Khwang MRT station.
When you walk up the stairs into the place you might be fouled into thinking you're about to enter a Vegas casino, however this place is much more fun! There is no fishbowl here, but you will find all the girls sitting on sofas under a bright light. The girls on the right are the cheapest and they go up in price the further you go down the line.
The thing that struck me about Emmanuelle was how beautiful the women were, pretty much all white skinned model like beauties, the more expensive ones were obviously the tallest, but across the board these girls were stunning. You'll also find lots of ladies with good sized boobs in here. You'll get the full GFE and surely leave with a massive smile on your face.
Prices: 2,700-7,500 Baht (8 different categories)
Girls Quantity: 7/10
Girls Quality: 9/10
3. La Belle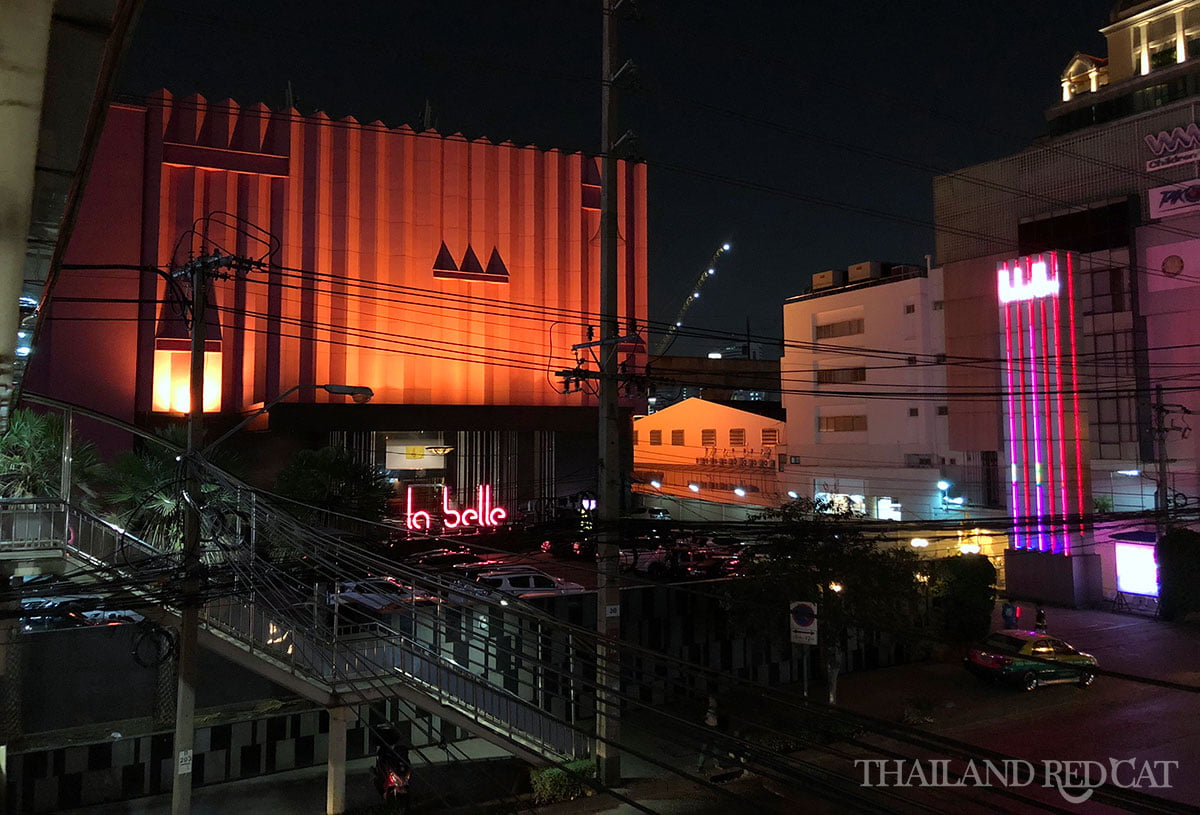 The best massage parlor in the Phetchaburi area, conveniently located 200m from the MRT station of the same name, La Belle is famous for employing some of the most beautiful massage ladies not only in Bangkok, but in all of Thailand.
It's already more than tempting to just walk in there when you see this beautiful building on the street – and even more so to take the service of one of the girls when you get to the lobby and the almost overwhelming huge selection of "masseuses".
La Belle has also the nicest rooms of all massage parlors on this list, which even feature full functional jacuzzis (hot tubs) with different jet types – both the standard rooms as well as the VIP suites. It's pure heaven.
Prices: 3,600-8,000 Baht
Girls Quantity: 9/10
Girls Quality: 9/10
4. Plaza Entertainment Complex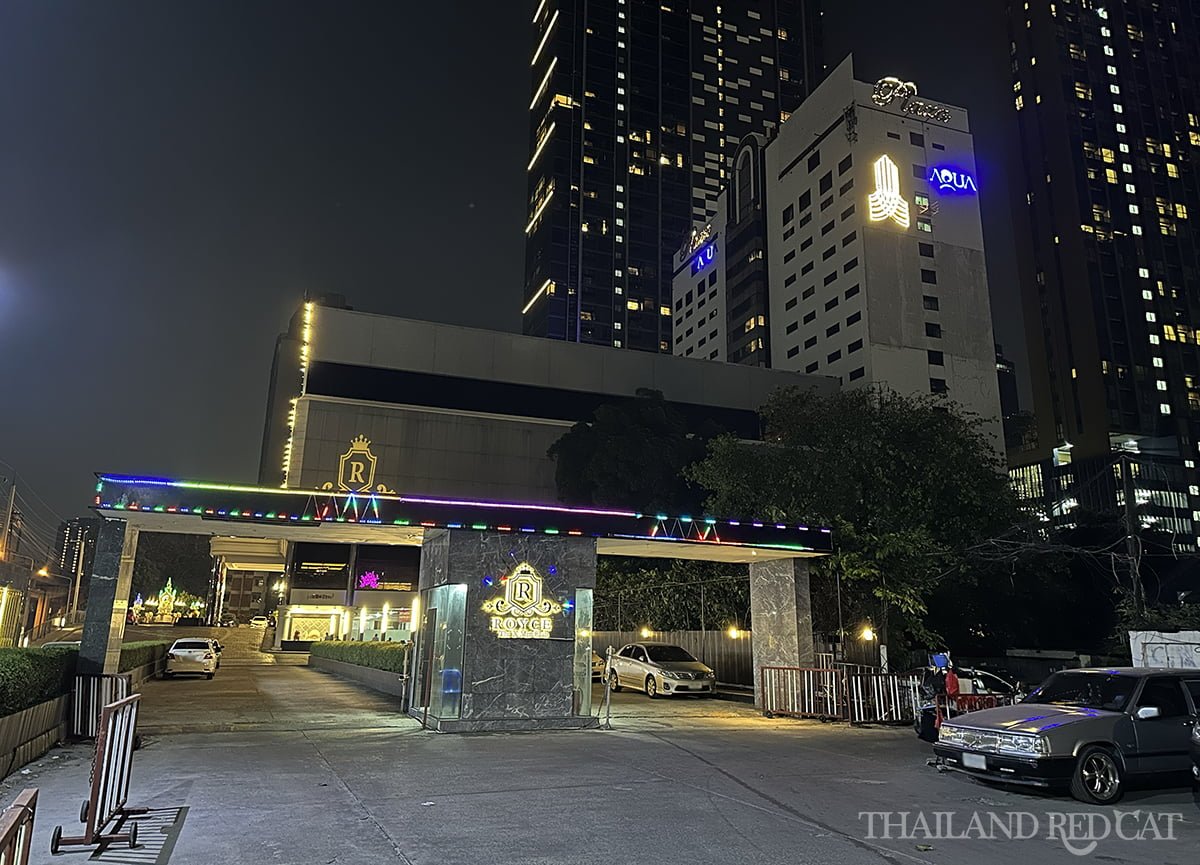 The Plaza Entertainment Complex has 2 massage parlors that not many foreigners know about (Aqua & Royce), probably because it's located in a dark and quiet street about 500m from Makkasan Airport Link / Phetchaburi MRT Station.
If you go there at about 7pm in the evening, you'll find about 30-40 girls each sitting in the illuminated area. There are always 3-4 papasans around (male managers) who will not only tell you the prices, but also answer your questions (age, service, province etc). If you want you can order a cool beer first, relax and take your time with the decision.
Prices: 2,500 / 3,000 Baht (Aqua), 4,000 – 7,000 Baht (Royce)
Girls Quantity: 7/10 (Aqua), 8/10 (Royce)
Girls Quality: 7/10
5. Sukhumvit Soi 24/1 Massage Parlors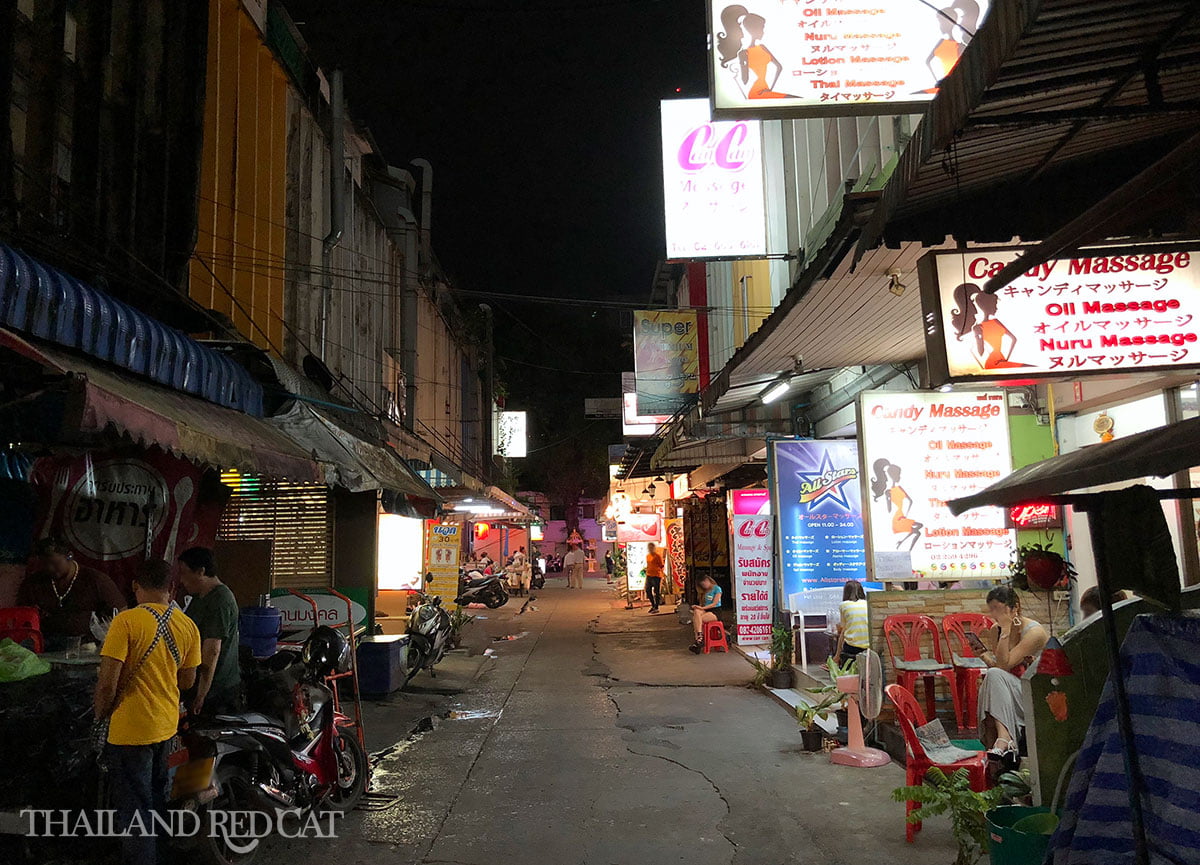 A little different from the first 4 parlors of this list are the small massage salons in Sukhumvit Soi 24/1 (just 100m from Phrom Phong BTS Station). They offer cheaper prices than the big parlors, just a smaller selection. But in the end you'll only want one girl anyway (or maybe 2, yes that's possible for some extra charge). So if you don't like the ladies in one particular place, you can just check out the next one.
There are 8 different sex massage shops in this little Soi 24/1, and several more in the neighboring Soi 24 & 26.
Oh, and by the way: A lot of places in this area give their customers 2 shots (such as Boss Massage or Cherry Massage), as long as you stay within the agreed time.
Prices: 1,800-2,300 Baht (40 minutes) – additional charges for additional time or 2 ladies or nicer rooms with bathtub (the standard rooms come only with shower and bed). The price often also includes a body to body massage with nuru gel.
Girls Quantity: 10/10
Girls Quality: 8/10
The Procedure in Bangkok's Soapy Massage Parlors
Short Version
You walk into the place, choose a girl, pay at the counter, follow the girl to the room, take a bath together, have sex, take a shower, and leave.
Long Version
Upon entering the massage parlor, you will find yourself in a spacious lobby which consists of a large seating area for customers (relatively dark and discrete) and a very bright fishbowl or simply colorful couches without a glass front where the ladies are sitting. They make it bright so you can compare them better.
Take a seat, and you will soon be greeted by the papasan (manager) or other staff. You can do like most Thai men (or any real gentleman) and order a beer first (100-150 Baht for a big bottle) and take all the time you need to look at the girls and make your decision. You can ask the manager about the price categories, which girls are new, which girls give good service, which ones have big boobs (and not just push up bras), which ones have children, where they come from etc.
If you don't see anyone that fits your taste, you can just leave, that's perfectly fine (just pay your drink bill if you ordered something). Lots of Japanese and Korean guys do that as they are very picky.
If you like a particular lady, you can tell the manager and he will call her. You go to the cashier and pay the full price upfront. At the same time your girl will appear next to you, hopefully politely greet you with a smile and wai, and you follow her to your designated private room (usually on the upper floor by elevator).
The first thing your girl does in the room is to open the water in the bathtub as it will take some time (around 10mins) to fill up. What happens in the meantime really depends on the girl – ideally they will start "getting warm" with you, doing some small talk and also some first gentle touching. Some ladies even perform a basic neck massage.
Next you will understand why they call it a soapy massage: Your girl takes your hand and leads you into the bathtub, which is full of soap and foam. She will not only clean and stroke every part of your body, but also rub and slide up and down all over you with her naked body – and skillfully use her breasts and ass. You'll have a hard time (literally!) to not shoot off your load right here and then (but even if you do, she'll either be okay with it and still let you have sex with her, or you just pay another 1,000 Baht for the 2nd shot).
After your bath is finished, she will get out first to give you a towel. She'll usually help you with the drying part as well (these women make sure that the whole procedure is as clean as possible, they even use a blue mint mouthwash and often ask you to use it too).
Next comes the main part of the whole procedure. You both get on the bed, where she will start massaging your back and legs for about 10-15 minutes. Naked of course. Then she'll tell you to turn around. She'll work on your thighs and again get closer and closer towards the area between your legs.
Eventually she'll take out a condom from her bag, apply it on your dick, and start sucking on it a little. Be warned that some girls try to do that fast, in an effort to reduce the time of the actual sex part. But of course it's up to you when you want to "start".
She'll ride on top of you first, before giving you the full control so you can decide which positions you do during the sex. Okay, enough for these detailed descriptions of the service procedure – that's an open end.
After you are finished, you both take a shower, get dried, get dressed and you leave. Some girls may expect some tip – it's not required, but if her service was good, you can give her like 100 Baht tip.
Since the massage scene in Bangkok is changing all the time, I'll make sure to update this page in case some of these parlors close down in the future, or there are simply newer or better ones coming up.
Map of Soapy Massage Parlors in Bangkok
Video of Soapy Massage Parlors in Bangkok