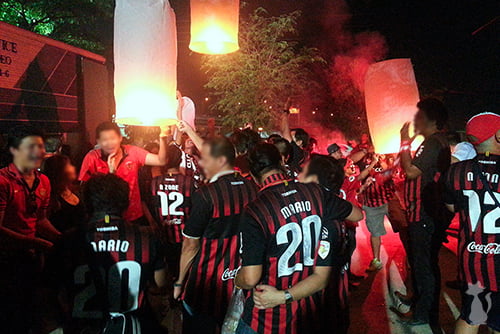 Last night I watched my 4th football match in Thailand, a friendly between Muang Thong Thani and PSV Eindhoven. I'm a big football fan in general so I always wanted to experience the atmosphere in the Thai stadiums. It's great. People are non-stop cheering for their team, even if they are two goals behind or lost the game.
And not just the atmosphere in Thai Football stadiums is great, but also the quality of the game is better than I expected. Thai players have great technical skills, they major reason why they are not competitive with European teams might be that they are generally smaller and physically not as "strong" as Farang players.
There are basically 5 relevant football stadiums in Bangkok and here is a description to each of them, where they are located and which matches you can watch there:
Rajamangala National Stadium (Bang Kapi)

This is Thailand's biggest stadium with a capacity of 50,000 seats. It's also the home stadium for Thailand's national football team. I watched the game Thailand – Vietnam (3:1, Suzuki Cup) there in 2012, my first football game in Thailand. And now just yesterday I watched another one: The semi final of the Suzuki Cup (which is the Southeast Asia Cup) between Thailand and the Philippines (3:0). Not just one of the best panoramic shots I took in Bangkok but also the best atmosphere I ever experienced in a stadium in this city.
To get there by public transport, take the Airport Link Train and get off Ramkhamhaeng station. From there, take Bus No. 71 towards Ramkhamhaeng University, it drops you right in front of the stadium.
I even had the chance to walk on the grass of this stadium which was a pretty cool experience – check out this post.
Supachalasai National Stadium (Siam)
Even though the least important of the five stadiums, the Supachalasai National Stadium in Siam is the most easily accessible one. I watched two games there so far, first the semifinal of the Suzuki Cup (which can be translated as the Southeast Asian Cup) between Thailand and Malaysia (3:1) and then the final 10 days later between Thailand and Singapore (1:0).
Unfortunately Singapore won the cup due to the first match of the final (3:1 in Singapore). Nevertheless, the Thai fans pushed their team from the first to the last minute and I can never imagine such a great atmosphere in a stadium that holds about 20,000 people. Great experiences.
So to get there, simply take the BTS Skytrain to National Stadium (last stop of the Silom Line). From there walk about 200 meters down the street (same direction the train was driving) and the stadium is to your left. Just follow the crowd.
SCG Muang Thong Stadium (Nonthaburi)
Even though it's quite remote from the city center, this is the only "real" Thai football stadium of the five shown here. The spectators sit right behind the court and can experience the match from extremely close, similar to the infamous football stadiums in England.
I came there first to watch a friendly match between Muangthong United and PSV Eindhoven. My ticket was 200 Baht and I sat right next to the tunnel where the players walked in, about 5 meters distance to the court. Again with all other football matches I saw in Bangkok, great atmosphere and one sidenote: The girls that sell the beer are super hot. It's almost impossible to resist the temptation and you just have to get one (100 Baht).
Now to the bigger issue – how to get there? The SCG Muang Thong Stadium is located about 30 km from Sukhumvit Bangkok and the cheapest way to get there is to get the MRT to Chatuchak Park / BTS to Mo Chit and from there hop on a taxi that takes you to the stadium tell them "Sànaam Fútbɔɔn Mʉang Thɔɔng Taanii" (สนามฟุตบอลเมืองทองธานี – Football Stadium Muang Thong Thani) and every driver will know. With a metered taxi it's 120-150 Baht to the stadium.
Thai-Japanese Stadium (Din Daeng)
The Thai-Japanese Stadium is not just the playground of Bangkok United F.C. but also a very popular place for Bangkokians of all ages to do fitness. There's a running track all around the stadium grounds, several tennis courts, another football field, a swimming pool, squash hall and many fitness machines. The grounds are open daily from 6am to 10pm and the entrance is free!
I discovered the stadium rather by accident last Saturday while going there for working out for the first time when I figured there's a Thai Premier League match between Bangkok United and Sisaket. I bought a ticket for 100 Baht right away and had a lot of fun watching the match! The capacity of this stadium is 10,320 seats.
Update: Bangkok United changed their home stadium – see below.
True Stadium (Thammasat University Rangsit)
Beautiful, isn't it? The new home ground of Bangkok United is the True Stadium on the campus of the Thammasat University in Rangsit. I went there yesterday to watch the big match between Bangkok and Buriram (0:1). The stadium holds about twice as many seats as their former playground (20,000). The only downside is the running track around the pitch, so I think they will eventually build their own stadium, since they've got big sponsors like True, Huawei and CP.
The True Stadium is located about 40km north from downtown Bangkok, which is quite far. A taxi or Grab will cost you around 500 Baht including expressway fee. There are also minivans from Victory Monument going straight to Thammasat University about 800 meters from the stadium (37 Baht).
Army United Stadium (Din Daeng)
The Makawan Royal Thai Army Stadium is home of another Thai Premier League team from Bangkok – Army United.
As you can see on my picture, it's a multi-purpose stadium and one of the smallest (capacity 20,000 seats), too, but the atmosphere is still great if you join the ultra fans. At least that's what I did last week, I bought a ticket for the Buriram stand and there were just as many people as from the home team Army, singing and cheering nonstop.
Map of Bangkok Football Stadiums
Where to buy tickets for football games in Bangkok?
Many Thai football matches, especially games of the national team, are sold out in advance. You can book your ticket online on Thai Ticket Major. There is usually a 20 Baht booking fee involved for each ticket. Print out the receipt (or have it ready on your phone) and go to 7 Eleven, after paying they give you the confirmation paper that allows you to pick up the ticket on the match day at the stadium (recommended one hour before kick off).
Even if you attending a normal Thai Premier League match, it might be hard to get a ticket by just showing up ten minutes before kick off, so just to be on the safe side and you really want to see a game, book it online.
The ticket price for Thai football matches are between 100 and 500 Baht, depending on seat location.
Have you watched a football match in Thailand yet? Maybe outside Bangkok? How was your experience, let us know in the comment section!
More posts about football in Thailand: