The full world heritage list proclaimed by UNESCO includes 962 properties that are part of the cultural and natural heritage which the World Heritage Committee considers as having outstanding universal value. There are five different world heritage sites in Thailand all of which are located in the country's north or north-east. Here is a short description of each of them and where they are located.
Historic City of Ayutthaya
Founded in 1350, Ayutthaya became the second Siamese capital city after Sukhothai. It flourished from the 14th to the 18th centuries and became one of the world's largest and cosmopolitan areas as well as a center of global diplomacy and commerce. Its location above the tidal bore of the Gulf of Siam on an island surrounded by three rivers connected to the sea was chosen strategically as it protected the city not only from seasonal flooding but to prevent it from being attacked by warships of other nations.
Nevertheless Ayutthaya was attacked and destroyed by Burmese army in 1767 who then forced the citizens to abandon the city. Nowadays Ayutthaya that has a population of only 55,000 mainly attracts visitors for its extensive archaeological site with a large number of beautiful temple complexes.
Find the full article of my visit to Ayutthaya here.
Historic Town of Sukhothai and Associated Historic Towns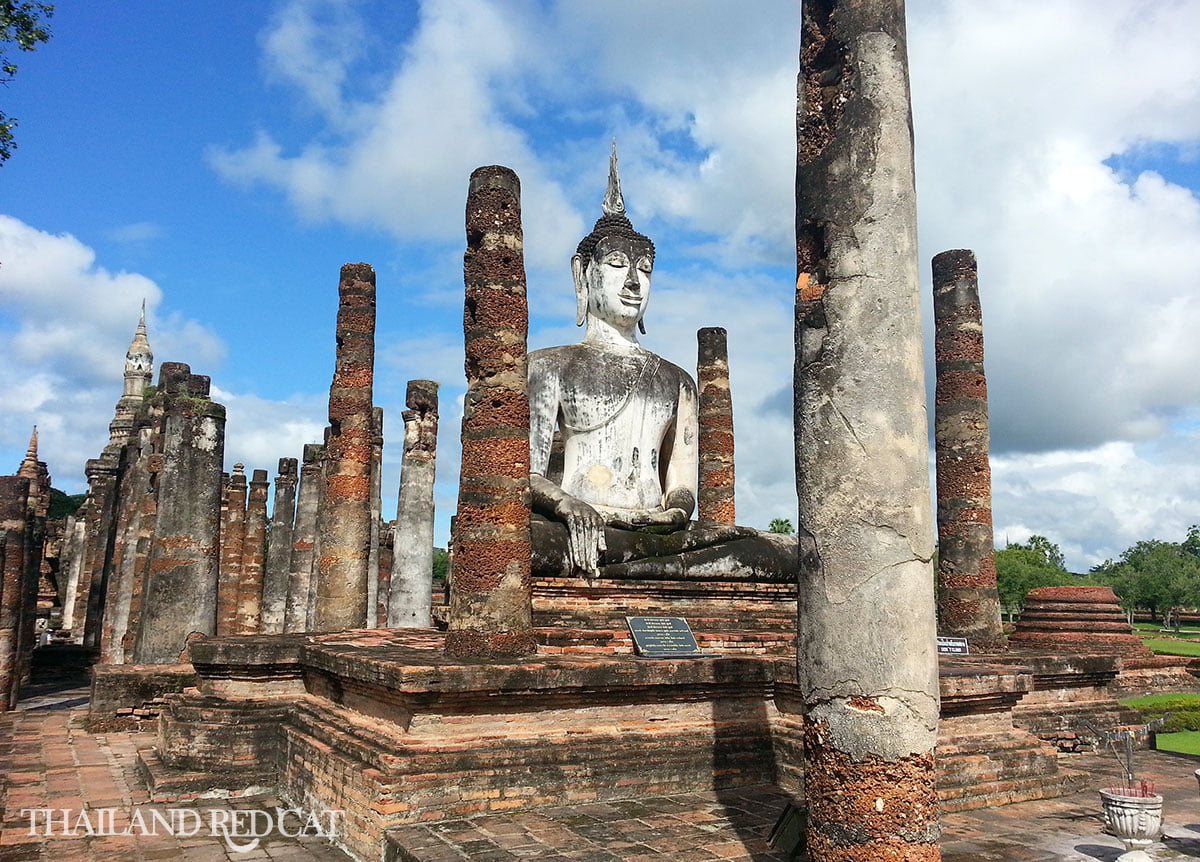 From 1238 to 1438 Sukhothai was the capital of the first Kingdom of Siam. It is known for its numerous monuments and temples that are illustrating the beginning of Thai architecture. Starting from the 12th century people from Yunnan in China migrated to the northern regions of the Khmer state.Known as the Thai (free men) they soon organized small communities. After a Thai prince married a Khmer woman they rebelled against the central power and created the first Siamese state, calling it the kingdom of Sukhothai – after the name of its capital city.
Sukhothai was ruled by many Kings, with the most famous one being King Ramkhamhaeng the Great who crated the Thai alphabet, set the foundation for politics, monarchy and religion and expanded the empire's boundaries of influence.
Find the full article of my visit to Sukhothai here.
Thungyai-Huai Kha Khaeng Wildlife Sanctuaries
Stretching over more than 600,000 ha along the Myanmar border, these adjacent parks and sanctuaries in the Uthai Thani, Kanchanaburi and Tak provinces form the largest protected area in Southeast Asia. They are best visited from Uthai Thani.
In Thungyai-Huai Kha Khaeng you can find examples of almost all the forest types of continental Southeast Asia such as mountain virgin forest, dry virgin forest and pine forest. This unspoiled nature makes it an ideal home to various rare and endangered animals such as elephants, tigers, buffaloes, rhinoceroses, tapirs, leopards, bulls and many others.
Ban Chiang Archaeological Site
Located about 55 km east of Udon Thani, Ban Chiang is considered the most important prehistoric settlement that has so far been discovered in Southeast Asia. It marks a crucial stage in the region's cultural, technological and social evolution. Not only does it present the earliest evidence of farming in the region but also of manufacturing and the use of metals.
Find the full article of my visit to Ban Chiang here.
Dong Phayayen-Khao Yai Forest Complex
The Dong Phayayen-Khao Yai Forest Complex in the Nakhon Ratchasima province stretches over 230 km between Ta Phraya National Park near the Cambodian border in the east and Khao Yai National Park about 100 km northeast of Bangkok in the west. This site contains more than 800 species of fauna and is of high international importance for the conservation of globally threatened and endangered mammal (112), reptile (200) and bird (392) species that can only survive in this viable tropical forest ecosystem.
Map of UNESCO World Heritage Sites in Thailand
How many UNESCO World Heritage Sites in Thailand have you visited?