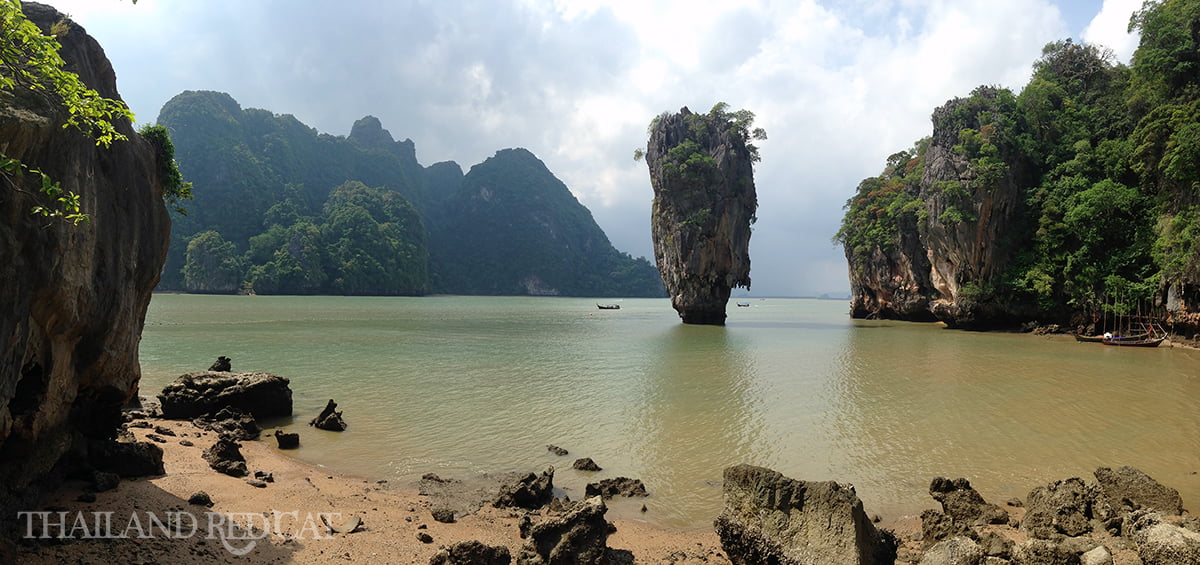 It always feels good to get out of hustling and bustling Bangkok for a few days and so last month I went down to Phuket for a long weekend. This has already been my fourth trip to Thailand's biggest island and what I really like about it apart that it's much more relaxing than a lot of people say (and now also less hassle free since the military "cracked down" on the taxi mafia and cleaned up the beaches) is there's always something new to do.
There's obviously the infamous nightlife of Patong with all its go go bars and night clubs that cannot all be discovered in just a couple of trips but now that I've been coming several times I got a pretty clear picture which places are worth visiting and which ones are not so I've recently written about my recommendations.
But if there's something that attracts guys to Phuket more than the exciting nightlife then this would be the beautiful beaches as well as the surrounding islands that make perfect day trips. So this time I picked a tour that has gotten quite touristic and almost overrun yet exceptional good value-for-money and a lot of fun especially if you meet nice people on board: The James Bond Island Tour.
If you look at the flyers they distribute at the countless of travel agent booths and hotels in Phuket it says like 2,800 Baht for the tour on a big boat and 3,200 Baht on a speed boat. But the actual price you get quoted is usually between 1,500 and 2,000 Baht, in the low season even less.
I inquired the price at some travel agents in Patong and the fourth one I asked offered me the big boat trip for 900 Baht – as always including hotel pick up and drop off as well as buffet lunch. Yes I went there in August means in the mid of low season but I'm sure even during the high season (November to February) you don't need to pay more than 1,300 – 1,400 Baht due to the high number of tour operators.
Great value, and this is the standard James Bond Trip's itinerary:
8.00-9.00: Pick up from your hotel by minivan
Ride to Phang Nga Pier (1 hour). Some tours include a short break at the Monkey Caves where visitors can see a Buddha statue and feed monkeys.
10.00: Arrival at Phang Nga Pier. The tour guide will give you a sticker to attach on your shirt and assign you to a group.
10:30: Boarding the boat and departure from Phang Nga Pier.
11:30: Canoeing and "Sightseeing" at Panak and Hong Island.
13:00: Buffet lunch on board.
14:00: Swimming and relaxing at Nakae Island.
15:00: The highlight of the trip: Visiting James Bond Island.
Or to be more precise: Strolling around Kao Ping Kan Island and enjoying the various beautiful views of James Bond Island.
16.00 – 18.00: Cruising back to Phang Nga Pier and minivan transfer to hotel.
Below are some pictures I took during the trip: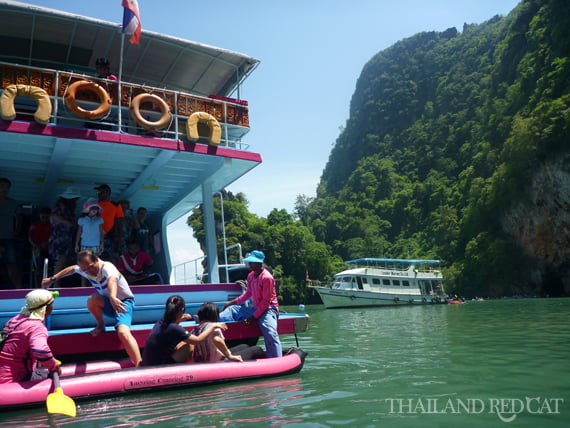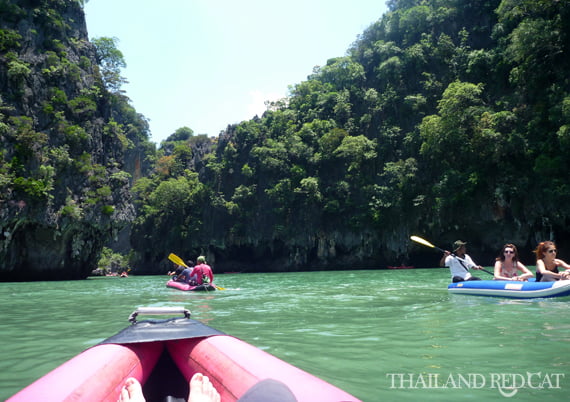 Big Boat or Speed Boat?
I think if you are in a group of 8 to 10 people then it makes sense to book your own private speed boat and you pay no more than 2,000 Baht a person, more likely less than that.
But if you are just by yourself or with a couple of friends I definitely recommend to go for the big boat option, like that you get to know a lot of people, the cruise is smooth and relaxing not bumpy like on the speedboat and you also save a few hundred Baht that you can instead spend on buying a couple of cool beers on board (100 Baht a can).