Koh Tao boasts some of the most breathtaking scuba diving in the whole world – spectacular reefs and amazing wildlife, all off-shore of pristine white sand beaches. Beginner divers flock to the island because its crystal clear waters and colorful reefs are shallow enough for newbies to explore.
Koh Tao is one of the cheapest and most popular places in the world for new divers to get their open-water dive certification – in fact, only Cairns in Australia issues more diving certificates each year.
But whether it's your first time taking the plunge or you're a seasoned diver with years of experience, there are plenty of options to get you in the water for cheap!
Scuba Diving Operators on Koh Tao
There are over 30 dive shops on Koh Tao, and you will undoubtedly have an unforgettable experience with any of them. Here are a few in particular that stand out:
Ban's Diving Resort is the biggest and most popular scuba diving company on Koh Tao. While the groups are large, the efficiently-run dives ensure a positive experience. For those with a smaller time frame to explore, Ban's is a safe bet, providing consistently good dives at decent rates.
For divers who are seeking advanced certifications, the renowned Crystal Dive Resort is recognized by PADI (Professional Association of Diving Instructors) as a "Career Development Center", one of only a handful in Thailand, and offers pro-level courses including instructor development programs and Divemaster courses. While these classes set Crystal Dive apart from the competitors, this shop also caters to the less experienced, with courses for divers of any skill level, from beginners to seasoned pros. Their instructors are from all over the world, and offer courses in over a dozen different languages. Crystal Dive is in Mae Haad, which means that the resort is a bit farther from the main strip along Sairee Beach where most of the nightlife is located.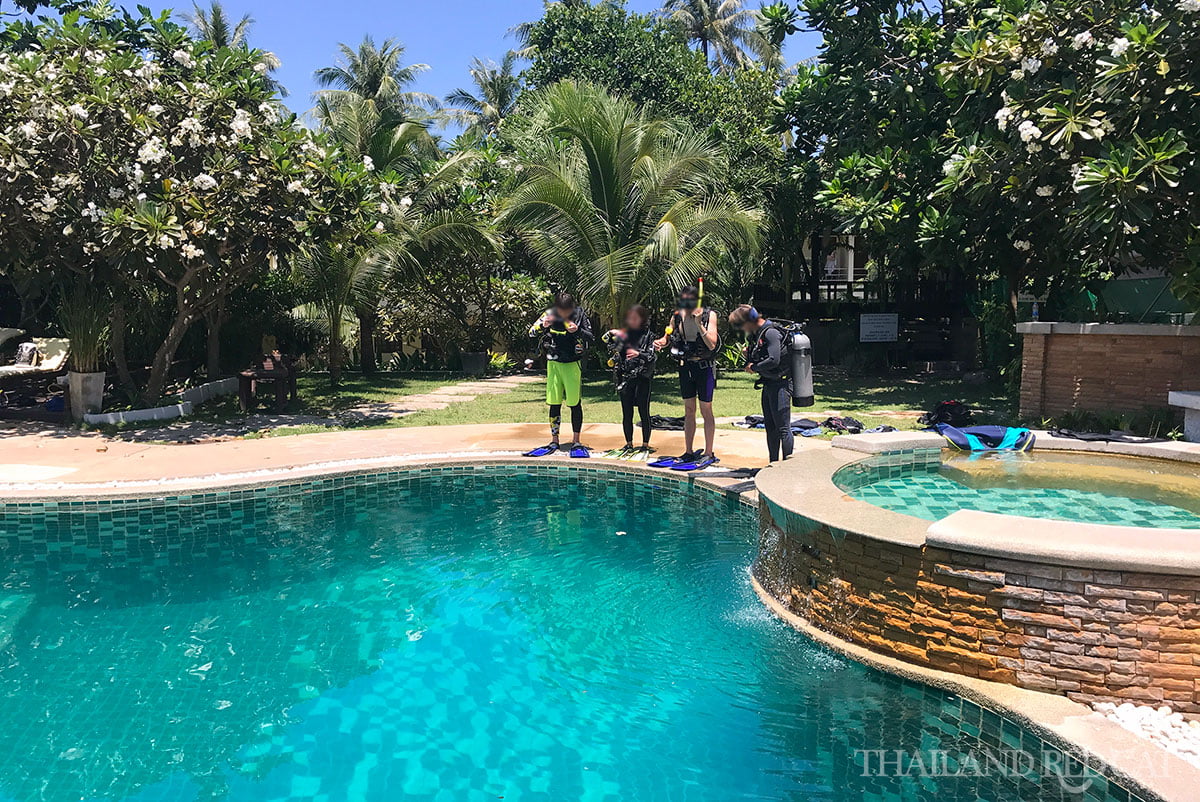 New Way Diving, one of the island's smaller schools, offers classes that cater to first-time divers seeking their certification. Their early-morning excursions depart before those of many of the larger schools in the area, offering a less-crowded diving experience.
The middle ground between the larger schools (Ban's) and the smaller ones (New Way Diving) is Big Blue – a midsize company that combines a friendly, sociable scene with professional service. Accommodations at the Big Blue resort are very cheap, and give divers a chance to socialize before and after the dives. In fact, Big Blue Diving is listed at number 1 on the Lonely Planet's "must-do activities" on Koh Tao.
Prices for Scuba Diving on Koh Tao
Prices on Koh Tao are pretty standardized, generally varying within $5-$10 USD between different dive shops. Fun Dives range between $22 and $30, while the PADI open-water certification course is usually around $260.
While Koh Tao offers a number of world-class dives, experienced scuba divers shouldn't limit their diving exploration to just one island. For example, the Similian Islands and Koh Phi Phi, both also off the coast of Southern Thailand, also have awesome dive sites with incredible marine life.