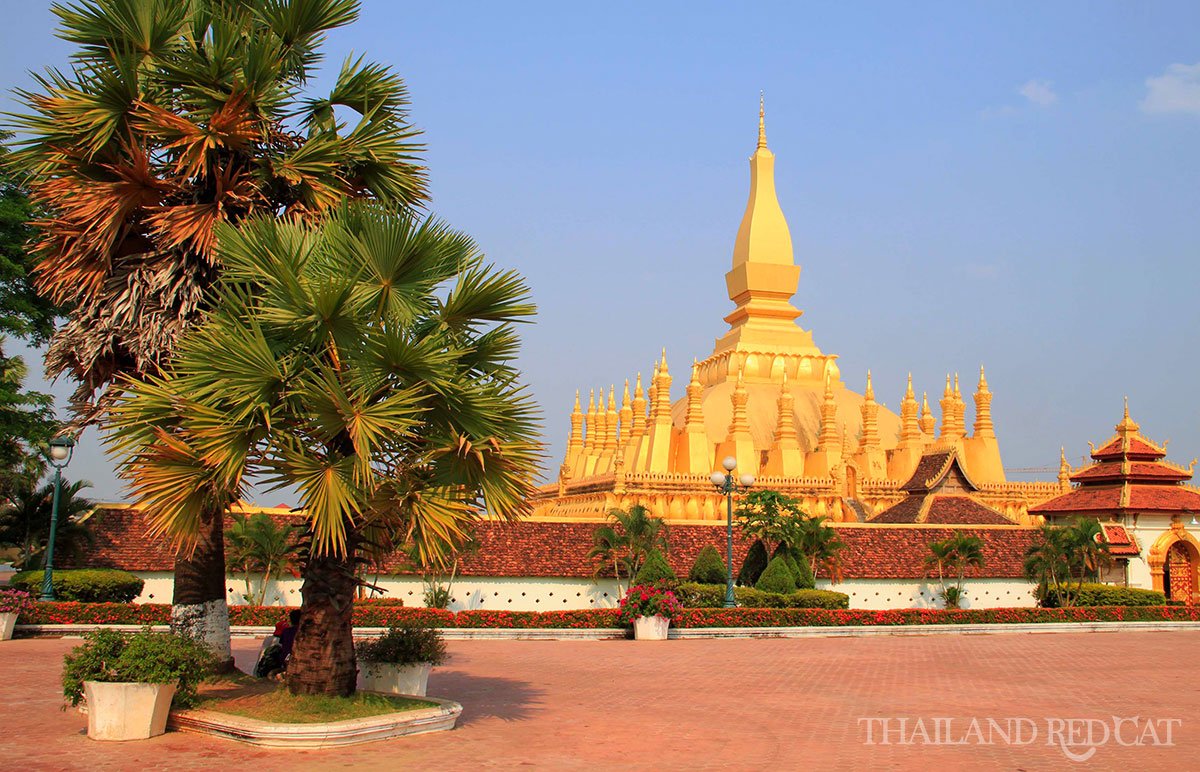 Thailand is not only a great country for epic holidays, but also popular for working or just staying longer.
However, one thing that I found to be a hassle is getting a long-term visa. If you enter the country without a visa you may get a 30 day visa exemption stamp (depending on your nationality). This is free so we can't complain too much, however if you really plan on staying in Thailand for more than one month, you can go out of the country and apply for a 60 day tourist visa.
Bus Trip from Bangkok to Vientiane
During my stay in Bangkok I went on a visa trip to Vientiane in Laos by bus – all organized by myself. It's not difficult, but you might find this post useful as I will tell you the cheapest way to do this tourist / business visa trip.
Starting in Bangkok, go to the Chatuchak Bus Terminal. To get there, take the MRT to Kamphaeng Phet Station and from there a motorbike taxi (40 Baht) to the Bus Terminal. Here you buy your bus ticket to Nong Khai, the border town to Laos. There are buses going up there very frequently, I recommend the night bus at 8:30pm (about 10 hours, 600 Baht 2nd class aircon, 750 Baht VIP aircon) as you save time and money for accommodation in Vientiane.
2 Alternatives: Train or Flight
It is also possible to take a night train from Bangkok's Hua Lamphong railway station – there are 4 daily departures (see the official timetable). The ticket costs around 400 Baht for a seat and 700 Baht for a sleeper. The trip takes much longer though than the bus (more slowly, more stops), about 15 hours from Bangkok to Nong Khai.
Alternatively you can also simply take a flight from Bangkok to Vientiane – AirAsia has usually the cheapest fares from only 1,500 Baht one way.
Once you arrive in Nong Khai in the early morning, take a tuk tuk to the Thai border (15 minutes, 60 Baht). Get stamped out of Thailand and take a bus to the Lao border (5 minutes, 20 Baht).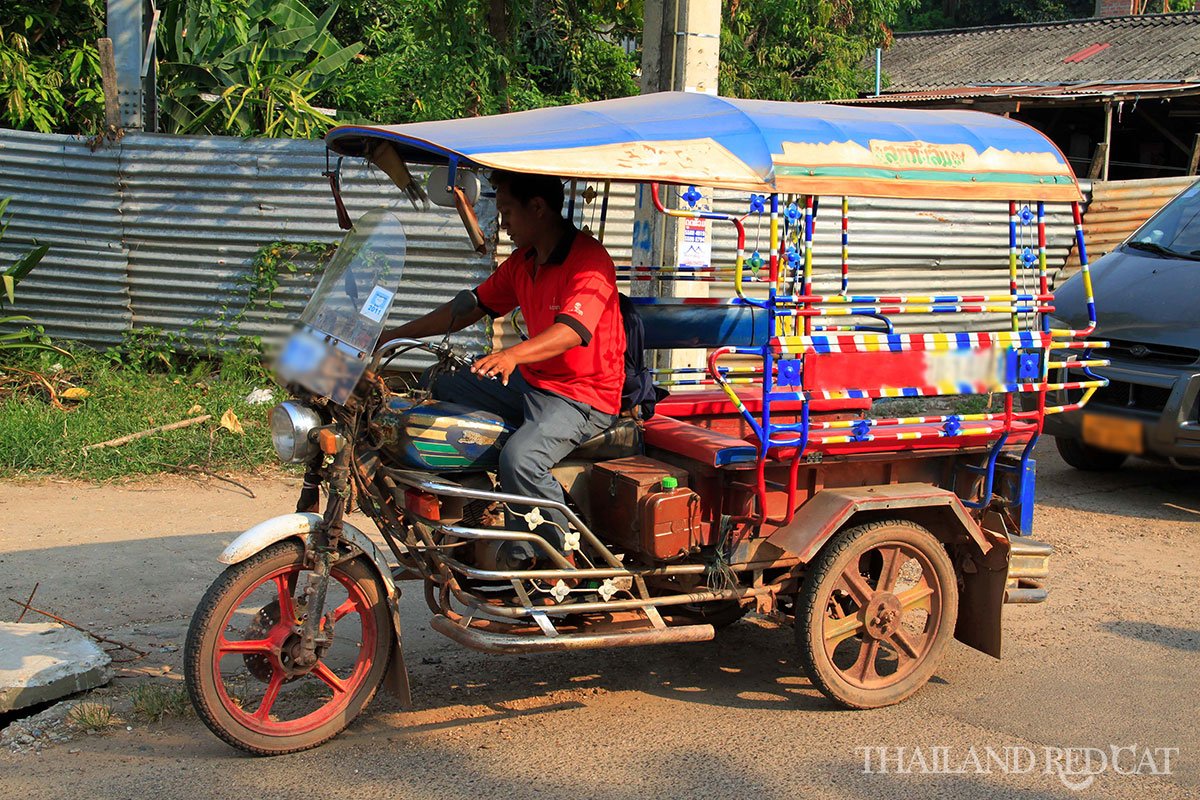 Here you get your Lao Visa on Arrival. It costs 30 USD or 1,400 Baht for most western countries (e.g. Germany, France, UK, USA or Australia). A bit more or less for other regions. You will also need to submit 2 passport sized photos. After receiving back your passport with the Lao visa (it takes about 10 minutes for them to process it) walk through the boarder into Laos and hop on another tuk tuk to Vientiane (25-30 minutes, 60 Baht).
The Visa Application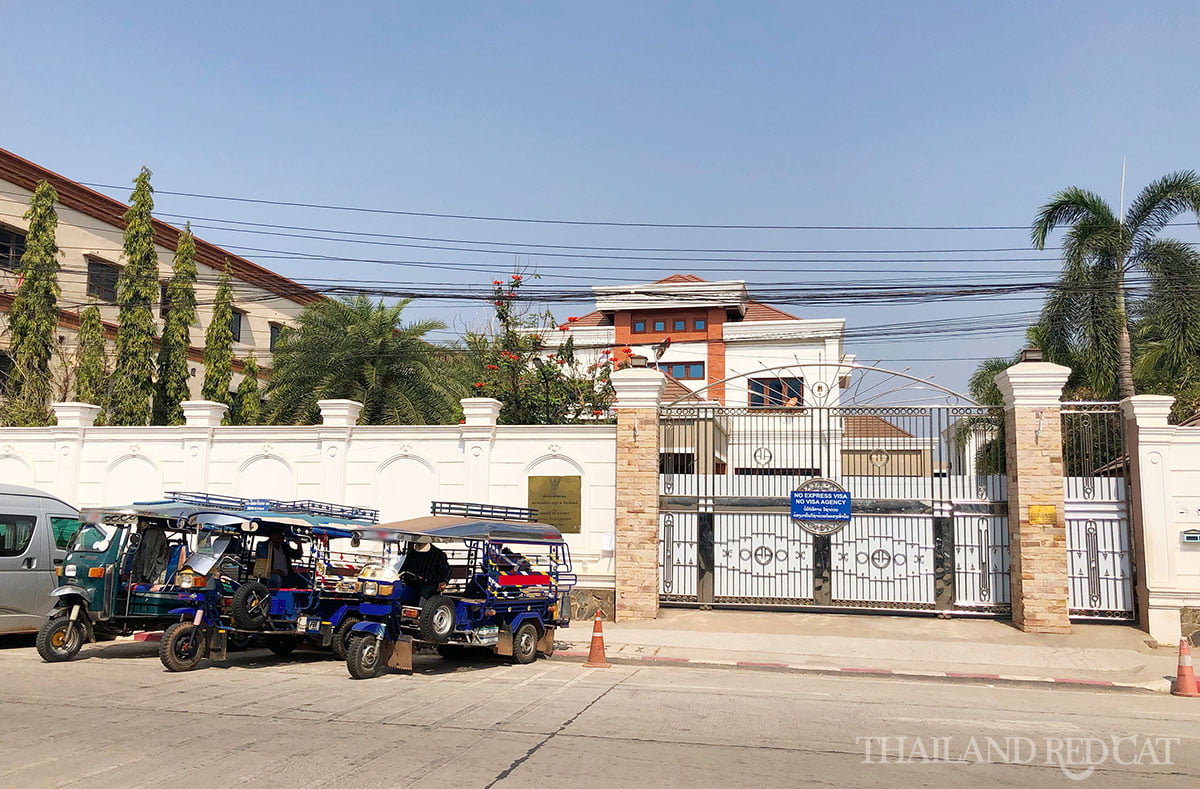 Tell the driver to drop you at the Consular Section of the Thai Embassy (just telling them "Thailand Visa" will be enough). Note that the consular section is not located within the premise of the embassy chancery, but at 316 Rue Bourichane (see the map below). The Visa application can be submitted Mo-Fr between 8:30am and 11:30pm. The visa fee is 1,000 Baht for a single entry 60 day tourist visa with the option of a 30 day extension in Thailand (1,900 Baht). The fee for a 90 day Non-Immigrant Business Visa is 2,000 Baht.
Make sure you bring all the required documents (double check this before as it may change):
Appointment Confirmation (you need to book it in advance at (thaivisavientiane.com)
Passport with at least 6 months validity
Copy of passport photo page
Visa application form
2 recent photographs (3.5 x 4.5 cm)
Copy of passport pages with Thailand exit stamp, Laos Visa and Laos entry stamp
Come back the following (working) day to collect your passport between 1:30pm and 3:30pm.
Rooms in basic guesthouses in Vientiane are located near the Mekong river and cost between 80,000-100,000 Kip for single rooms or 130,000-150,000 Kip for double rooms per night – breakfast and WiFi are usually included.
Travel back to Bangkok using the same means of transport: Tuk Tuks to Nong Khai (60 + 20 + 60 Baht) and from there back to Chatuchak, Bangkok.
I hope this helps organizing your Thai visa trip. It may sound a bit complicated but seriously, it's not. That's basically all you need to know and if you should be unsure during some part of your trip, you will meet a lot of other foreigners along the way that do the same thing who you can always ask for help.