It was going to be just another typical Thursday evening.
I walked out of the office at Fortune Town Bangkok after finishing work at 6pm and through the underpass to the Central Rama 9 shopping mall on the opposite side. I soon reached Tops Supermarket and looked at my phone: 6:10pm, no new messages. I knew she would be late.
"She" was another girl I met on Thai Friendly, just as usual I did some small talk with her on my phone during the day before asking her out for dinner at 6pm. Her name was Niu, 22 years old, student from Korat, pretty good English for her age and she came to Bangkok for a few days to visit her mom and friends. I asked her what she was doing and she said not much just nang len duu TV so I thought she shouldn't have a reason to come late.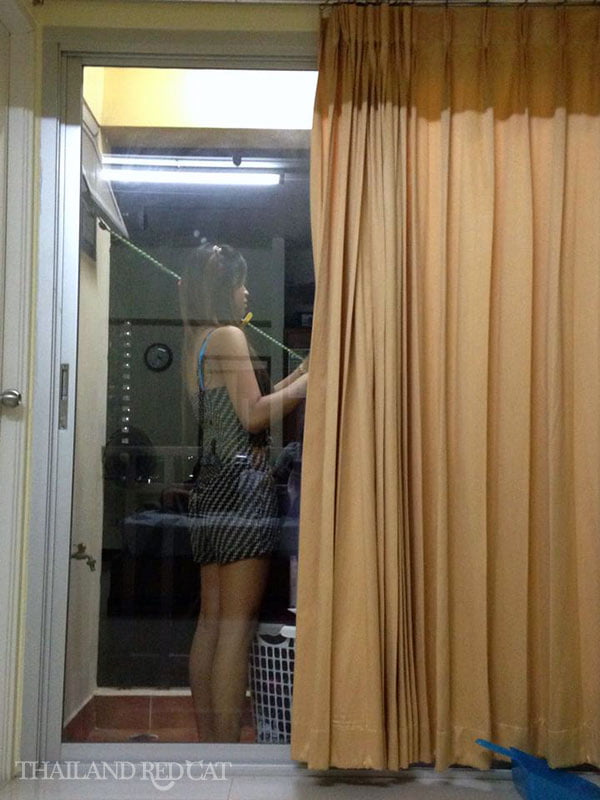 But now it was already ten minutes past six and no message. So I wrote to her:
"Where are you?"
It took about five minutes then she replied:
– "On the way."
"Where are you?"
– "Just leave home."
"Where?"
– "Victory."
"Victory Monument?"
– "Chai."
I closed the screen and reflected. It's quite a distance from Victory Monument to Central Rama 9 and at this time with rush hour traffic I knew it would take her about one hour to reach. I had three thoughts at that moment:
Why she didn't tell me that she's going to come late?
Why she left from her home about the time that we were supposed to meet? Of course she knew it's going to take her more than two minutes to reach our meeting point.
Is she worth it to wait for one hour?
Considering no. 1 and 2 and the fact that she didn't even say sorry for being late I didn't feel like hanging around there for one hour. Plus I felt tired after working all day and she as a student didn't have any class or homework to do. Still no big surprise really, it barely happens that Thai girls come on time, not even thinking of arriving early for the first date to make a good impression.
The more I thought about it the more interest I lost in her and our date. But I had an idea how to turn things around. I took out my phone again and wrote to her: "Ok, I wait you here na." Right after sending I walked to the MRT Underground and took the train two stations to Huai Khwang, the area where I live in. Out of the station and on a short ride with the motorbike taxi to my apartment. I live fairly close from my workplace and Central Rama 9 so that took me just like 20 minutes.
At 7:15pm, means 1 hour and 15 minutes after our meeting time, she wrote to me:
– "I'm here. Where are you?"
"My room."
– "Ha!! Omg! Why?"
"You come so late. Can you take MRT to Huai Khwang? We can eat there, I pick you up."
We went back and forth for a while until she agreed – and probably realized that she has come all the way to Central Rama 9 from Victory Monument, so it wouldn't be a big deal to take the MRT for two stations. 20 minutes later she wrote to me again:
– "Ok I'm here. Where are u?"
"My room. Can you take motorbike tell him XXX just 15 Baht."
– "Omg. No! You said you come pick me up. Come now or I go home!"
"I mean pick you up downstairs at my apartment. Cannot come now I do laundry. Sorry na na na."
Again she started complaining, but finally agreed and took the bike to my apartment. Maybe it helped that I actually sent a picture of me at the washing machine and more importantly now that she went all the way first from Victory Monument to Central Rama 9 and then to Huai Khwang MRT Station, she probably thought ok why not go the last step to his room – my plan worked.
After we had sex I asked her why she came to my room even though we've never met before. She said "I'm not stay in BKK, if I don't go to see you now I don't know when I can see you." While she hanged my laundry out on the line to dry I cooked some pasta for us which she didn't really like. She left an hour later saying she will meet a friend now for dinner. Perfect date.
The quintessence here is that Thai girls (and guys alike) usually come late and you should know that when making appointments. Often I even tell them a time half an hour earlier than the time I actually want to meet them, from my experience with all the dates I've had so far the average girl comes at least 20 minutes late. Sometimes though like yesterday when you know she's running late one hour plus it's up to you to decide if you want to wait for her, cancel the date or just try to play a game like I did.
It's highly unlikely that this will work with most Thai girls, but if you're arranging a lot of your dates with the dating sites like I do – chances aren't bad at all since most of them have been out with dozens of other Farangs before you. They know the eating and then inviting for watching a movie in my room tactic everyone seems to use – and are usually totally okay with it.
Anyway. Here are a couple of phrases you can tell your Thai girl when she's running late for the date:
ไม่ต้องรีบ แต่ผมรอคุณอยู่นะ (mâi dtɔ̂ng rîip, dtɛ̀ɛ pǒm rɔɔ kun yùu ná: No need to hurry, but I'm waiting for you.)
or just
เร็วๆ (reo reo: Quickly!)
That will probably put a smile on her face and actually speed up (unless she sits in the bus or taxi then she can't really do any faster at this point). But if she says
รีบหรอ (rîip rɔ̌ɔ: Are you in a hurry?)
or
ใจเย็นๆ (jai yen yen: Calm down)
instead of apologizing for coming late you better cancel the date – or try out my plan and see if it works with your girl.