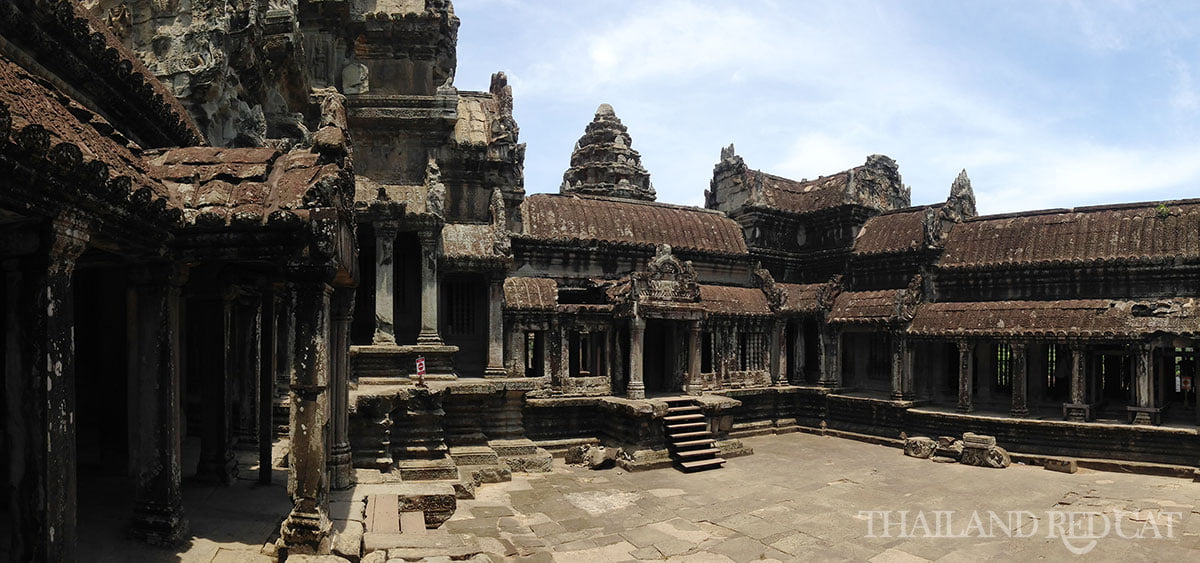 Today I eventually decided to write about my visit to Angkor Wat in Cambodia and I just didn't do it until now as I think there are already so many blog posts about this topic out there and any guide book on Cambodia has its own huge Angkor Wat section, providing any kind of information from where to sleep to the most precise historical information of the temple complex.
So instead of repeating what you can read in your guidebook or know already anyway, I make it short talking about how to visit Angkor Wat:
You stay in Siem Reap where you can find a room in a basic guest house for as low as 15 USD per night. To get around the temple complex (about 3km from the city center) you can either rent a bicycle (2-3 USD for one day) or hire a tuk tuk driver that takes you around from the early morning to after the sunset (that's what I did, 15 USD plus tip).
The entrance fee to Angkor Wat is 37 USD for foreigners and it's open daily from 5am to 6pm.
That's basically all you need to know for visiting this oldest temple complex in the world. Besides that, here are some thoughts I have that might be helpful to you if you plan on visiting Angkor:
I think the day I visited Angkor Wat in July has been the hottest day in my life. Around 40 degrees Celsius and even worse, no wind at all. Make sure you drink lots of water, there are children all around the complex that offer you ice cold water (that gets warm within ten minutes)
Take at least one full day to explore Angkor Wat. Actually the complex is so huge and there are so many temples that some people buy a three day pass and still don't see everything.
If you decide to hire a local guy that drives you around on his rickshaw for the whole day, agree on the price first to avoid a potential dispute and do mention you want to come back after sunset and they don't charge you any extra for that. Drivers also expect a small tip (2-3 USD) when picking you up and dropping you at your guesthouse in Siem Reap.

Don't miss out the sunset. It's at around 6-7pm depending on the time of the year and most visitors (me included) go up Phnom Bakheng, a temple on a hill from where you've got the nicest view not quite over the temple complex, but over the flat farm scenery all around.

Due to the extremely hot weather I got a bit tired after visiting like the fourth of firth temple. As beautiful as they are, they all tend to look a bit similar and then I enjoyed it more to have a relaxed lunch and a cool beer at some local street restaurant next to a huge and calm lake. I don't want to encourage you to get drunk at Angkor but rather enjoy some of the most famous temples and tell your driver to visit them during the morning before taking it a bit more easy and hanging out on a site you find beautiful in the afternoon.
Hope that helps planning your trip to Angkor Wat!
I have also visited the Khmer temple complex in Phimai, Thailand, which is supposed to be the inspiration for Angkor Wat and one of the highlights of my visit to Nakhon Ratchasima, Thailand's third largest city – check out this post.