I just got back from Rutnin Eye Hospital, the city's one and only private hospital that is specializing exclusively on Ophthalmology, the medical and surgical care of eyes. I went there because for the past four days my left eye has been red all the time, or to be more precise the veins are red due to high blood pressure.
I wasn't sure what was the reason for it nor what to do to make it cure – I had tried three different eye drops that I bought at normal pharmacies and everyone told me with his medicine it would go away. It wouldn't.
So this morning I went to the clinic in my neighborhood (Huai Khwang). She wasn't really sure how to deal with my case so she sent me to Rutnin Eye Hospital in the Asoke district, about 10 mins walk or a 20 Baht motorbike ride from Phetchaburi MRT station (see the map below).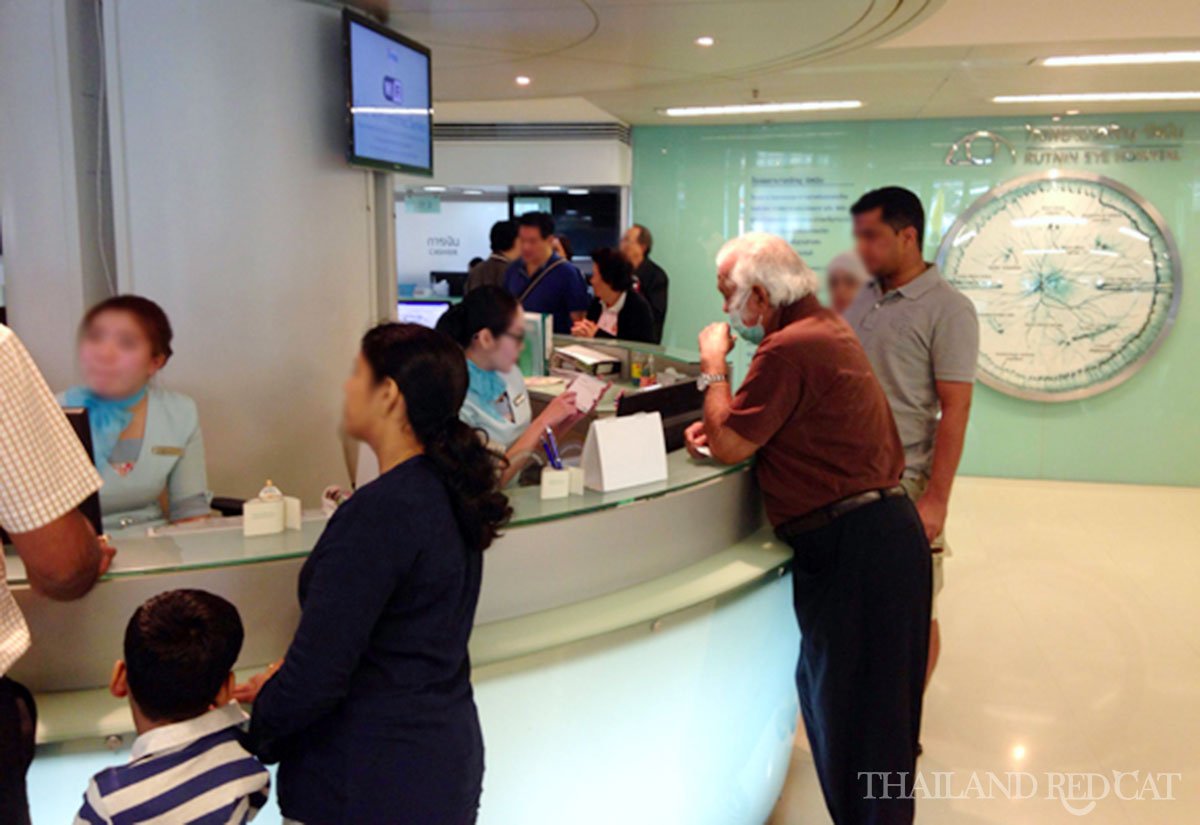 So I walked in there with no appointment made and as a first time patient, but that wasn't a problem, I just had to fill out the registration form and hand them my ID. They sent me to the first floor where the registration process was completed and I received a member card and a sheet of paper illustrating the procedures: First a visual acuity check followed by an eye exam with the eye specialist doctor. All staff was extremely helpful and polite, and even though there were a lot of people the hospital is extremely well organized.
The Rutnin Eye Hospital is extremely modern, with the latest technology equipment and clean too. All staff are competent in what they are doing and even the nurses speak fine English. There are more than 30 certified surgeons who are experts on every subspecialty of the eye including the cornea, glaucoma, vitreo-retina, neuro-ophthalmology, pediatric ophthalmology, oculoplastics, and excimer laser refractive surgery.
The hospital was quite busy with lots of patients, however there were large seating areas, water and tea provided and I had to wait less than half an hour until I was called for the visual acuity check. This took about five to ten minutes and they checked if I can read small numbers and letters and made some general eye checks with a microscope.
After this I had to wait about another 45 minutes until they asked me into the "Examination Room" where the specialist and her two assistants examined my eye with super modern lenses, lasers and microscopes. She came to the conclusion that I hadn't got an infection or bacteria in my eye. She was sure that it was just an allergy and it probably had to do with the current weather in Bangkok – this winter is unusual cool with morning temperatures of about 17 degrees, this drags on already since the beginning of December.
She handed me back my queue number and told me to go back to the ground floor where the cashier and pharmacy counters are located. My total bill was 1,180 Baht for four different services: Outpatient Medication (340 Baht), Other Medical Service Charges (230 Baht), Physician Evaluation and Management Service (560 Baht) and Other Hospital Charges (50 Baht). The bill included two different medicines: TobraDex antibiotic eyedrops that I should take four times a day for five days and Cellufresh Lubricant Eyedrops that I should take once a day if the eye felt dry or irritated.
You can pay the hospital bill in cash or by debit / credit card. Once you received the receipt you can pick up the medicine at the pharmacy right next to the cashier counter.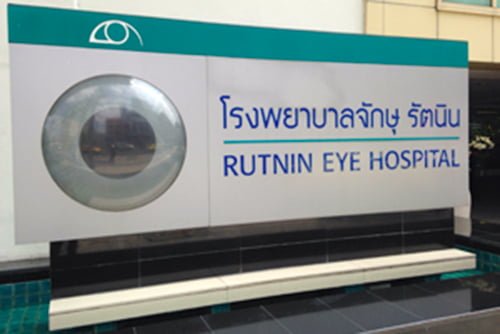 I was pretty satisfied with the service and consultancy at the Rutnin Eye Hospital and will definitely go back there if I have another problem with my eye in the future.
Rutnin Eye Hospital Opening Hours
Monday – Saturday: 8am – 8pm
Sunday: 8am – 7pm
You can find more info on the Hospital's Website.