No matter how much we all love Thailand, there's always things you hear foreigners complaining about Thai society. Sometimes it's funny or weird things Thai people do like putting ketchup on the pizza and sometimes you hear people telling you characteristics they think Thai people have. One such thing you might have been told by some Farang is:
Thai people are so lazy.
I think that's not just a pretty general but also serious assertion and before I give you my opinion on this, let me introduce you three friends of mine.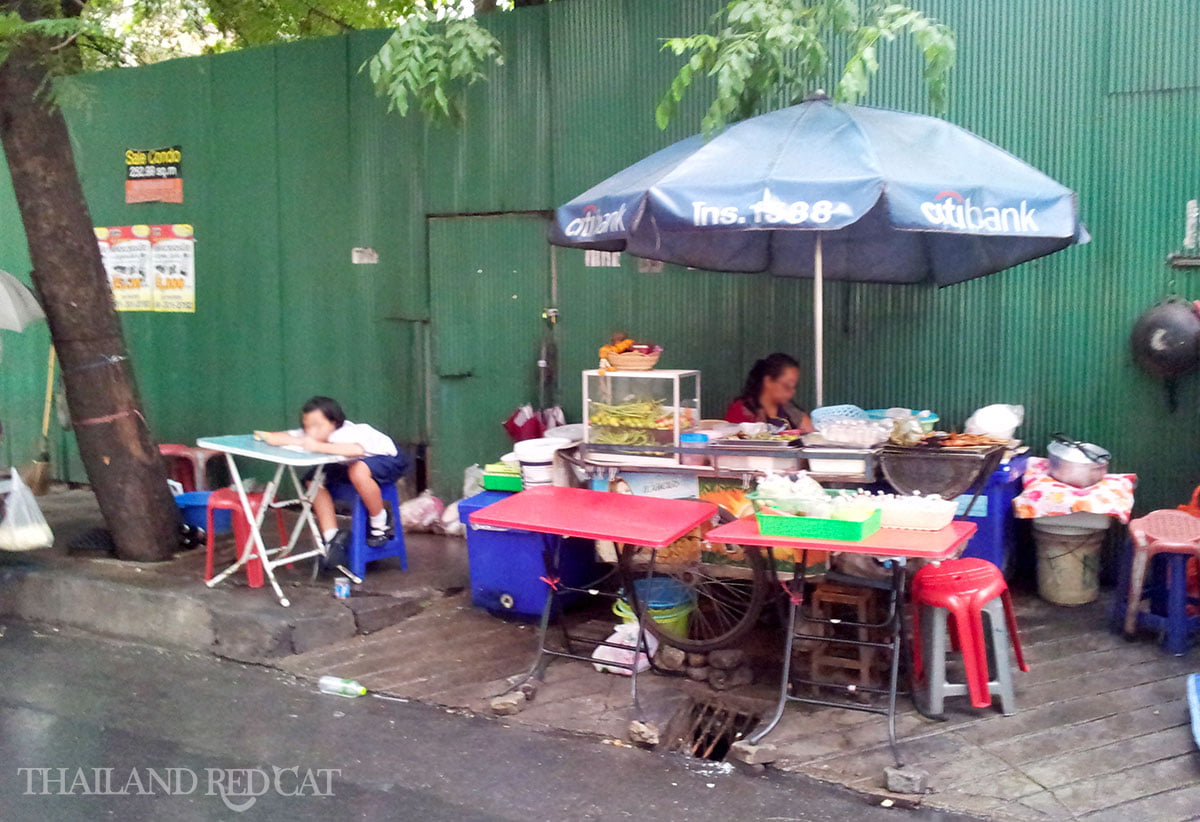 Khun Lek is having her food stall in Bangkok's Sukhumvit Soi 23, selling Som Tam, grilled chicken, fish, and various other Thai snacks 6 days a week. She is there from about 9am till sunset (roughly 6pm). And not just that, every single day she wakes up at 4am and takes the bus to Khlong Toei Market to buy most of the food she is going to sell during the day. She brings her daughter, Bim (11), to school, then goes to her stall in Sukhumvit Soi 23, sets it up, and starts preparing all the food. When Bim finishes school in the afternoon she always comes to her mom's shop, giving her a hand like cutting papayas, even before doing her homework. When Khun Lek closes her shop it takes her about 45 minutes to get everything finished and packed before taking the bus back home and straight to bed. She usually sleeps 5 hours and the free time she has usually consists of chatting with her customers at the food stall.
Narizar works at the reception of the Nasa Vegas Hotel in Bangkok. This is one of the best value for money hotels in town and it's always incredibly busy. Narizar works night shifts and that's from 6pm to 6am. She gets only one day off per week. She told me usually her work is very tiring, but she likes it and it's good to be busy. While in western countries a 24 hour business is usually organized in three daily shifts each 8 hours, this is Thailand and normal employees have no choice but to accept these long working hours. A 6 day working week is still pretty standard for Thai employees, just ask the guys at your preferred Chester's Coffee, Big C, Tesco Lotus or even Krungsri Bank.
And then there are my friends from the dtac shop at Terminal 21 shopping mall in Asoke, Bangkok (they are going to move to Central Bang Na soon). The woman is called Oi and she is the manager of this shop.
Since the shopping mall is open 7 days a week, she also has the shop open 7 days a week, or more precisely: daily from 10am to 9pm – 11 hours. She has 4 other staff and they are working 6 days a week, usually there's two or three of them on duty any time you come in. Pee Oi isn't the typical manager that just goes on trips to the beach and comes in twice a month to see if everything is alright, no she is working along with her staff (at least) 6 days a week as well to make sure her customers are happy.
You can say a lot about Thai people, but not that they are lazy. Can you imagine how people in your home country would react if they had to work for 10 or 12 hours a day, 6 days a week and had no guaranteed holidays written down in their work contract? And that for a local salary you might not even be aware of? Add the additional stress they face with a large number of customers and a hot and humid climate in Thailand and you should rather admire how Thai people can work so well in these conditions.
I think a lot of the foreigners claiming that Thai people are lazy are either on holidays or retired. But for sure they aren't working in Thailand themselves.