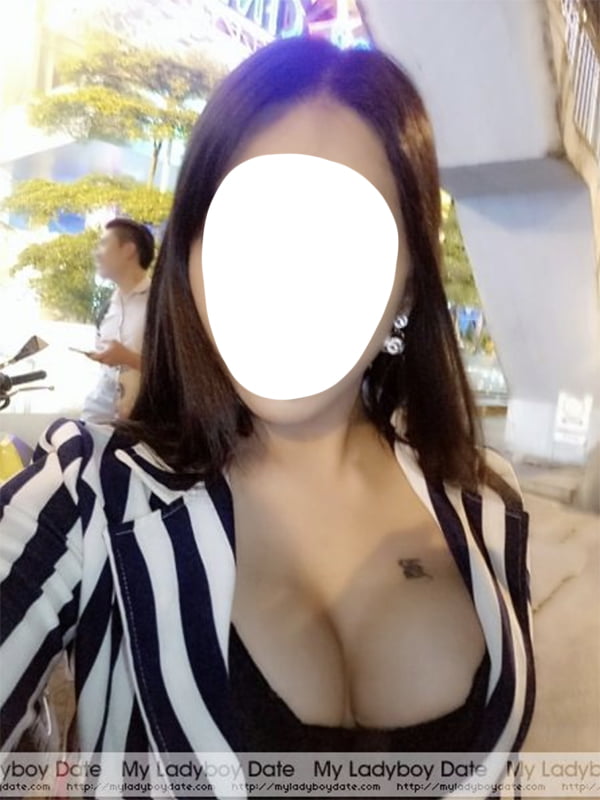 One of the challenges with trying to find transgender women here to date, many of the dating sites available to meet Thai ladyboys are using unethical prostitution and baiting practices designed to get you to pay money for cam shows.
I was lucky enough to be referred to MyLadyboyDate.com by a friend, and my experiences have been professional and exciting at the same time.
Once you sign up to become a member, you will notice immediately from your welcome email that the developers of this dating website are committed to connecting you with ladyboys currently looking for a date.
I have wasted so much time on shemale and transsexual dating sites with terrible results, so I wanted to share my experience at MyLadyboyDate with all the guys looking for a pure and thrilling dating experience with real Thai ladyboys:
I am a white male in my thirties and simply looking for a date with a transgender without having to play games to make a connection. The first thing I did, I uploaded a picture of myself and completed as many of the profile questions as I could. Then I upgraded my basic membership to premium, something you must do in order to send messages and correspond with all the other members on this amazing dating site.
How it works
I highly recommend you fill out as much information in the profile area before you look at any of the tempting profile pictures on the website. In my experiences, when you try to cut corners and do a half-ass profile, you get a larger amount of users reaching out to connect with you that might not be the type you are looking for.
I took the time to update my profile with all the details of my appearance, my travel preferences, my ethnicity, my drinking habits, and then I completed a fairly detailed description about me and what exactly I was looking for. I posted my sexual fantasies, and that I was looking for a sexy transsexual to hook up with during my vacation. Now that my profile was done, I went back to the my ladyboy date home page and started looking for a connection.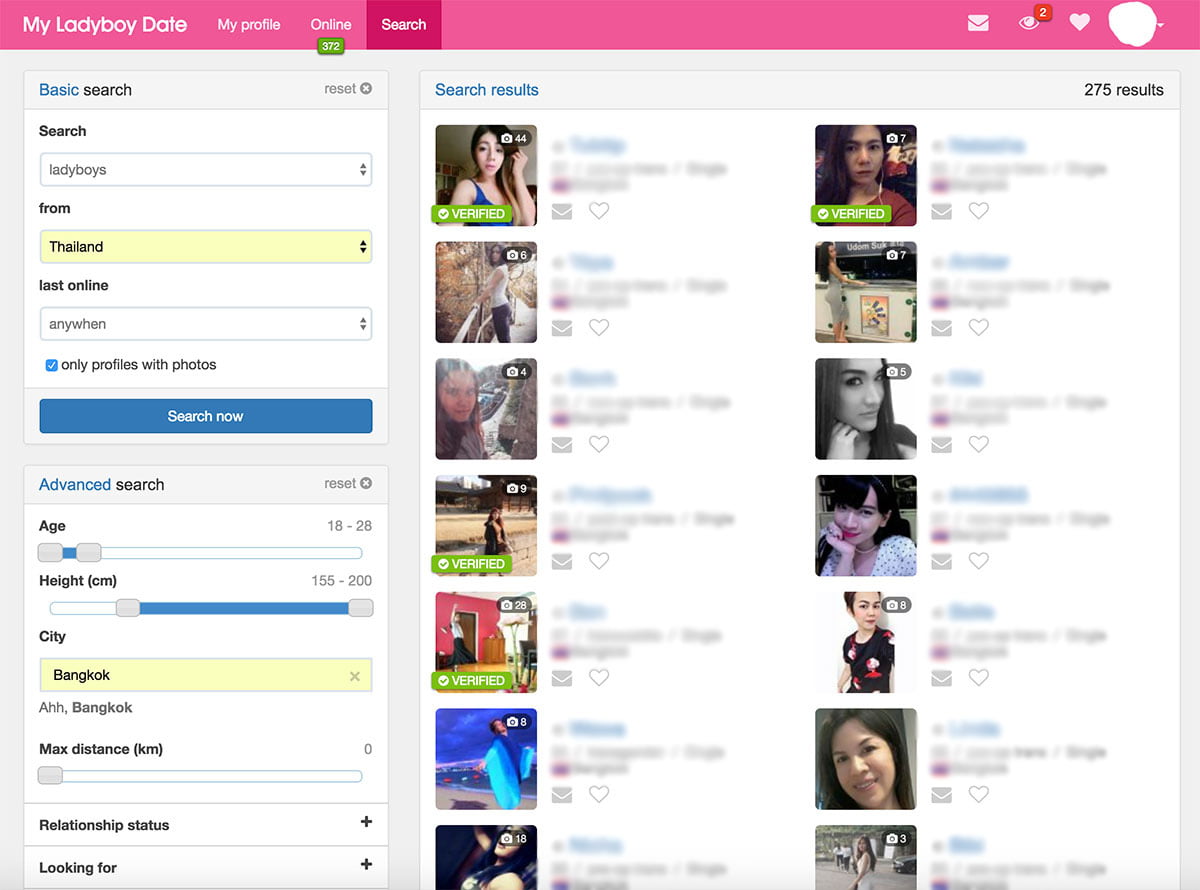 At the top of the page there is a navigation bar, and the online link shows you exactly how many other people are currently browsing the website. One thing you will notice when you search the online listings, the results page is broken down in a way that makes it really easy for you to narrow down your search for a ladyboy. The pictures are much bigger than I have seen on poor quality shemale dating websites, and once you click on a profile, that bio image gets larger and clearer. You get a real good look at the person you want to hook up.
On the results page, another thing I love about MyLadyboyDate is all the different profile features that differentiate one person from another. I can see instantly which person has multiple pictures of themselves, whether they are pre-op, post-op, or a non-op trans, their age, if they are currently single, and where they currently reside. This all with a simple glance without having to open any of the bio pages yet. As you scroll down the results page, new bios keep appearing, allowing you to browse through hundreds of images very quickly.
During your initial search, you have the option to mark each bio as a favorite, allowing you to go back later and give each person a more closer analysis. Once you find a person you want to connect with, you click their image and here is what separates MyLadyboyDate from the other transsexual dating websites. Similar to the detailed profile page I completed, now you see a huge bio pic, details about the person, and a very detailed personal message from them giving you everything you need to make the decision if this person is worth dating.
The First Date
So I had been searching for a pre-op transsexual that was currently in Thailand and had no children. When I came across the profile page of this 24 year old cutie from Bangkok, I was instantly attracted to the profile and had to reach out. Since this person was verified, I knew I was not going to have to again deal with a fake bio that was the norm at many of the other ladyboy dating websites. I was interested in this sexy transvestite from the second I arrived on the profile page, so I kept my emotions in check as I sent off a message asking if we could talk further.
I got a reply message later that night and we exchanged messages a few dozen times that week. We agreed to meet up in Bangkok while I was on vacation in the Philippines. When we eventually got to meet, it was like I was looking at the bio page but in real life. Everything about Tami was exactly like the bio page on the My Ladyboy Date website. When I arrived back home, I was excited to see that my attention to detail on my profile page had attracted several other young sexy ladyboys who were looking for the same experience that I was.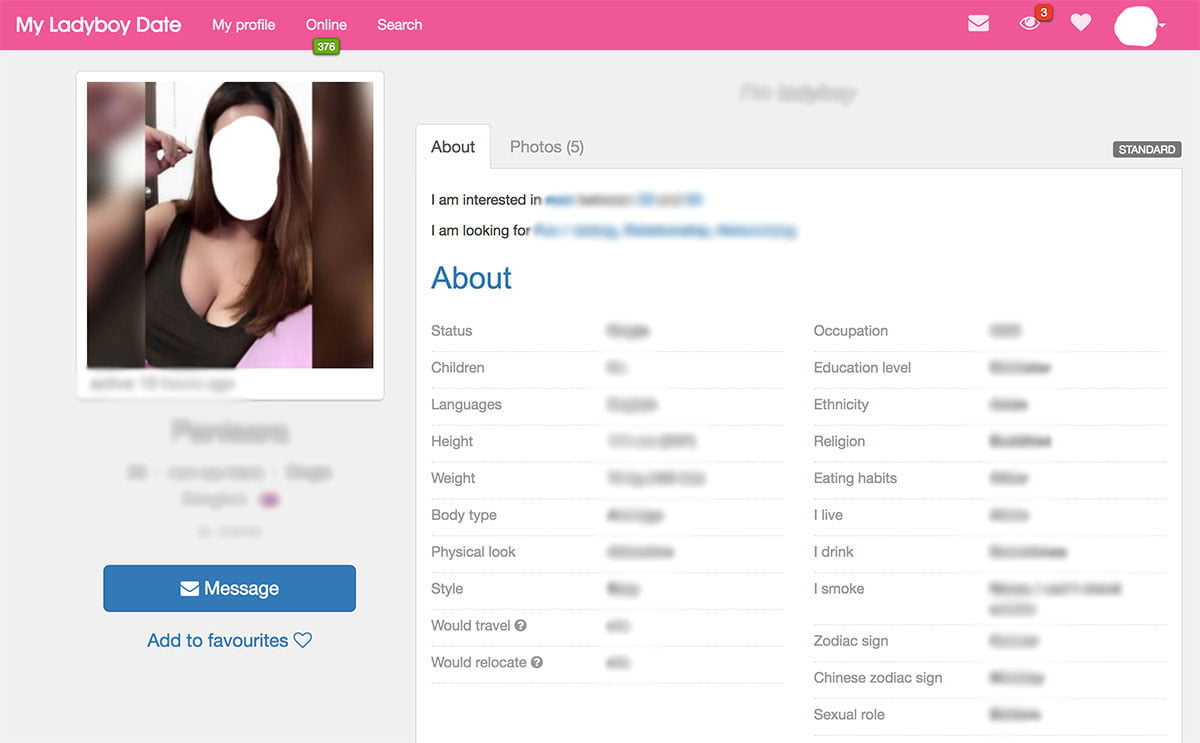 For my next trip to Thailand, I was looking to experiment a little and wanted a ladyboy that was much younger and liked to party. One of the best features on this ladyboy dating site is the detailed search function. I simply decided to browse the profiles like I had done previously, but rather than scan the bio pictures, I made use of the amazing advanced search tool on the left side of the page. Here I was able to toggle the search control down to 18 years old, their sexual role, and if they drank and smoked.
Endless Dating Opportunities
This detailed search section has over a dozen different search parameters that will help you narrow down your search to finding that perfect ladyboy that is out there right now waiting to connect with you. I narrowed down my search even further by city, and the result was dozens of qualified shemales that were all looking for exactly the same thing I was. The detailed search features on this dating site ensure that you are going to have that perfect hookup every time.
I have been a member of MyLadyboyDate.com for over a year now. I can say not only does the huge amount of features make the dating experience more personalized and precise, if you do have questions or concerns, help is always available. The support on the website is available either through their contact page or detailed FAQ section. These questions and answers are arranged in a way that helps you to get the best possible ladyboy dating experience possible.
Each of my dates is more thrilling and memorable than the last. I don't waste my time and money on any other ladyboy dating website, everything I need to find my dream date is right here, and each month hundreds of new members are signing up and could be next on my growing list of sexy and hot trannys looking for dates.
Once you sign up at this ladyboy dating website and upgrade your membership, you will be corresponding with sexy shemales today. I use the website frequently when looking for some fresh faces and thrilling dating experiences, and have only great things to say about my experiences – just try it yourself and you will know what I mean:
I would like to thank one of my long-time readers on Thailand Redcat who wrote this great and honest review of the most popular ladyboy dating site in Thailand. Have fun guys!