The Trat province has so much to offer.
There is the island paradise of Koh Chang with lots of quiet and unspoiled neighbor islands like Koh Mak & Koh Kood and even the fairly small province capital has its own charm that makes travelers stay longer than they're planning to.
You can find my post about the best things to do in Trat town here.
Below are the different transport options from Bangkok to the islands and Trat:
Bangkok to Koh Chang
Step 1: Bangkok to Trat Pier
The buses in Bangkok are leaving from the Ekkamai Bus Terminal.
The one way fare from Ekkamai to the ferry pier in Trat is 239 Baht with the government bus (recommended). These buses leave daily at 7:45am and 9:30am and the trip takes 5-6 hours. For this type of bus it is recommended that you buy your ticket one day in advance as they're often sold out (most popular among travelers).
There are a few other bus companies too as well as minivans, which charge 350 Baht one way (about 5 hours).
Step 2: Trat Pier to Koh Chang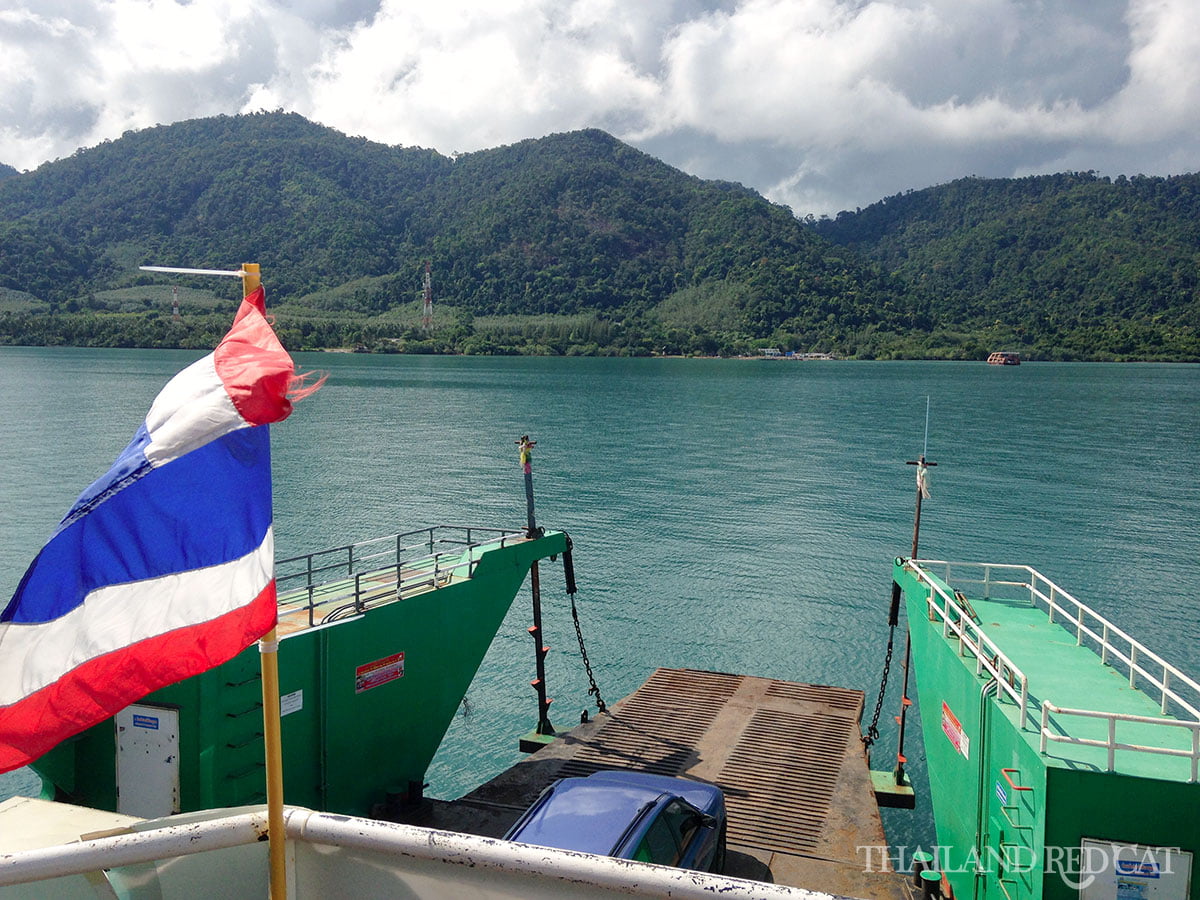 Once you have arrived at the pier, there will already be a small ticket booth where you can buy your ferry ticket. The one way fare is 80 Baht.
In case you are traveling from Trat town to Koh Chang:
You can conveniently book your transport from Trat to Koh Chang in your guesthouse. The common price for a one way ticket is 110 Baht and it includes both the songthaew ride to the ferry terminal as well as the ferry ride to the island.
The "Centerpoint Ferry" trip from mainland Trat to Ao Sapparot Pier (literally "Pineapple Pier") on the northern tip of Koh Chang takes about 40 minutes, and there are hourly services to and from Koh Chang between 6am and 7:30pm.
Getting around on Koh Chang
Once you have reached Koh Chang, there will already be shared songthaew taxis anticipating your arrival.
You will not get overcharged by being a Farang, just tell them the beach you want to go on the west coast and depending on the distance the fare is between 50 and 100 Baht per person (for example, White Sand Beach is 50 Baht, Kai Bae Beach is 80 Baht and Lonely Beach is 100 Baht).
Check out my short video below so you get a quick impression of the bus, ferry and songthaew rides.
Koh Chang to Koh Mak / Koh Kood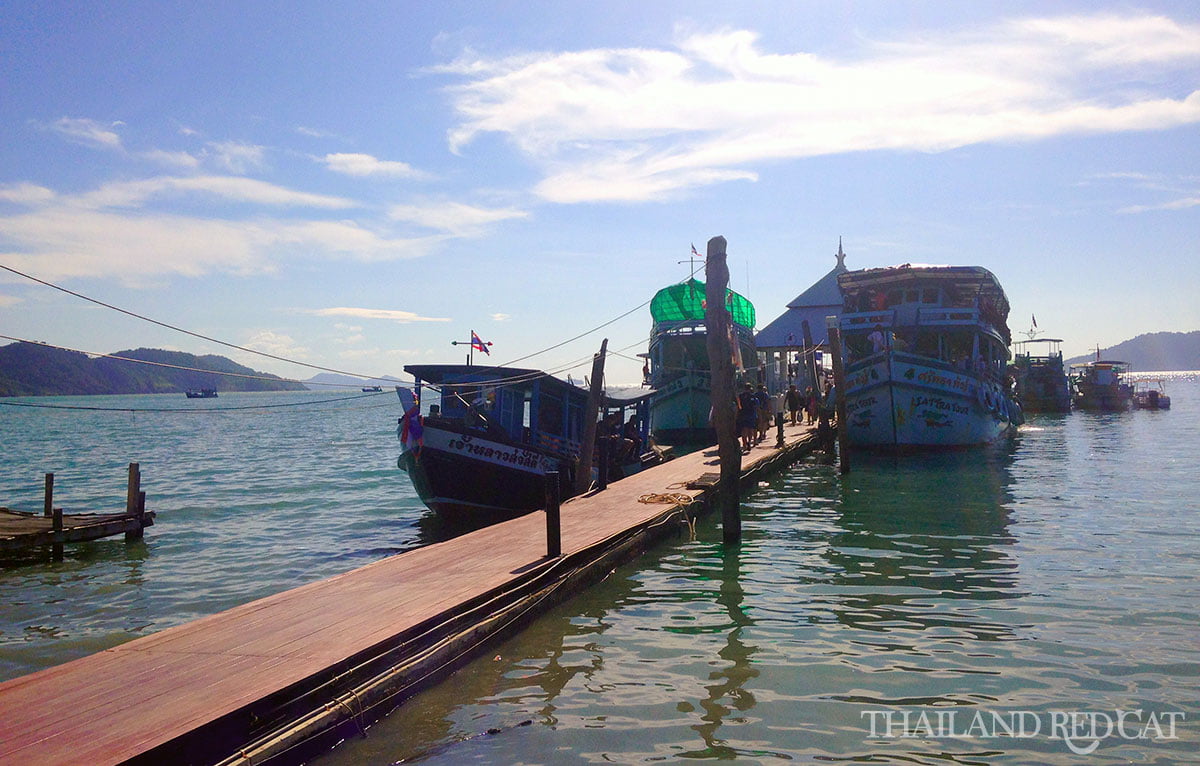 Boat tickets from Koh Chang to its various neighbor islands can be booked at the many travel agents in the west coast's beach towns. Prices usually include hotel pick up so you don't have to worry about how to get to the ferry terminal at Bang Bao at the southwestern tip of the island (see picture above).
There are two types of boat services available: big public boat and speed boat.
For example, a speed boat to Koh Mak costs about 600 Baht (45 minutes) and to Koh Kood about 900 Baht (1 hour and 15 minutes). The big public boats are significantly cheaper, but the trip takes more than twice as long. Prices are negotiable so don't take the first offer the guy gives you at the travel agent's booth. I paid 350 Baht for a public boat from Koh Chang to Koh Mak (2 hours). And two days later 400 Baht for the speed boat (only option) from Koh Mak to Koh Kood (including hotel pick up as well, 30 minutes).
On the speed boat to Koh Kood: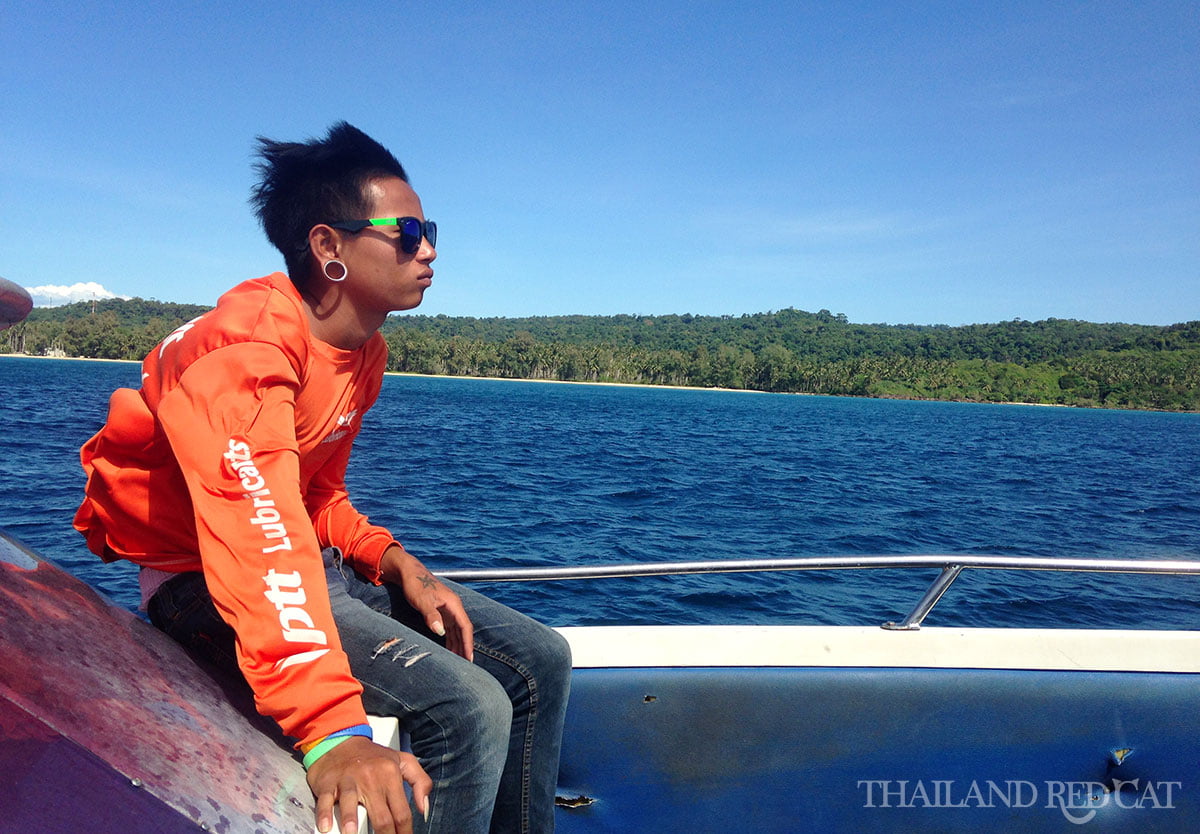 Bangkok to Trat by Bus
Buses for Trat leave from both Ekkamai Bus Terminal as well as Mo Chit Northern Bus Terminal in Bangkok. Unless you live somewhere very close to Mo Chit, your better option is traveling from Ekkamai Bus Terminal which is conveniently located right in front of the Ekkamai BTS Station.
There are regular aircon services from 5am to midnight roughly every 90 minutes, the one way fare is currently 252 Baht. Highly depending on the traffic in Bangkok, the trip takes between 6 and 7 hours.
Once you have reached the bus terminal in Trat (picture below), you can take a songthaew pick-up taxi to Thanon Thana Charoen (the guesthouse area in downtown, about 3km from the bus terminal). The one way fare is 60 Baht (negotiable).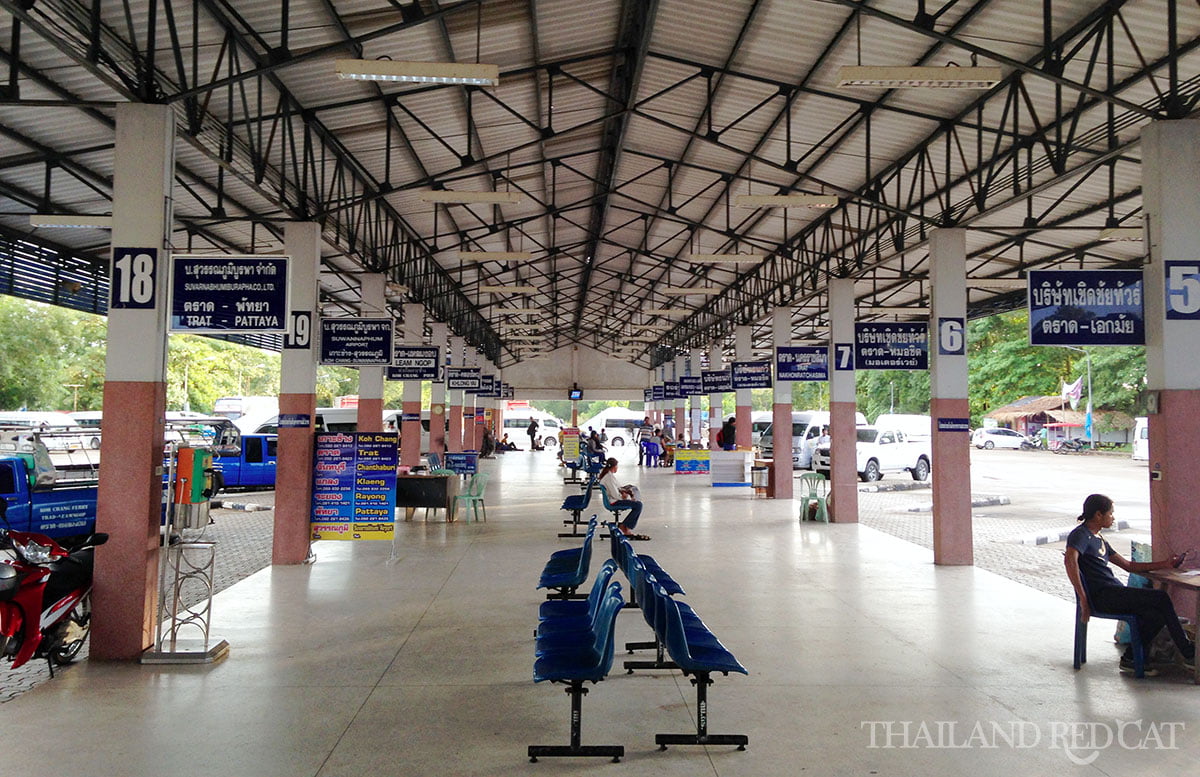 Bangkok to Trat by Minivan
Minivans from Ekkamai Bus Terminal in Bangkok run every hour from 5am to 6pm. The one way fare is 350 Baht and the trip takes about 5 hours, again depending on the traffic on Sukhumvit Road until you reach the Highway.
Keep in mind that there isn't much space for your luggage, so if you bring a suitcase or a big backpack, you are better off taking the bus.
Bangkok to Trat / Koh Chang by Flight
Bangkok Airways has 4 daily flights from Suvarnabhumi Airport in Bangkok to Trat Airport. The one way fare starts from 2,500 Baht and the trip takes 60 minutes.
There is no airport on Koh Chang itself and any of its neighbor islands (which is a good thing), so you need to take a ferry to the islands (see info above).
Trat to Koh Kood

There is an efficient public boat service from Laem Sok Pier on mainland Trat to Ao Salad on Koh Kood with Boonsiri Ferries. There are two departures daily – one at noon and one in the afternoon (12pm and 3:10pm). The one way fare is 500 Baht including hotel pick drop off / pick up on Koh Kood and the trip takes about 90 minutes.
The transport from Trat town to the pier (and vice versa) has to paid extra: It's 40 Baht per person in the songthaew (30-40 minutes).
Map of Transport in Trat & Koh Chang Archipelago
Videos of Ferry Rides in the Koh Chang Archipelago