Sukhothai and Phitsanulok are two of the most remarkable historic towns in Thailand, though significantly less visited than the big tourist hot spots or even Ayutthaya. I was glad I made the trip some 400 km north from Bangkok last month and could experience these highlights in the lower north of Thailand in peace and without hectic. So here are your best options on how to get from Bangkok to Sukhothai and Phitsanulok.
Bangkok to Sukhothai by Bus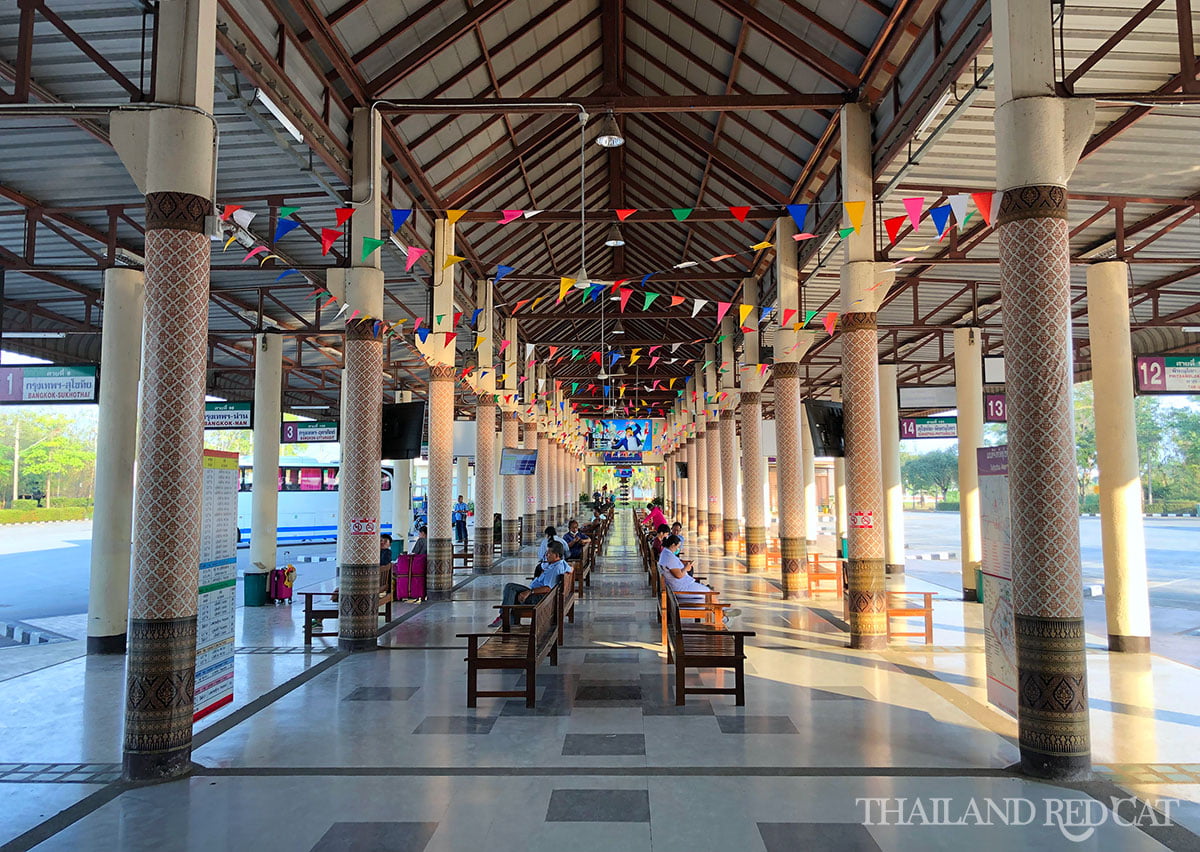 This is the best way to travel between these two cities overland. There are air-con busses leaving from the Northern Bus Terminal in Bangkok every 30 minutes, daily from 7am to 11pm. To get to the bus terminal, take the MRT Blue Line to Kamphaeng Phet Station and from there a motorbike taxi (30 Baht) to Mo Chit Bus Terminal. Bus fares are: 373 Baht for 2nd class aircon, 449 Baht for 1st class and 507 Baht for VIP. The journey takes about 6-7 hours.
Once you arrive at the Sukhothai Bus Terminal (see picture below) there are songthaews (shared pick-up taxis) taking you to the foreign hotel area in New Sukhothai which is located about 2.5 km from the bus station. One way fare: 50 Baht. They also drop you off right at the door of your hotel if you ask them to with no additional charge.
Taking the bus back to Bangkok works the same way: songthaew to the bus terminal, then bus to Bangkok – similar departure times and same fares. Note though that the bus trip back usually takes about one hour longer as you are likely to hit BKK's rush hour traffic jam in the afternoon / evening.
Bangkok to Sukhothai by Train
There is no train station in Sukhothai. If you still want to take the train as close to Sukhothai as you can, I recommend traveling to Phitsanulok (5 hours) and take the bus from there to Sukhothai (1 hour), see below.
Bangkok to Sukhothai by Flight
Sukhothai airport is located about 40 km north of New Sukhothai. There is only one airline which owns the airport and has two daily flights to and from Bangkok: Bangkok Airways. The one way fare is from 2,000 Baht and the flight takes about 70 minutes. Once reached the beautiful tropical architecture designed small airport, Bangkok Airways offers transport to New Sukhothai, 30 mins, 120 Baht one way.
Bangkok to Phitsanulok by Bus
Since Phitsanulok is the main transportation hub between Bangkok and Chiang Mai, connections between these cities are frequent and excellent. There are buses leaving from Bangkok's Northern Bus Terminal (Mo Chit) daily from 7am to 11:30pm. The trip takes about six hours and the fare is 333 Baht for 2nd class air-con and 397 Baht for 1st class. There is also one VIP bus service, leaving Bangkok daily at 11:30pm (347 Baht).
At the bus station in Phitsanulok there are motorbike taxi and tuk tuk services to the town center, 4km, 50 Baht one way. Alternatively, hop on public bus no. 10 which takes you there as well (fan 8 Baht, air-con 11 Baht).
Bangkok to Phitsanulok by Train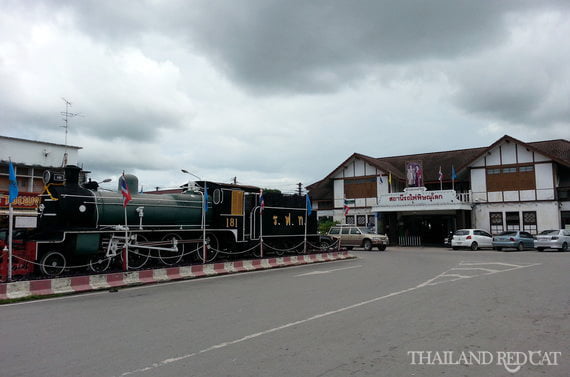 This is how I traveled from Bangkok to Phitsanulok last month. I think it's the most convenient way as you don't encounter traffic jams, have a more relaxed travel experience compared to going by bus and you also don't have to make your way out to Mo Chit Bus Terminal which is at least 45 mins from Sukhumvit, Bangkok. Instead, just take the MRT to Hua Lamphong station and you are right at Bangkok's main railway station of the same name.
There are about nine different train services from Bangkok to Phitsanulok. Most popular are the three daily air-con 2nd class "Special Express Trains" departing BKK at 8:30am, 10:50am and 7:20pm (479 Baht). That's your fastest travel option, these trains take  5 hours and 10 mins, however mine reached Phtisanulok Railway Station (see picture below) about 30 mins late – there are about 10 stops along the way.
Other train services from Hua Lamphong Bangkok to Phitsanulok are: Rapid trains, 5x daily (7:00am, 2:30pm, 1:45pm, 8:10pm and 9:00pm, seven hours, 3rd class 117 Baht, 2nd class 219 Baht) and sleeper trains, 1x daily (7:35pm, six hours, 1st class 1064 Baht, 2nd class 629-699 Baht).
Bangkok to Phitsanulok by Flight
Nok Air has five daily flights between Bangkok (Don Mueang) and Phitsanulok. One way tickets from 1,700 Baht though there are frequent promotions for under 1,000 Baht. AirAsia operates two daily flights between Bangkok (Don Mueang) and Phitsanulok (and vice versa). One way tickets from 1,600 Baht. The flight with either airline takes about 55 minutes. Phitsanulok Airport is located just about 7km south of the town center.
Phitsanulok to Sukhothai by Bus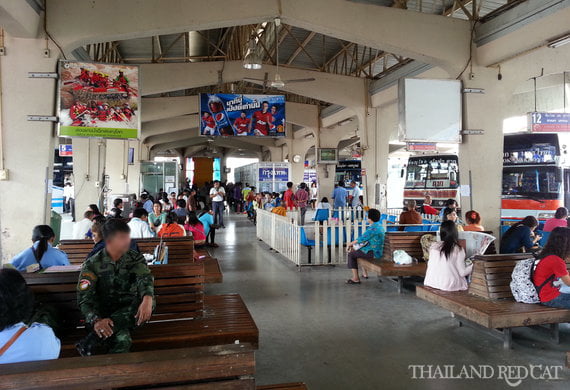 This is the only way to get from Phitsanulok to Sukhothai. There are frequent bus services from Phitsanulok's Baw Khaw Saw bus terminal (see picture below), located 4km east of the town center off Highway 12. The buses to Sukhothai leave every hour, from 5:40am to 6pm, take about one hour and the one way fare is 35-60 Baht, depending on the type of coach.
Map of Transport in Sukhothai & Phitsanulok
Now that you know how to get to these towns, check out my posts on how to make the most of your stay in Sukhothai and Phitsanulok.