For any kind of work you take up in Thailand, no matter if you are being employed by someone or set up your own company, work online and generate revenues outside of Thailand or even if you are an intern and receive no salary – you must obtain a work permit in advance.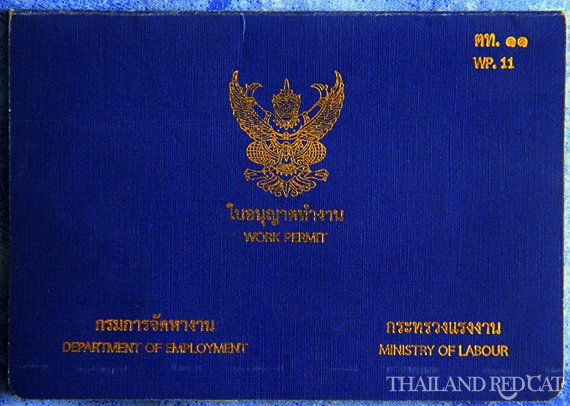 However before you can apply for a work permit you need to get a Non Immigrant Business Visa. You can't apply for a work permit if you hold a tourist visa. Why? Because if you work you are no tourist any longer. Same for Student Visa. Why? Because if you work you are no student any longer (work weighs more than study). And same for Retirement Visa. Why? Because if you work you are not retired any longer.
Non Immigrant Business Visa and Work Permit, these two documents you are required to obtain prior to taking up any kind of paid or unpaid work in Thailand.
So how to get a Work Permit?
The first thing that is important to know are the two crucial rules for a successful application of a work permit:
A Thai company has to employ at least four Thai staff for every work permit issued to a foreigner ("ghost employees are not advisable anymore as the labor department started to check and interview Thai employees for whom they work, how their boss looks like, what their job is like, when they start and finish work and how much and when they receive their salary)

A Thai company has to have a minimum of 2 Mio. Baht registered capital for every work permit that is being issued (however the "rule of thumb" is that only 25% of this registered capital has to be on a bank account or in form measurable assets, the rest can be declared as a loan back to the shareholders)
While you can obtain a Non Immigrant Business Visa only outside of Thailand, the second step of applying for a Work Permit is done in Thailand. The application has to be submitted at the labor department that is designated to your residential area.
The following documents are required from the Work Permit applicant (they call us "aliens"):
Copy of every passport page, each of it signed by the applicant – including a valid Non Immigrant Business Visa

Departure Card
Authorized copy of original and Thai transcript of Degree (i.e. high school, bachelor's or master's degree. I went to the German embassy with my high school certificate and they issued an authorized copy as well as an authorized Thai translation for a fee of 150 Baht)
Signed CV / Resume
Medical Certificate (I got mine within 10 minutes from a local clinic in Suthisan BKK for 80 Baht, the common rate is 300 Baht)
3 passport photos (dimensions: 3 x 4 cm)
if married to Thai citizen: Marriage Certificate (original and signed photocopy), copy of spouse's Thai ID Card, birth certificates of children (if any) and household registration documents
Application Fee: 100 Baht
Work Permit Book Fee: 750 Baht up to 3 months / 1,500 Baht 3-6 months / 3,000 Baht 6 months – 1 year
The following documents are required from the employer:
Copy of Company Affidavits
Copy of Shareholders List
Copy of Latest Annual Audit
Copy of Latest Withholding Tax
Copy of Latest Payments to Social Funds
Copy of VAT Certificate
All of these company documents must have the company seal stamped on every page as well as the signatures of the Managing Director(s).
Once the work permit is issued to the foreign applicant, he is supposed to always keep the book at his workplace in case officials are requesting to see it.
Also, once he or she changes the workplace or the work position, the relevant changes in the work permit have to be made.
Renewal or Extension of a Thai Work Permit:
A work permit has to be renewed at the labor department every year whereas the same fees as for the initial application (750 Baht up to 3 months / 1,500 Baht 3-6 months / 3,000 Baht 6 months to one year) are applicable.