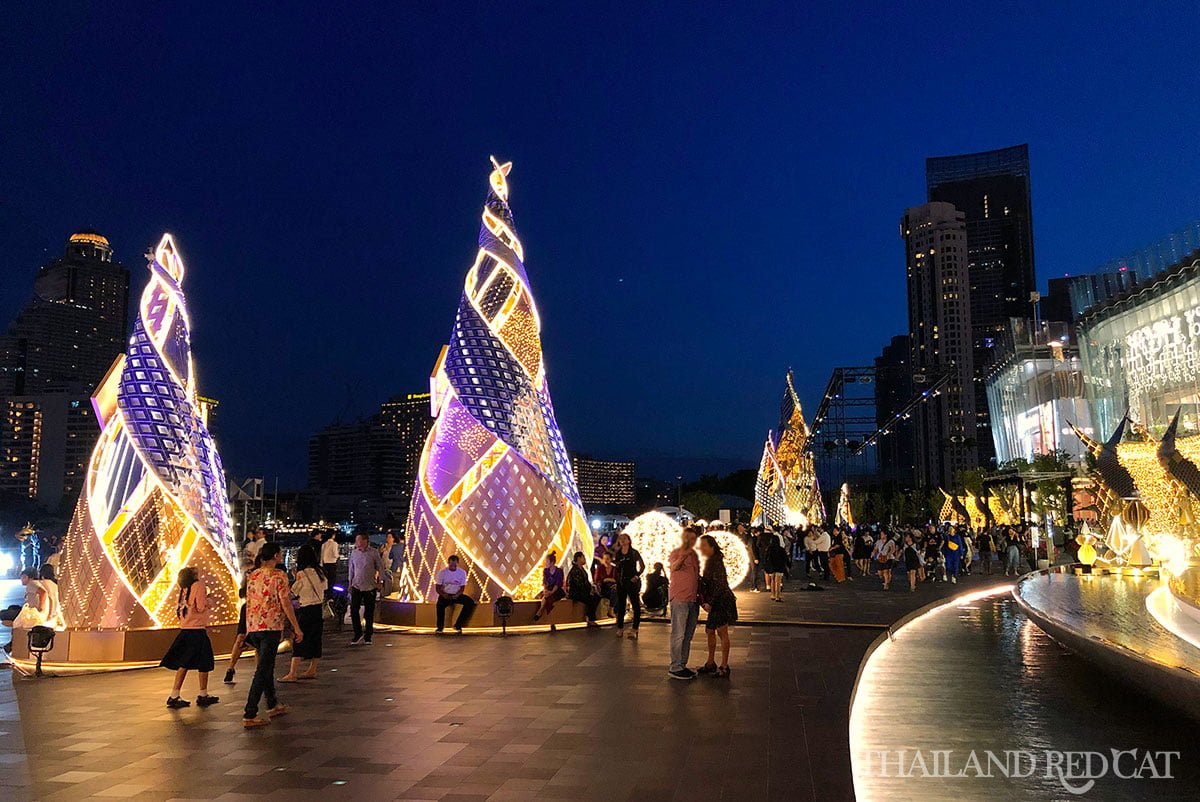 Merry Christmas everyone! Sùk Sǎn Wan Krít Mâat (สุขสันต์วันคริสต์มาส)! 
It's my fourth Christmas here in Bangkok and I thought I'd give you some general info about how Christmas is celebrated here and what you can do if you are visiting the city during this time of the year.
If you have been living in Thailand for a while, you will soon notice how many festivals there are and that's not only Buddhist ones. Thai people take every occasion to celebrate, even if it's some international event they don't really understand and so even though Christians only represent 1.17 percent of the country's population Thais go with it and try to intimidate American style Christmas as good as they can:
Already starting from end of November there are big and richly decorated Christmas trees and colorful illuminations set up in most parts of the city center and in every shopping mall in town. This is accompanied by English Christmas songs blasting out of the speakers on every other corner in downtown including Sukhumvit, Silom, Sathorn and Ratchada.
My favorite Christmas trees every year are at Icon Siam (picture above) as well as at Terminal 21 and Times Square in Asoke, Bangkok (picture below).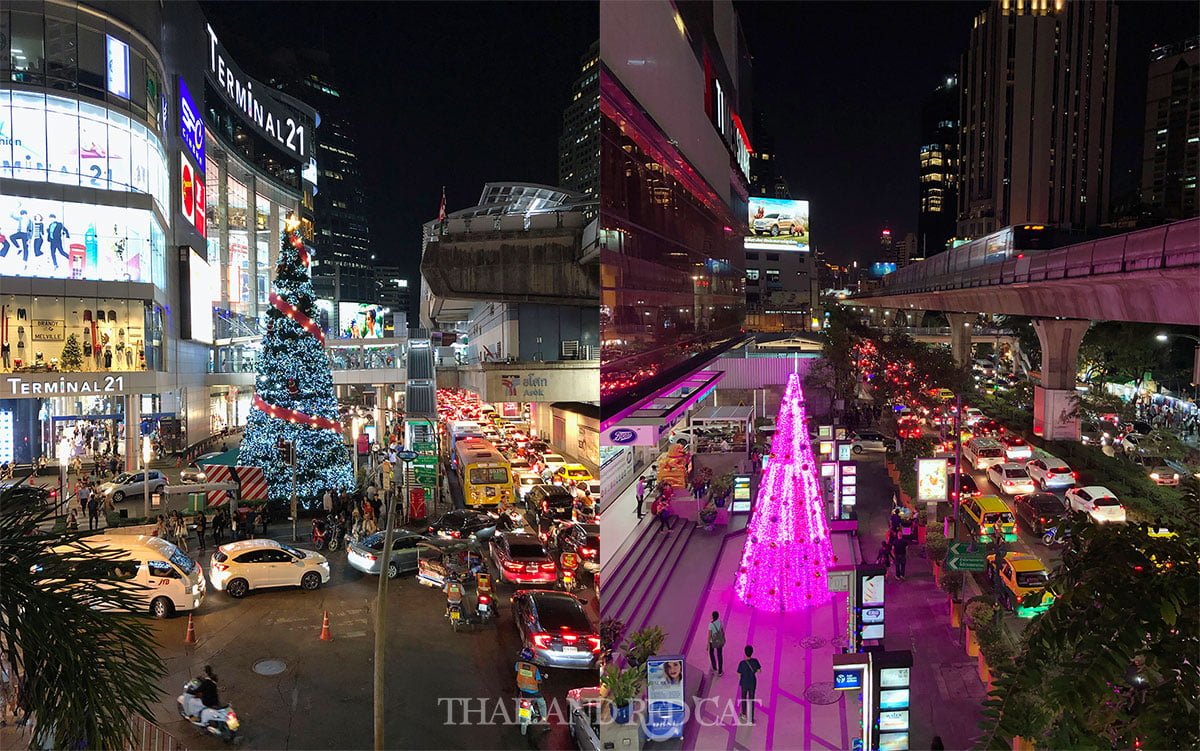 Christmas Masses in Bangkok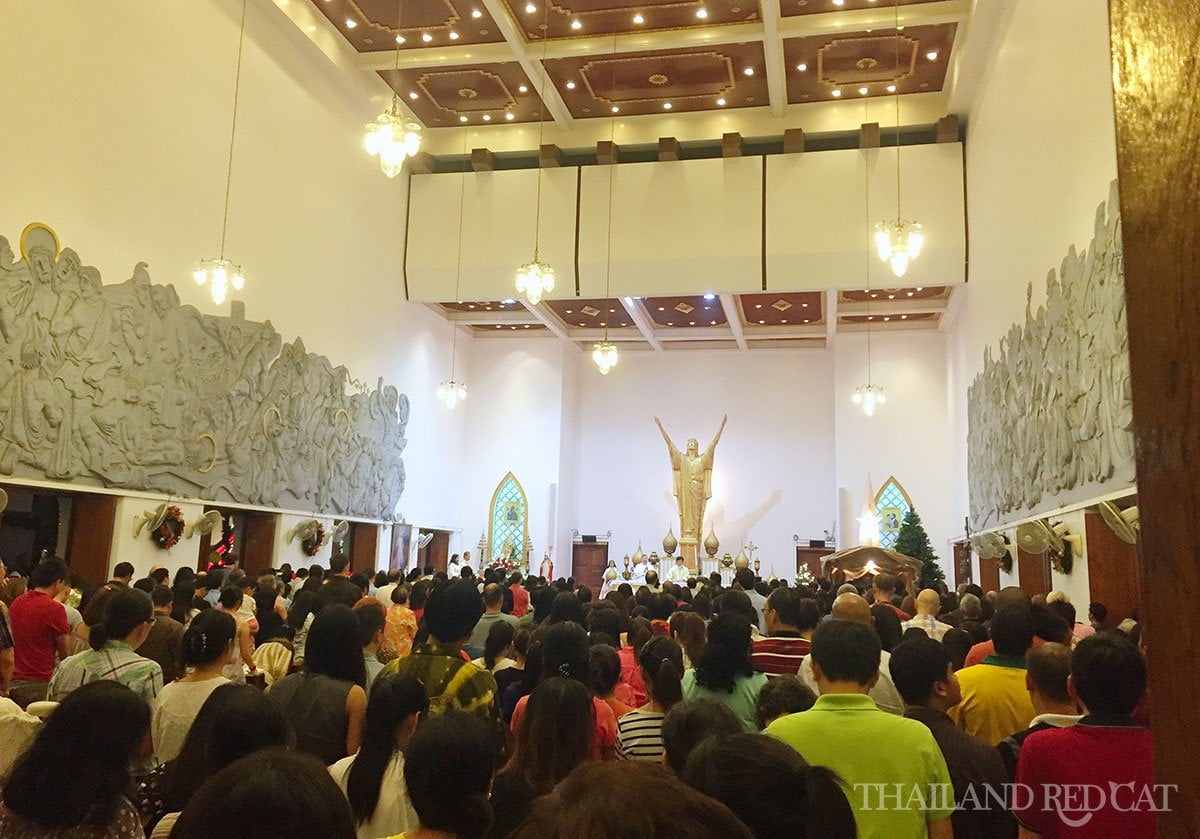 There are a few Christian churches in Bangkok and they are built in form of a Thai temple, with the significant difference that a big white cross is on top of the roof and the holy cross instead of a sitting Buddha statue inside the building.
The most famous catholic church in Bangkok is the Holy Redeemer Church in the Ploenchit district (next to Nana, see the map below). They have several Christmas masses every year, usually three English services a day both on Christmas Eve (24.12.) and Christmas Day (25.12.). The current mass schedules can be found on their website.
I went there last year and can tell you it was a very nice experience. Unlike in most German churches where people get more and more lazy to sing along with the songs, the opposite is the case at this church in Bangkok and the atmosphere is very friendly and everyone is in great mood. Make sure to come at least 30 mins before the mass starts as seats fill up very quickly.
Christmas Parties in Bangkok
Of course most of the clubs in Bangkok don't miss out on the opportunity to organize some big Christmas parties. However to tell you the truth, most of the parties are no different than at other times of the year, it's just that they put up some X-Mas decoration and the waitresses look even hotter than usual with their red Santa costumes.
For more detailed info about what parties are going on during Christmas check out the Siam2Nite website, the best online source for nightlife events in Bangkok.
There are also a lot of Christmas Dinners in Bangkok, most of them being held during the first three weeks of December. Some of the best ones are organized by the Chambers of Commerce or simply by some foreign owned restaurants. Prices for multi course meals including drinks are usually in the 1,000-2,000 Baht range. And sometimes it's just a Christmas meet up with networking character where you order food and drinks a la carte. Check out the Bangkok Events Calendar website for all the events going on during the advent.
While Thai people don't put Christmas trees in their homes if they are Buddhist, you do see them going out for parties or at least hanging out on the streets together drinking Thai whiskey starting already on Christmas eve. Christmas Day is no public holiday in Thailand, means all companies are open, however if you are Christian your employer will usually let you take a holiday on 25th of December – like in my case.
If you are in Bangkok for more than just a few days, you can also buy an artificial, fully decorated Christmas Tree at Tesco Lotus, Big C or Robinson department stores. You can get a pretty decent tree for as low as 500 Baht.
Have a wonderful Christmas in Bangkok :)