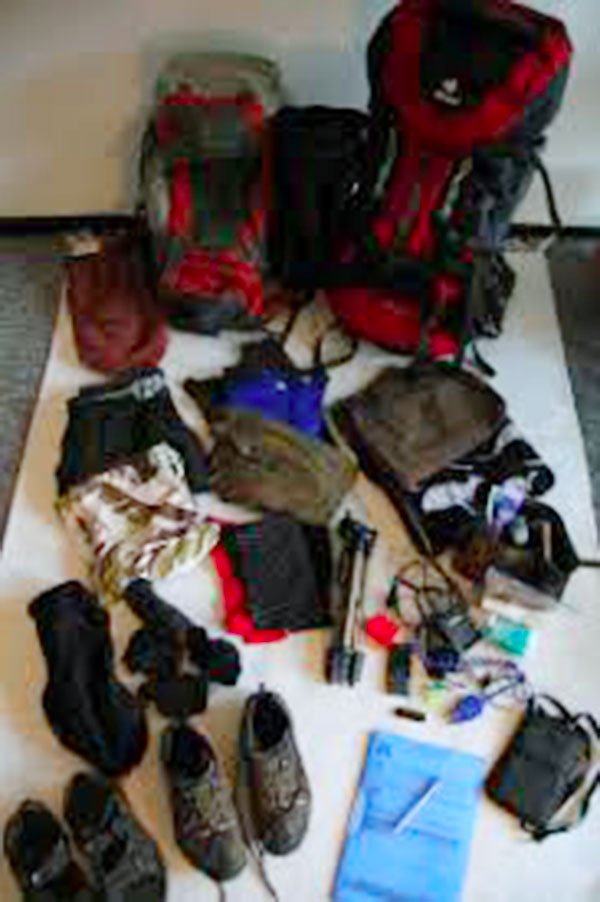 Note: I wrote this post before I moved to Thailand.
The first time I went backpacking around Thailand I wrote a big packing list with lots of things that I might need. Of course it turned out that I took lots of things that I didn't use at all. Lessons learned:
If you don't use a thing in your bag for two months, get rid of it.
The larger your backpack, the more things you tend to put in it.
Therefore I normally prefer to set out with a fairly small backpack – so that I'm forced to take only the most important things with me. That makes me feel a lot more comfortable than carrying around just too much weight all the time. In fact, the smaller 38l-backpack (the left one in the picture) has been my best friend during all my travel in Thailand and the rest of Southeast Asia. As the climate tends to be from warm to hot and humid I don't need more than one jacket and one pants for the occasional travel in aircon-buses, night trains or hanging around at the airport.
Generally my backpack for traveling around Thailand consists of the following:
1 Jacket
1 Pair of pants
3 T-Shirts
2 Shorts
4 Boxershorts
3 Pair of socks
1 Pair of sandals
1 Pair of trekking shoes
1 Towel
Toiletry Kit (including toothbrush, toothpaste, shampoo etc.)
Pain Killers
Ear plugs for nasty bus journeys
Digital camera (Canon EOS), spare battery & charger
Tripod
Power Adapter
Sunglasses (I do love Rayban, they may be a bit more expensive, but I bought mine 4 years ago and they're still great)
Mobile phone & charger
Guide book
Wallet with credit card and USB stick (for backing up my photos)
Shoulder bag for my documents (including passport)
Loose-leaf-file for travel documents and blank paper
I use Deuter Backpacks for my backpacking trips – high quality and durable.
If I go travel around Thailand's north or north-east during the cool season from around November to February, of course I would add one more pair of pants, a long sleeve or two, one more jacket and a bigger backpack (the right one in the picture).
Maybe some of that information is useful for you, it took me around two years to figure out my optimal travel gear. And now I don't even have to think about it much at all and just throw all the important things into my backpack within 20 minutes.
That all said, I think the 2 single most important items for traveling anywhere in the world are:
Passport – so you can travel
Credit Card – so you can buy things you need