Thai food is world famous and for me it is without any doubt the best in whole Asia. Or how Thais would say:
aa-hǎan tai àrɔ̀i tîi-sùt. – อาหารไทยอร่อยที่สุด.
From the first day I have been to Thailand, I never had any problems with the local food. That wasn't always the case, especially during my travels through Asia. And it's not just that the Thai food is so delicious, it's also the different tastes and so many dishes that are available.

The ingredients that give Thai food its unique taste include lemongrass, galangal, kaffir lime leafs, coconut milk, basil leaf, mint, oyster sauce, fish sauce, lemon, onion, garlic, curry powder, tamarind paste, various chilis and many more. Yes, that's a lot of different stuff and that's why the Thai food has become so famous and popular all over the world.
So here is my Top 5, the best Thai food that I recommend to give a try during your travels in Thailand:
1. Tom Yum Goong (ต้มยำกุ้ง)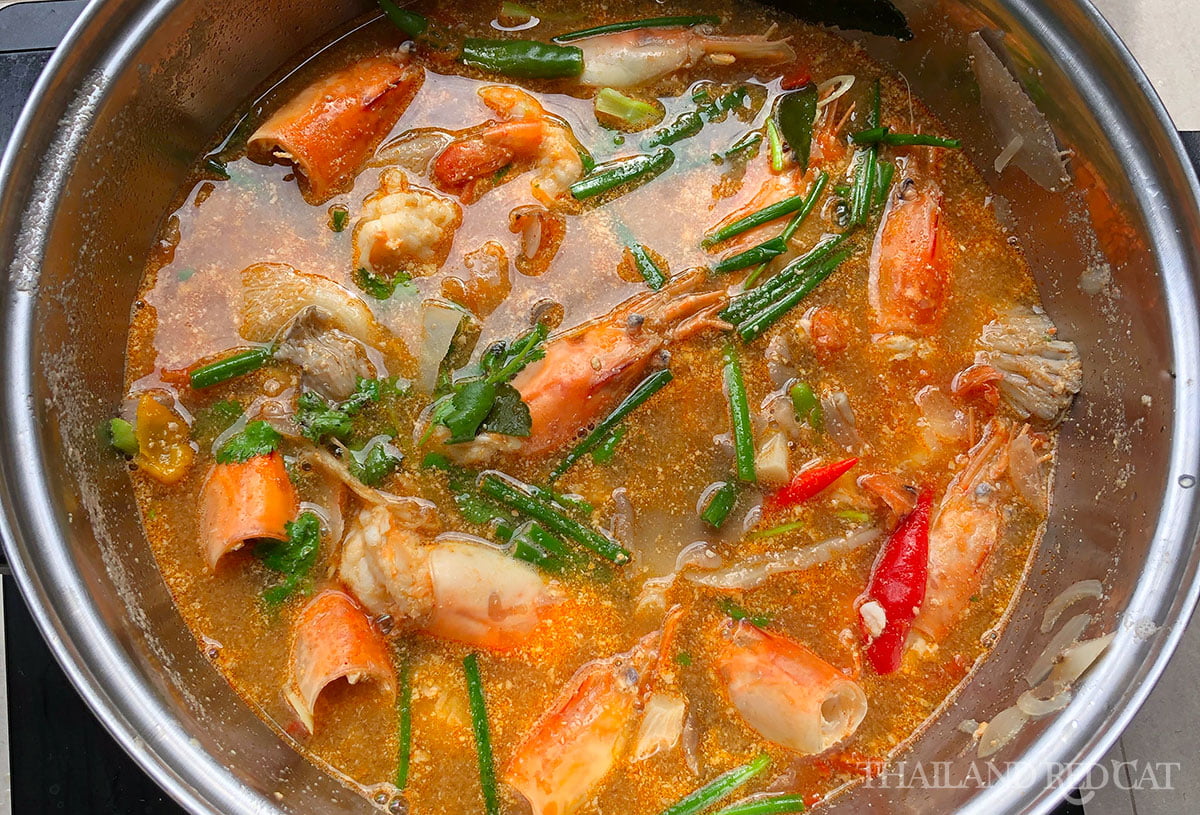 This is maybe the most famous soup in Thailand. The word "Tom" refers to the boiling process, indicating that it's a soup. "Yam" to a kind of Lao and Thai spicy and sour salad, and "Goong" to the shrimp.
There's also the Tom Yum Gai and Tom Yum Talay which are the same soups but with chicken / seafood instead of just shrimp. What makes Tom Yum Goong so special (and clear and sour) is the extensive use of fragrant herbs such as lemon grass, lime leaves, fresh galangal root, shallots as well as chili paste (that gives the soup a bright orange color) and fish sauce. Nowadays Tom Yum also includes mushrooms (usually straw or oyster mushrooms). The soup is often garnished with coriander leaves. Tom Yum Goong is usually eaten with rice.
2. Khao Kha Moo (ข้าวขาหมู)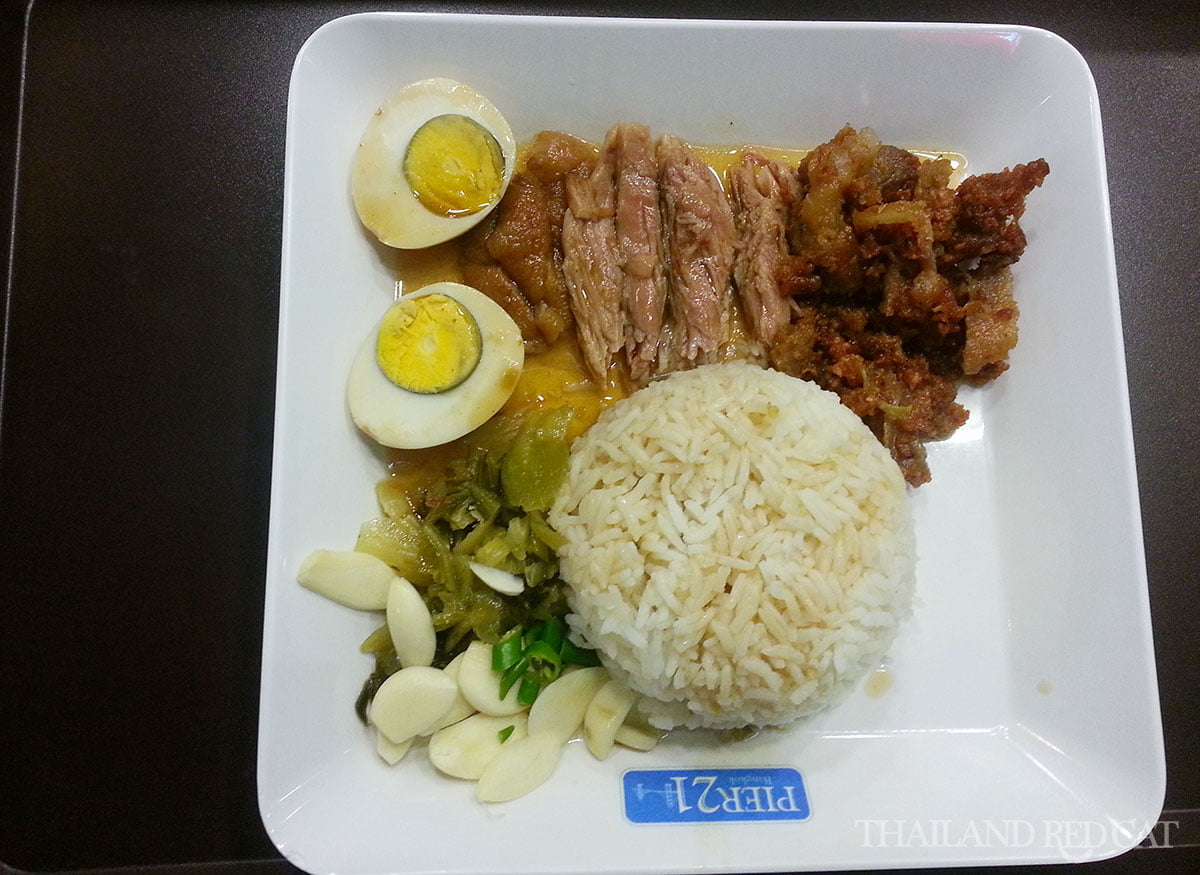 One of my favorite Thai dishes, Khao Kha Moo means "Stewed Pork with Rice" and is one of those meals you can find on street stalls all over Thailand.
It's actually pretty basic compared to many other Thai dishes and served with sliced pig's leg that has been cooked in soy sauce and five spice powder and steamed rice. It normally comes with a spicy dipping sauce, cloves of garlic and a boiled egg. Many places also include the pork skin like you can see in my picture. I had this Khao Kha Moo dish at the food court in Terminal 21 shopping mall in Bangkok and would you believe it – it's just 48 Baht.
3. Khao Niew Ma Muang (ข้าวเหนียวมะม่วง)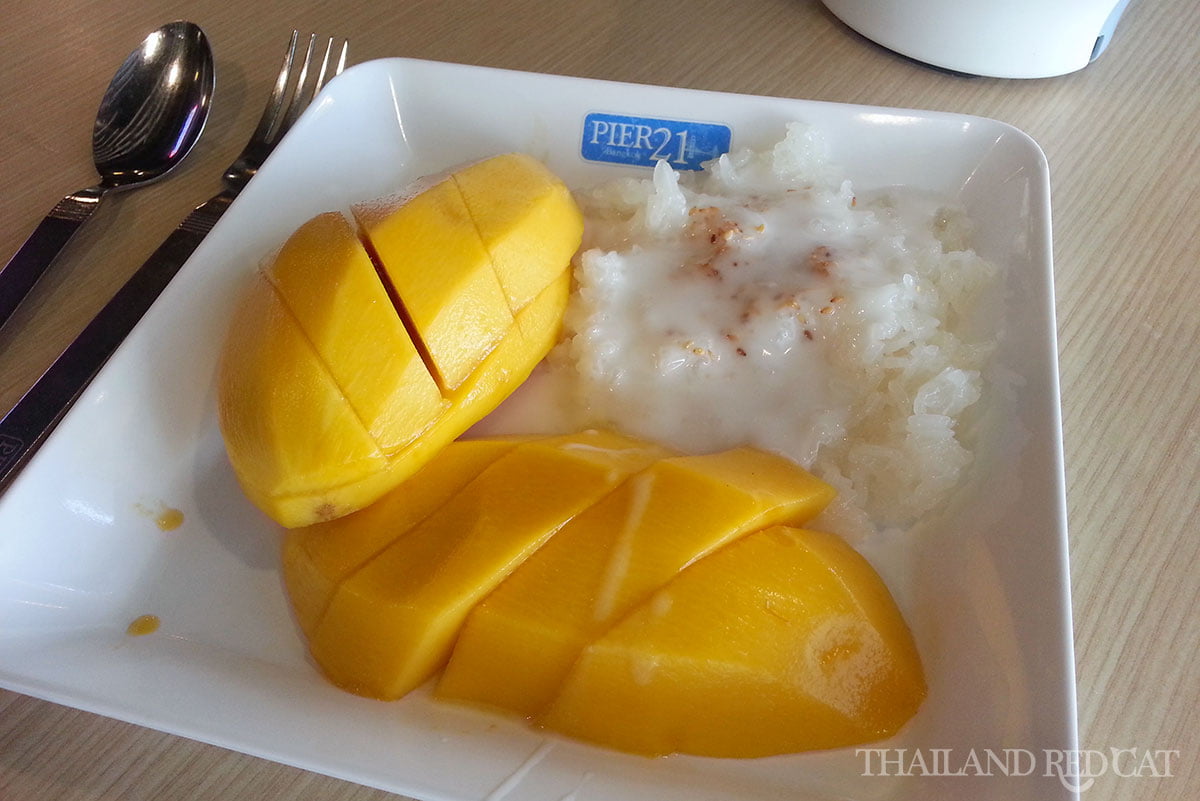 Khao Niew Ma Muang is one of those dishes that you can have both as a dessert or main dish. It basically contains four different things: sweet mango, sweet sticky rice topped with coconut milk and yellow mung beans. It's one of the sweetest Thai foods, but for sure one of the most delicious ones.
I found it to be more expensive in Bangkok than elsewhere in Thailand. Example: The Khao Niew Ma Muang dish you can see in the picture costs 70 Baht at Terminal 21 shopping mall in Bangkok, however at a local market in Pattaya I got a similar size for just 50 Baht.
4. Pad Thai (ผัดไทย)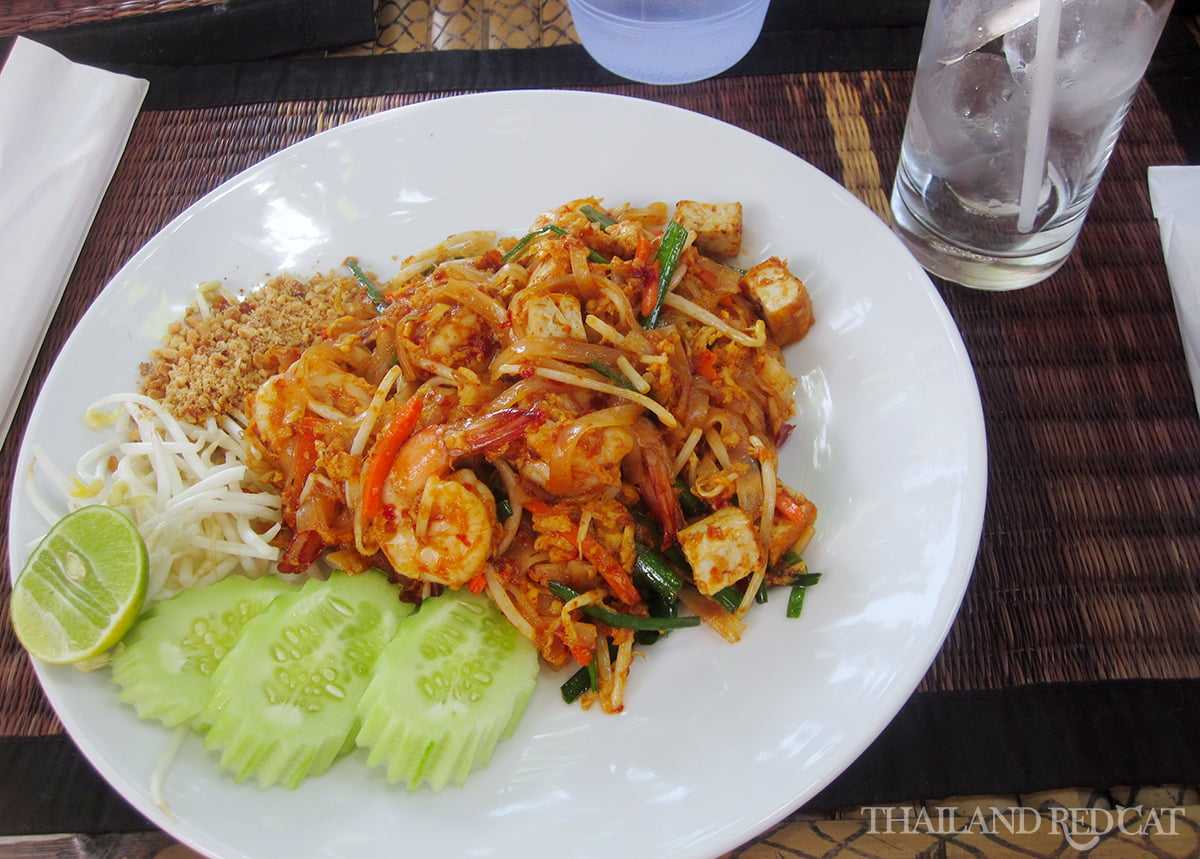 Another local favorite that isn't just popular among local Thais but a standard on every menu of international Thai restaurants. Pad Thai literally means "Thai style stir fry". That's quite a general term for a dish but that's what Pad Thai is like:
There are countless variations of this timeless traditional meal, but the basic ingredients of any Pad Thai are: Noodles (usually long rice noodles) stir fried with tofu, bean sprouts, shallots and leeks. On top of that you have the choice of putting fish sauce, vinegar, sugar, chili powder and crushed peanuts – whatever suits your taste.
5. Som Tam (ส้มตำ)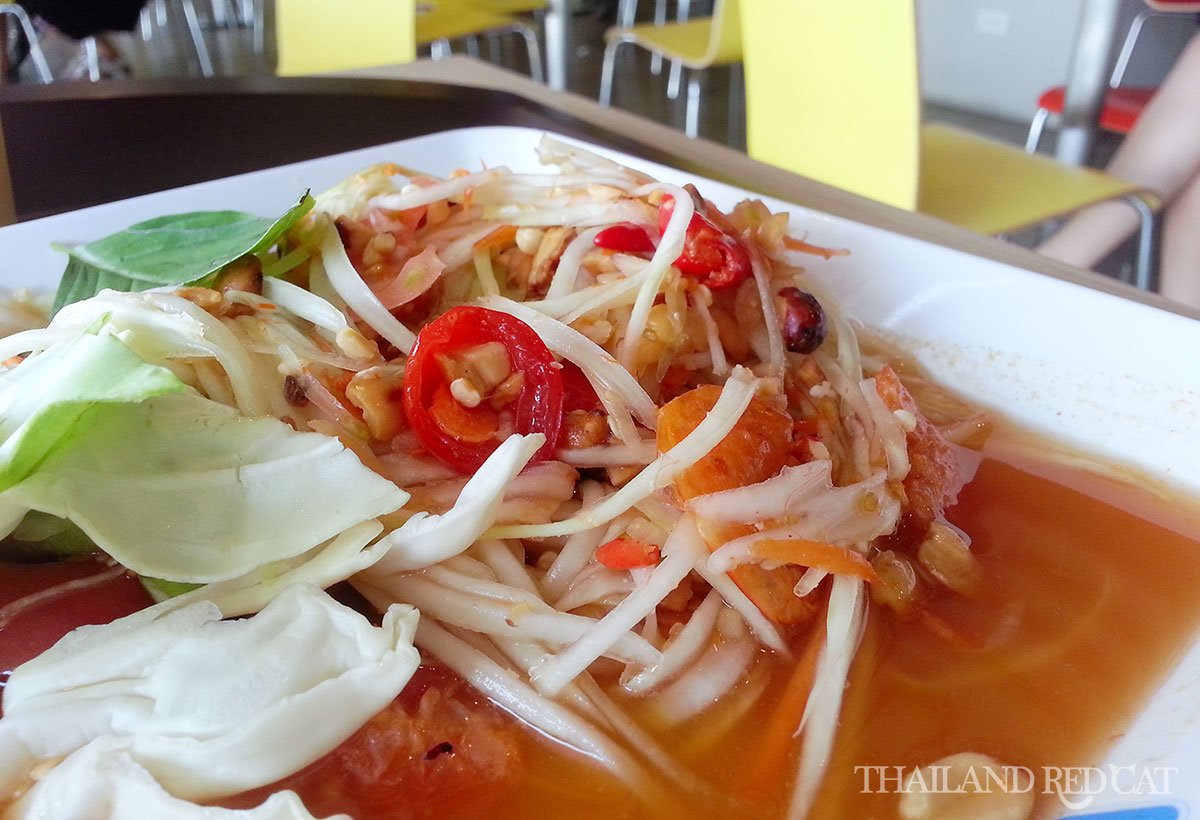 I actually just had a break writing this post and went for lunch having this Som Tam. My mouth is still burning.
Well Som Tam is not just one of Thailand's most spicy dishes, but also one of the big local favorites. Thai people love Som Tam. Also known as "Papaya Salad" this dish originally comes from the Northeast of Thailand (Isaan) but has nowadays cult status all over the country. The main ingredients of any Som Tam are shredded green papaya pounded with sour lime, hot chili, fish sauce and palm sugar – the four main tastes of the local cuisine. Depending on the region, additional ingredients include garlic, dried shrimp, brined crabs, tomatoes, peanuts and yardlong beans. Add grilled chicken (Gai Yang, ไก่ย่าง) and sticky rice (Khao Niew, ข้าวเหนียว) to your Som Tam to make it the perfect meal.
That's my Top 5, the best Thai food. Please don't be sad if I didn't mention your favorite Thai dish here. It's impossible to say what is the best Thai food but these are for sure five of my favorites.
There are so many other delicious Thai dishes and some (but not all) of them I really like too are: Kuay Tiew (Noodle Soup, ก๋วยเตี๋ยว), Khao Pad (Fried Rice, ข้าวผัด), Gai Pad Med Ma Muang (Chicken Cashew Nuts, ไก่ผัดเม็ดมะม่วง), Gaeng Kheaw Wan Gai (Green Chicken Curry, แกงเขียวหวานไก่), Tom Kha Gai (Chicken Coconut Soup, ต้มข่าไก่), Gaeng Masaman (Massaman Curry, แกงมัสมั่น) and Khao Man Gai (Chicken Rice, ข้าวมันไก่).