For me there are three important things to consider when booking a hotel in Phuket:
It should be located within easy walking distance to the beach, have a variety of nightlife spots nearby as well as set in a quiet environment. Especially the latter one is quite unrealistic since if it's close to the beach and has a lot of bars nearby then it's usually quite noisy in the hotel as well. However, I have just returned from my fourth trip to Phuket and can now safely say that I have found the perfect hotel on Patong Beach that fulfills all three requirements.
The Royal Phawadee Village is located 100m or a three minutes walk from Patong Beach. I enjoyed it to stroll down there every afternoon with nothing more in my hands than the big towel provided by the hotel and when I came back I had a dip in the swimming pool that's big, clean and set in beautiful surroundings with palm trees and traditional Thai style wooden rooms and pavilion villas.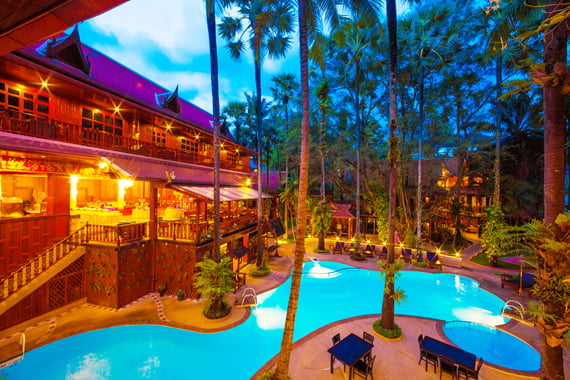 The hotel is set on a spacious areal and makes pure relaxation and the friendly and helpful staff just adds to this great atmosphere. Then once sun sets you are in the perfect spot to experience Patong's bustling nightlife with restaurants, bars and massage salons right outside its doors and the infamous Bangla Road just a ten minutes walk away.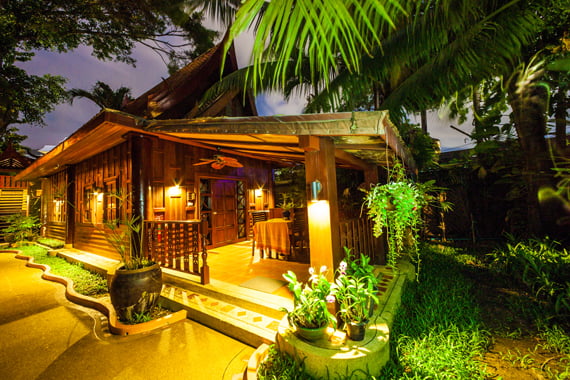 The Royal Phawadee Village has a wide selection of rooms for all different needs and budgets:
Standard Room: 2 single beds or 1 double bed, Balcony, Garden View, TV, Cable Channels, Telephone, Safety Deposit Box, Air Conditioning, Desk, Seating Area, Shower, Hairdryer, Bathrobe, Free toiletries, Toilet, Bathroom, Slippers, Minibar and Refrigerator.
Superior Room: Located in the garden area and offering a combination of Thai-style living experience, functional convenience and affordability
Deluxe Room: Offers a choice between a double bed or twin beds. Very spacious and well-equipped.
Deluxe Suite: Offers even more space, comfort and convenience. This room type also comes with a balcony offering views to the beautiful garden.
Family Room: This room is easily large enough for a family of four in complete comfort and style, combining Thai charm with modern, sophisticated practicality.
Pavilion Villa: Created in traditional Northern Thailand wooden house style design, this is the most luxury room type of the Royal Phawadee Village.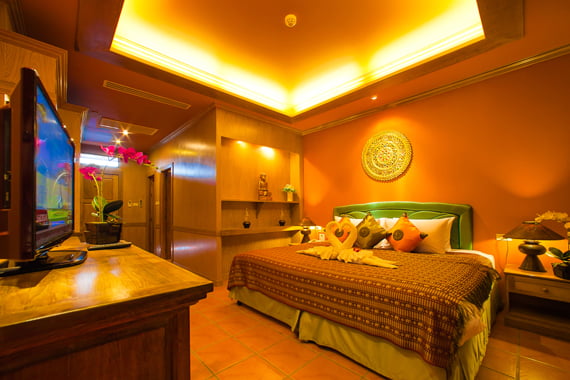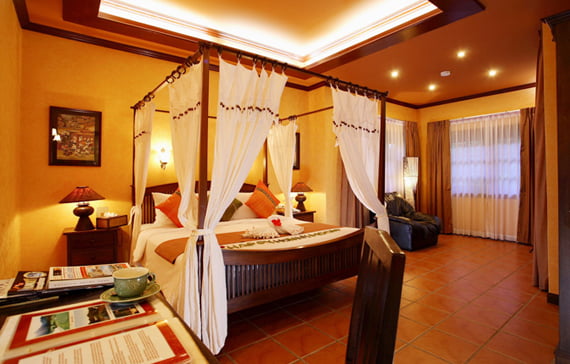 Some of the hotel's countless services and facilities include a 24 hour front desk, free WiFi in all rooms, laundry service, meeting & conference rooms, luggage storage, massage and a restaurant that serves fine breakfast (a combination of set and buffet) from 7am to 10:30am as well as lunch and dinner.
They also have a tour information desk where you can book trips to the island's various landmarks and attractions (e.g. Big Buddha, Phuket Zoo etc.) or day trips to the surrounding islands (e.g. Phi Phi Island, James Bond Island). For any tour you book there is free pick up at the hotel included in the price. Motorbike rentals are also available with rates starting at around 300 Baht per 24 hours.
The Royal Phawadee Village makes the perfect base for both relaxation as well as experiencing Patong's exciting nightlife. I will definitely stay there again during my upcoming trips to Phuket.