It's always a pleasure to explore some of the more quiet, authentic and not so touristic parts of Thailand. Khon Kaen, one of the big four cities of Isaan, is such a place. While there are quite a few nice places to visit it is still fairly quiet and relaxing with far less visitors than the tourist hubs of Bangkok, Phuket and Chaing Mai. During my recent stay in Khon Kaen during Songkran I stayed at the I-Yaris Boutique Resort and I couldn't have made a better choice.
The I-Yaris Boutique Resort is located 4km from the town center right next to a large pond in a very quiet and friendly area. There is a minimart (open 24/7) just three minutes by walk from the hotel. To get to the town center, simply take one of the frequent songthaew (shared pick up up taxi) services that run every 10 to 20 minutes from in front of the hotel to downtown and you can get off at various locations like Big C, Central Plaza or the bus terminal. It is line no. 9 and has light blue colour, the fare is 9 baht for all destinations.
The rooms are spacious and extremely clean and bright. I stayed in a different hotel in the town center just a few weeks before and it was like twice as expensive with the room half the size. There are two different types of rooms: Double Bed and Twin Bed. All of the 60 rooms feature air-conditioning, complimentary bottled water, satellite/cable TV, in room video games, hot shower and a balcony / terrace.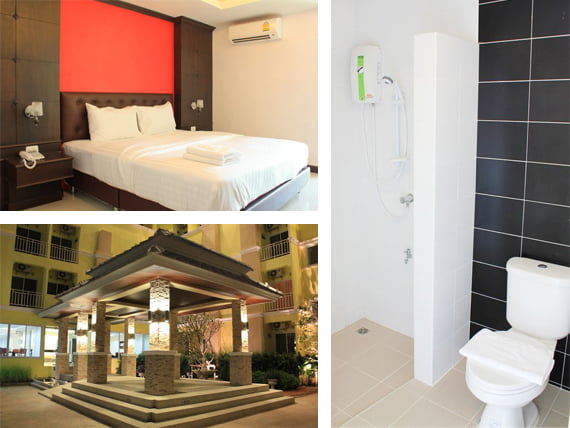 There is a breakfast buffet included in the room price (served from 7am to 10am). Some of the hotels various amenities include Wi-Fi in public areas, elevator, laundry service/dry cleaning, concierge, car park.
The owner claims that "friendly staff, great facilities and close proximity to all that Khon Kaen has to offer are three great reasons you should stay at I-Yaris Boutique Resort". After my stay at the hotel I couldn't agree more and I will definitely come back here on my future visits to Khon Kaen.
I-Yaris Boutique Resort: more information & booking