Yesterday I wrote a post about my trip to Koh Larn and all the cool things that I have done and seen there. So today I thought I let you know how you can actually get there from Pattaya.
The island Koh Larn is located just 7km off the coast from Pattaya and it doesn't have an airport so the only way to get there is by taking a boat from Pattaya's harbor (called Bali Hai Pier). The pier is located right at the southern end of Walking Street – see the map below.
Now there are 2 options on which type of boat to take: Public ferry or speed boat.
Pattaya to Koh Larn by Public Ferry
This is the way I went to Koh Larn, it is just 30 Baht for a one way ticket. You don't have to book it in advance, just go to the pier and pay the money in cash right at the boat. It's almost impossible not to find the boat as most other tourists are going for this option as well. Just follow the crowd.
You have 2 choices for your destination on Koh Larn:
Na Baan Pier: The main village on Koh Larn where most of the locals live and also the biggest resorts are located. There is no nice beach within walking distance, but motorbike services (40-60 Baht, depending on the distance to the beach) and motorcycle rentals (about 300 Baht per day) are being offered. And you also have songthaews (public pick-up taxis) like in Pattaya, but they are only slightly cheaper than taking a motorcycle (30-40 Baht).
Tawaen Beach: No hotels on this beach but it might be your choice if you already know you want to visit this particular beach first. You also have the above mentioned transportation services on Tawaen Beach, but on a smaller scale.
The trip takes about 35 minutes to Na Baan Pier and 45 minutes to Tawaen Beach, but I had about 15 minutes delay on my way there in the morning and five minutes on my way back in the evening.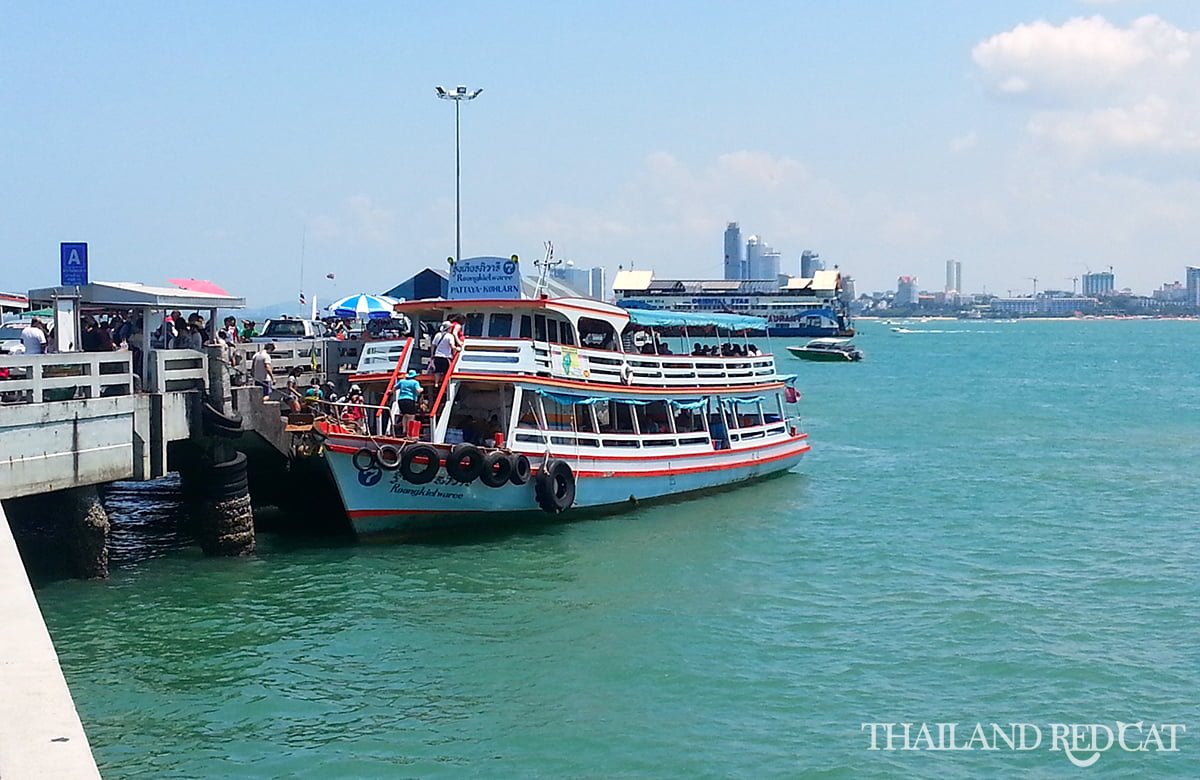 The ferries go back and forth all day and very frequently, here is the timetable to and from both piers on Koh Larn: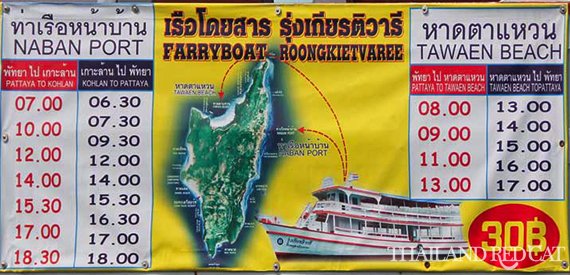 This is how the pier on Tawaen Beach looks like: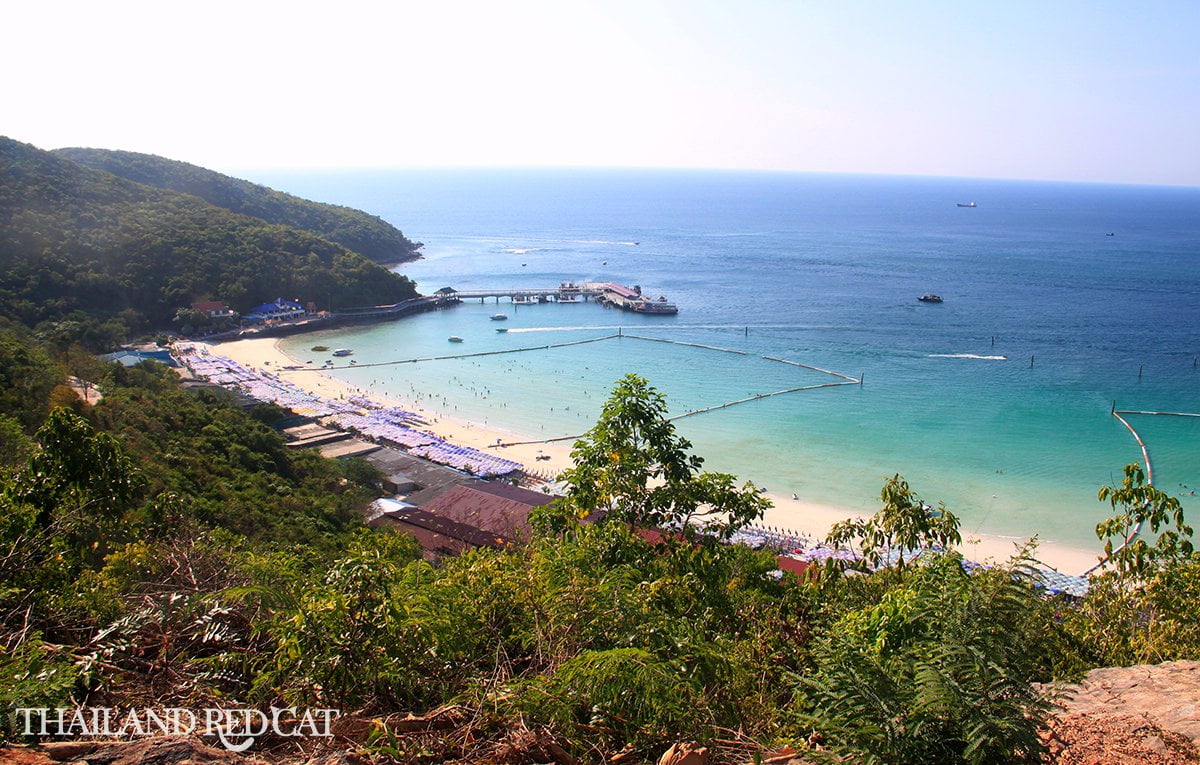 Pattaya to Koh Larn by Speed Boat
With just about 20 minutes travel time this is the fast option to get to Koh Larn from Pattaya. But obviously it's also significantly more expensive. You will need to hire the boat with a group of people, one way price 1,500 to 2,500 Baht, depending on the size of the speed boat. Obviously if the group is small you want to hire a small boat to minimize the cost for everyone.
I didn't go that way but I heard people telling me they hooked up with a group of 10 people and they paid 200 Baht each, one way. I would recommend this travel option only if you are really in a hurry as you are saving only like 20-30 minutes in travel time.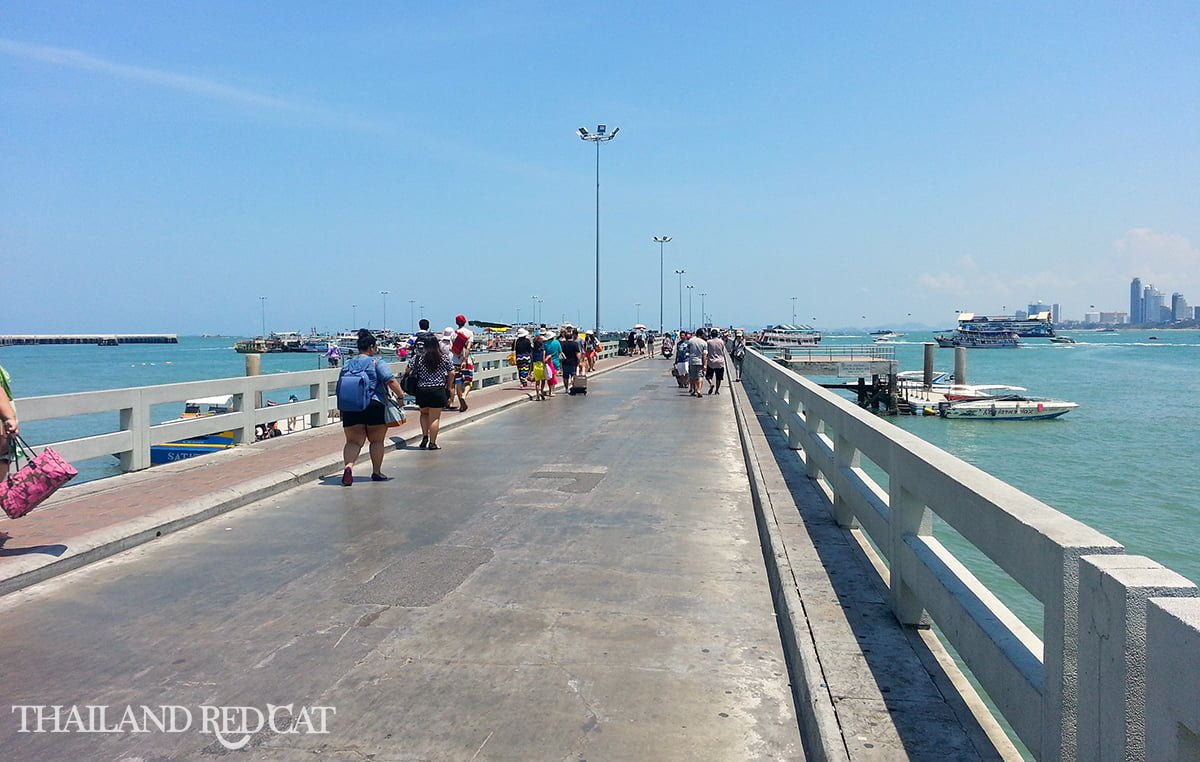 There you have the two options on how to get from Pattaya to Koh Larn. Here is an information board at the ferry pier on Koh Larn illustrating the beaches and the fares of the motorbike taxis: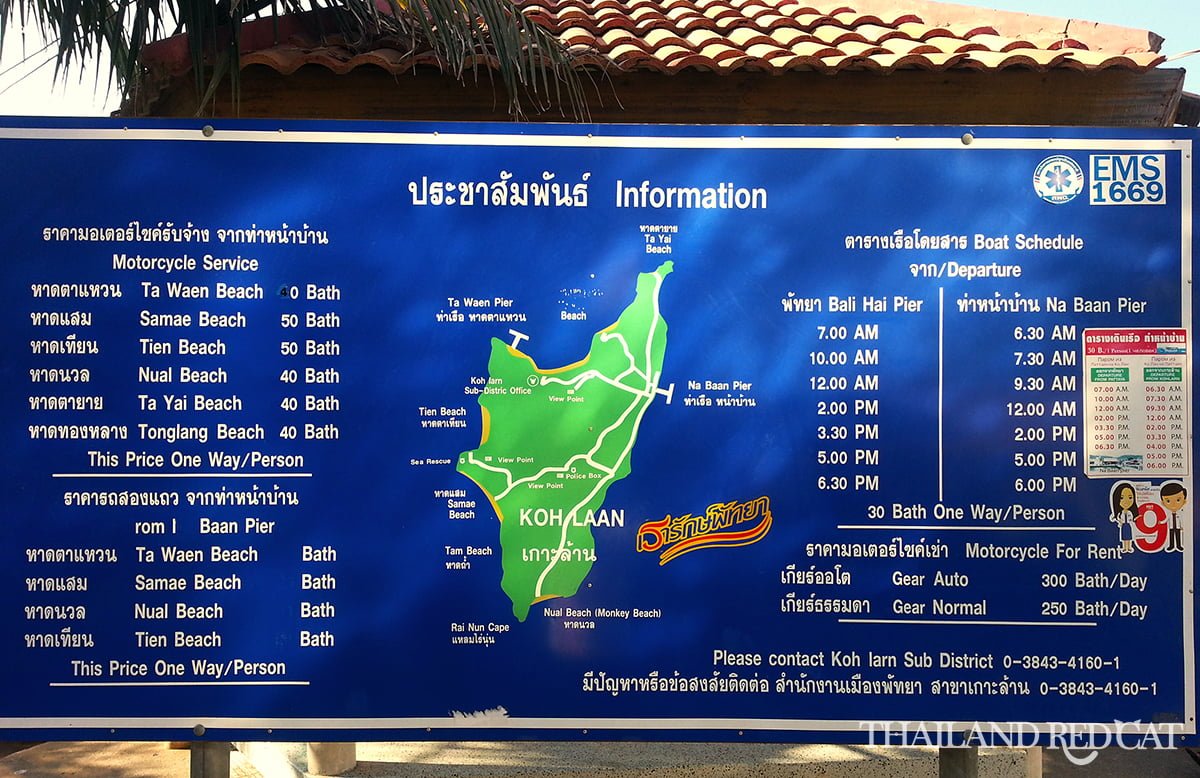 Let me finish this post with this cool video I took on my ferry ride back from Koh Larn in the late afternoon, about one hour before sunset: