Here are the 4 common ways to get from Bangkok to Nakhon Ratchasima or better known as Korat.
Bangkok to Korat by Bus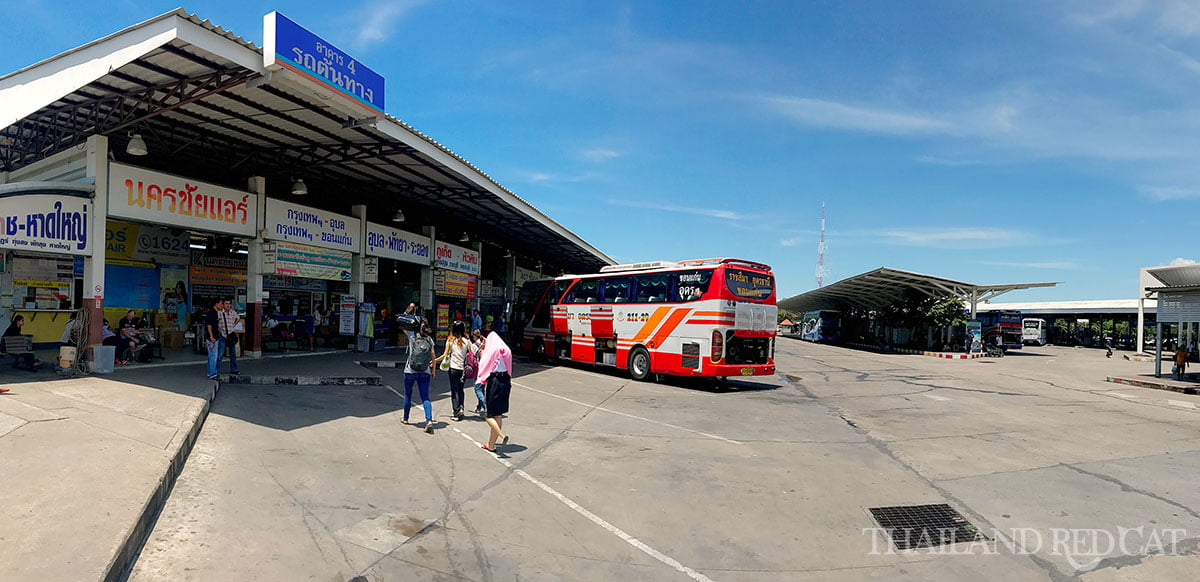 This is how I went there last weekend. Take the MRT (Underground) to Kamphaeng Phet station and from there a motorbike taxi to Mo Chit Northern Bus Terminal (40 Baht). Go up to the second floor, that's where most of the ticket booths are located and that is where you book your bus ticket to Korat.
I got a 2nd class air con bus ticket for 259 Baht one way. There are also VIP buses with bigger seats available (three seats in one line) and they cost 388 Baht one way. The trip normally takes 4 hours, however last Saturday when I took the bus lots of Thais went back to their home town due to a public holiday the following Monday so it actually took me five hours to get there.
The good thing about taking the bus to Korat is that you can get off wherever you want and you don't have to go all the way to the bus terminal which is located at the northern end of the city. If it's your first trip to Korat I can recommend you to get off at "Terminal 21", Korat's biggest shopping mall and the place where everyone seems to hang out during the day.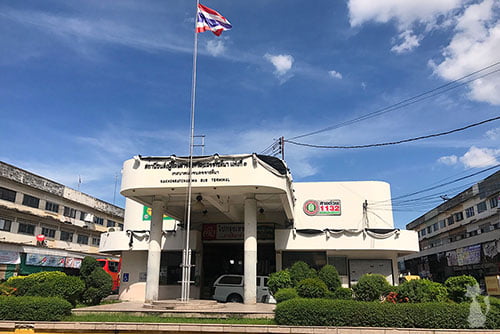 If you travel back from Korat to Bangkok you can either take the bus from the old Bus Terminal (see right picture) located in downtown or, preferably for newer coaches, the new Bus Terminal 2 (see top picture) located on the main road near Terminal 21 Shopping Mall. Unfortunately most hotels don't have drop off services to the bus station (if they have one then usually to the airport) but they can call you a taxi and the fare will come down to around 100 Baht (including the 40 Baht service charge).
Bangkok to Korat by Minivan
That's maybe the quickest way to get from Bangkok to Korat overland, however you might also have a hard time with not much legroom during your journey if you get a bad seat.
The minivans also leave from Mo Chit Northern Bus Terminal (see the description above on how to get there). One way tickets cost between 240 and 280 Baht and the trip takes about 3 hours (slightly faster than the big busses).
Bangkok to Korat by Train
The good thing about taking the train is that there is no traffic jam involved in your trip. However it makes several stops along the way and can take up to 6 hours depending on the type of train you catch. The easiest way is just by asking the ticket vendor for the duration, delays for this distance are not very common.
Trains from Bangkok to Korat leave from the Hua Lamphong main railway station that can be easily reached by MRT (Hua Lamphong Station). If you go outside you are right in front of the railway station.
Trains leave very frequently (like every 2-3 hours) from 6:10am to 11:05pm and one way tickets can get as cheap as 60 Baht for a 3rd class hard seat with fan and up to 260 Baht for a 1st class soft seat with aircon (excluding fees). This is the current train schedule:
Bangkok 06:10 – Korat 10:01 (Special Express)
Bangkok 07:10 – Korat 12:12 (Rapid)
Bangkok 10:35 – Korat 14:27 (Express)
Bangkok 19:25 – Korat 00:07 (Rapid)
Bangkok 21:05 – Korat 01:36 (Special Express)
Bangkok 23:05 – Korat 04:19 (Rapid)
If you want to travel back from Korat to Bangkok you can check the departure times here.
The railway station in Korat is conveniently located right in the city center (see picture).
Bangkok to Korat by Flight
The flight time from Bangkok to Korat is just about 30 minutes but keep in mind that it takes also time to get to the airport in BKK, wait for the flight and get to downtown Korat from the airport which is located about 40km from the city. So it might be just about the same time (and less hassle) to catch a minivan or a bus.
There are currently no flights from Bangkok to Korat. The government has actually plans to build an express train from Bangkok all the way to Southern China that will stop in Korat and do the route in less than 2 hours. I'll update this page in the future as soon as any new services begin.
Map of Transport in Korat
Now that you know how to get from Bangkok to Korat, check out this post to find out what to do in Thailand's third biggest city.