A short trip from Bangkok to Hua Hin or Cha Am is a more relaxed alternative to Pattaya, with less tourists, less lady bars, less… madness. So how to get there?
Bangkok to Hua Hin / Cha Am by Minivan
Minivans to Hua Hin and Cha Am leave regularly (every 30-45 minutes) from Ekkamai Bus Station. Take the BTS Skytrain to the station of the same name – the bus station is right opposite the BTS station. Don't worry, there are no scams and foreigners don't pay more for the tickets than local Thais.
Minivans go to both destinations, the journey to Cha Am takes about 2 hours and 45 minutes (about 180 Baht one way) and to Hua Hin 30 minutes longer (about 210 Baht one way). Services run from early morning until about 8pm in the evening, 7 days a week.
If you go to Cha Am, they may not drop you directly in Cha Am town on the beach but on Narathip Road off the main road (to continue the journey to Hua Hin, 28km further down south). You can either take a motorbike taxi for 50 Baht or just walk as I did, it takes you about 20 minutes to reach the beach (1.4 km). It's a relaxing walk with only few houses, people and vehicles along the way. Quite refreshing coming from busy Bangkok.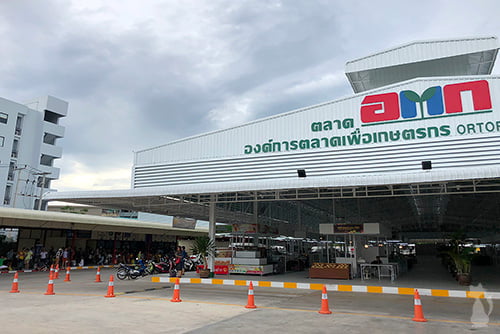 Since most people are heading to Hua Hin, the minivan will drop you somewhere near the beach so you can walk straight to your hotel/guesthouse – or look for one. However, recently more and more services drop all their passengers at the Minivan Station on Soi 51 (picture, location see map below), which is about 1.5km from the tourist area around the Hilton Hotel (20 mins walk).
On your way back just go to the Minivan Station – if you are staying in the more quiet Cha Am you will have to go back to the main road (unless you book the transport at your hotel). There are a few travel agents on Naresdamri Road in Hua Hin (in front of the Hilton) where you can book your minivan back to Bangkok for the same price, often even including the pick up from your hotel. Just make sure you don't leave too late – the last service is at around 9pm.
Bangkok to Hua Hin / Cha Am by Train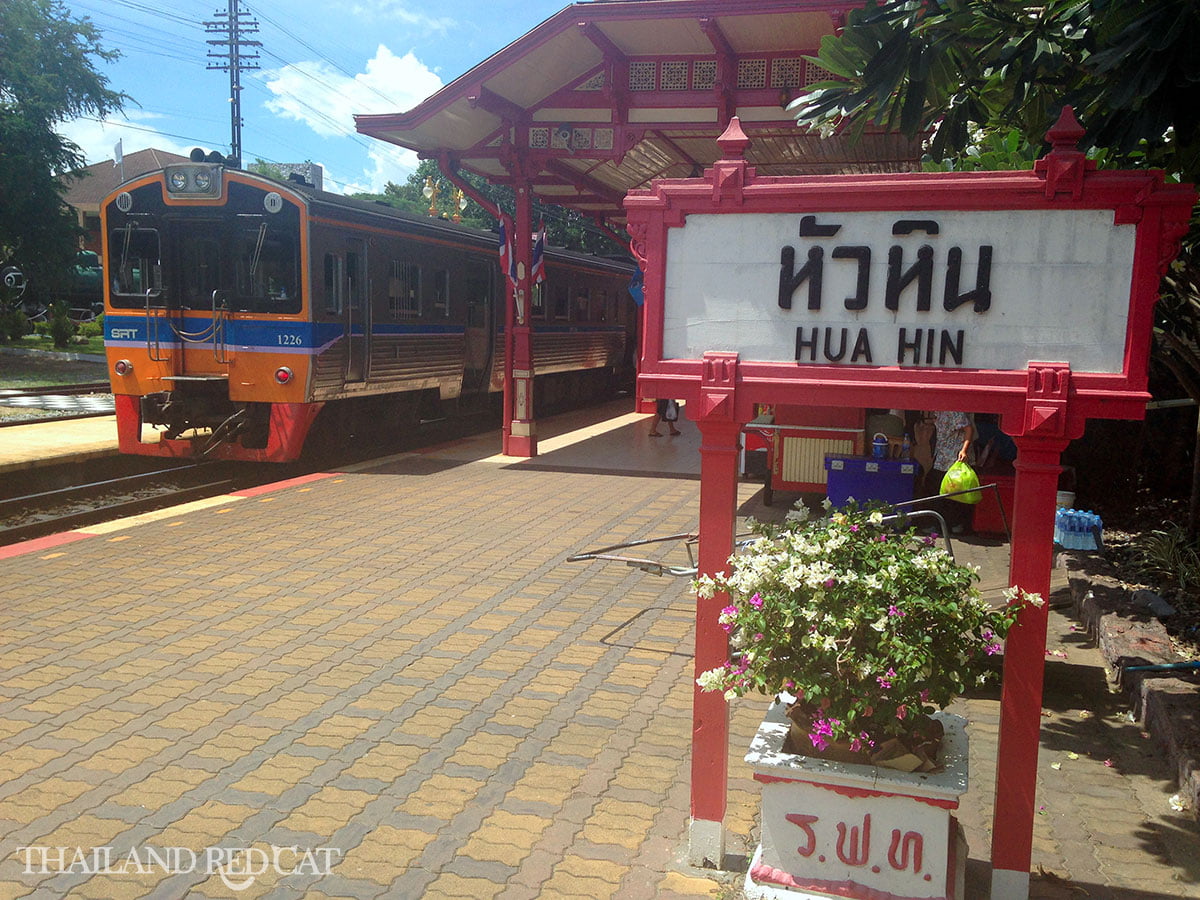 There are 12 daily departures from Bangkok's Hua Lamphong Railway Station. Cha Am and Hua Hin are on the same railway line that goes all the way down to the Malaysian border. As usual, there are various types of trains with different kind of classes and departure times:
Bangkok 08:05 – Hua Hin 11:26 (Special Express)
Bangkok 09:20 – Cha Am 13:30 – Hua Hin 13:35 (Ordinary)
Bangkok 13:00 – Hua Hin 17:14 (Rapid)
Bangkok 14:45 – Hua Hin 18:42
Bangkok 15:10 – Hua Hin 19:10 (Special Express)
Bangkok 15:35 – Cha Am 19:42 – Hua Hin 20:07 (Rapid)
Bangkok 17:05 – Hua Hin 21:07 (Express)
Bangkok 17:35 – Hua Hin 21:51 (Rapid)
Bangkok 18:30 – Cha Am 22:07 – Hua Hin 22:31 (Rapid)
Bangkok 19:30 – Hua Hin 23:33 (Express)
Bangkok 22:50 – Hua Hin 02:20 (Special Express)
For example, the 9:20am train only has 3rd class coaches – and the approx. 4 hour trip to Hua Hin costs only 44 Baht. A 2nd class ticket at different times costs 102 Baht and a 1st class ticket costs 202 Baht (plus fees). You can double-check the departure times and pre-book your ticket on this website.
Map of Bangkok & Hua Hin / Cha Am Transport
Video of Train Ride from Bangkok to Hua Hin
Below is a video I took during my recent trip on the 9:20am train – 3rd class coach:
Now that you know how to get there from Bangkok, you might also find my posts on the things to do there during the day as well as the girls in Hua Hin useful.