Udon Thani is the most popular town among foreigners in Isaan. It has a nice climate, relaxed way of life and a happening nightlife scene. All that without actually feeling like a typical Thai tourist town. So here we go: Here are the three different ways to get from Bangkok to Udon Thani:
Bangkok to Udon Thani by Bus
Buses to Udon Thai leave from Mo Chit Northern Bus Terminal. To get there, simply take the MRT subway to Kamphaeng Phet Station and from there a motorbike taxi (30 Baht) to the bus station. The alternative is a taxi (make sure your driver turns on the meter), it's about 140 Baht from Sukhumvit or 180 Baht from Khaosan.
There are buses leaving for Udon Thani every 15 minutes, the ticket price is 443 Baht (air con bus). The trip takes about 8 hours.
Most buses will arrive in Udon Thani's new bus terminal, just two minutes walk from Central Plaza shopping mall, that's also the popular tourist area with many hotels, restaurants and bars. Should you arrive at the old bus terminal (like me when I came from Nong Khai) you will have to take a Tuk Tuk, 80 Baht to Central Plaza. You can also wait for a Songthaew (around 15 Baht), but these services are not very frequent and no one knows when the next one is coming.
Bangkok to Udon Thani by Train
Trains to Udon Thani leave from Bangkok's Hua Lamphong Railway Station. To get there, take the MRT subway to Hua Lamphong station, the last stop on the line. If you get out, you are right in front of the railway station. There are four train services a day from Bangkok to Udon Thani:
Bangkok 08:20 – Udon Thani 17:07 (Express)
Bangkok 18:35 – Udon Thani 03:31 (Express)
Bangkok 20:00 – Udon Thani 05:53 (Express)
Bangkok 20:45 – Udon Thani 07:33 (Rapid)
The 569km trip takes about 13 hours (more slowly, more stops that by bus) and the ticket prices are as follows: 195 Baht for a 3rd class seat, 339 Baht for a 2nd class seat and up to 627 Baht for a 1st class sleeper (better check on their website as these prices tend to change frequently).
Bangkok to Udon Thani by Flight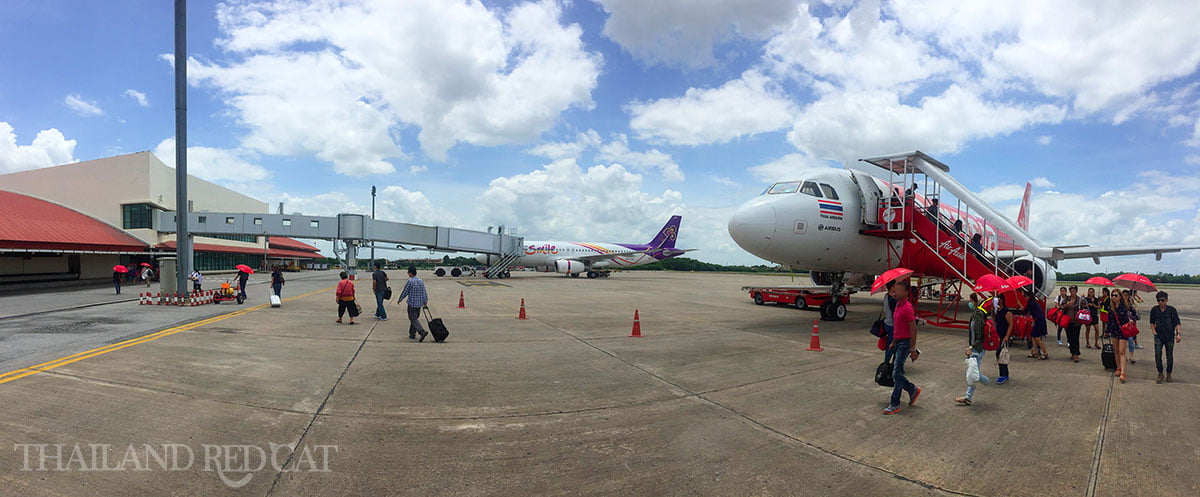 Of course you can also fly from Bangkok to Udon Thani. Air Asia has generally the cheapest fares at around 700-800 Baht one way, if they have promotion tickets you may get a one for as low as 490 Baht – which is actually cheaper than a sleeper train ticket.
The other two budget airlines which are offering frequent flights between the two cities are Bangkok Air and Nok Air. Thai Airways has also regular flight services from Bangkok to Udon Thani, tickets from 2,500 Baht. Air Asia and Nok Air flights depart from Don Mueang Airport and Thai Airways and Bangkok Air flights depart from Suvarnabhumi International Airport. The flight time is around 1 hour and 20 minutes.
A taxi to or from the airport to downtown Udon Thani (Central Plaza) costs 200 Baht. Tuk Tuks are also available for 100 to 150 Baht, depending on your negotiation skills.
How to get from Udon Thani to Khon Kaen & Nong Khai
Maybe you want to take a break for a while from the city, then Nong Khai 1 hour north or Khon Kaen 2 hours south make perfect places to explore more and spend some quiet days without nearly as much hustle and bustle.
Minivans leave both from Central Plaza (in front of the main entrance) as well as 50 meters down the road at the Bus Terminal. Tickets fares are just 100 Baht to Khon Kaen and 50 Baht to Nong Khai and they leave every 20-30 minutes from 7am in the morning until about 9pm at night (depends on the demand).
Of course you can also take a bus or train from Udon to Khon Kaen or Nong Khai for 20 Baht or so less, but it's worth the little extra for the better comfort of the minivans.
Map of Transport in Udon Thani