There are several Buddhist holidays in Thailand, and the Makha Bucha Day in February is one of the most important.
Most foreigners are quite unfamiliar with this tradition and what it is all about, many don't even know that it exists and are surprised why the bars are closed and countless of people walking around the temples in the evening.
The story of Makha Bucha (in Thai: มาฆบูชา) is this: There was a special day some 2,500 years ago, 9 full months after the Buddha received enlightenment and 45 years before the Buddhist era. It was the full moon day of the third lunar month. On this particular day, it is believed that four "marvelous events" happened:
1,250 Shanga followers (disciples) came to see the Buddha in the evening without being summoned.
All of them were "Arhantas' (อรหันต์, Enlightened Ones) and each of them had been ordained by the Buddha himself.
On that evening the Buddha taught them the "Ovadhapatimokha", in other words the three main principles of Buddhism:
– To cease from all evil (mâi tam kwaam chûa / ไม่ทำความชั่ว)
– To do what is good (tam kwaam dii táng taang gaai waa-jaa lɛ́-jai / ทำความดีทั้งทางกาย วาจา และใจ) and
– To cleanse one's mind. (tam jìt-jai hâi bòrísùt / ทำจิตใจให้บริสุทธิ์)
It was a full moon day.
Makha Bucha Day is a public holiday in Thailand, means government agencies as well as most company offices are closed while all shopping malls and most retail and department stores remain open. There are big outdoor festivals throughout the day at most temples and this includes a night market as well as people performing the following activities:
Making Merit: Tam Bun / ทำบุญ
People perform the traditional merit activities with incense sticks, lotus flowers and gold leaves. Freeing fish and birds, listening to Dhamma preaches, getting blessed from the monks who pour them with water mixed with Thai fragrance (náam òp-tai / น้ำอบไท)
Donating Food to the monks and novices in their arm bowl: Dàk Bàat/ ตักบาตร
Candlelight Procession clockwise around the temple (Uposatha Hall) at night: Wian Tian / เวียนเทียน
Keeping the Five Precepts: Ráp Sǐil / รับศีล
It is prohibited to sell and consume alcohol on Makha Bucha Day (that's why most of the bars are closed) as well as the practice of immoral acts (in other words: Buddhist people may not have sex).
Some Thai Buddhists even go as far as staying in the temple for several days while wearing white robes and practicing mediation.
The Makha Bucha Festival in Pattaya
Last Friday was my second Makha Bucha Day in Thailand and I decided to go on a weekend trip to Pattaya. I was surprised as most of the bars including all Go Gos on Walking Street respected the no-alcohol law and were closed (some opened at midnight). However as I walked around town I did spot a few beer bars that served alcohol to guests while playing no music and keeping the lights off.
The biggest festival was obviously held at Pattaya's biggest temple: Wat Chai Mongkol (วัดชัยมงคล).
There was an outdoor market selling the typical range of Thai snacks and drinks and hundreds of people were taking part in the candlelight procession around the Uposatha Hall. They had speakers all over the place and a guy talking in Thai non-stop about all sorts of different topics, even about the protests in Bangkok which didn't have anything to do with this Buddhist festival. Quite annoying and I think the atmosphere would be so much more authentic and peaceful without that loud voice. But that's the standard these days, it's similar at other temples.
Below are some of the photos I took as well as a video that captures the atmosphere quite well.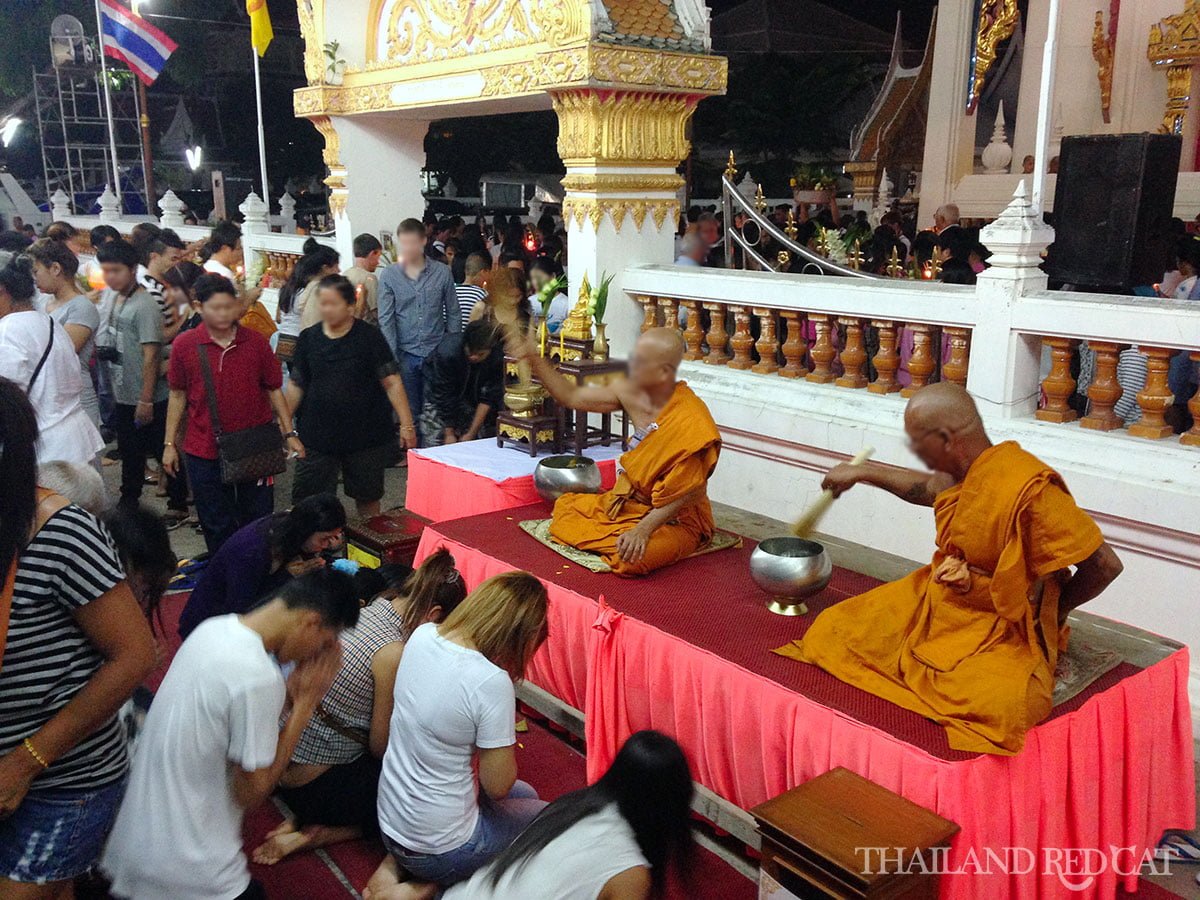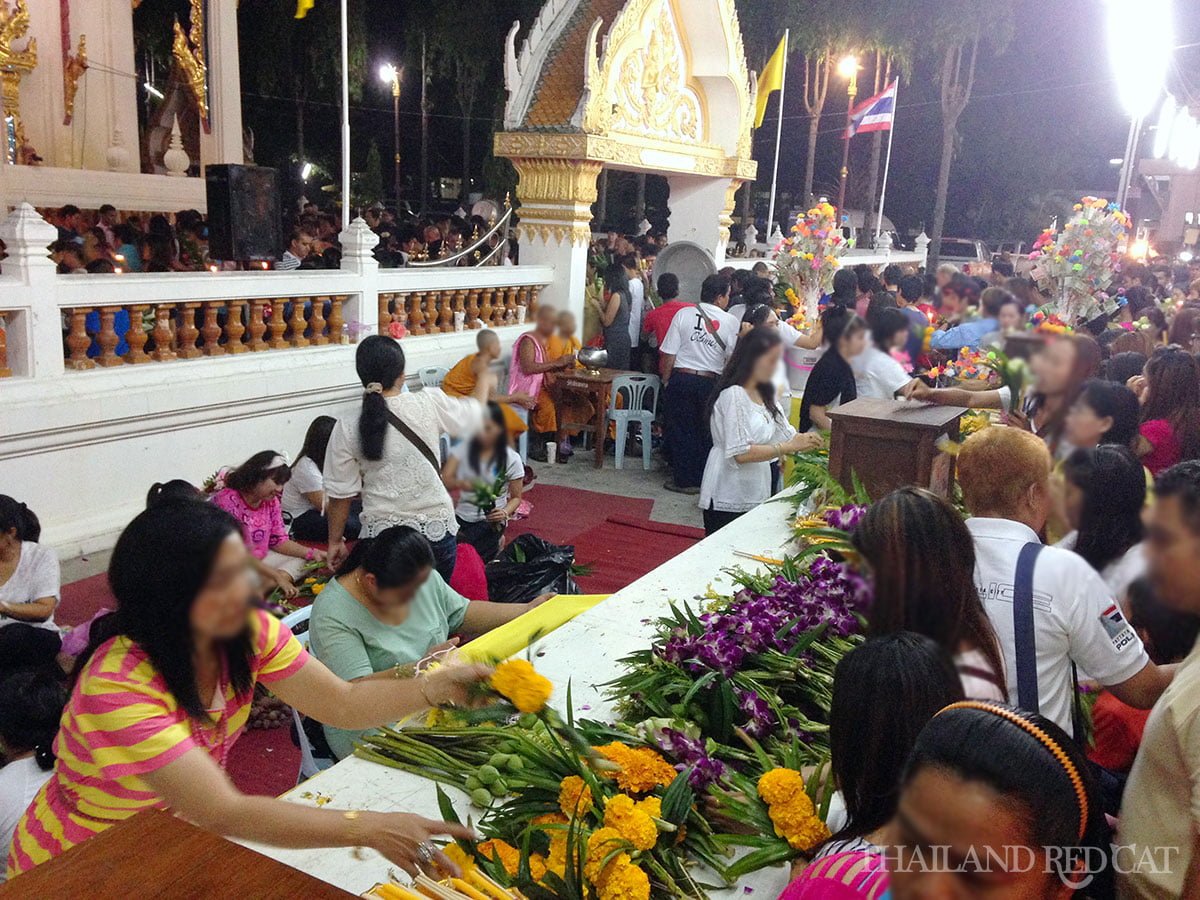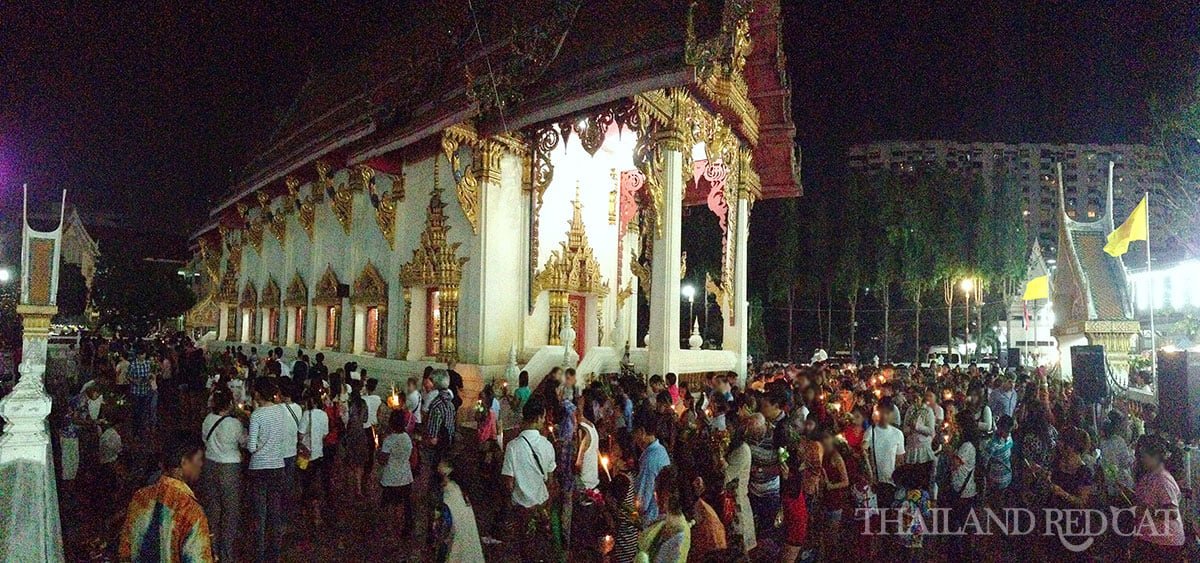 Location of Wat Chai Mongkol
The temple is conveniently located on South Pattaya Road, just five minutes walk from Walking Street.