Learn Thai
The majority of foreigners staying in Thailand are not able to speak even basic Thai. In most cases they don't make any efforts to studying Thai at all because they are told that it is just "too difficult". This is not true, in fact learning Thai is easier than learning Western languages like English, French or German.
The only real challenge during the beginning of your Thai language studies is to getting used to the five tones (low, mid, high, falling and rising) as well as to the other two elements of pronouncing words correctly: the vowel length and the pronunciation of the final consonant. The other group of foreigners that do want to make some effort on learning Thai fail simply because (…)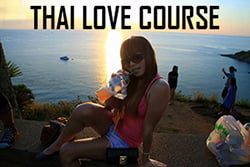 Sure a lot of Thai girls are good in English especially hookers. But how if you want to ask a "normal" Thai girl out for a date? There are countless of beautiful Thai girls that have never dated a foreigner before but would love to if you can at least speak some basic Thai.
Or think of all the university girls most of them don't speak English or are too shy but how if you tell them in Thai "You are cute, do you want to go for dinner with me?". Imagine how many more Thai girls you can meet if you know some really useful Thai vocabulary and phrases!
FREE eBook: Top 20 Bad Thai Words
How often I have asked my girlfriend "how to say fuck in Thai?". The best answer I got was "ʉ́ʉp-ʉ́ʉp" (อื๊บๆ) which literally means to lift something up. Thai people use it as a more polite word of "to fuck" but the actual word fuck she never wanted to tell me.
You might have heard "bɔɔm-bɔɔm" in massage places or beer bars but in fact that's just a word they made up for talking to Farangs. Not just with the word "fuck" it took me quite a lot of effort figuring out the actual word in Thai as for all the other words you can see on the list I have put together.