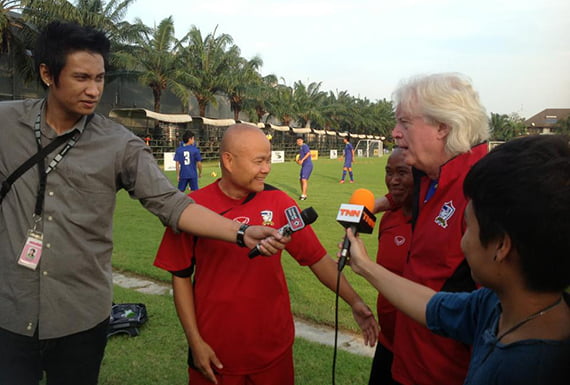 The news of the day is that the manager of Thailand's national football team, Winfried Schäfer (Germany), cancelled his contract with immediate effect. Here is his statement from his facebook page to the decision:
Yesterday the FA of Thailand and me cancelled the contract in mutual agreement. I am very sad about this development. I had a fantastic time with the kindest and good hearted players. I wish them all the best for the future. (…) Again there were a lot of rumors. Here´s the truth.

My team and I came to Thailand hoping to improve Thai football. We worked hard to achieve our goals, but it was a constant struggle, and hope of true development only became dimmer and dimmer.

After the last half year, after our exciting Suzuki Cup, it became more and more clear that there wasn't the trust and support given that is needed to work on an international level and the last weeks have confirmed that the future will not bring a change.

This was and is after all a bad and very, very sad and frustrating situation for the national players, for my team, for me and last but not least for Thailand, for you the fans.

So I have decided to cancel my contract.

The FAT and I found an agreement and now it´s time to move on.

I love Thailand. My team and I will miss working with the players, and we wish the national team and all of you all the best.
What is at the moment the most important thing for me – I want to thank you. I told you that a few times, but here again – you are amazing. You gave us wings, you gave us strength, and you were always with us. We always knew that we can count on you and that means so, so much to us. I appreciate your support and the warmth you gave my team and me, even in moments when there were so many things working against us. Thank you Thailand for your outstanding support, you are already champion.
Pretty sad, isn't it? Schäfer and his German trainer team took over in June 2011 when Thai football was on another all-time-low. They had played a devastating 2010 Suzuki Cup (the so called South-East-Asia Cup) where they dropped on the group stage with just 2 points behind Malaysia and Indonesia.
Schäfer started a new era in Thai football and while he always emphasized that his engangement with the national football team should be on a long term basis and that he can make them successful only on the long run too, now we know that it wasn't respected.
I could see by myself how good Thai football has become under Schäfer by attending three Suzuki Cup football matches in Bangkok last year. Technically and tactically sophisticated, disciplined and physical stronger then ever they almost won the cup in the final against Singapore – and they were the better team.
Now the team lost the first two games in the 2015 Asian Cup Qualifiaction against Kuwait and Lebanon and apparently that was more than enough to end the contract with the German manager. I have doubts that the team will perform any better than under Schäfer and let's see how long the new manager can do it – or if they can get such a famous and renowned man like Winnie Schäfer ever again after kicking him out with just two lost games and neglecting the great progress the team has made.
Another struggle for Schäfer was that sometimes his players didn't get permission from their Thai clubs to play for the national team and often he had to travel to Buriram or Muang Thong Thani to speak to the president, negotiating and asking permission to get the players for the next game – which they often denied due to selfish interests of the club.
Schäfer's long term goal was to lead Thailand to the World Cup and even though he has come some significant steps further, the authorities (means the Thai football association, FA) just don't see and appreciate that but rather want to have "overnight success". If we let the Thai people vote for or against Schäfer right now they definitely wouldn't fire him, that you can also see from the reactions in the comments to the today's announcement.
But as with many aspects of life in Thailand it's the people that have the power who think different and make stupid decisions and instead of being patient they are just expecting things to change for the good overnight. With this attitude Thailand will never win the football world cup and not even come close to qualify for the tournament at all.
Some more on football in Thailand: