When we think about Singapore, the first picture that comes in our mind is its imposing and modern city skyline. While there are quite a few things to do in Singapore, any traveler visiting the city doesn't want to leave this city without a having taken a great shot over Singapore's skyline.
While there are countless of places that offer nice views, some of them are right in the business area (where most of the biggest skyscrapers are located) so you can't capture it all. Some of the places are too far away and it's hard to get a clear shot especially during nighttime. And some would offer a fantastic view, but then there's always one or two other buildings right in front, hiding the actual city skyline.
Example: I went up to the luxurious restaurant on top of the Parkview Square building. The views were pretty good, however I had to take my picture from the glass window as there is no open space and thus it was to far away to take a clean and crisp picture of the skyline due to the reflections of the window. So where to go for the best view over Singapore?
The best view over Singapore: On top of Marina Bay Sands Hotel
The Marina Bay Sands Hotel is not only one of the most beautiful buildings in Singapore to look at itself, but it is also the single best place for a view over the skyline. Just finished a couple of years ago, it probably is the city's most imposing piece of architecture.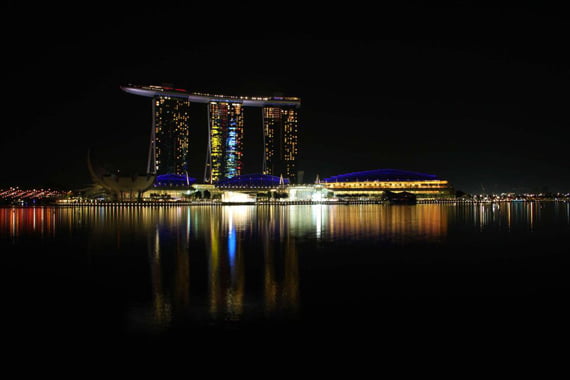 The best way to get there is by taking the MRT (Underground) to CE1 Bayfront, which is the last stop on this line. If you get outside you are right infront of the hotel. In order to get to the observation deck on the 56th floor you need to purchase a ticket to the "Sands SkyPark" which basically allows you to take the elevator up there.
Tickets are 20 USD for adults, 14 USD for children and 17 USD for senior citizens (65 years and above). The Observation Deck is open daily from 9:30am to 10pm (on Friday, Saturday and Sunday until 11pm). The pool may be close due to safety issues in case of rain.

As I visited, I actually had no idea that there is an entrance fee involved so I just walked past the hotel reception to the elevators went up there – for free. This won't always work though and hotel staff may ask you for your room key card to prove you are a guest.
If you are wondering about the famous swimming pool that you have probably seen on lots of pictures, you can't get access to it as a visitor as you will need to book a hotel room for being able to swim there. However you can register for free tours to view the Garden and Infinity Pool which are held daily at a limited capacity and timings are subject to change. You can inquire downstairs at Sands SkyPark Box Office for details.
However normally and especially in my case (and as I hadn't purchased a ticket anyway) it's worth to just come for the observation deck only. Go there, take up the lift, step out and you will be offered this overwhelming view over Singapore: