Every year in May it's time to award the most beautiful Thai ladyboy of the year at the most famous transvestite cabaret venue: Tiffany's show in Pattaya. The 2015 winner is Sophida Siriwatananukul (nickname Nong Bai Mon). She's 22 years old and just like the beauty queen last year, a student from a renowned university. To be more precise: She's doing a public health undergraduate programme at the Rajabhat University in Ayutthaya.
Like every year, the final round consisted of 30 contestants and one thing seems to be an ongoing trend for years now: Almost all of the young ladyboys come from wealthy parents and are students from renowned universities. The original idea of the Miss Tiffany Universe contest at its launch in 1998 was to work towards a more positive image for transgender people in Thailand who still have problems to find jobs other than in the tourism and entertainment industries.
Not sure if this trend of promoting the already very few fortunate transgenders is going to continue in the next years. Is it because they have more money for more plastic surgeries than other ladyboys? I'd personally love to see how one of the stunning hot chicks from the Cockatoo Ladyboy Bar in Bangkok would be doing participating in the contest.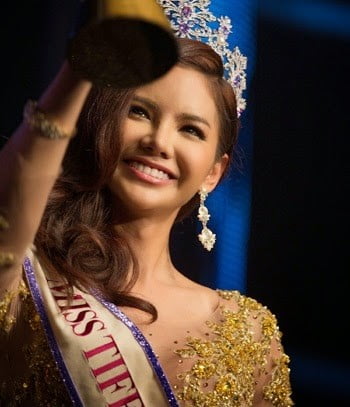 Bai Mon received a price money of 120,000 Baht, a brand new car as well as several other prices worth more than 1 Million Baht in total.
Let's see how she performs at the Miss International Queen 2015 later this year (November, also held in Pattaya) where she will compete with the most beautiful ladyboys from all over the world. Last year's winner was Isabella Santiago from Venezuela. During the past 10 years, the title of the world's most beautiful ladyboy was won three time by a Thai national: 2004, 2007 & 2011.