Dramatic limestone cliffs, emerald-green rice fields, a scenic river and friendly locals – all that you will get when visiting Vang Vieng, a small town about 150km north of Vientiane, the capital of Laos.
Most (young) travelers come here for the tubing and drinking in the Nam Song river – and 80 percent of them bring home the "In the Tubing, Vang Vieng, Laos" shirt to impress their friends at home to have visited this fairly remote place in Southeast Asia (Update: River tubing in Vang Vieng has been stopped, for more information check out this post). However, the true charm and character of Vang Vieng lies somewhere else.

On my first morning there I just started walking. I passed a small football field where small children were happily waving at me. After 20 minutes or so I reached a bridge where they charged me 4000 Kip (less than 0,50 USD) for crossing the Nam Song river. I crossed it and continued walking, I could already see the massive limestone cliffs not too far away. After a while I reached a small lane crossing the fields and suddenly two local boys walked next to me and asked me to visit a cave with them.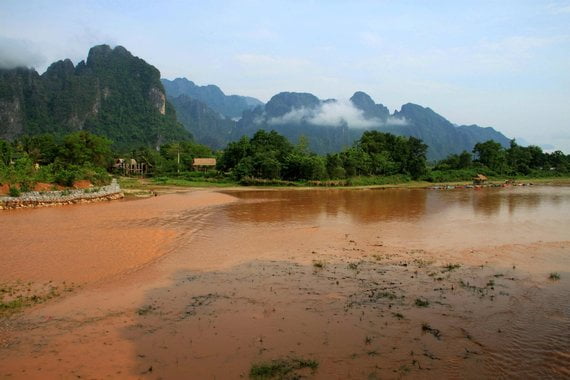 I knew they were not only interested to spend some time with a foreigner, but also wanted to earn some pocket money. However I agreed and followed them along an even tinier lane through the rice fields. At one point we had to cross a small stream where they just put some bamboo in the water and gave me a stick for balancing.
I almost slipped off the bamboo and fell into the water. Thank god I didn't and we continued walking, and hiking up the limestone cliff for a bit until we eventually reached the cave. It was not that spectacular, but the views were. And of course I had a great hike.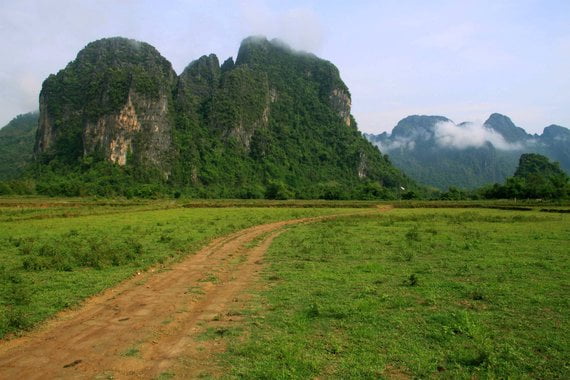 After walking back to the main lane and handing the boys some pocket money, I continued walking by myself, sometimes I passed a cow or two that were walking just by themselves and apparently exactly knew where to go. I passed bamboo huts and watched women from far working on the rice fields, explored two more caves and walked back to Vang Vieng town for enjoying a nice and calm sunset on the riverside.
Vang Vieng was definitely one of the highlights during my Laos trip, next to Luang Prabang, and I recommend everyone to visit it. Superb nature!